6 Wardrobe Pieces for a Chic Las Vegas Night Out
Hero: Sequin mini dress "Angelina" from 12th Tribe
When it comes to a night out in Las Vegas, it's all about bringing your A-game and embracing the glamorous energy of the city that never sleeps. With its dazzling lights and vibrant atmosphere, Las Vegas calls for a wardrobe that is both stylish and sophisticated. Whether you're hitting the clubs, trying your luck at the casinos, or enjoying a fancy dinner, having the right wardrobe pieces can elevate your look and ensure you stand out in the crowd. Here are six essential wardrobe pieces that will help you achieve a chic and memorable Las Vegas night out.
Little Black Dress (LBD) with Bold Accessories
A little black dress is a timeless classic and an absolute must-have for any stylish woman's wardrobe. When choosing an LBD for a night out in Las Vegas, opt for a style that is both sexy and elegant. Consider a dress with interesting details like lace, sequins, or sheer panels that add a touch of glamour.
LBD via marcellanyc (online and on Etsy)
The beauty of an LBD is its versatility – you can easily dress it up with statement jewelry, killer heels, and a clutch for a night on the town, or dress it down with a leather jacket and ankle boots for a more casual but still chic vibe. Whether you are on a guest list for a trendy nightclub or attending a high-end dinner, a little black dress will always make a stylish statement. Just remember to choose a style that flatters your body shape and makes you feel confident.
Some Very Statement Heels
Las Vegas is the perfect place to show off your fabulous footwear, and a pair of statement heels can take your outfit to new heights – both literally and figuratively.
Choose a pair of heels that make a bold statement, whether it's through vibrant colors, unique designs, or eye-catching embellishments. Opt for a heel height that you feel comfortable in, as you'll likely be on your feet for most of the night.
Strappy stilettos, metallic pumps, or even embellished sneakers can all add that extra touch of style to your Las Vegas ensemble.
Strappy heels "Albert" from Princess Polly
Sequined or Metallic Top
To truly embrace the glitz and glamour of Las Vegas, consider adding a sequined or metallic top to your wardrobe. This dazzling piece will instantly make you the center of attention, catching the light and reflecting the city's vibrant energy.
Pair your sequined or metallic top with tailored pants, a sleek skirt, or even distressed jeans for the edgy 90s going-out look. Complete the ensemble with a tailored blazer or a leather jacket to balance out the sparkle and create a chic and sophisticated outfit.
Sequin crochet mini dress "Ventura" from 12th Tribe
Boldly Tailored Blazer
A tailored blazer is a wardrobe staple that can instantly elevate any style. In Las Vegas, where the dress code can range from casual to formal depending on the venue, having a versatile blazer can be a game-changer.
Blazer from Bazhane boutique (online and on Etsy)
Opt for a blazer in a classic color like black or navy, as it can easily be paired with various pieces in your wardrobe. Throw it over a dress, wear it with a blouse and tailored pants, or even layer it over a graphic tee and jeans for a more relaxed yet polished look. The tailored silhouette of a blazer adds structure to your outfit and exudes confidence and sophistication.
Aesthetic accessories
Accessories play a crucial role in completing any outfit, and in Las Vegas, you can go all out with bold and statement pieces. Add a touch of sparkle with oversized statement earrings or a chunky statement necklace. Consider a clutch or a mini bag with metallic accents or embellishments to complement your outfit.
Don't be afraid to experiment with vibrant colors and textures when choosing accessories – they can be the finishing touch that takes your look from ordinary to extraordinary. Remember, in Las Vegas, it's all about standing out and embracing your unique style.
Lemon sequin clutch via Etsy: lilyposh
Versatile Jumpsuit
If you're looking for a chic alternative to a dress, a versatile jumpsuit is a fantastic choice. It's both stylish and comfortable, allowing you to move freely while still looking effortlessly sophisticated. Look for a jumpsuit in a luxurious fabric like silk or satin, as it adds a touch of elegance to your overall look.
Opt for a tailored or wide-leg silhouette that flatters your body shape. A jumpsuit in a bold color or with interesting details like a plunging neckline or cut-out accents can make a statement and turn heads as you make your way through the Las Vegas nightlife. When styling your jumpsuit, consider adding a wide belt to cinch in your waist and create a more defined silhouette. Pair it with statement heels or strappy sandals to elongate your legs and add a touch of glamour.
In addition to these six essential wardrobe pieces, remember to consider the weather and dress accordingly. Las Vegas can get quite hot, especially during the summer months, so lightweight and breathable fabrics are your best bet. If you're planning to spend time outdoors, bring a chic jacket or shawl for the cooler evenings.
Lastly, confidence is key when it comes to pulling off a chic Las Vegas night-out ensemble. Wear pieces that make you feel comfortable, stylish, and empowered. Embrace your unique style and have fun experimenting with different combinations to create the perfect outfit for your night on the town.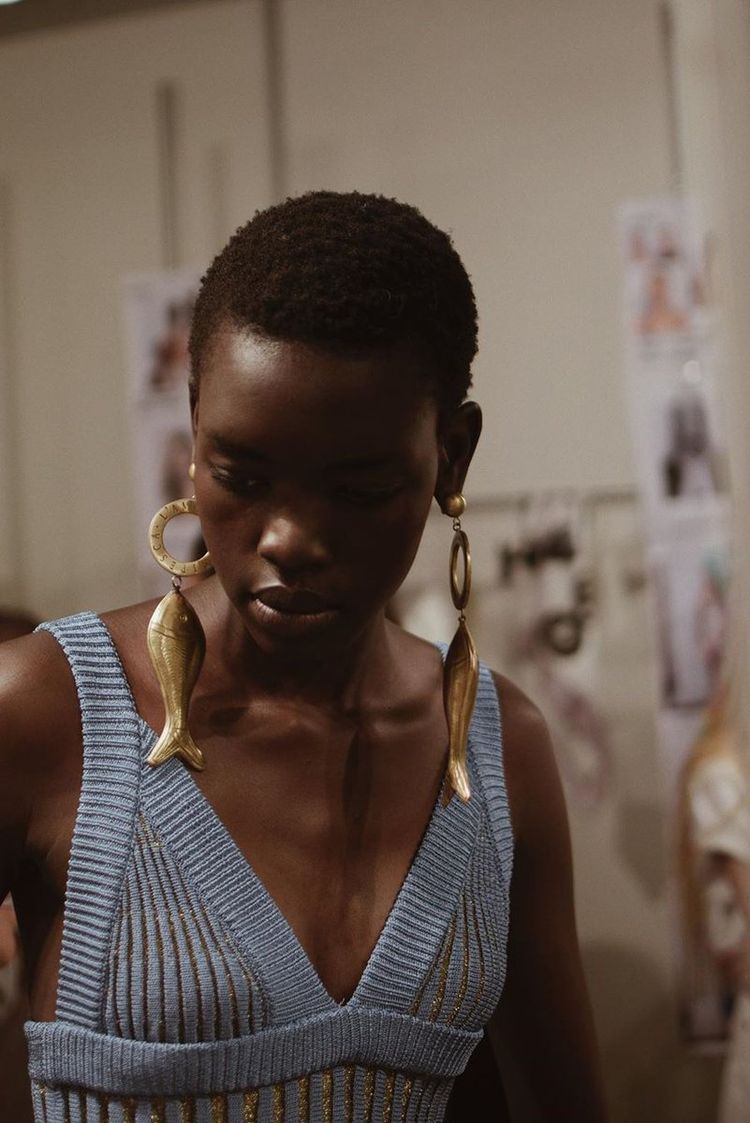 Fish earrings via Clothia
To summarize, a chic Las Vegas night out wardrobe should include a little black dress, statement heels, a sequined or metallic top, a tailored blazer, statement accessories, and a versatile jumpsuit. Remember to choose pieces that reflect your personal style, and don't be afraid to go bold and glamorous. With these essential wardrobe pieces in your arsenal, you'll be ready to paint the town red and create unforgettable memories in the dazzling city of Las Vegas.