Choosing a wedding ring: Metals, cuts and more
The history of wedding rings is an interesting one. The tradition in using wedding rings as a way for a couple to show their unity and love for one another began 3 thousand years ago in Egypt.
The first diamond wedding ring was documented in 1417 in a last will of a widow. Diamonds became all the buzz then due to how expensive that ring was.
The origin story behind this custom begins long before we had smartphones or even knew what they were called; however there seems little doubt its popularity stems largely from our desire (or need)for reassurance — physical symbol that someone loves us. It's essential that you pick the perfect ring for such an important thing!
This article will go over different types of wedding rings and how to find the best fit for you. It'll also provide some advice on how to take care of your ring post-wedding. Let's get started!
Jewelry Asteria: Art deco ring with topaz
Capucinne: Daphne ring
Decide on the type of metal you like
Wedding rings only first started getting set with precious stones in the middle ages, until then it was all about the goldsmith's work with the metal.
And the choice of the metal still matters, whether you choose a ring with a gem or without.
Wedding rings don't have to be made of gold, although gold is the most popular option. Silver and platinum rank just behind it.
Each metal has its own unique properties that can affect the look and feel of your ring. For example, gold is a very soft metal, so it's more susceptible to scratches and may need more care. Platinum is the most durable metal and will keep its shine for many years.
Eden garden: Textured wedding bands
Gem Breakfast: Gold wedding band
Next, pick a style you prefer
Once you've decided on the sort of metal, it's time to choose a design. It might be tricky to decide which wedding ring style is best for you with so many different options available. Do you want something minimalist or something more ornate? A diamond ring or one with other gemstones?
Whatever style you go for, remember to select a design that reflects your own personal taste and no one else's. One example, Blue Nile diamond rings are a popular choice for couples who want something unique and luxurious. If you're not on a budget for the Blue Nile diamond, there are still plenty of other options for diamond rings available. A wide selection of diamond rings can be found here so you're sure to find the perfect one for you.
Melanie Casey: Corset diamond
Evorden: Art deco diamond
Fit the right to your hand
One of the most important considerations is the fit of your ring. It's important to find a ring that is comfortable to wear because you will be wearing it every day.
The best way to determine the right fit is to go to a jeweler and have them size your finger. If you have a longer or wider finger, you may need to have the ring made-to-measure. But even most regular rings can be adjusted to fit you.
Melanie Casey
Nature Sparkle: Emerald cut
Are there any trends in cuts and shapes of the stones?
So, shapes. Among a few things to keep in mind is that rings are an investment that should keep value and look relevant for the rest of your life, or even afterwards. That's why most people go for classic choices in their wedding rings rather than for trends.
The most popular shape for a diamond or gem is the round cut, which is perfect for those who think a classic look is the best. If you're looking for something a little different, consider an emerald or princess cut. These shapes are more unique and eye-catching, but might look dated in a few decades.
Also, keep in mind that the shape of your diamond will affect the overall appearance of your ring. A ring with round diamond will look different than a ring with an emerald cut diamond.
Different types of diamond cuts
What's the best way to shop for rings?
Wedding rings are for life. Start shopping for yours ahead of time. Make a Pinterest board with your favorite styles and look for alternativea that are within your budget.
Once you decide on the type of metal, style, and shape you want, you will have a general idea of what you're looking for. Then start shopping around at local jewelers and in good online stores. Compare prices and styles until you find the perfect ring for you.
Some places offer to engrave your rings with names, wedding dates, or other special messages. This can be a nice way to make your ring even more unique and personal. Some people prefer to get creative instead and look for rings with unique designs or unusual gemstones.
Ideally, you should start shopping for rings at least a few months before your wedding. This will give you plenty of time to find the perfect ring and have it sized to fit your finger. If you're having trouble finding a ring you like, consider shopping online or at a local jeweler.
CustomUrJewelry: Ruby engagement ring
Artemer Studio: Geometric wedding ring
How much should you expect to spend on a ring?
The cost of your ring will depend on the metal, style, and shape you choose. Gold rings are typically the most expensive, followed by platinum and silver.
If you're looking for a more affordable option, consider titanium or stainless steel. Rings with diamonds or other gemstones will also be more expensive than plain bands. However, gold will always be the most durable and longest-lasting metal.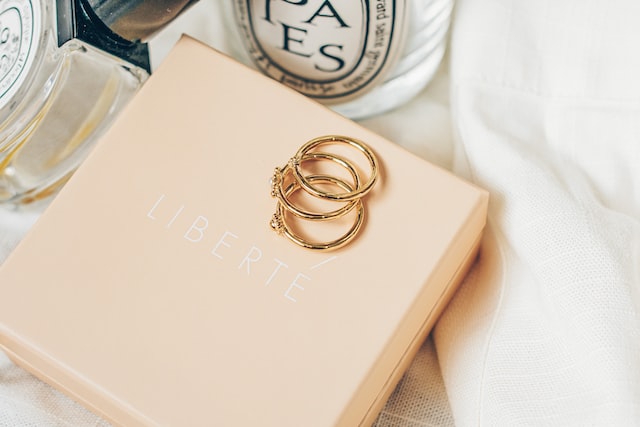 How to care for your ring
Once you've found the perfect ring, it's important to learn how to care for it to keep it nice and shiny.
The best way to keep your ring looking its best is to have it cleaned and serviced regularly.
You should take off your ring when you're doing activities that could damage the stone, such as gardening or cooking. Similarly, it's better to take your ring off before going swimming or water sports.
By following these simple tips, you can keep your ring looking beautiful for many years to come.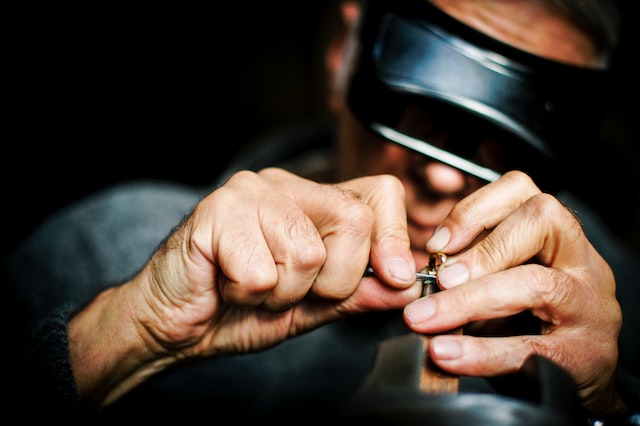 There are many things to consider when shopping for wedding rings. It's important to find a ring that reflects your personal taste and style. The fit of the ring is also important, and you may need to have it sized by a professional. Keep in mind that the shape of your diamond will affect its overall appearance. When shopping for rings, do your research and compare prices at different jewelers. With a little effort, you're sure to find the perfect ring for your big day.