15+ Dark Indie Outfits for Fall and Winter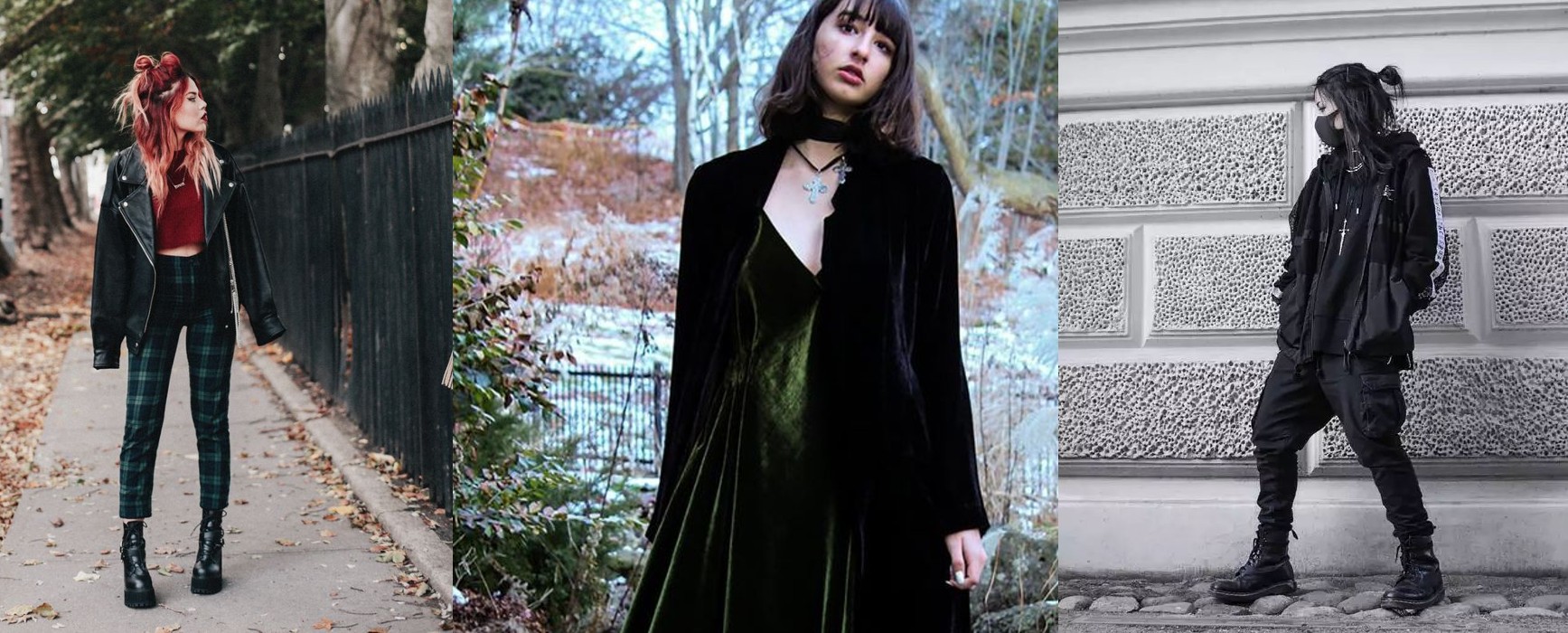 Not only indie fashionistas but just about everyone loves dark outfits for winter.
Darker colors for autumn and winter are the convention in fashion and makeup.
And while there are several indie aesthetic moods that cater extremely well to dark or even gloomy clothes, not all of them are so great for cold weather.
Let's look at some all-dark winter outfits that look aesthetic but won't make you freeze.
Best dark indie outfit aesthetics for winter
As the days grow shorter and the temperature starts to drop, most people reach for dark colors instinctively as winter approaches. But are there any unique opportunities to take your dark outfits in a new direction?
The several indie aesthetics that cater to your expressive needs by being super dark can be bent towards horror or emo, or they could be dark to evoke the blackbox of technology that we live in, or they could be dark to reflect a mood that you don't want to be seen but at the same time want to express.
The grungy Y2K and the techcore bend are the easiest dark indie aesthetics to get going in winter. The key garments in both are jackets and vests, which really lends itself easily to winter styling.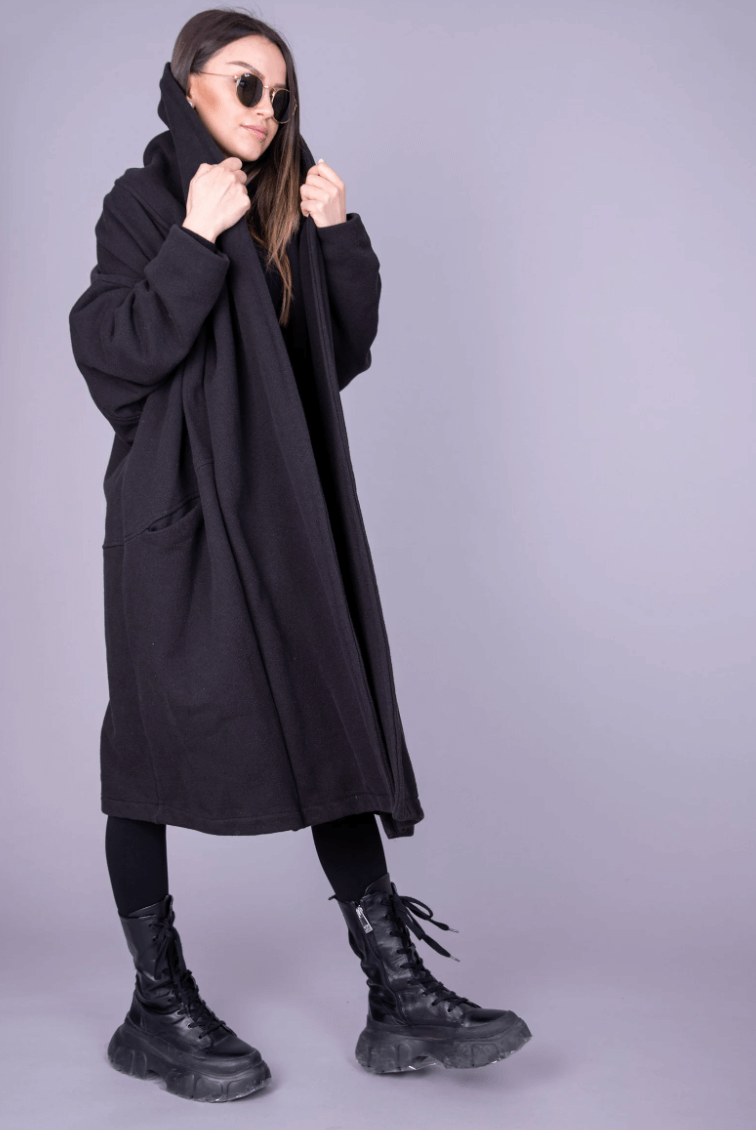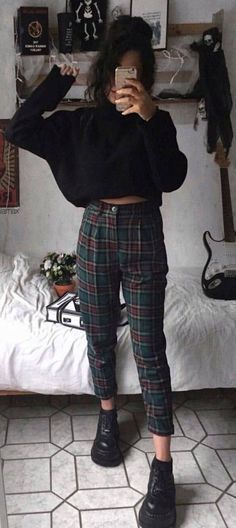 Etsy: AEGISS, Loose black coat / Grunge or techcore
If you want to go full Y2K grunge, you will wear a lot of dark plaid print flannel shirts, bulky black jackets of any style and all that with chunky boots. A black beanie is good for an an extra grungy vibe.
For a techcore outfit, the base are dark skinnies or dark cargo pants and a long-sleeved black top. Add a vest or jacket on top: Good techcore outerwear could have rectangular details in the tech vibe - backpack type of straps, zippers, that kind of thing.
The accessories are really what will need to be pretty much techcore: Heavy shoes, tech vibe bag, a lot of black but in finishes of different levels of matte and shiny. Other than this, you can also accessorize with some chains or other metal jewelry.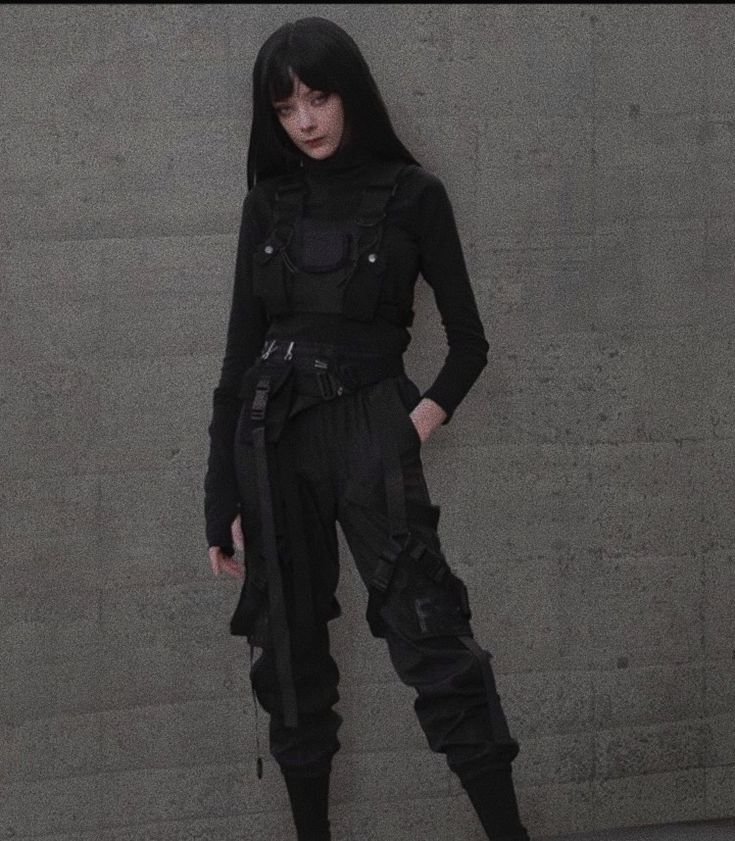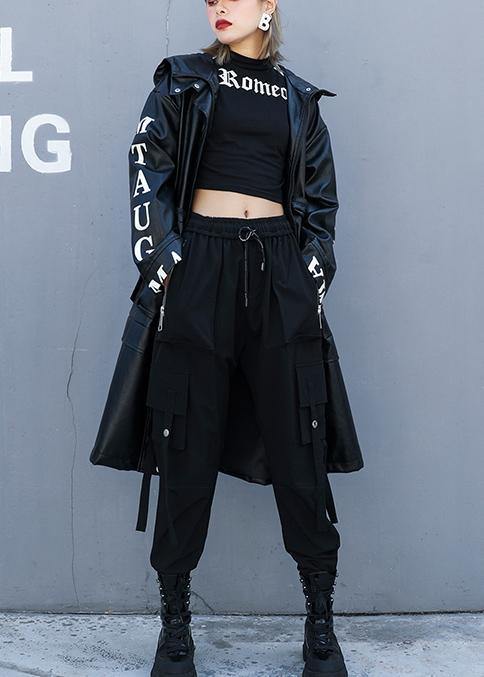 IG @antiorder / Techcore
soolinen.com, Crane coat / Techcore
I have not even mentioned the witchy aesthetic or the edgy baddie. The possibilities are endless when it comes to dark indie outfits for winter!
You can pretty much start from a basic all-dark combo of jeans and a plain top, and only then accessorize your way into a specific aesthetic - see more below.
Inspo: 15+ dark indie outfits for winter, and their aesthetics
Jump to your best winter aesthetic:
Winter Dark Boho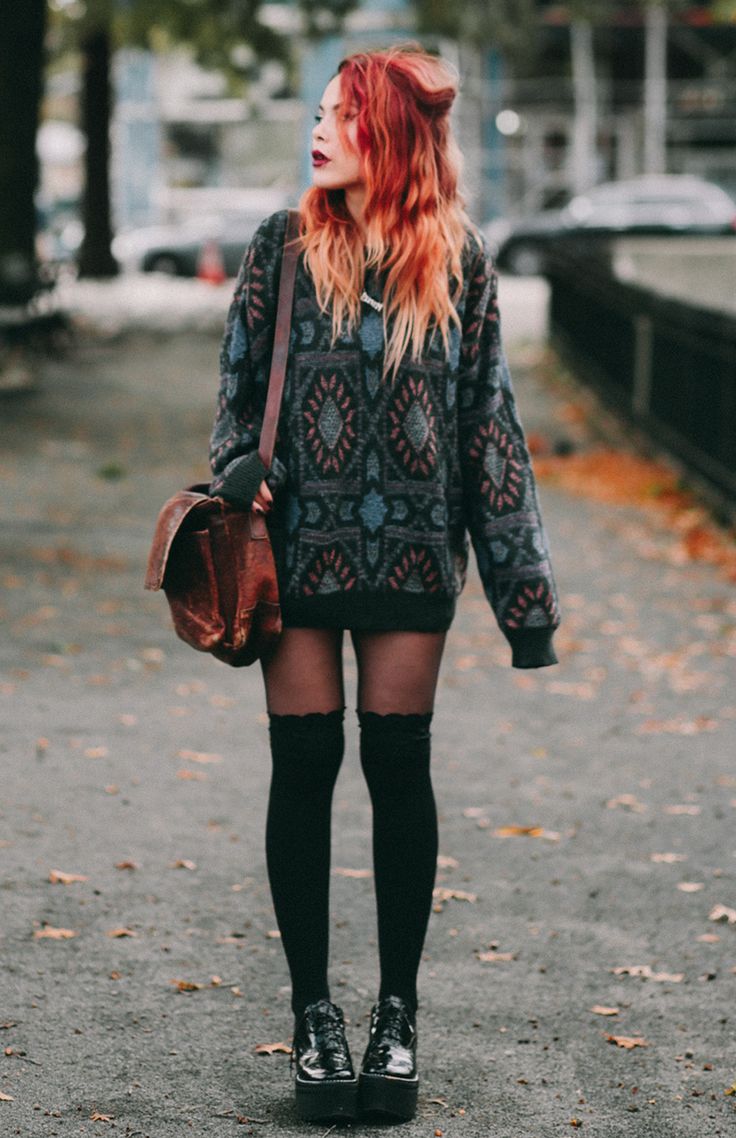 le-happy.com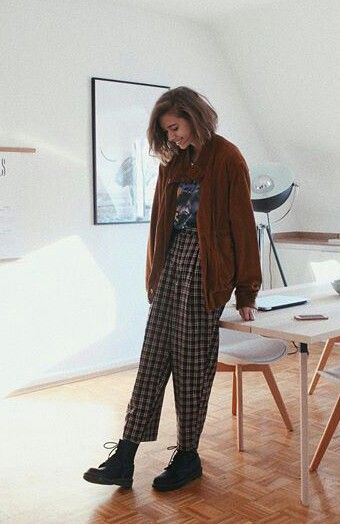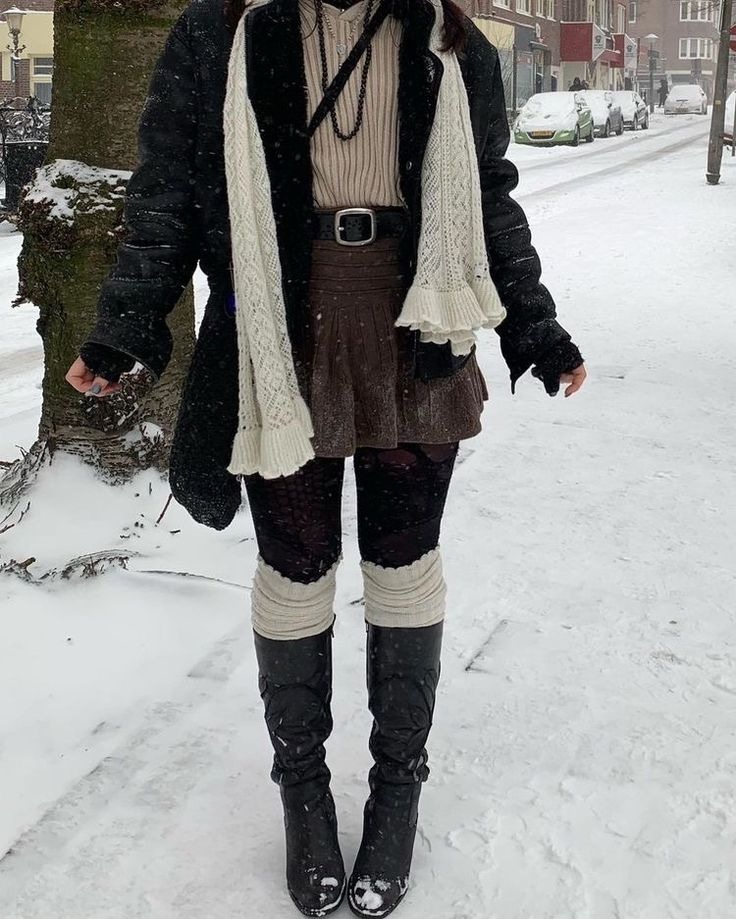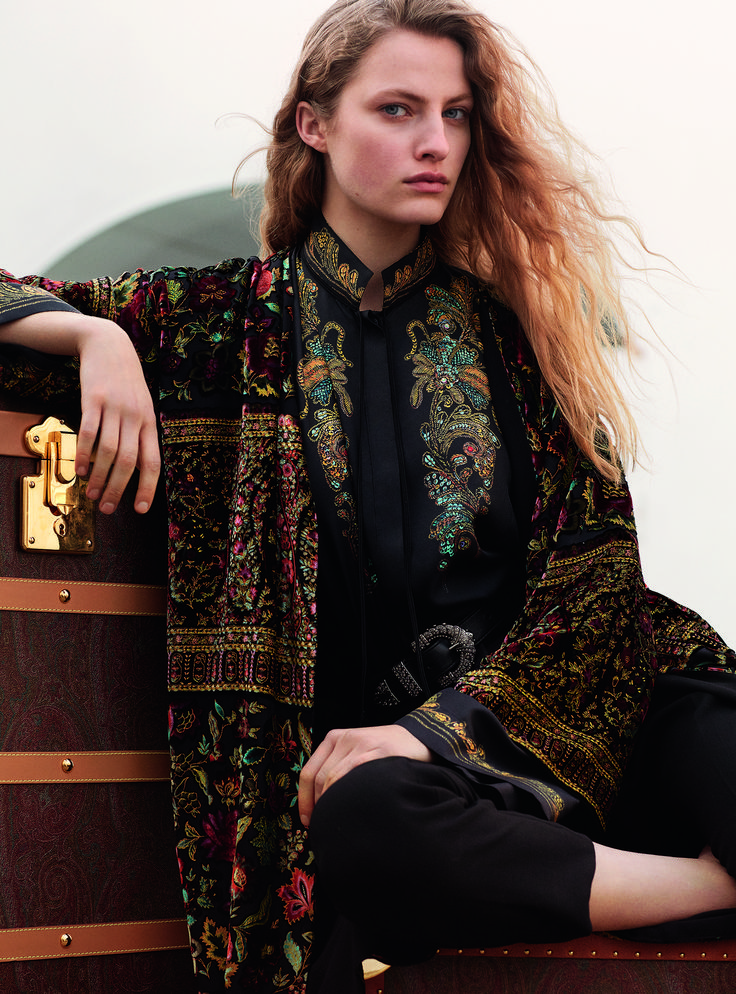 ETRO FW 2019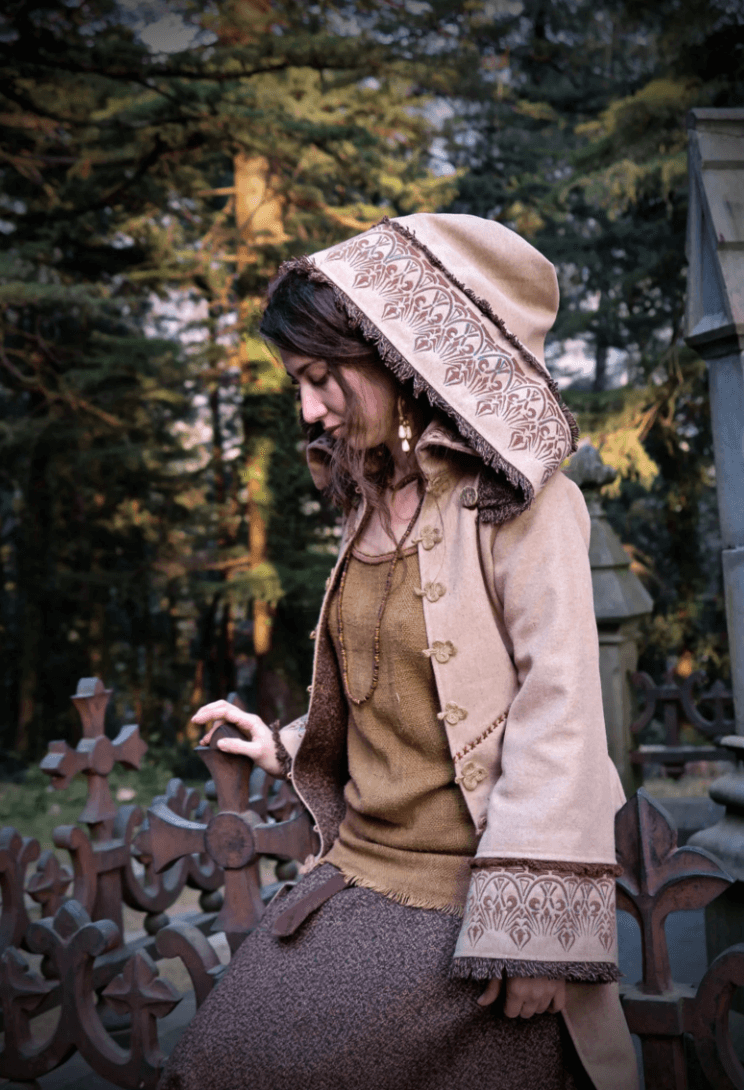 Etsy: AnuttaraCrafts, Embroidered hoodie jacket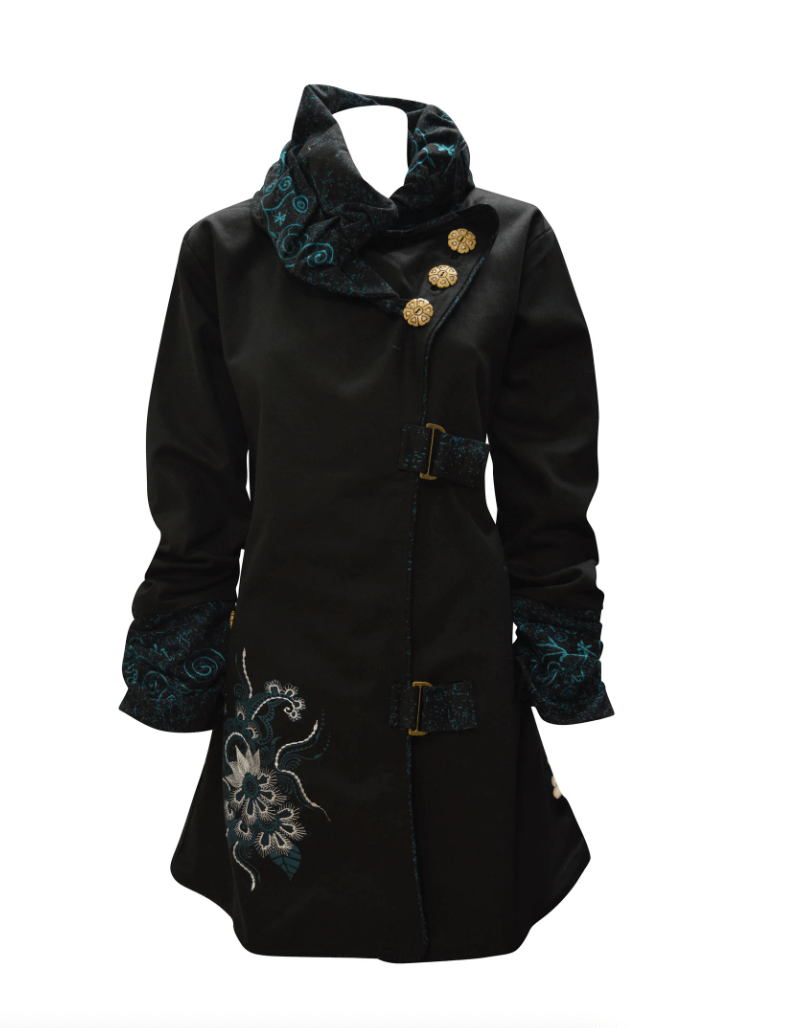 Etsy: MemsaabLondon, Patchwork jacket
Winter Witchy / Cottagegoth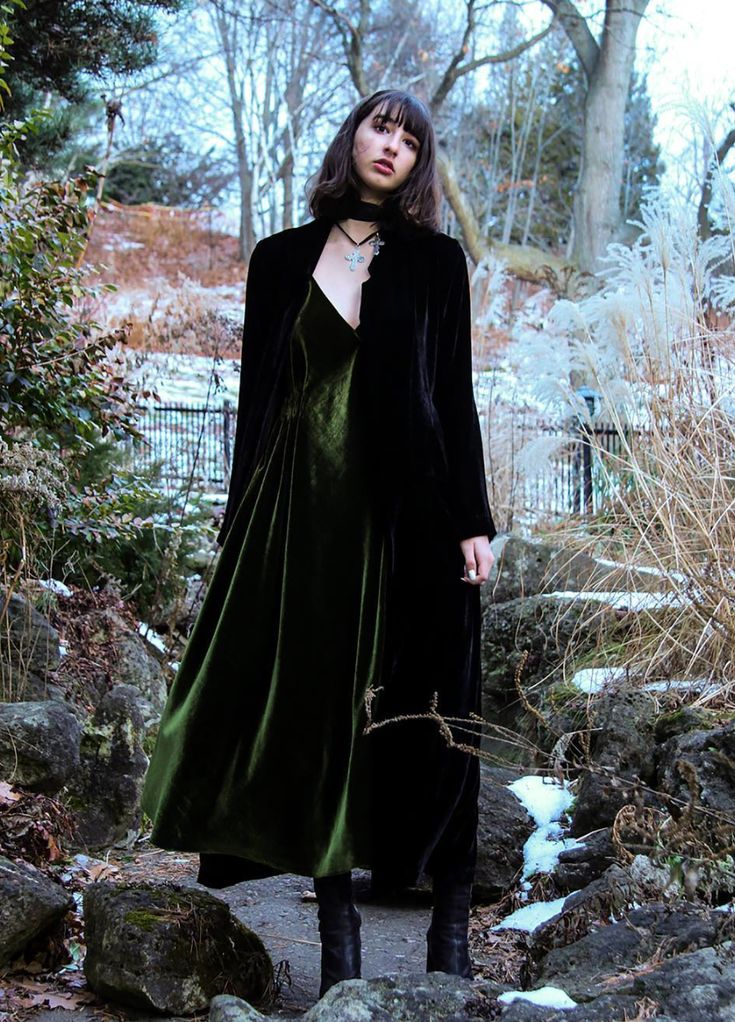 wendynicholsnyc.com, V-Slip dress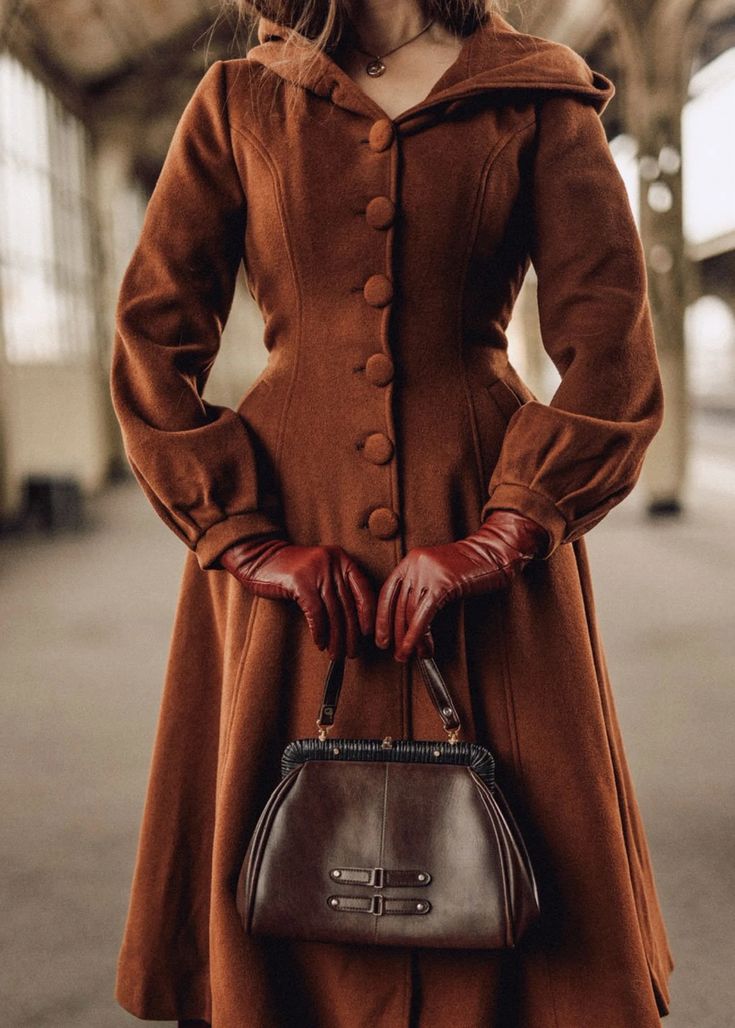 Etsy: xiaolizi, Hooded coat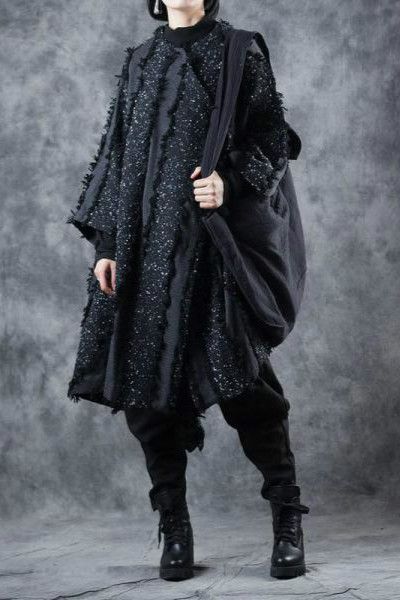 morimiss.com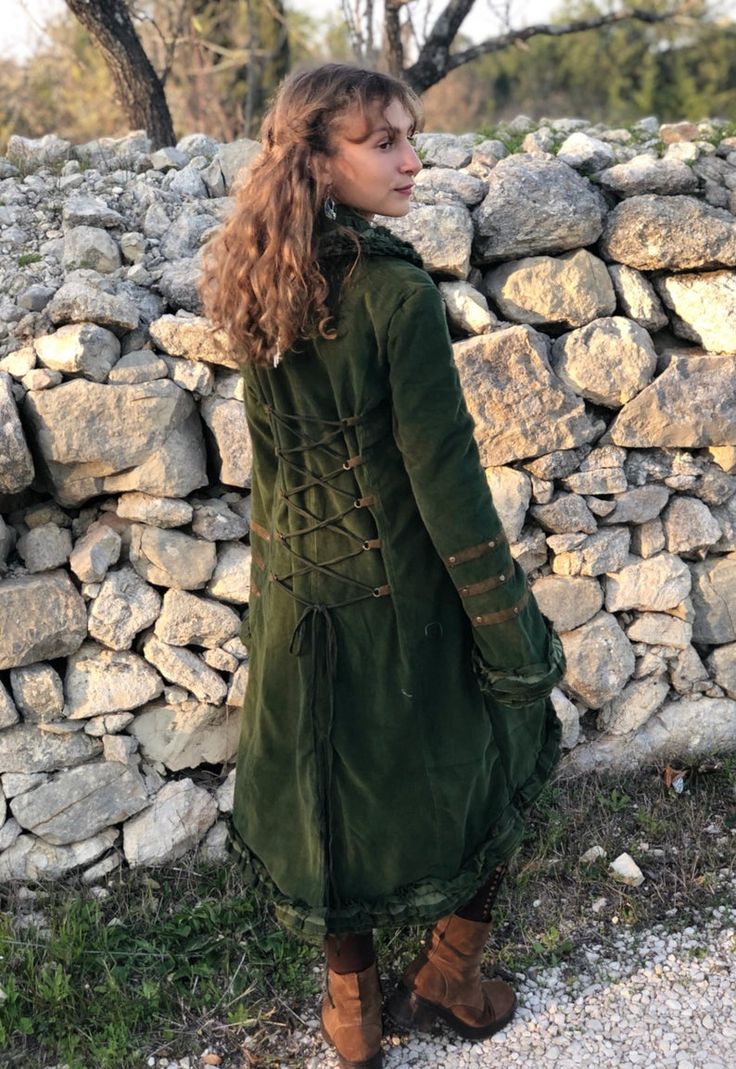 Etsy: Kalbelia, Green coat
Winter Techcore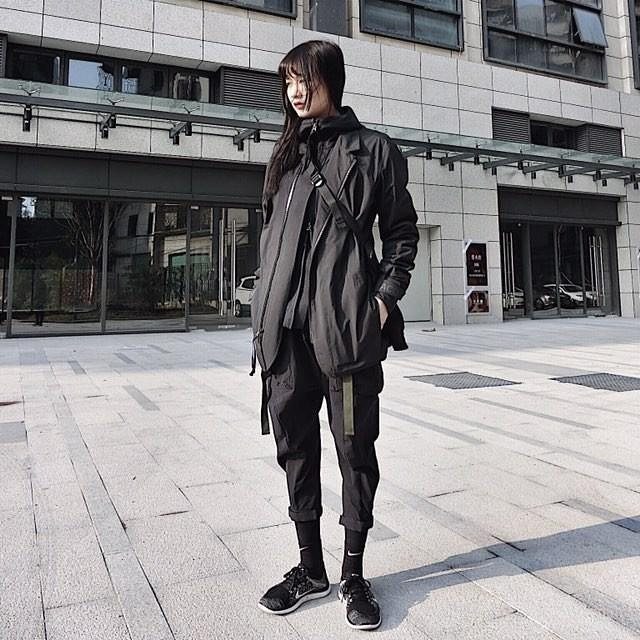 Bobby Digital on tumblr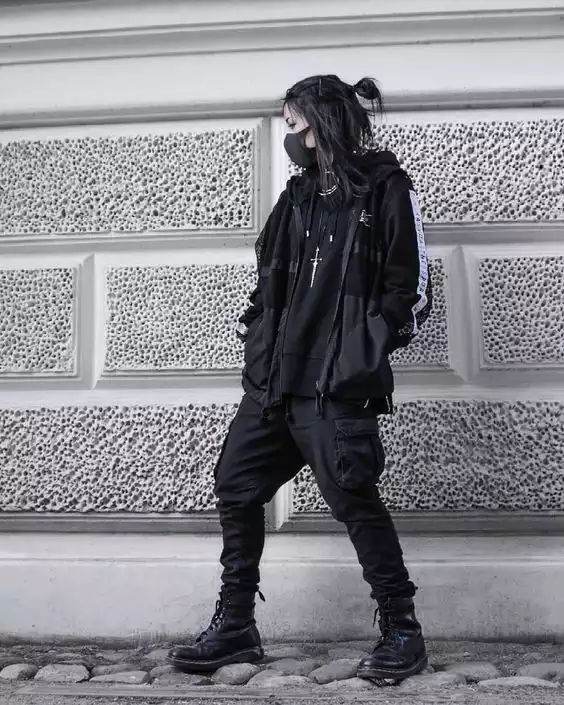 Similar indie product: ninjacosmico cargo pants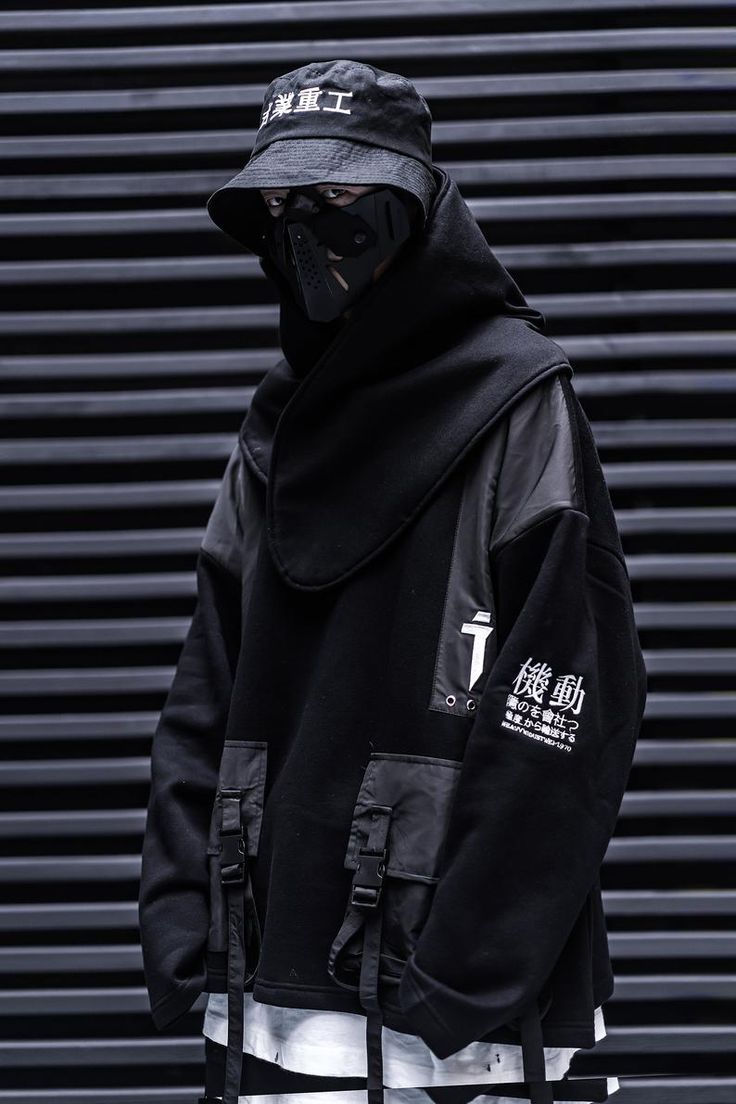 Etsy: Niepce, Cyberpunk Techwear Jacket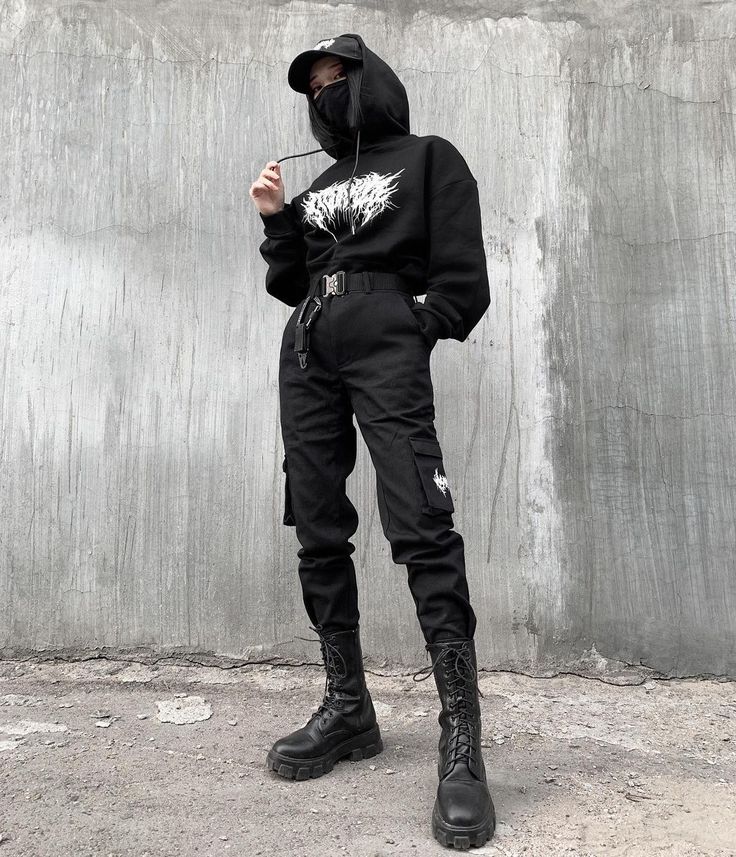 karnagestreetwear.com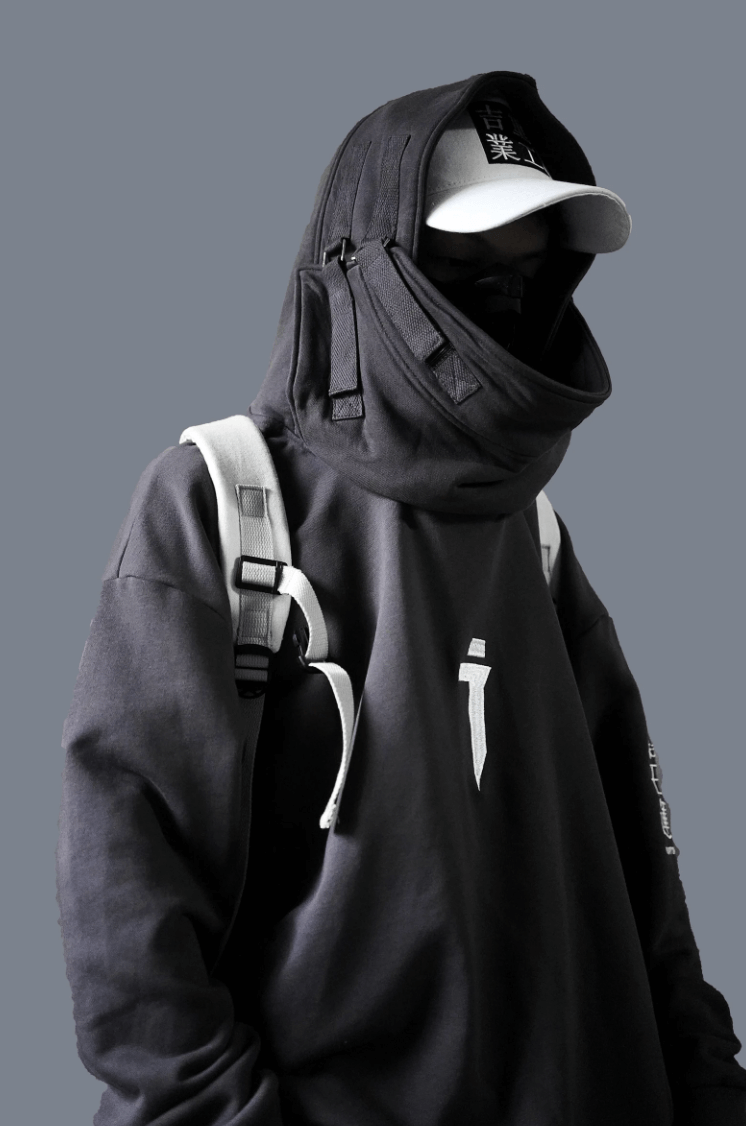 Etsy: Niepce, Japanese Cyberpunk Techwear Crewneck
Winter Grunge / Punk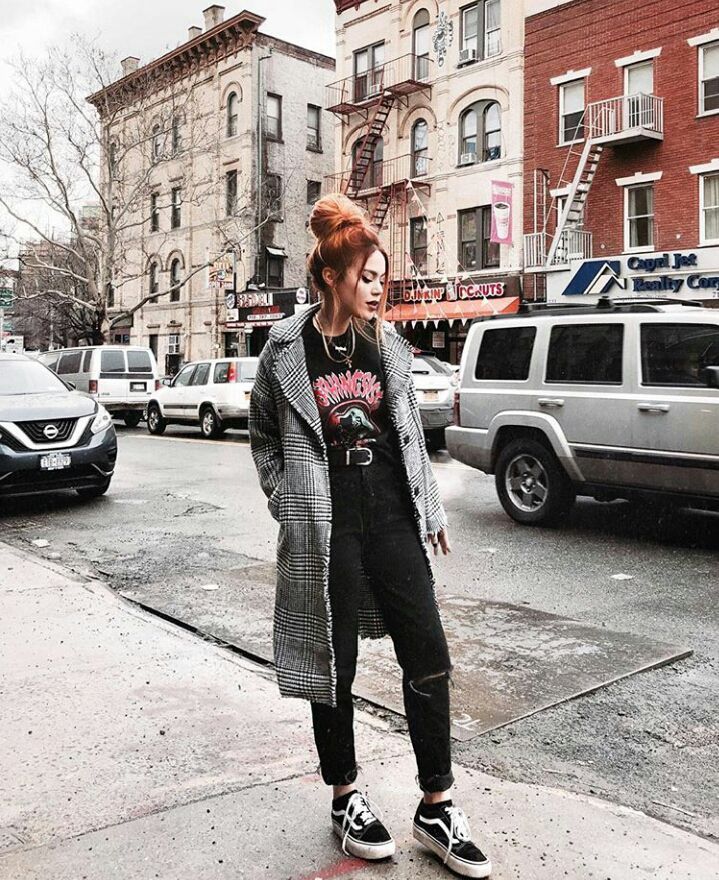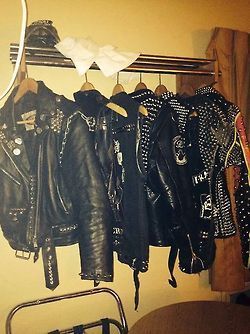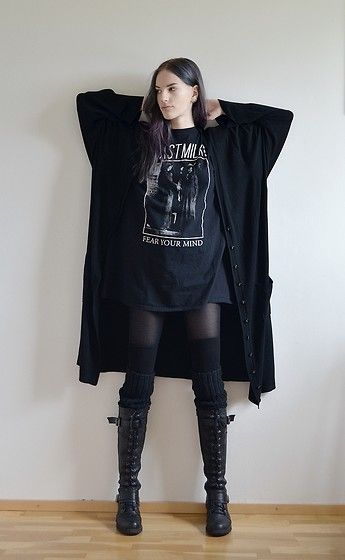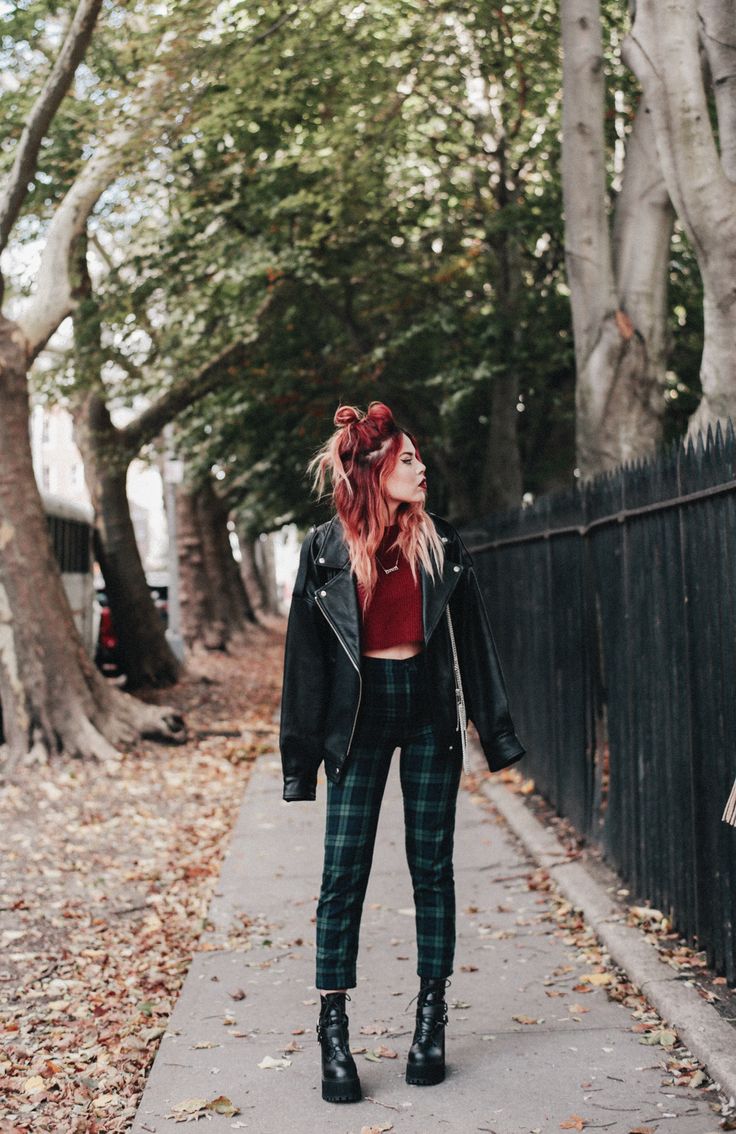 le-happy.com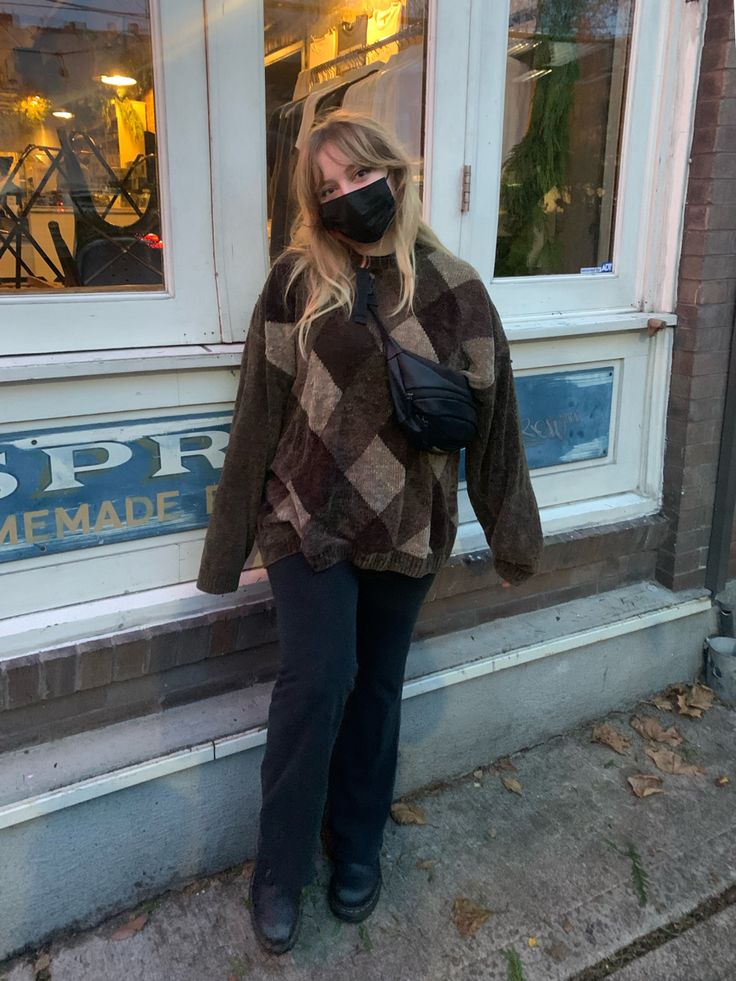 Won't an all-dark outfit be boring?
If you are not a fan of all-black outfits, go for other dark colors such as grey, burgundy, olive green, or navy blue.
If you don't mind black but you don't want to look basic, then the answer is in the structures and finishes. Denim pants with a chunky knit and a shiny puffer vest over it will be far more visually engaging than all-plain all-matte black outfit.
Last but not least, make sure that you are comfortable in your outfit. If you are not comfortable in your clothes, you will not be happy wearing them. Choose dark indie outfits that fit your style and make you feel comfortable.
There's so much good stuff to be had on Etsy that is not even expensive, so why not?
How to make dark indie outfits work for colder weather
One way is to layer clothing. Layering is good to keep warm, but obviously we do it because it looks cool instead.
For instance, in grunge aesthetic, you would wear sneakers and dark skinnies with a dark T-shirt with a checkered shirt, and then add a dark jacket and finally a puffer vest on top. To that you'd probably go with a beanie and a scarf, maybe in a different color of checkered patter. There, a dark indie outfit for winter, starting from plain basics.
Another option is to keep your outfit fairly basic (and warm) and then make it look aesthetic using accessories. Studded bag move it towards grungy, heavy shoes can be more techy if you choose well, beanies and scarves are cute or boho and can do a lot as well.
Why dark indie outfits are perfect for autumn and winter
Dark indie outfits are perfect for expressing the dark and moody side of fashion. While other styles might be too bright or too colorful for your mood, dark indie outfits provide a way to look stylish while still being able to showcase your unique personality.
The several indie aesthetics that cater to your expressive needs by being super dark can be bent towards horror or emo, or towards tech, or towards grunge. If you're looking for something different this winter, consider trying out one of the dark indie styles that are perfect for autumn and winter. They are moody and dark but also unique and aesthetic, and as long as you accessorize well, you will be able to reuse garments between aesthetics.