The charm of Japanese modern bathrooms: It's in the materials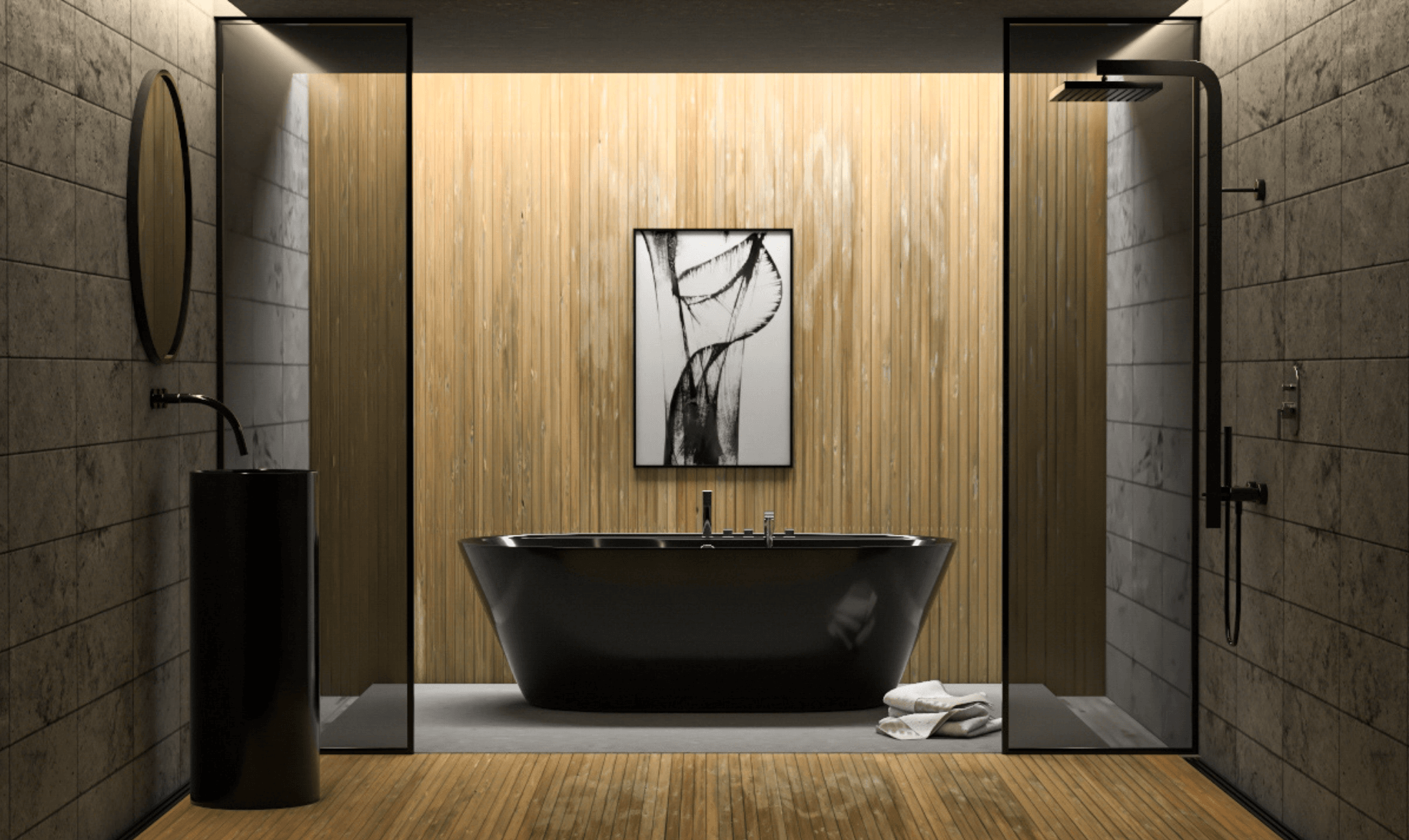 Japanese bathrooms are known for their sleek and contemporary designs that work primarily with natural materials like wood and stone. Stone tiles or grayish ceramic tile surfaces not only look great, but they're also easy to keep clean and hard-wearing enough to keep up with your busy lifestyle.
This article will give you an overview of the most common features in Japanese bathrooms and how you can achieve that aesthetic in your own home.
Hate to break it to you, but to have the Japanese modern bathroom in your home, you will probably need proper, full remodelling. The aesthetic is quite tied to specific materials and won't look the same if you just sprinkle your bathroom with accessories here and there.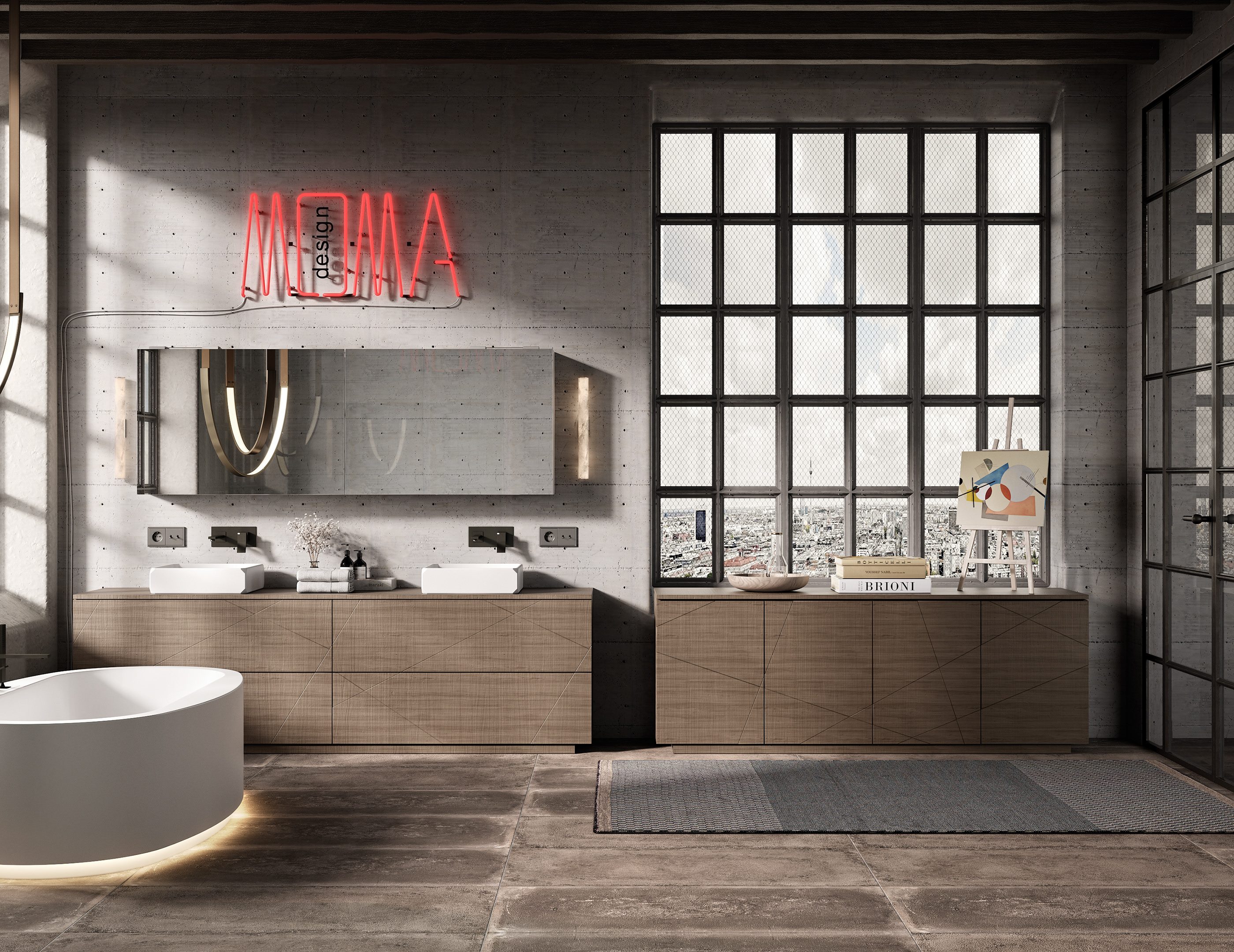 Behance: MOMA DESIGN
Stone, wood and ceramics
One of the reasons Japanese modern bathrooms are so popular is because of the materials that are used in the designs. Natural materials like wood and stone have a certain charm and elegance that is unmatched by other materials.
But to really get that atmosphere of stone tiled paradise, there is no other option than using a stone tile as your primary material in your bathroom. Small accessories from the same material are nice, but don't quite cut it.
It's aesthetic as well as practical
If you are down to remodelling, then there's good news - these materials are very practical and easy to maintain. Wood doesn't show water marks or scratches, and stone is practically immune to dirt and stains. So if you're looking for a bathroom that will look great and last for years, Japanese modern bathrooms are a great option.
Bathroom as a place of ritual
Japanese people have a different approach to bathroom design than most Westerners. The focus on simplicity often reflected in the layout and decoration of these facilities includes wood floors, low lighting fixtures made from metal or concrete walls without any tiles installed across them for color contrast against their tiled surfaces which can make it look luxurious when done well enough - think: bamboo doors!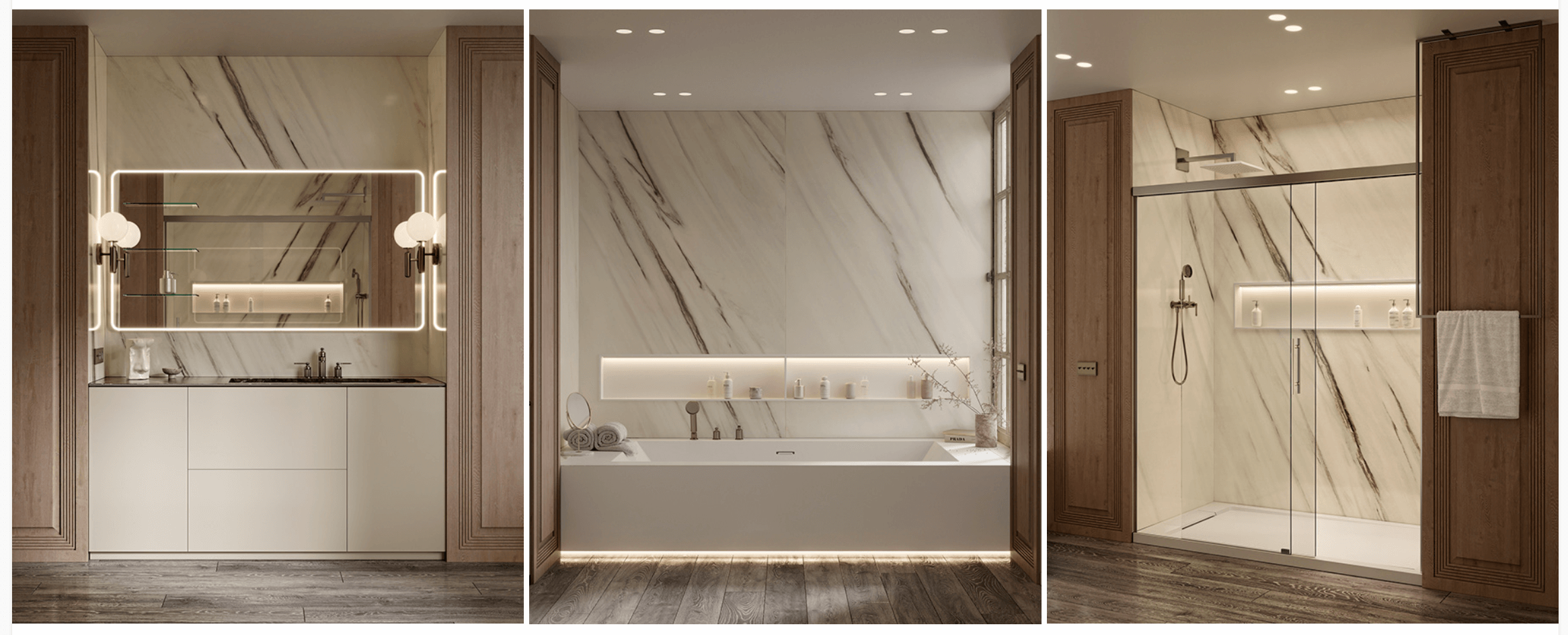 Behance: MOMA DESIGN
A picture may be worth 1000 words but this one image says more about culture shock you'll experience changing from a run-of-the mill bathroom to a Japanese one.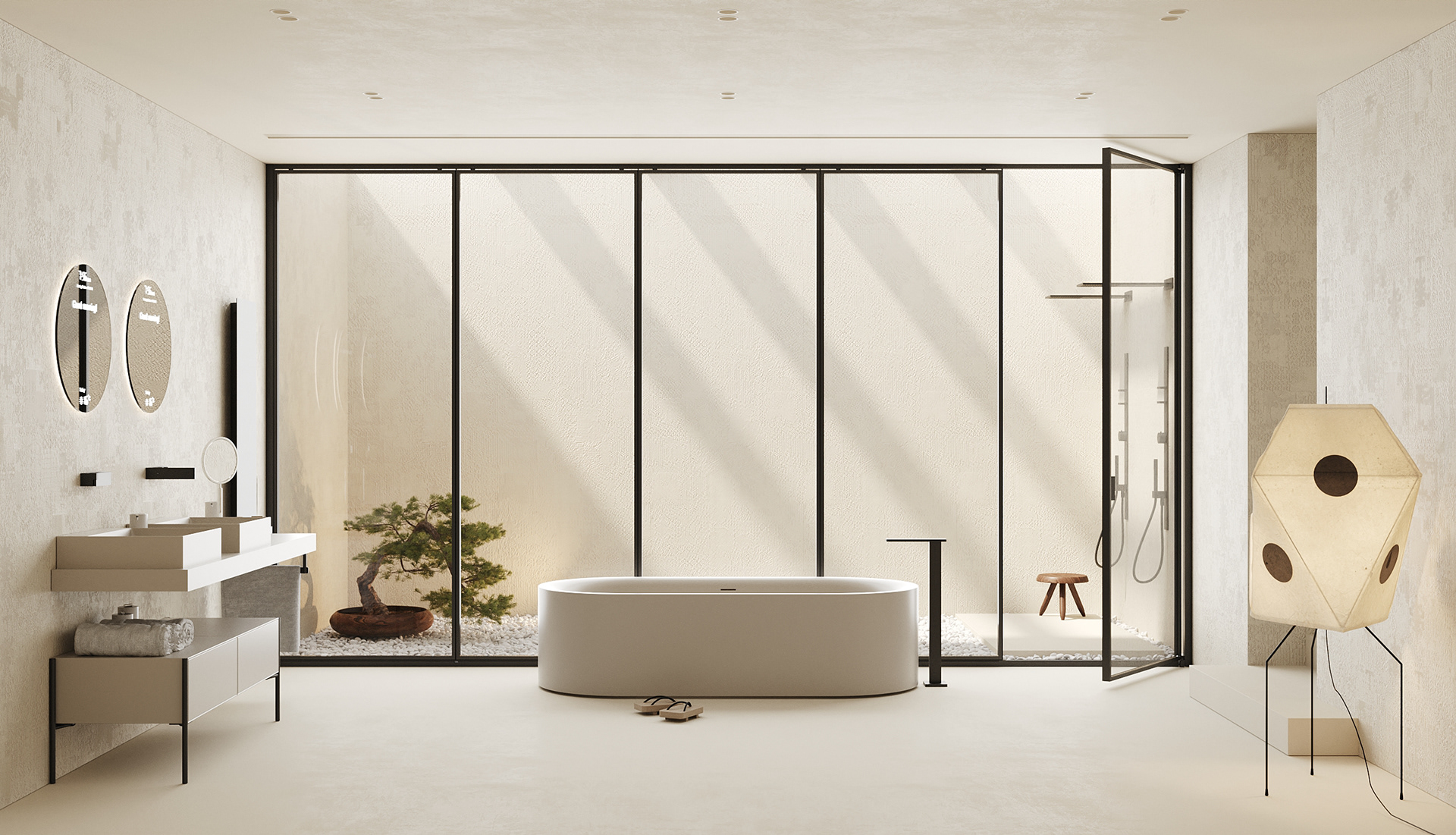 Behance: Oleg Trofimov (OLOVO Interior Design)
The use of natural light in Japanese modern bathrooms
The other defining feature of Japanese modern bathrooms is their use of natural light.
By using matte, but not too dark surfaces and large windows, Japanese designers are able to make the most of the available daylight.
This not only makes the bathroom more pleasant to be in, but it also gives the impression of connection to nature.
The deal-breakers
When it comes to Japanese modern bathrooms, the use of natural materials is key. Not only does it look great, but it's also easy to maintain. You can still add even more nature by adding actual plants. That is also a great option for those of you who don't have the luxury of a tall bathroom window that leads to a garden with a lot of greenery.
If you're really considering to create a Japanese modern bathroom in your own home, there are a few things that are non-negotiable.
First is using grayish tiles or surfaces wherever possible. This will help to soften up the energy of the room and make it feel more spacious.
In addition, make sure to use a well sized windows or skylights to allow natural light in.
And finally, consider using natural materials like wood or stone in your design. Ceramic tiles work as well, aesthetically, but stepping on a stone tile does really give a different sensation.
These three tips will help to create a cohesive look and feel that is unique to Japanese modern bathrooms.
No other aesthetic works with so much tranquility
People who are looking for a modern and sleek bathroom design often love Japanese modern bathrooms. The use of natural materials like wood and stone give the bathroom a feeling of relaxation and calmness, while the use of natural light makes the space feel more open and airy.
Japanese modern bathrooms are often part of a home that is not altogether very Japanese, and that is fine. If you are looking for an indie decor aesthetic that will go well with a Japanese bathroom, you might want to look into the organic modern aesthetic. It uses similar visual elements such as natural wood and plants, but it is closer to plain minimalism.
What's not to love about a Japanese bathroom? The tatami mats, the furo ( soak in this), and those sliding doors that disappear into walls all contribute towards an elegant feel. But what really makes these bathrooms special is their natural appeal with cypress wood being used for construction of traditional soaking tubs or ' baths as they're often called here - also known by names such 'hinoki'(cypress)and "kii." These unique pieces have antibacterial properties so you know your room will be protected from mold spores while defending yourself against odors too!