Accentuating Sensuality: Aesthetic Makeup for a Nude-Colored Dress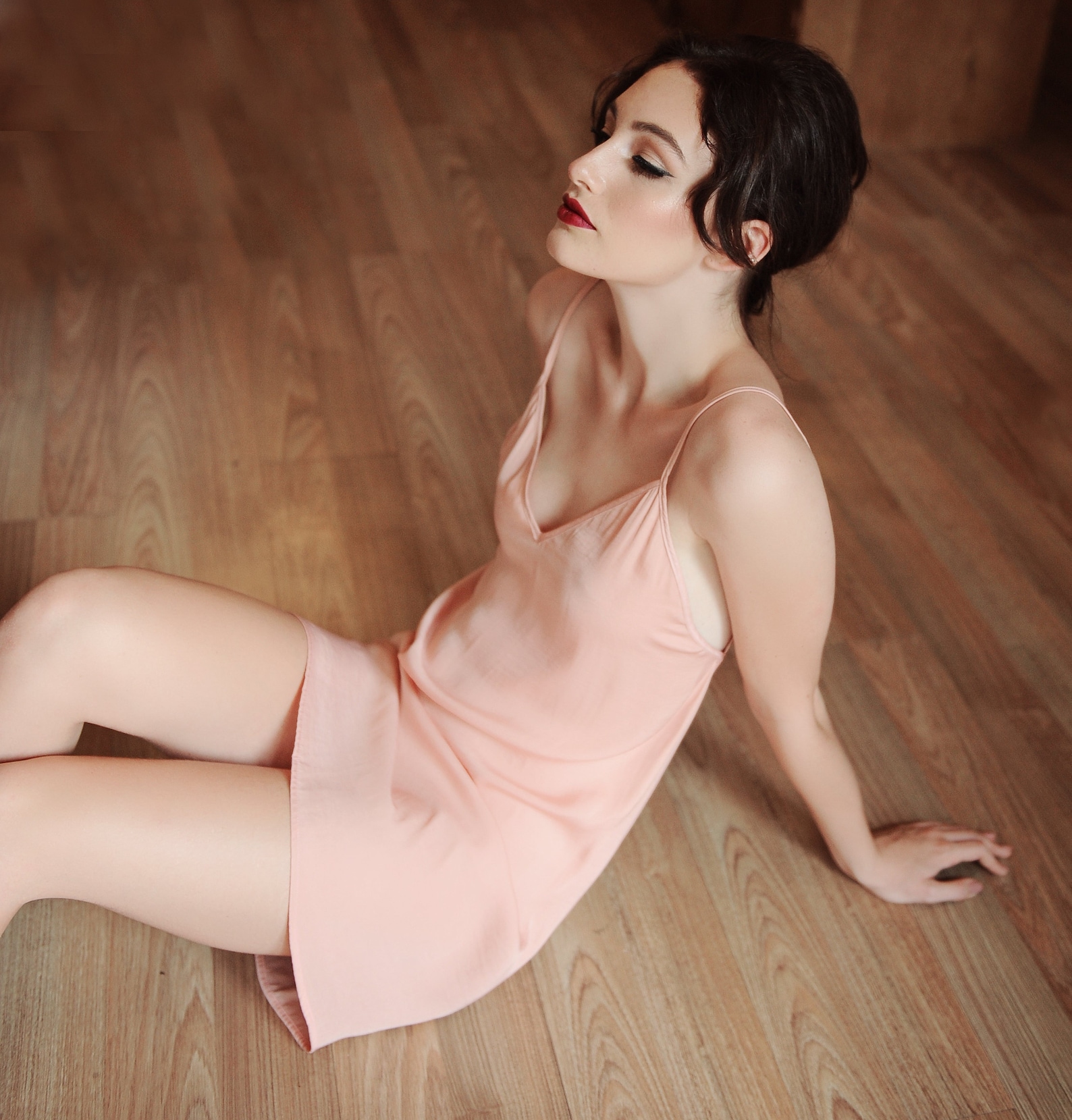 When it comes to fashion, wearing a nude-colored dress exudes elegance and sophistication. To complement this understated beauty, it is essential to choose makeup looks that enhance rather than overpower the overall ensemble.
The art of selecting creative makeup lies in accentuating the allure of the nude-colored dress, allowing your natural beauty to shine through.
There are plenty of options here. Looking for something fool proof, back to basics? Then keep in minimalist and wear just a statement lip. Do you need more aesthetics in your life? Make it graphic with bold eyeliners and full coverage eyeshadows.
In this article, we will explore some appealing and creative makeup ideas for both statement lips and statement eyes, guiding you step-by-step to achieve a sultry look that perfectly complements your nude-colored attire.
Statement Colors
Statement lips can be a powerful tool to draw attention and add an extra touch of sensuality to your look. But don't let this aesthetic classic limit you - a graphic eyeliner in a contrast color looks amazing too.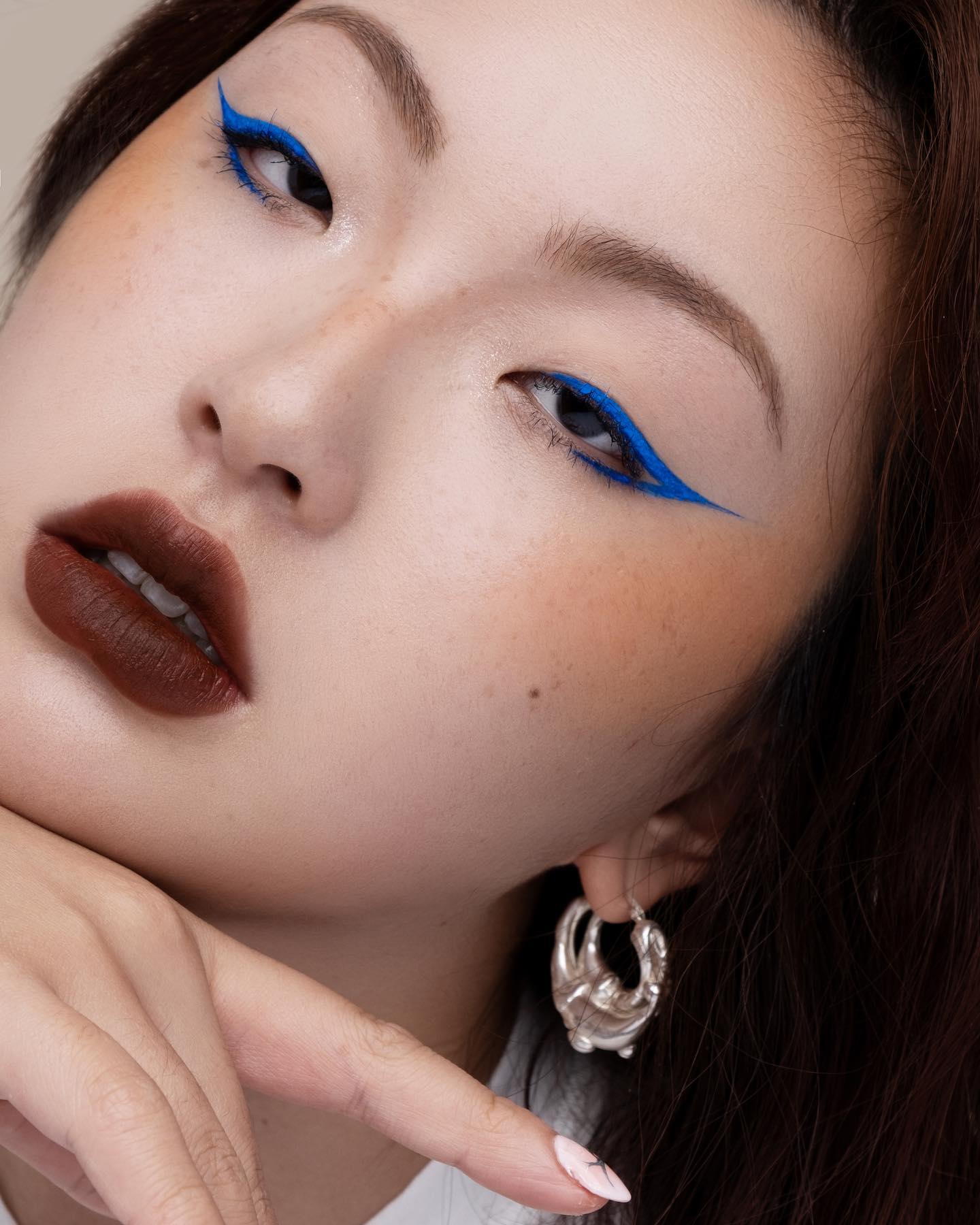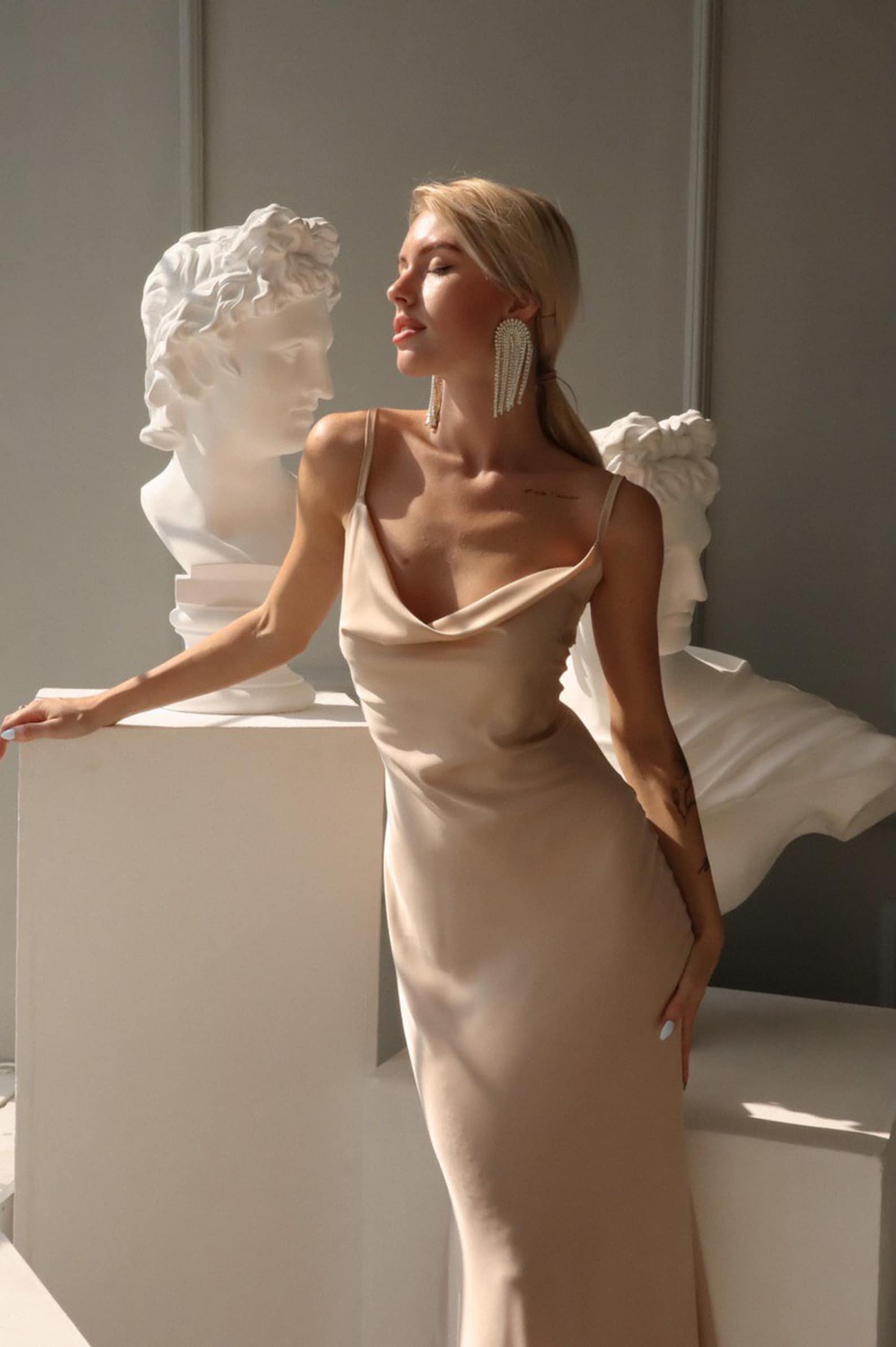 Graphic eyeliner look via IG @grimmfairyfaces using @kaleidosmakeup
Nude silk dress from Etsy: ElenaKosminskaya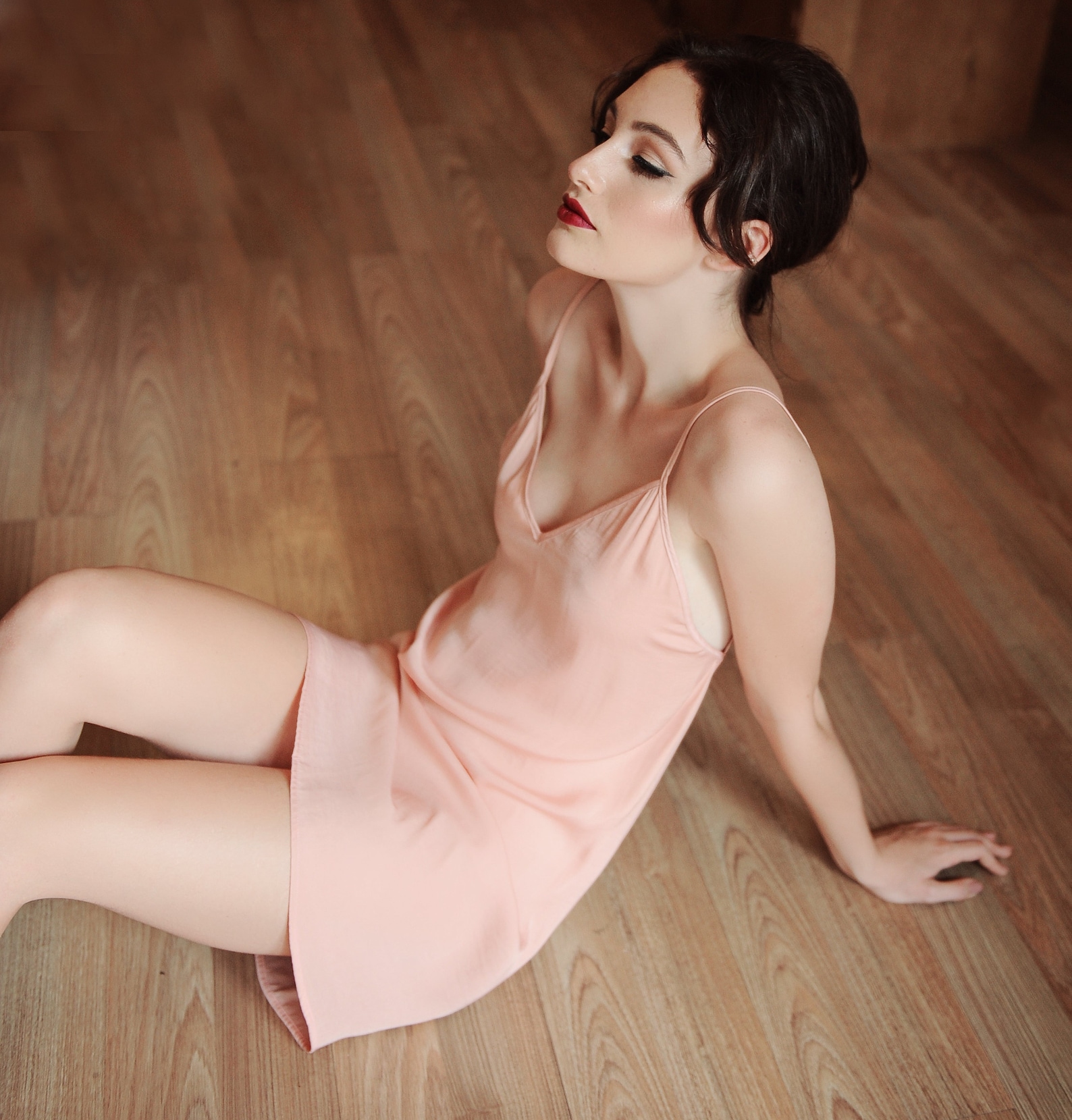 Plain blush slip from Etsy: LelaSilk
Orange eyeshadow look via IG @voranava makeup
Here are two stunning statement options for the lips:
The Classic: Sharp Red Lip
Step 1: Begin by preparing your lips with a gentle lip scrub and moisturizer to ensure a smooth canvas.
Step 2: Apply a lip primer to help your lip color last longer.
Step 3: Line your lips with a red lip liner that matches your skin tone, carefully defining your natural lip shape.
Step 4: Fill in your lips using a red lipstick with a satin or matte finish. Start from the center and blend outward for a precise application.
Step 5: For added longevity, blot your lips with a tissue and reapply another layer of lipstick.
Step 6: Finish by concealing any mistakes with a small brush and concealer, and lightly dusting translucent powder over your lips.
The Soft, Dewy Vibe: Berry-Stained Lips
Step 1: Prepare your lips by exfoliating and moisturizing them.
Step 2: Apply a lip balm or primer to create a smooth base.
Step 3: Line your lips with a lip liner in a deep berry shade, staying true to the natural shape of your lips.
Step 4: Fill in your lips with a berry-colored lipstick, applying it evenly for a stained effect.
Step 5: Using a lip brush, blend the color towards the center of your lips, creating a gradient effect.
Step 6: Blot gently with a tissue to remove any excess product and set the color.
Peachy Vibe
Going for pinks and peaches on both your eyes and lips can look amazing if what you really want is to let shine the nude dress itself, or your accessories. Or perhaps your personality? Either way, metallic and shimmery details can add just a little bit of a kick to the look.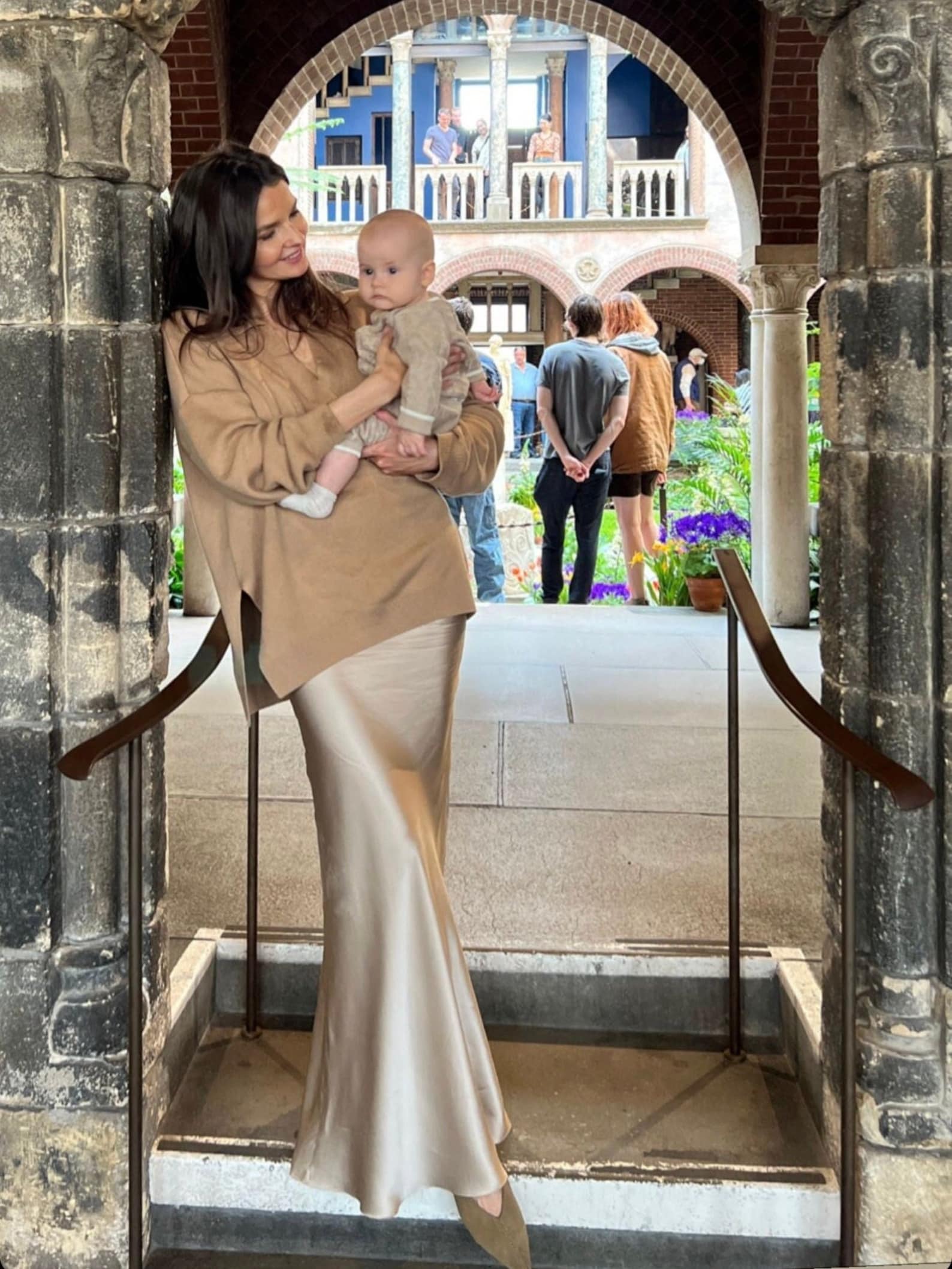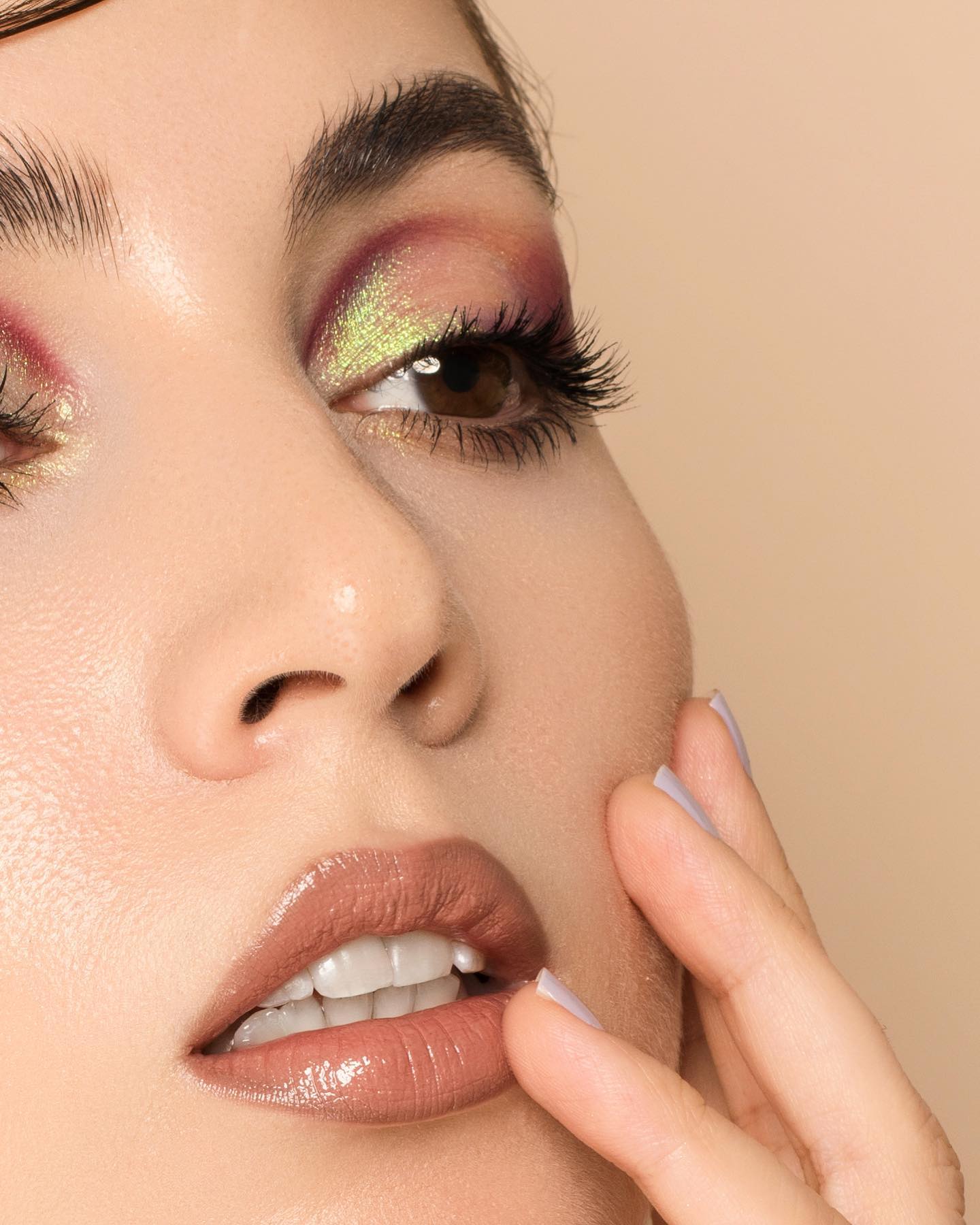 Silk slip from Etsy: TheSerenityWear
Peachy makeup with neon accent via IG @grimmfairyfaces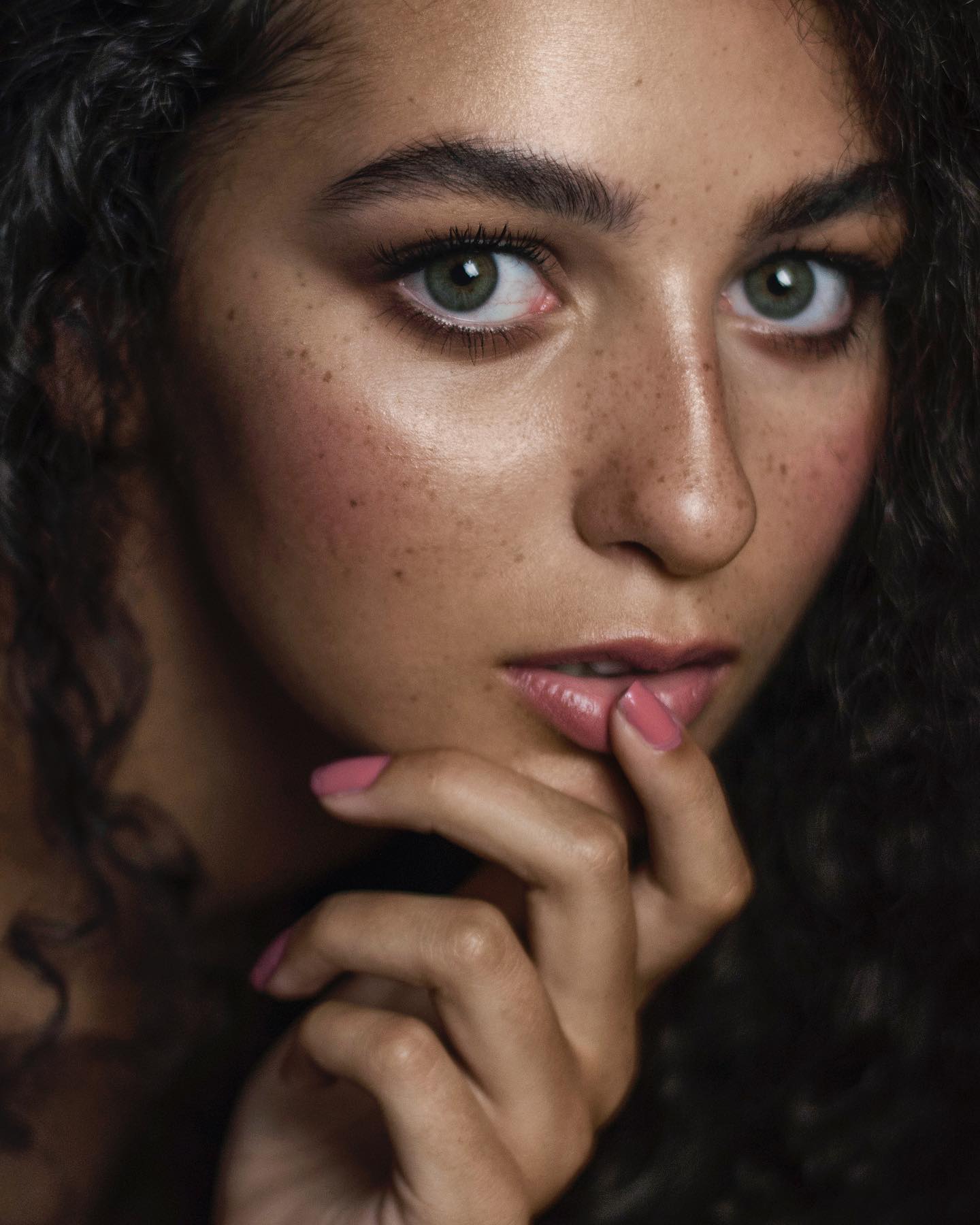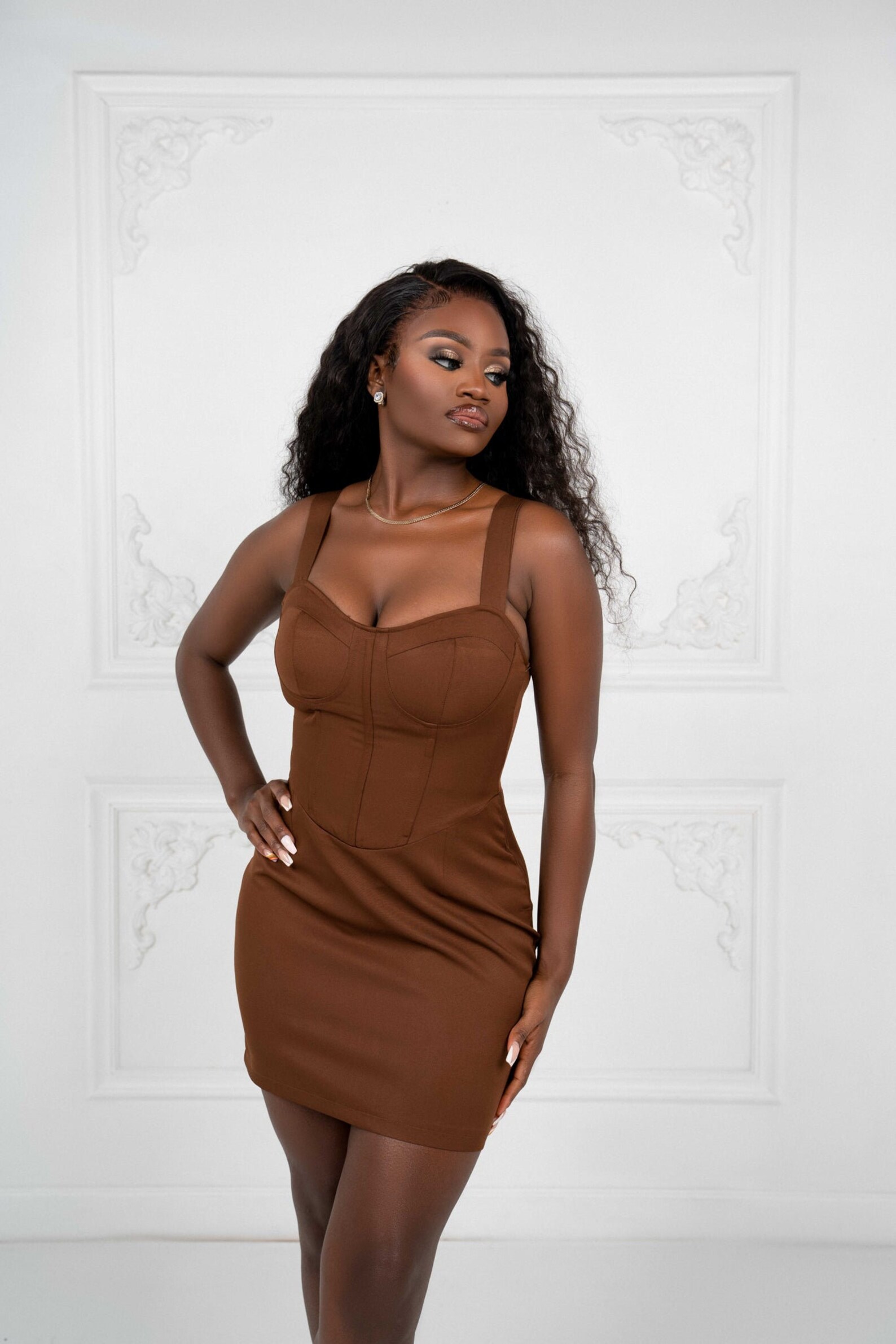 Blush makeup look via IG @grimmfairyfaces
Bodycon dress via Etsy: THESCCOUTURE
Metallic Eyes
Step 1: Apply an eyeshadow primer to ensure the longevity of your eye makeup.
Step 2: Choose a metallic eyeshadow shade that complements your skin tone and dress color.
Step 3: Apply the metallic eyeshadow all over your eyelids, using a flat eyeshadow brush for maximum pigmentation.
Step 4: Use a darker shade from the same color family to create depth in the crease and outer corner of your eyes.
Step 5: Apply a shimmery highlighter to the inner corners of your eyes and along the brow bone.
Step 6: Finish the look by applying a thin line of black eyeliner and several coats of mascara to enhance your lashes.
Statement Eye
Statement eyes can captivate and bring an air of mystery to your overall look.
Here is one creative makeup look that can elevate the sensuality of your nude-colored dress:
Smoky Eyes With Accent
Step 1: Start by applying an eyeshadow primer to ensure your eye makeup stays in place.
Step 2: Apply a neutral-toned eyeshadow all over your eyelids as a base.
Step 3: Using a medium-toned eyeshadow shade, blend it into your crease, creating depth and dimension.
Step 4: Apply a dark eyeshadow shade to the outer corner of your eyes, gradually blending it inward.
Step 5: Use a small brush or smudging tool to apply the same dark eyeshadow along your lower lash line.
Step 6: Finish the look by lining your upper lash line with a black eyeliner and adding a few coats of mascara to your lashes.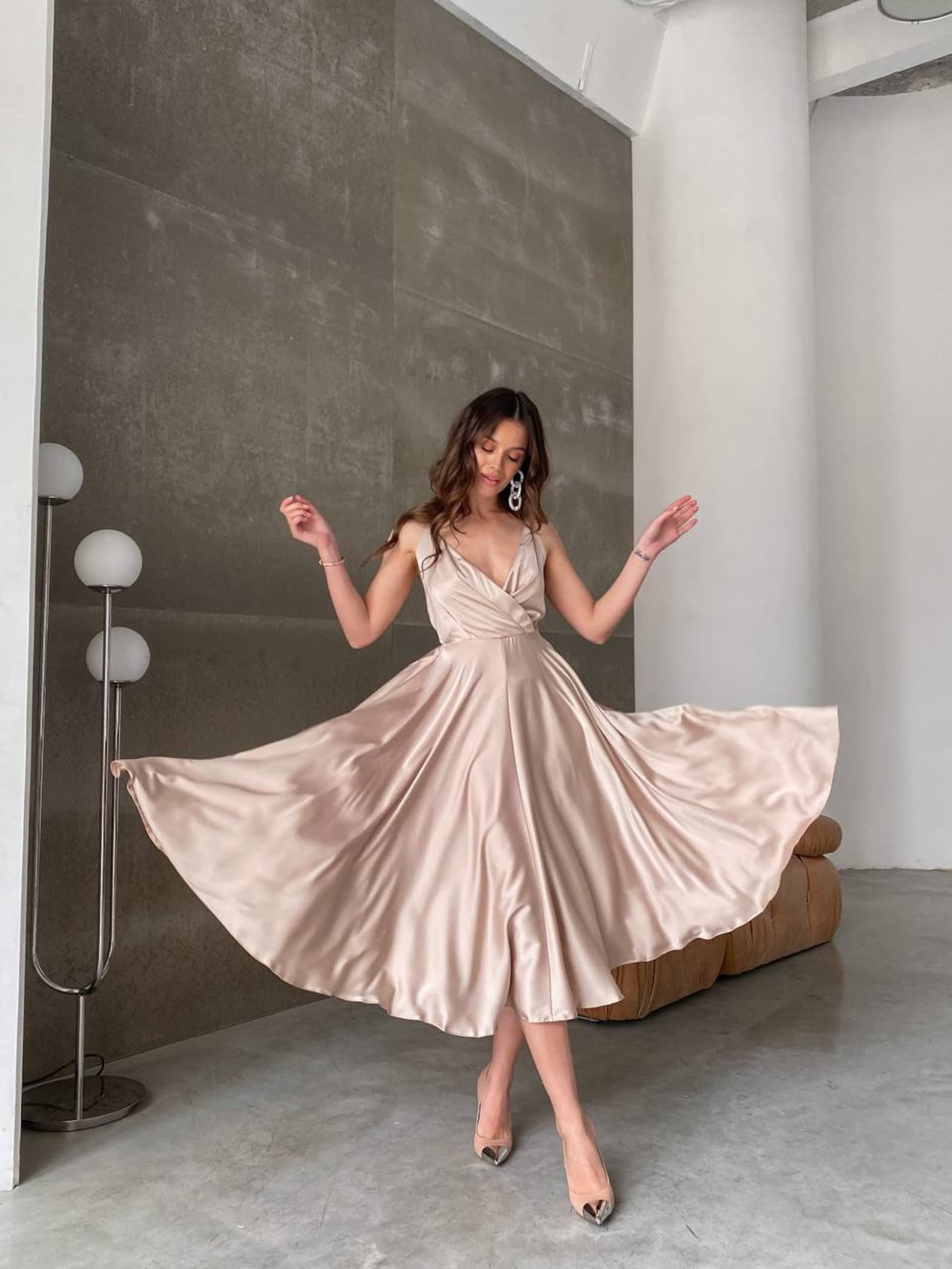 IG @beautyby rouge
Silk wrap dress from Etsy: VilsClothes
IG @aleksandramakijaz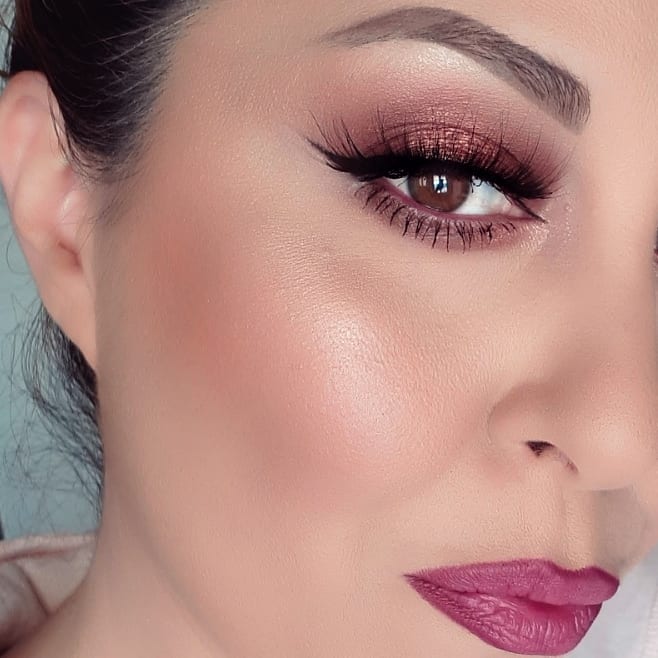 IG @olgasmakeup85
Remember, when choosing the makeup colors, it is best to consider your skin tone, complexion, and the color of your dress - all together. These factors will help you choose shades that harmonize and enhance your natural beauty, making your nude-colored dress truly shine.
In conclusion, mastering the art of creative makeup to enhance sensuality while wearing a nude-colored dress involves choosing statement lips or statement eyes that harmonize with your attire. By carefully considering your skin tone, complexion, and dress color, you can achieve a sultry and alluring look that accentuates your overall aesthetic. So, embrace your nude-colored dress with confidence, and let your makeup amplify your radiance.