Pumpkin Spice Nails in 2023: Autumnal Delight on Your Fingertips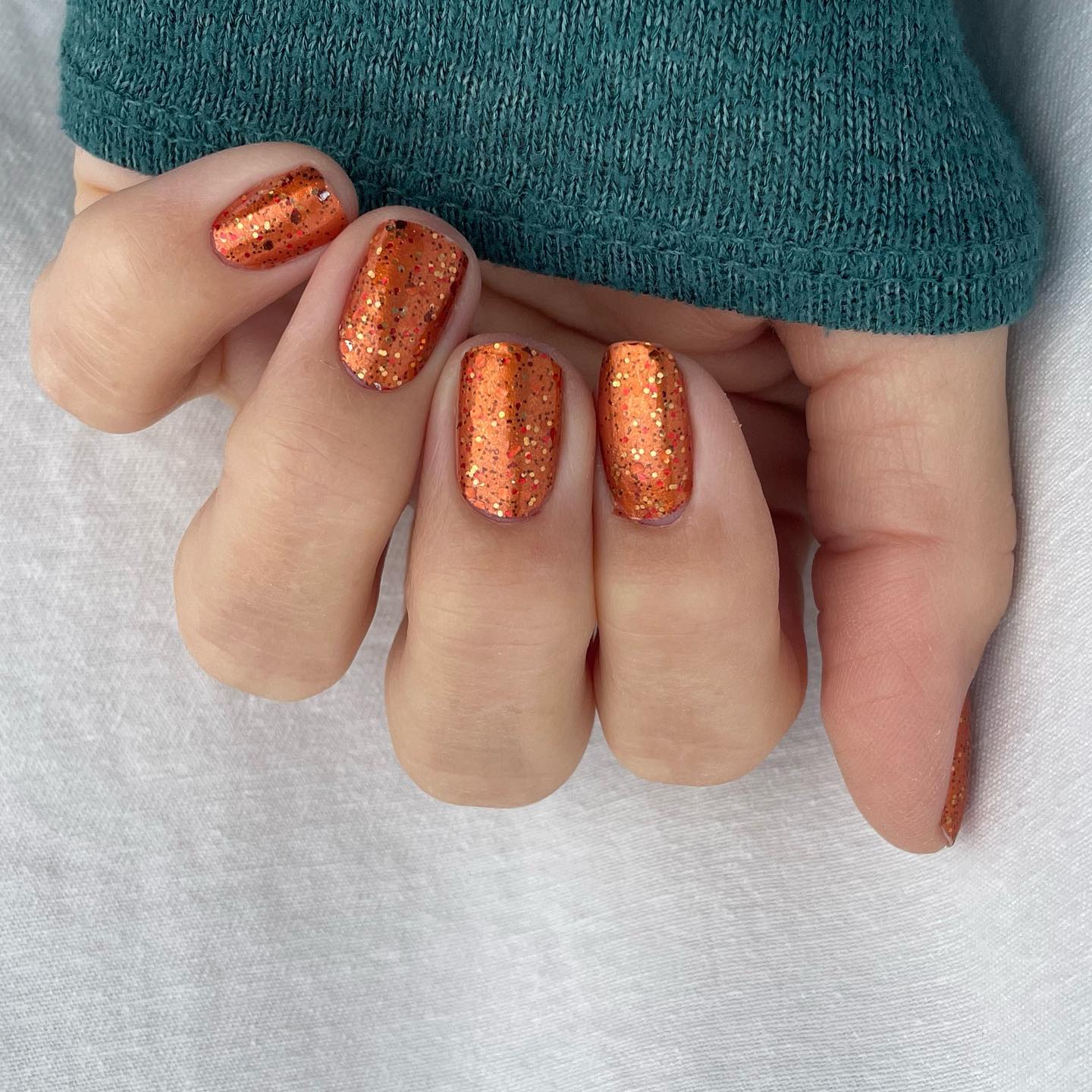 Photo by @jennprattseriousnailfreak
Close your eyes and imagine the warm and cozy feeling that washes over you when someone mentions pumpkin spice.
It's a nostalgic reminder of crisp autumn days, colorful leaves, and indulging in comforting treats. Now, imagine capturing that same essence on your nails. In this article, we'll dive into the ever-popular pumpkin spice nails trend that takes the beauty world by storm every autumn.
We'll explore how to leverage effects like glitter or holo glaze to maximize the effect, allowing you to indulge in the magic of pumpkin spice right at your fingertips.
Fall in Love with the Trend that Adds a Touch of Pumpkin Spice Magic to your Manicure
Pumpkin spice nails embrace the warm and inviting colors of autumn, reminiscent of the iconic pumpkin spice latte.
This trend combines rich shades of orange, burnt sienna, and deep browns, evoking the cozy and comforting vibe of the season.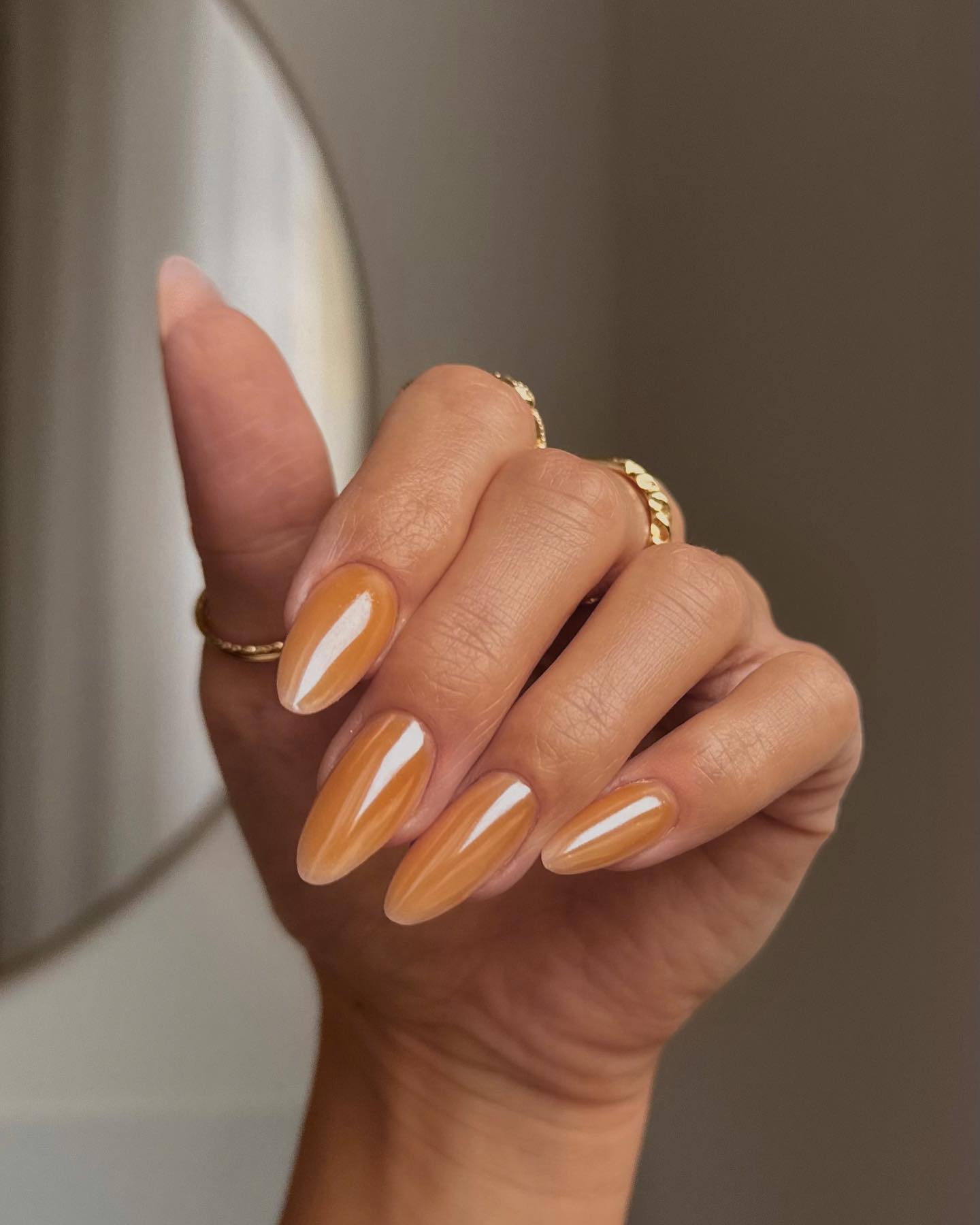 @romie.nails
It's the perfect opportunity to showcase your love for fall while adding a touch of spice to your manicure.
To elevate the pumpkin spice nail trend, consider incorporating glitter or a holographic nail polish.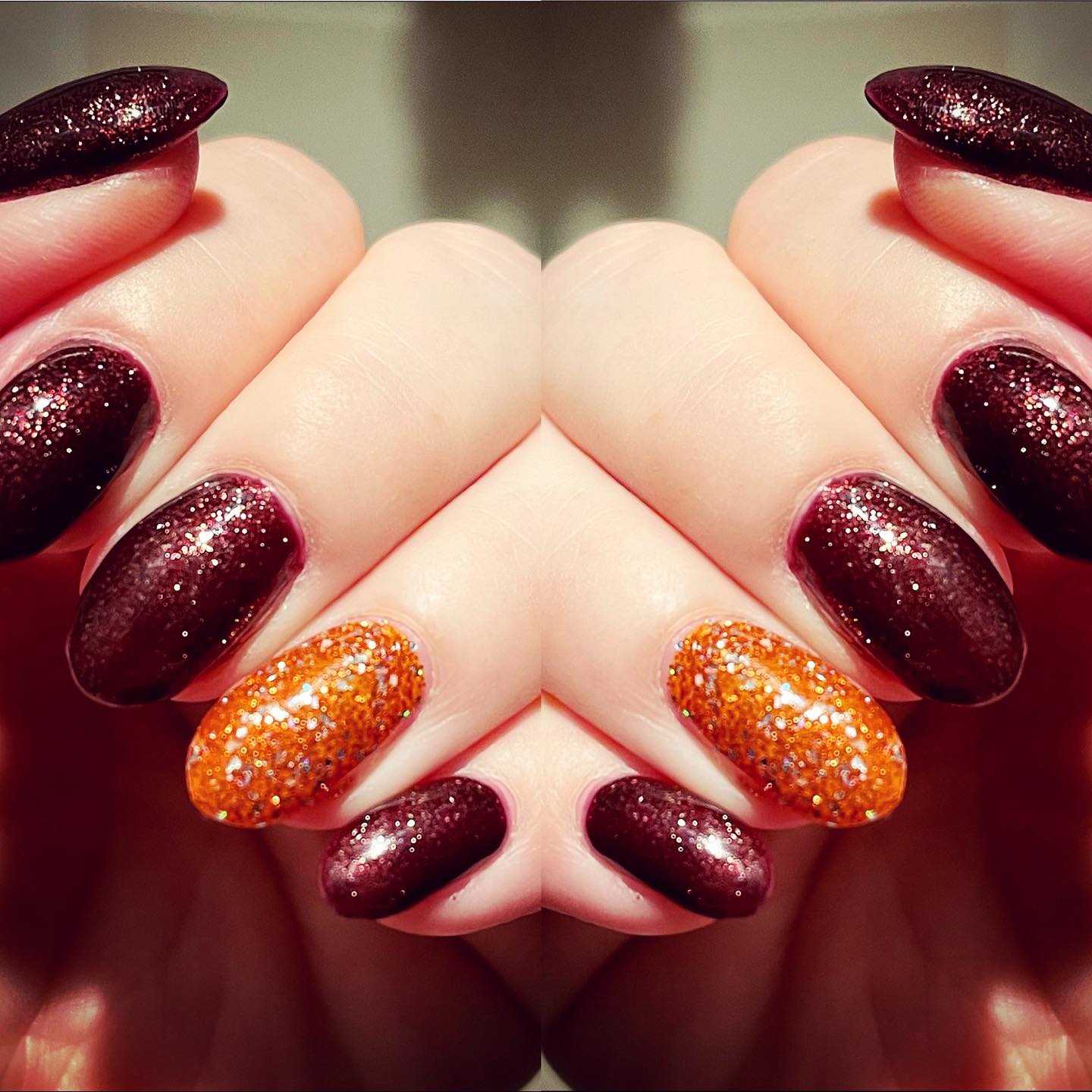 @debb_915
Adding a blob of sparkle to a plain base is a super easy way to transform your manicure into a mesmerizing work of art.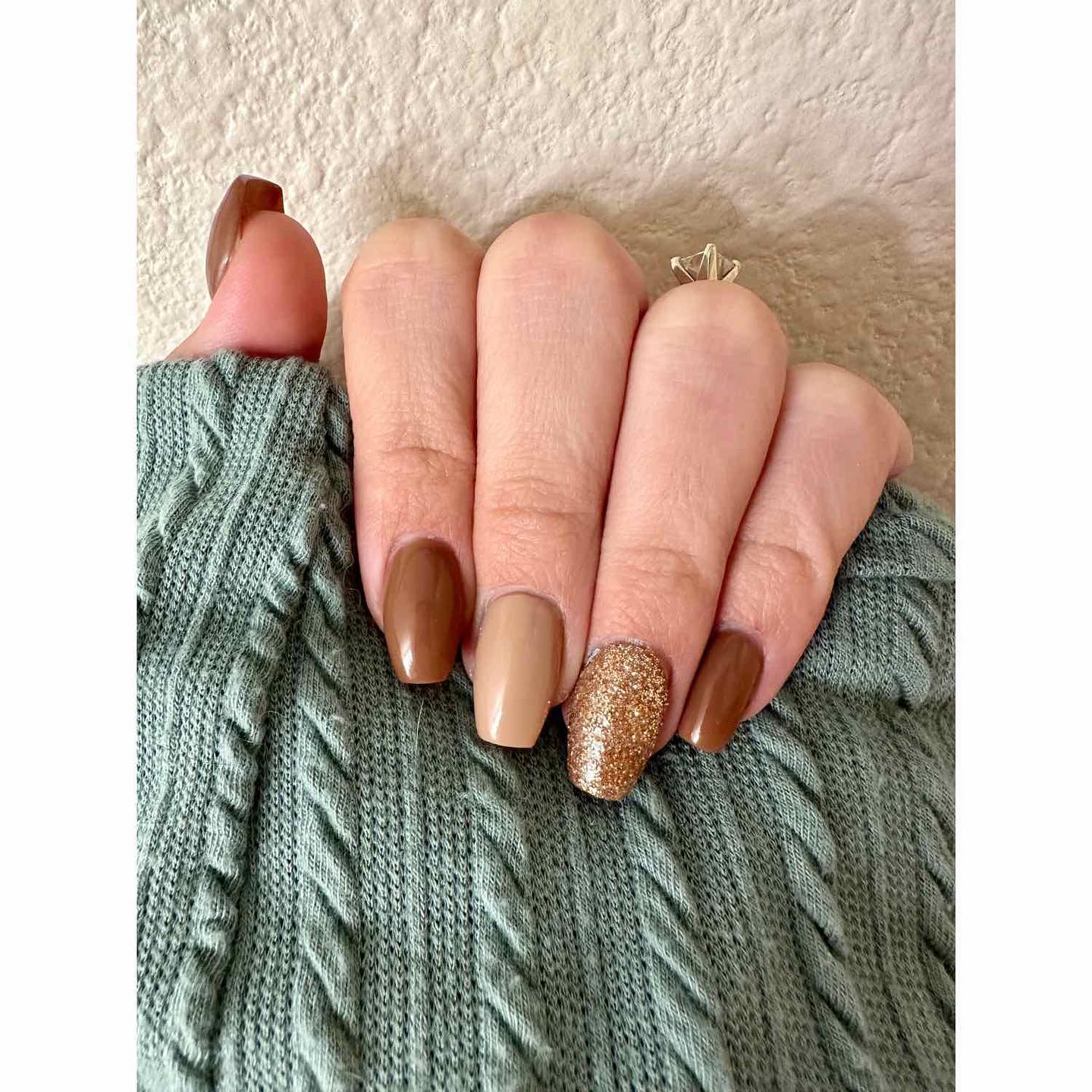 @missrissnails
Opt for gold or copper glitter accents on one or two nails to mimic the shimmering glow of autumn leaves in the sunlight. The sparkle will catch eyes and add an extra layer of glamour to your pumpkin spice-inspired nails.
@rachels.nailspiration.station
For an even more modern twist on the classic pumpkin spice nails, opt for the holographic glaze. Holo glaze polishes have a unique iridescent effect that shifts colors depending on the lighting.
So, choose a shade with warm undertones like copper or bronze to complement the pumpkin spice aesthetic. When the light hits your nails, it will create a mesmerizing display of shimmer and shine, capturing the essence of autumn in a truly magical way.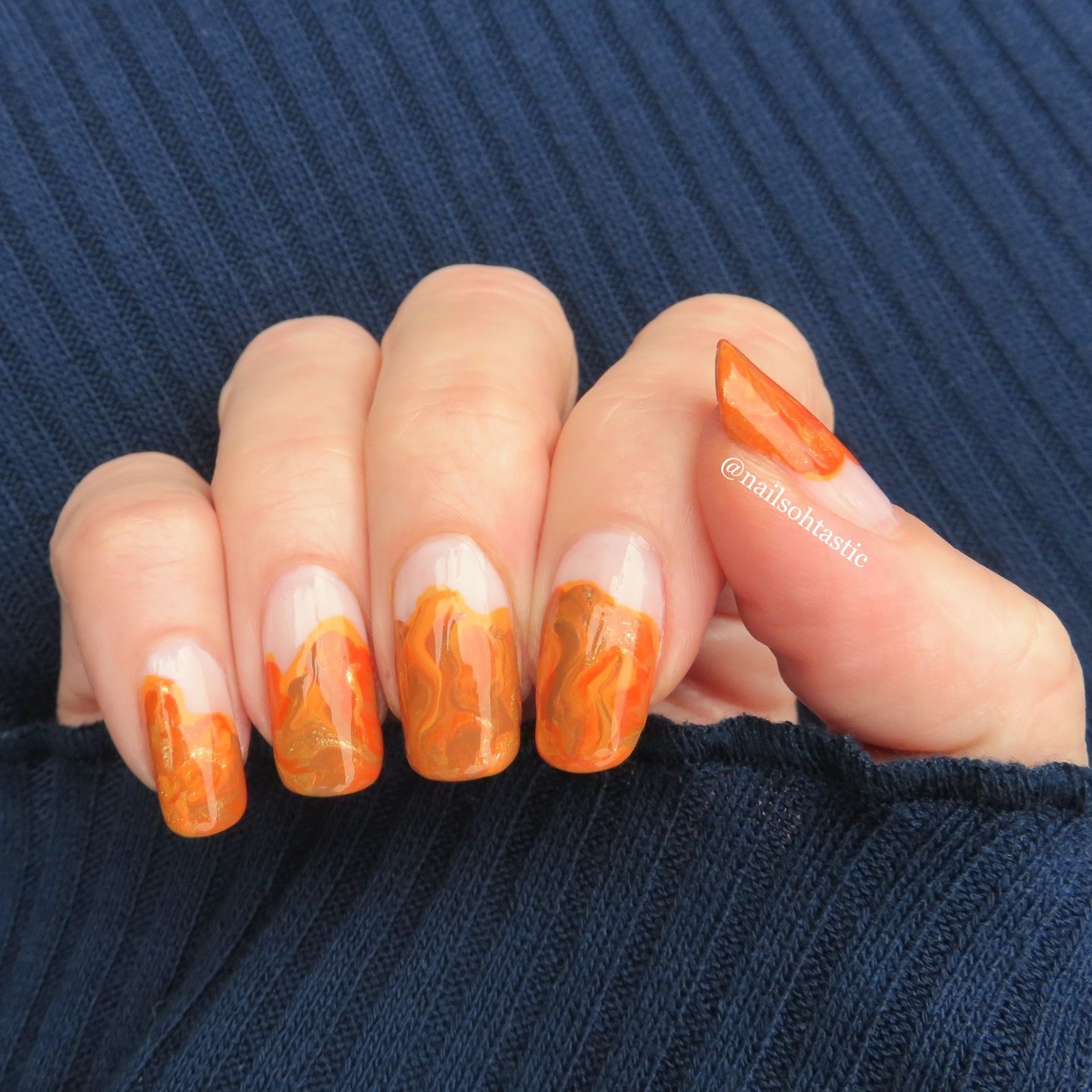 @nailsohtastic
Another way to maximize the effect of pumpkin spice nails is by incorporating an ombré design. Blend different shades of orange and brown from light to dark to create a seamless transition on each nail.
This gradient effect adds depth and dimension to your manicure, resembling the beautiful hues of falling leaves in autumn sun. For an added touch, top it off with a layer of glitter or holo glaze on the tips for a stunning finish.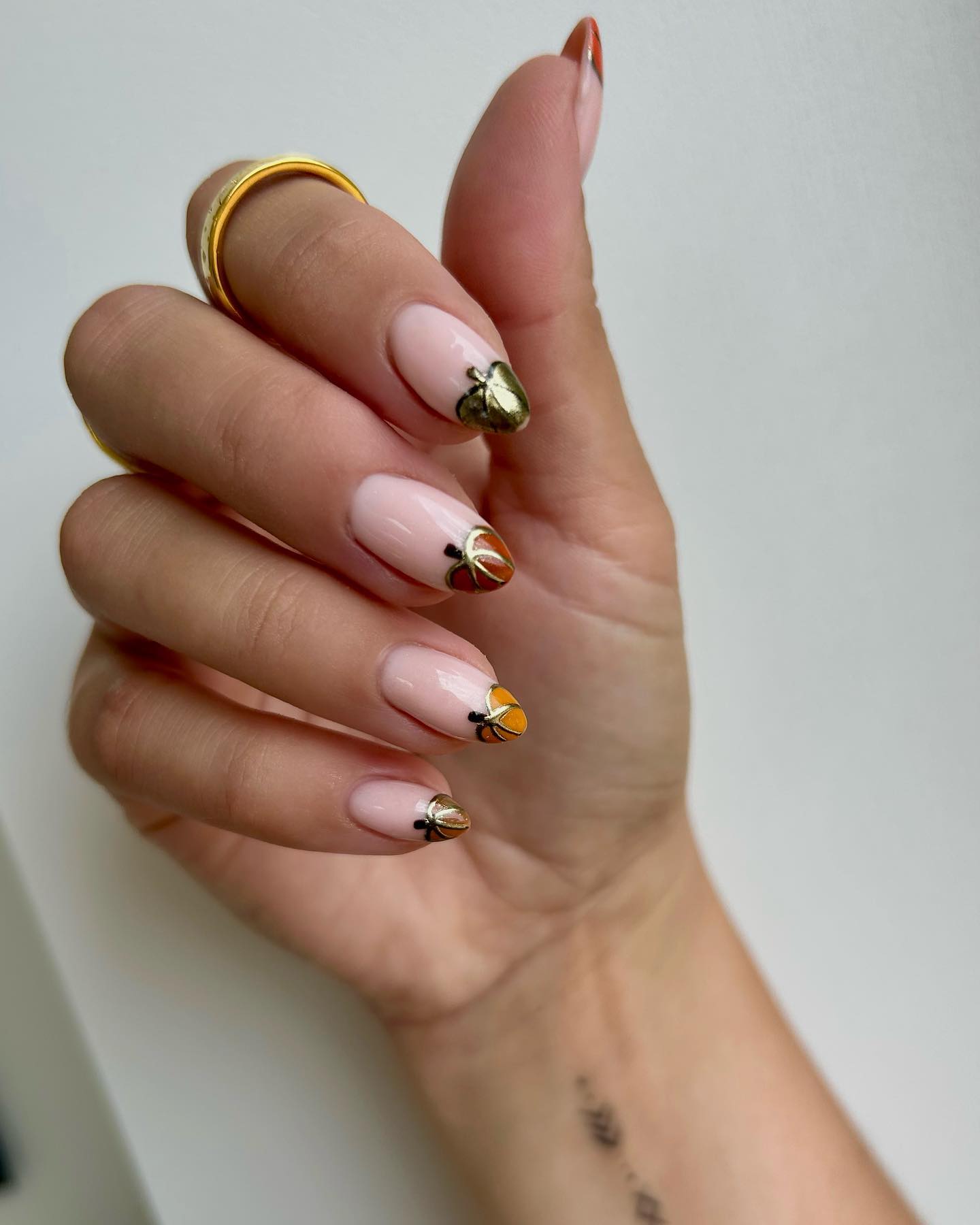 @thenailtech_bristol
If you're feeling creative and want to fully embrace the pumpkin spice trend, consider adding accent nail stickers. Incorporate autumn-inspired designs like tiny pumpkins, falling leaves, or even a cozy sweater pattern.
These intricate details will take your manicure to the next level and make your nails true works of art. You can either attempt these designs at home using nail brushes or seek the assistance of a talented nail artist to bring your vision to life.
---
Indulge in the magic of autumn by embracing the pumpkin spice nails trend. With warm and inviting shades, captivating glitter accents, or holographic glaze, you can capture the essence of fall right at your fingertips. Whether you opt for an ombré design or intricate accent nail art, pumpkin spice nails offer a delightful way to celebrate the season and add a touch of cozy elegance to your manicure. So, grab your favorite pumpkin spice latte, head to your nearest nail salon, and let the enchantment of autumn unfold on your nails.