The Scarf Jacket Trend: Boho Inspo & How to wear it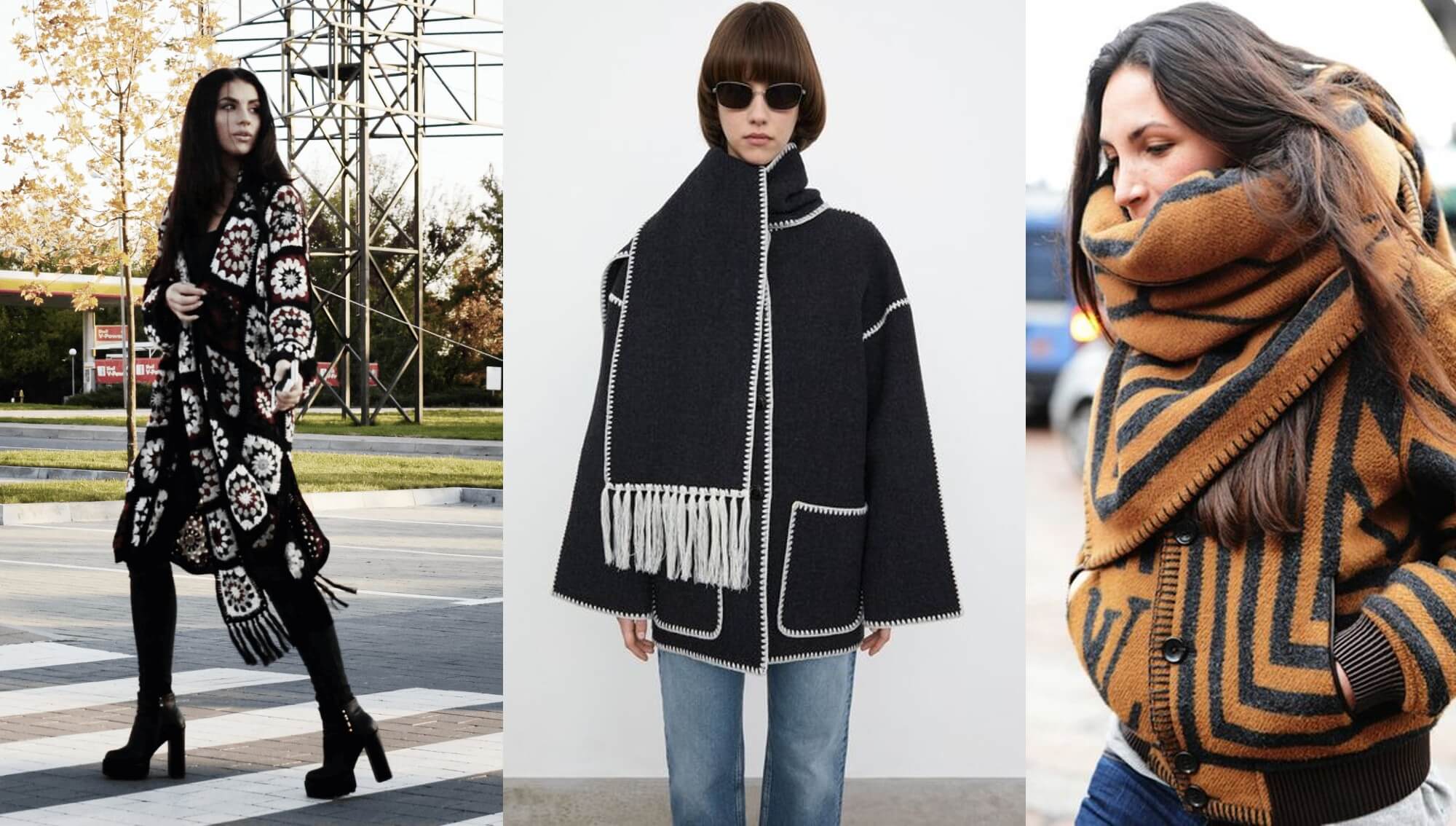 Scarf jackets are a unique piece of outerwear. Well, there are two different jacket styles that get called a scarf jacket. One is a light poncho, a jacket made of a scarf. The other is a jacket that has a scarf from the same material sown into the neckline.
The scarf being from the same material gives the jacket a chic, cohesive look. At the same time, it's a look that can catch attention - scarf jackets are quite a new trend.
TOTEME has a couple of different scarf-neck jackets this winter. Here's one that will probably speak to those of you who like boho and hippie aesthetics: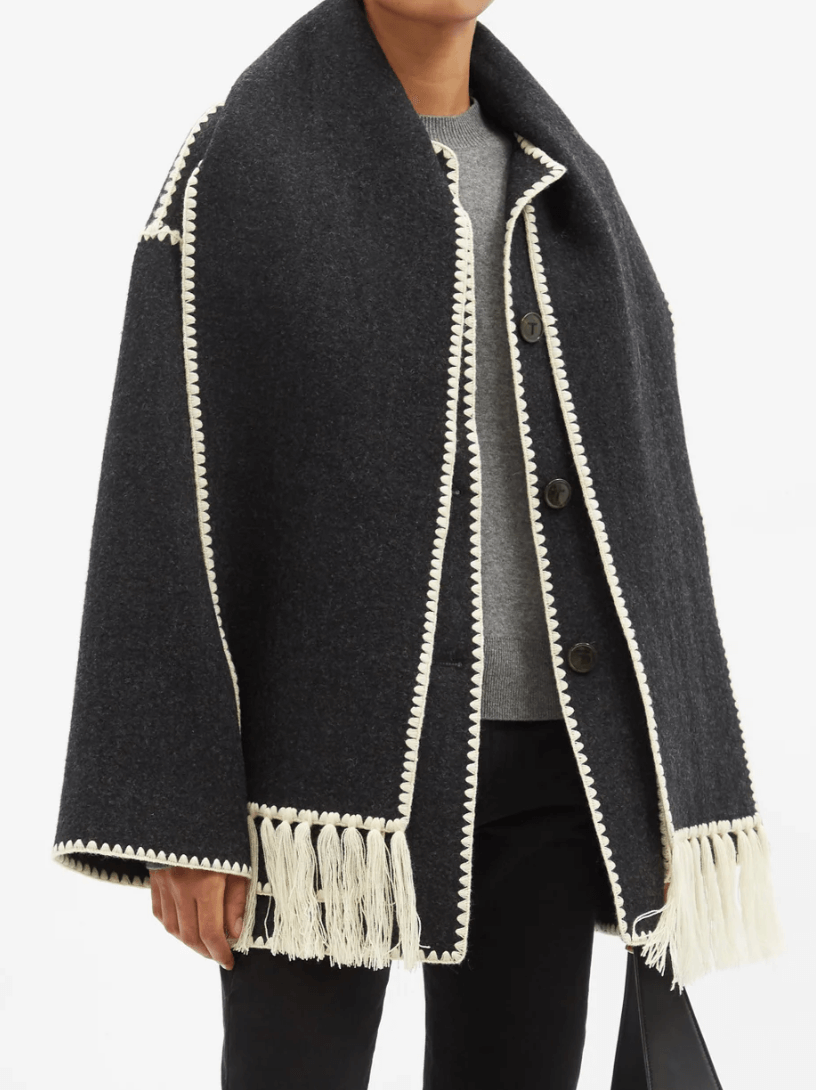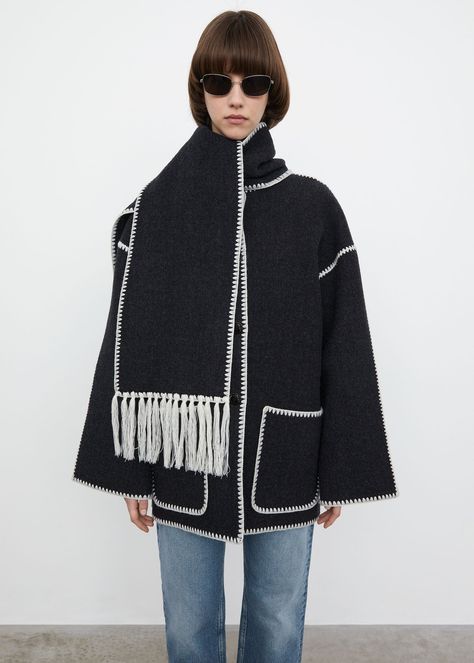 Matches Fashion: Toteme, Scarf-neck jacket
Toteme, Scarf-neck jacket
You could call the TOTEME one boho minimalism; it's a felt jacket, has the contrasting edges, but it has a more sophisticated style than most of boho fashion.
Well, here are four more scarf jackets that are closer to a true boho: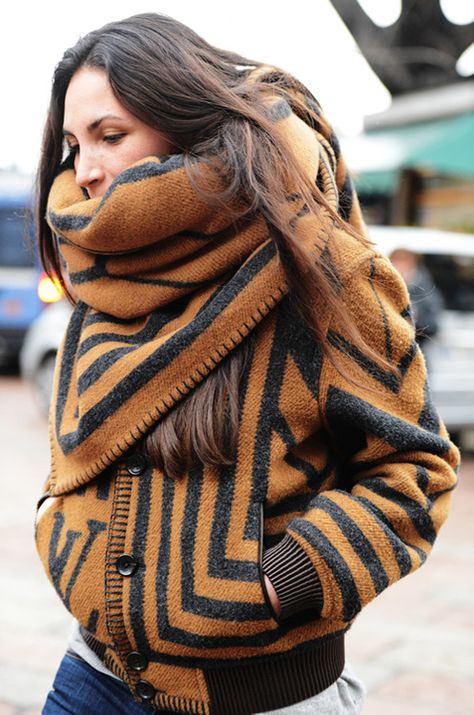 Free People, Boho scarf jacket
LV, felt scarf jacket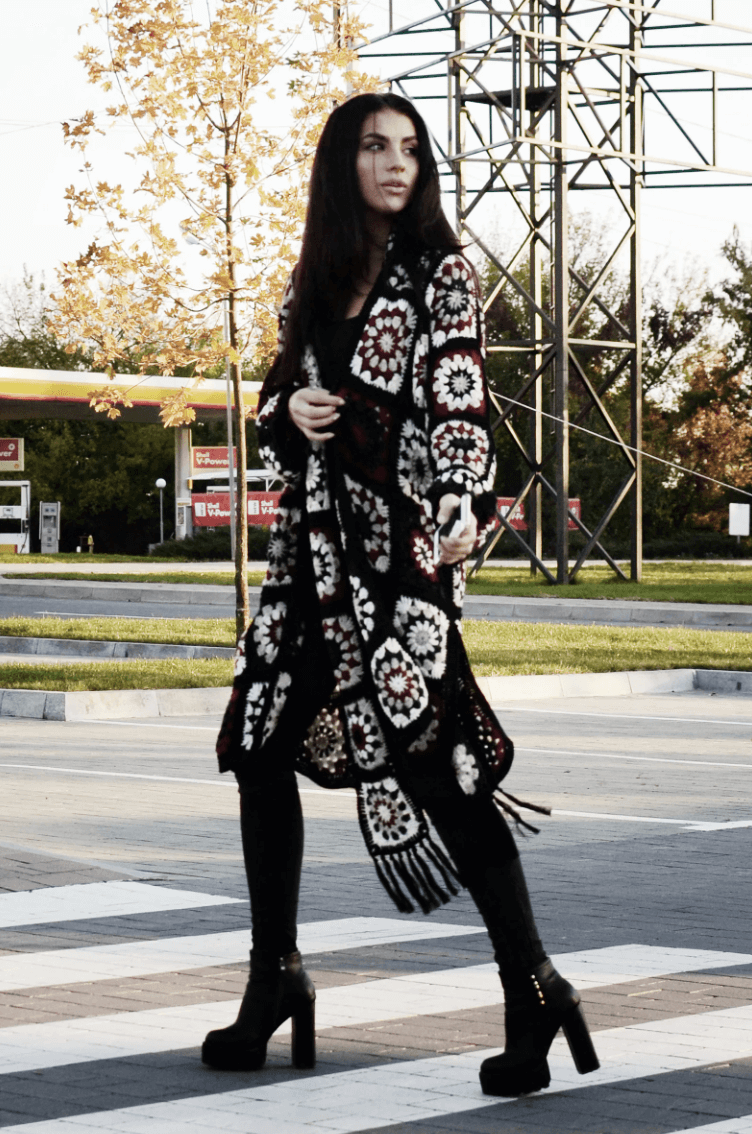 Etsy: LenaFelice
Replicas of the look on Etsy: LenaFelice
Because the scarf jacket is a trend, it might not be quite as cool next year, but then again once a garment is aesthetic, it's still aesthetic even when it isn't trendy.
Either way, you'll be sure to turn heads when you step out in this one-of-a-kind jacket. Let's look at some inspo!
How to wear a scarf jacket
So, scarf jackets come with a scarf sown into the collar. This doesn't mean that you always need to tie the scarf, though! If you want to show off the scarf detail, leave it loose. A well made scarf jacket should look good unbuttoned with the scarf loose as well as buttoned up and tied.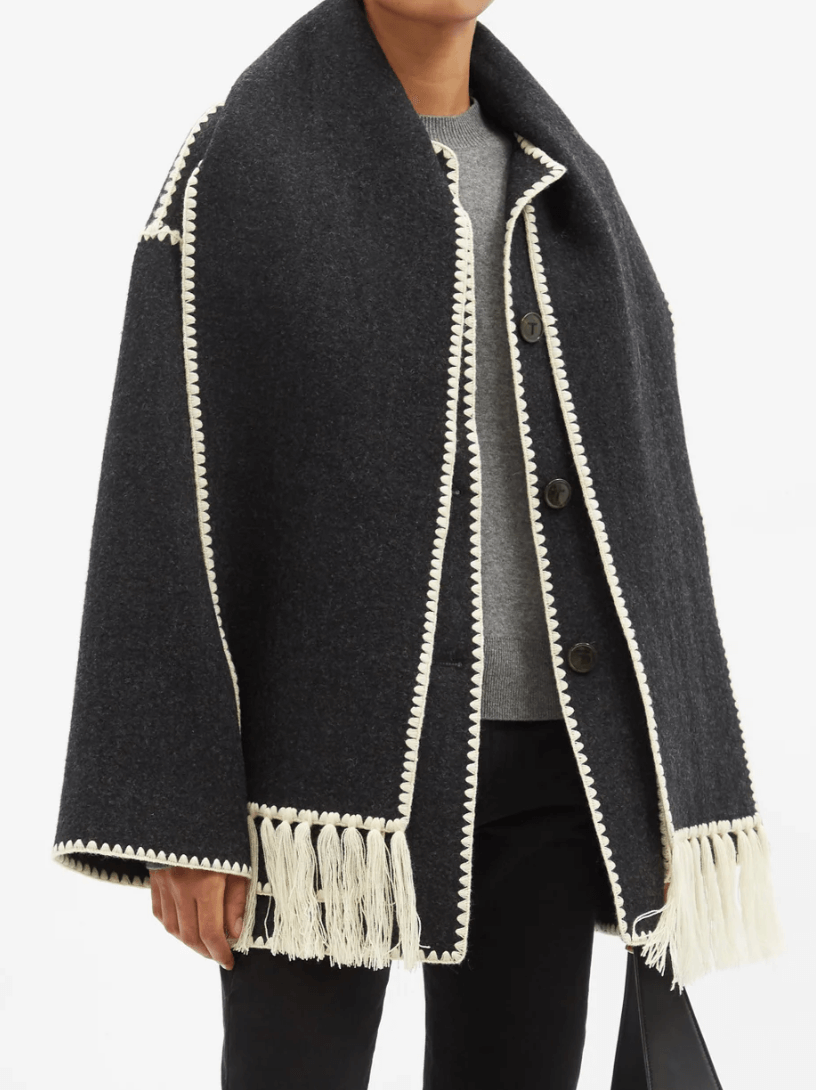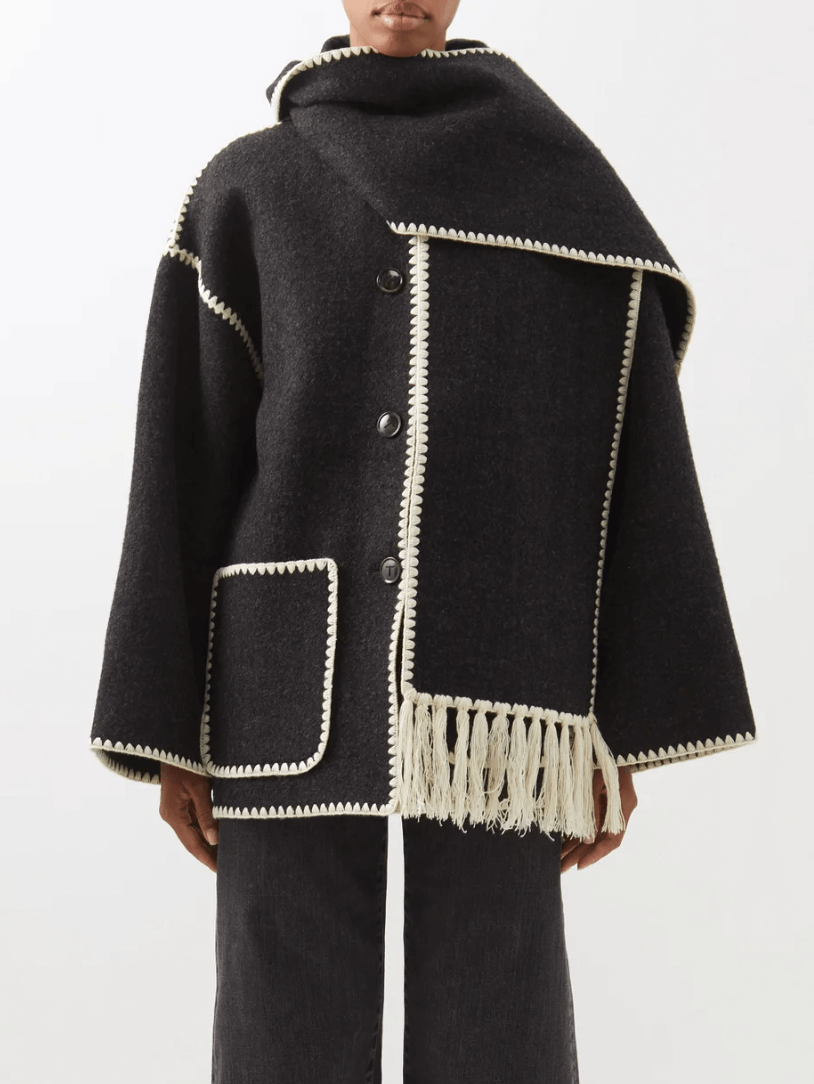 Play around with how you tie the scarf. If you let it hang down your back, you will get a more hipster, artsy look. For a neater styling, loop it around once and tuck it into the jacket for the put-together effect. And lastly, for the boho and relaxed vibe, tie the scarf just once and let the ends stick out to the sides.
Boho scarf jackets that will make you look stylish this winter
Not all scarf jackets will work for you if you are into the boho indie aesthetic.
There are puffer scarf jackets too, for instance, and those don't look boho at all. Y2K aesthetic is the closest match for those.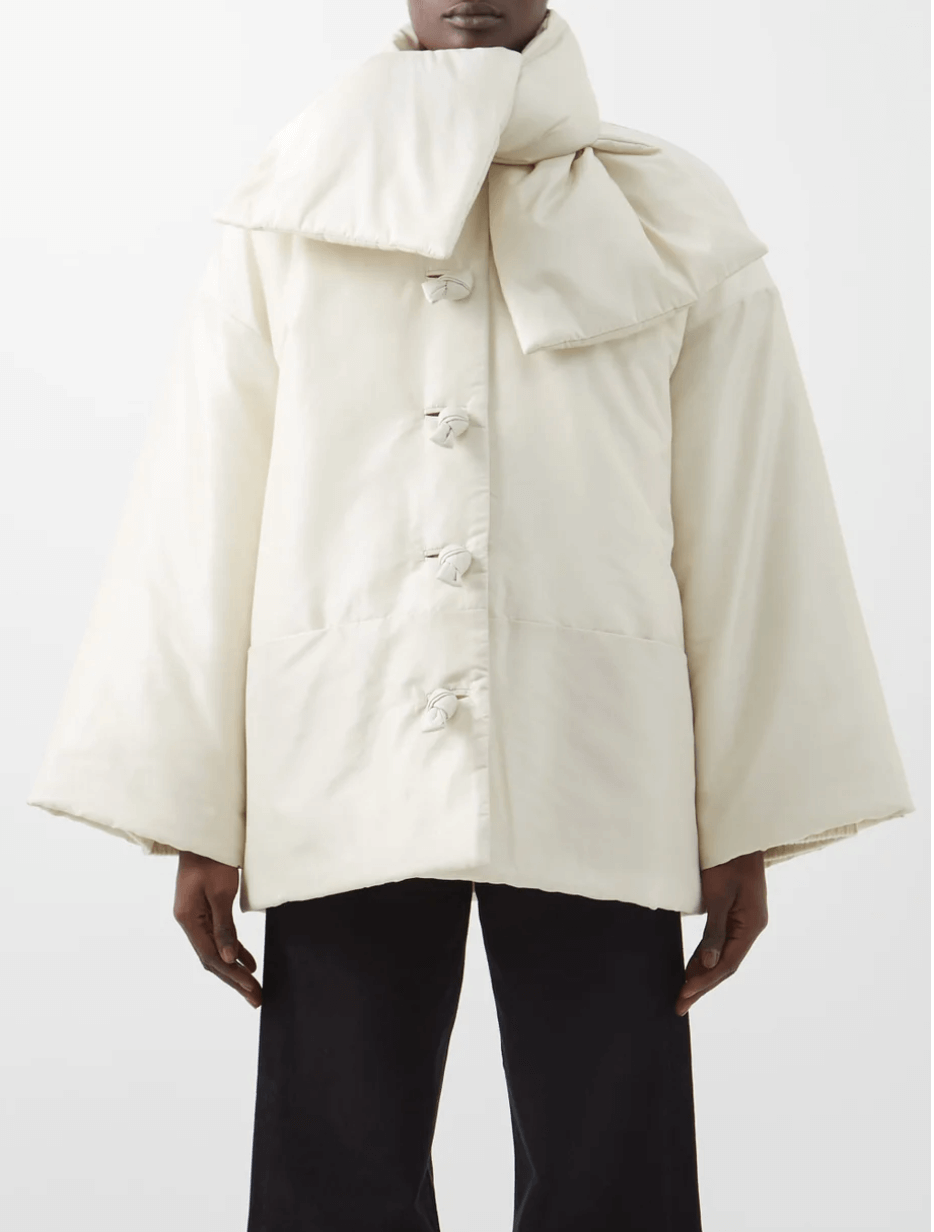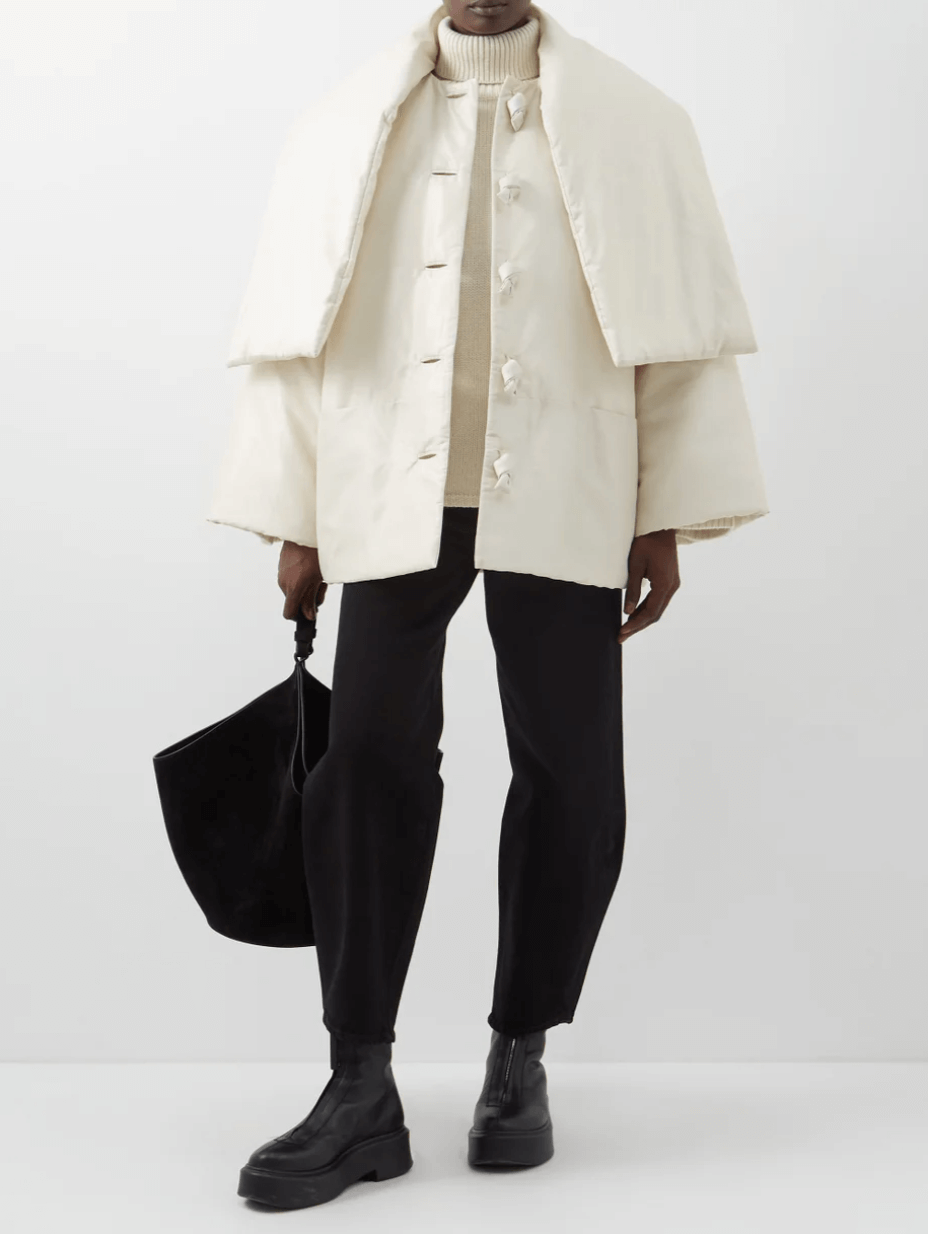 Matches Fashion: Toteme, Scarf-neck jacket
Matches Fashion: Toteme, Scarf-neck jacket
Felt jackets are the best choice for boho, or any material like crochet that evokes the hippie-era.
The scarf jacket trend: what else you need to know
The scarf jackets are a simplified version of a concept of layered effect in outerwear. You can layer two coats on top of each other (or make it look like it), but there's also the trend of wearing a scarf with your belt over it as a layer.
I quite get where that idea with belted scarf came from, it is damned impractical to layer coats, but the extra layer just looks great.
That's why some fashion brands started making faux-layered coats where the inner coat is only an illusion - a second set of coat flaps sown into the front of the real, outer coat. In the right kind of fabric, this can be really flattering as well as aesthetic.
Similarly, scarf jackets are great for layering. You can add an extra scarf over the jacket scarf or layer your inner wear under the jacket - the first option is better for those of you on the minimalist side while the second one will look more boho.
There are also so many ways to accessorize with scarf jackets. The thing about them is that they are not a statement piece, the design is very minimal and not in-your-face, so you can be bold with your bag or gloves and other accessories. At the same time the scarf jacket is fresh and new and unique. A subtle way to command attention!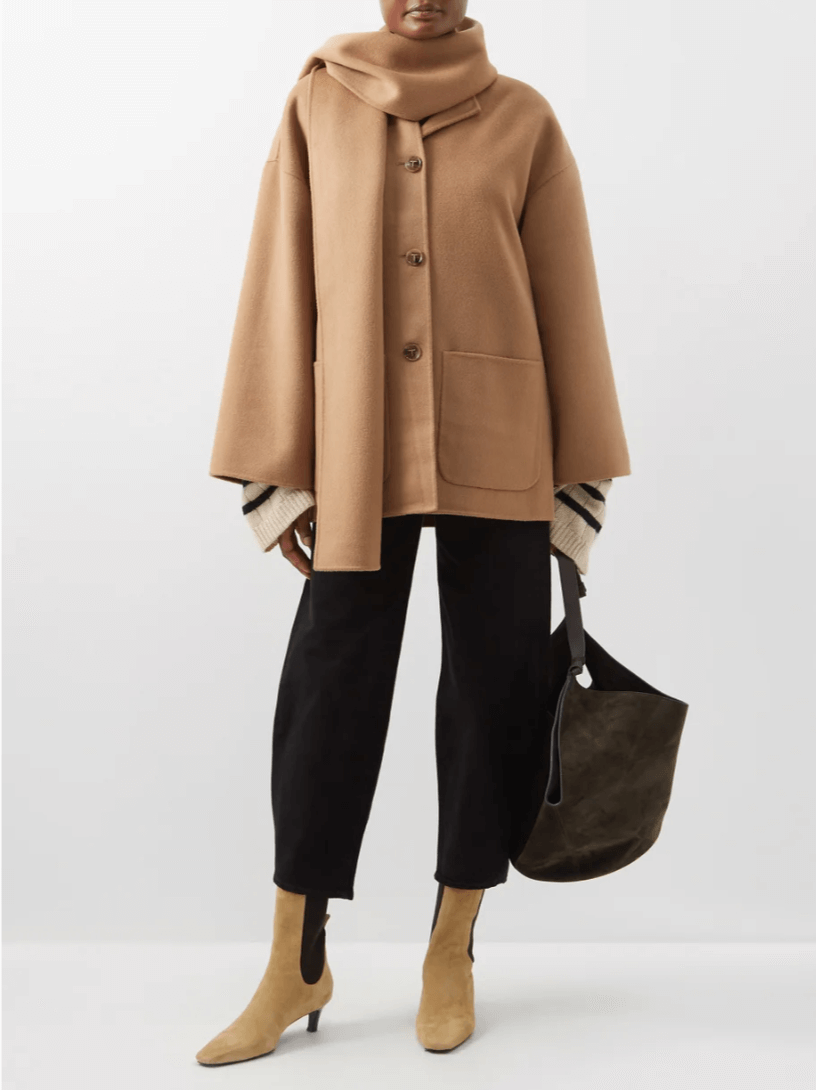 Silk Maison
Matches Fashion: Toteme, Scarf-neck jacket
To wrap it up, scarf jackets are a unique piece of outerwear that has a scarf from the same material sown into the jacket for a chic, cohesive look.
I love the scarf jacket look because it is a unique and stylish way to make a subtle statement. The scarf detail adds a touch of boho charm to any outfit, and the jacket itself is versatile and can be styled in many different ways.
Scarf jackets are a unique and stylish way to stay warm this winter. If you're looking for a trend-setting jacket that will turn heads, the scarf jacket might be just it. We've shown you how to style and wear your scarf jacket in different ways, so you can find the perfect look for you. Whether you're into boho or minimalist styles, there's a scarf jacket out there for you!