How to Choose a Wedding Dress That Fits Your Personality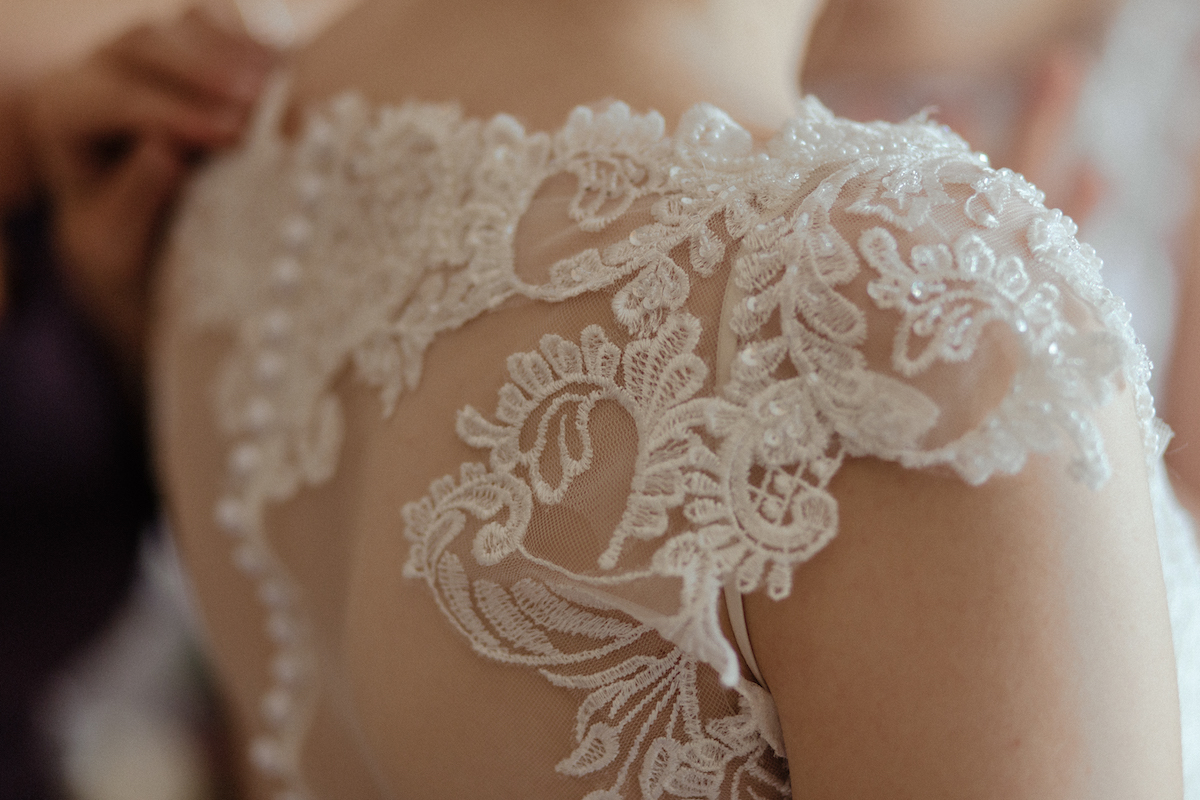 Are you shopping for a wedding dress?
There are tons of decisions to make when choosing a wedding dress, which is why it can be so stressful! One thing you can't forget is to choose a dress that fits your personality. This ensures that you'll love your wedding dress as soon as you put it on and that it's just really you wearing it.
Sounds easy, right? Wedding gown shopping can be tricky, especially if you shop indie.
Keep reading for our top tips for figuring out how to choose a wedding dress that fits your personality.
1. For the Traditionalist
When it comes to choosing a wedding dress, every bride has different priorities. For the traditionalist bride, finding a dress that is timeless, classic, and elegant is key.
Shopping for a traditional wedding dress at indie vendors can be a bit tricky, though. You want to find a dress that is elegant, but not super aesthetic. Not too modern and not too old-fashioned. Below are a few tips on how to shop for a wedding dress if you're a traditionalist.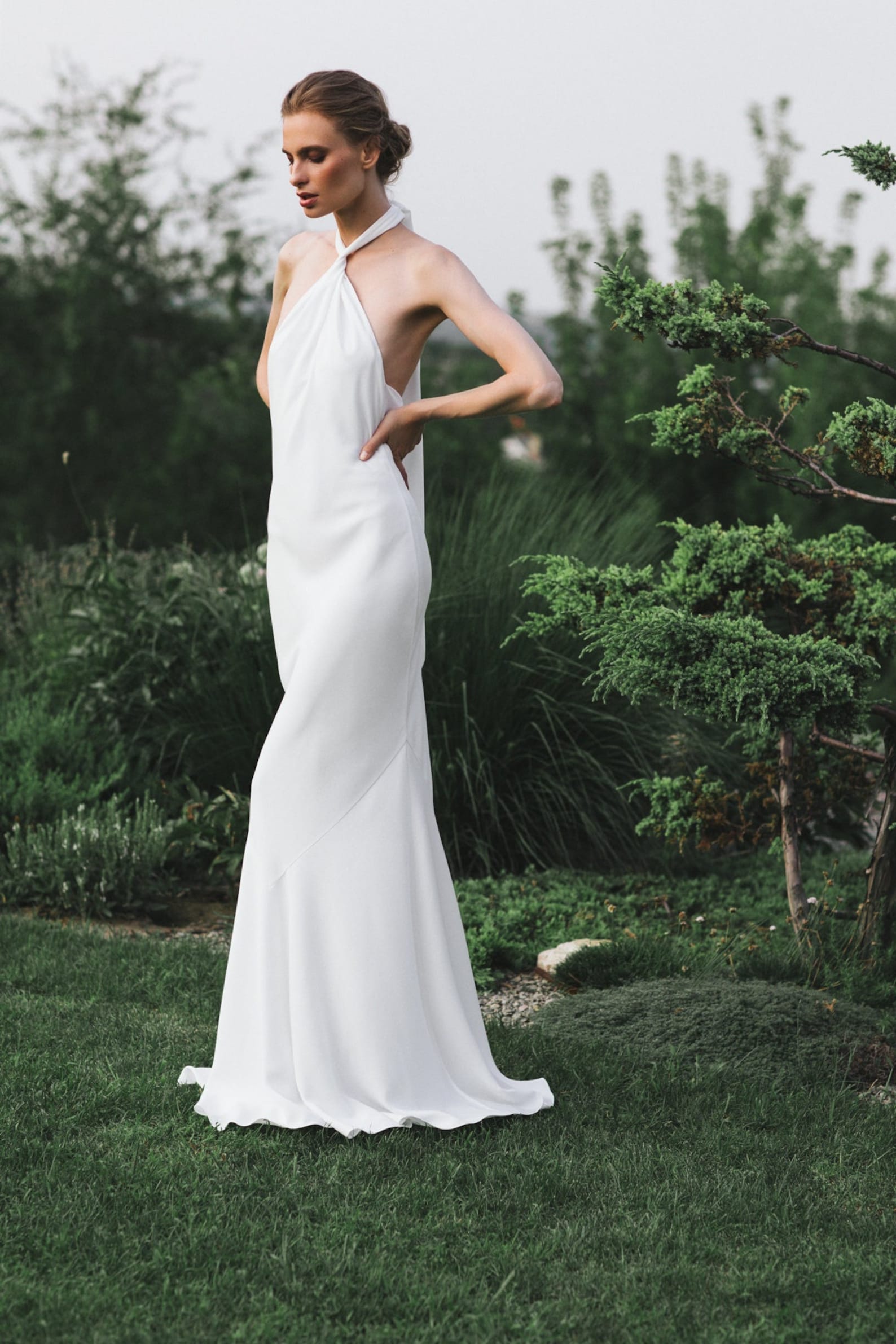 Etsy: SumarokovaAtelier, Elegant ivory silk wedding gown
Start by looking for a dress using keywords like simple and elegant.
A gown with a classic feminine silhouette is always a good choice.
If you want a little bit of embellishment, look for gowns with small amount of delicate details, like a beadwork around the décolletage or a contrasting belt.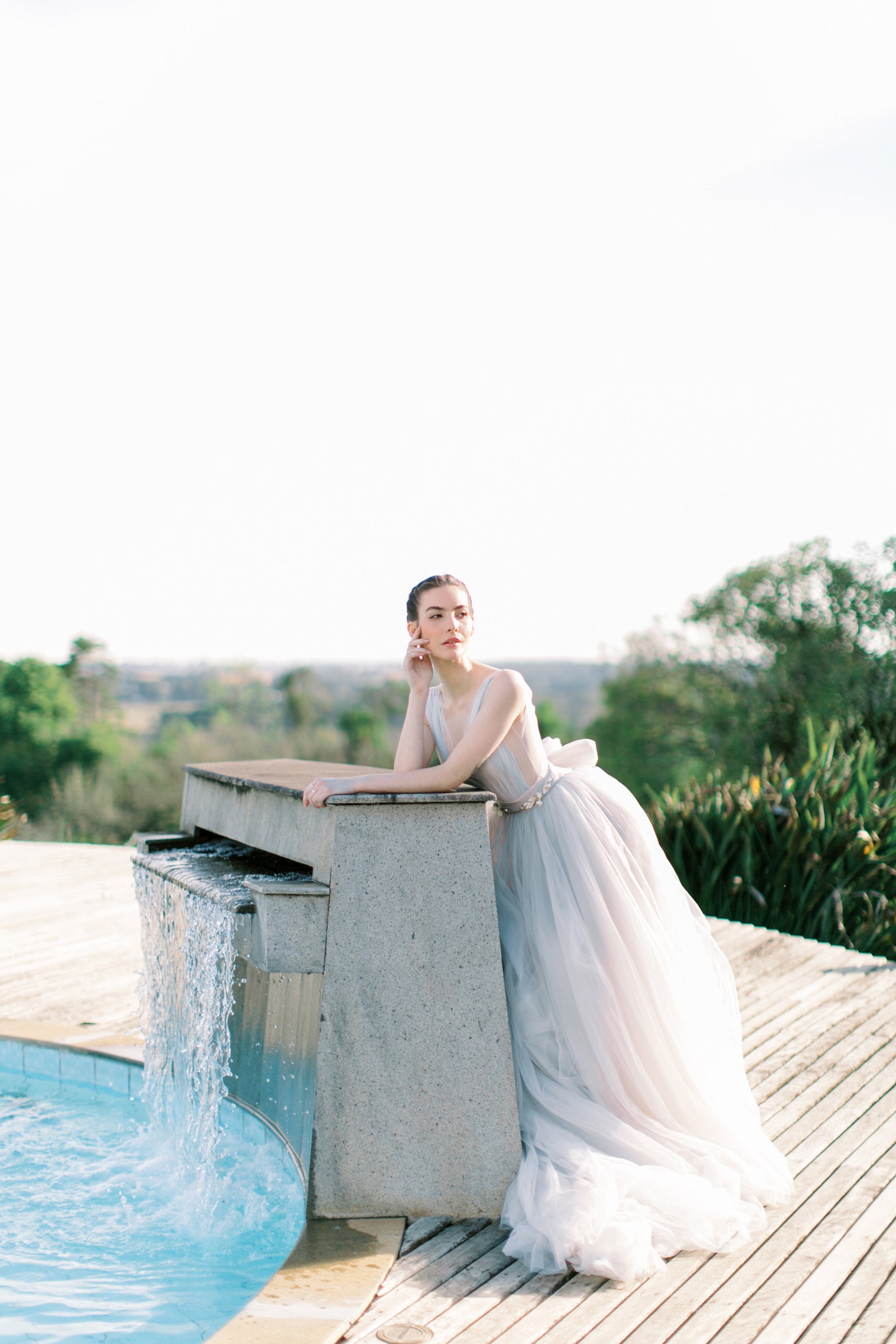 Etsy: SumarokovaAtelier, Light gray tulle wedding gown with embellished belt
If you are a traditionalist, you will want to avoid fashion aesthetics outside of perhaps the 50s vintage. The mid-century retro was all about simple elegance, so that will still work for your style.
Also, for traditionalists especially it will be a great idea to shop at a salon that specializes in elegant wedding dresses. At a bridal salon, you will be able to try on a variety of different dresses that have more or less the same classic look but a different construction.
Because realistically, choosing a wedding dress is not just about our personality but about our body shape as well.
Take your time when shopping for a dress and try on a variety of styles. You may get surprised at what looks good on you. Ultimately, the goal is to find a dress that makes you feel beautiful on your wedding day.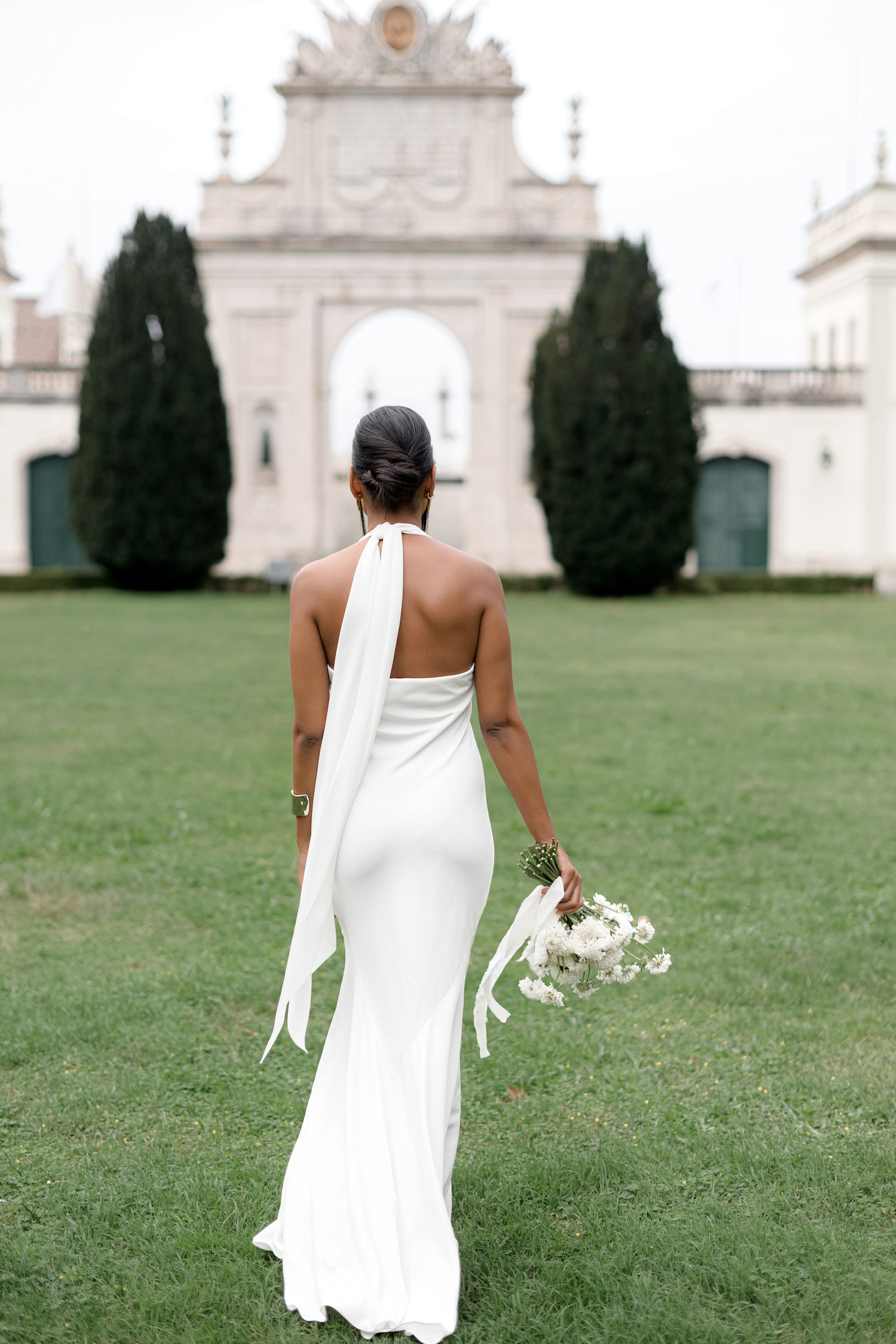 Etsy: SumarokovaAtelier, Elegant ivory crepe wedding dress
2. For the Bohemian
Boho wedding dresses are one of the best wedding dress styles to shop for online. There are so many styles out there for the free-spirited bride. Some are simple and natural-looking, while others are more elaborate and lacy. Some boho wedding dresses are leaning quite far into the cottagecore aesthetic.
If you're looking for something unique, try shopping at a vintage store or search Etsy particularly for a handmade dress.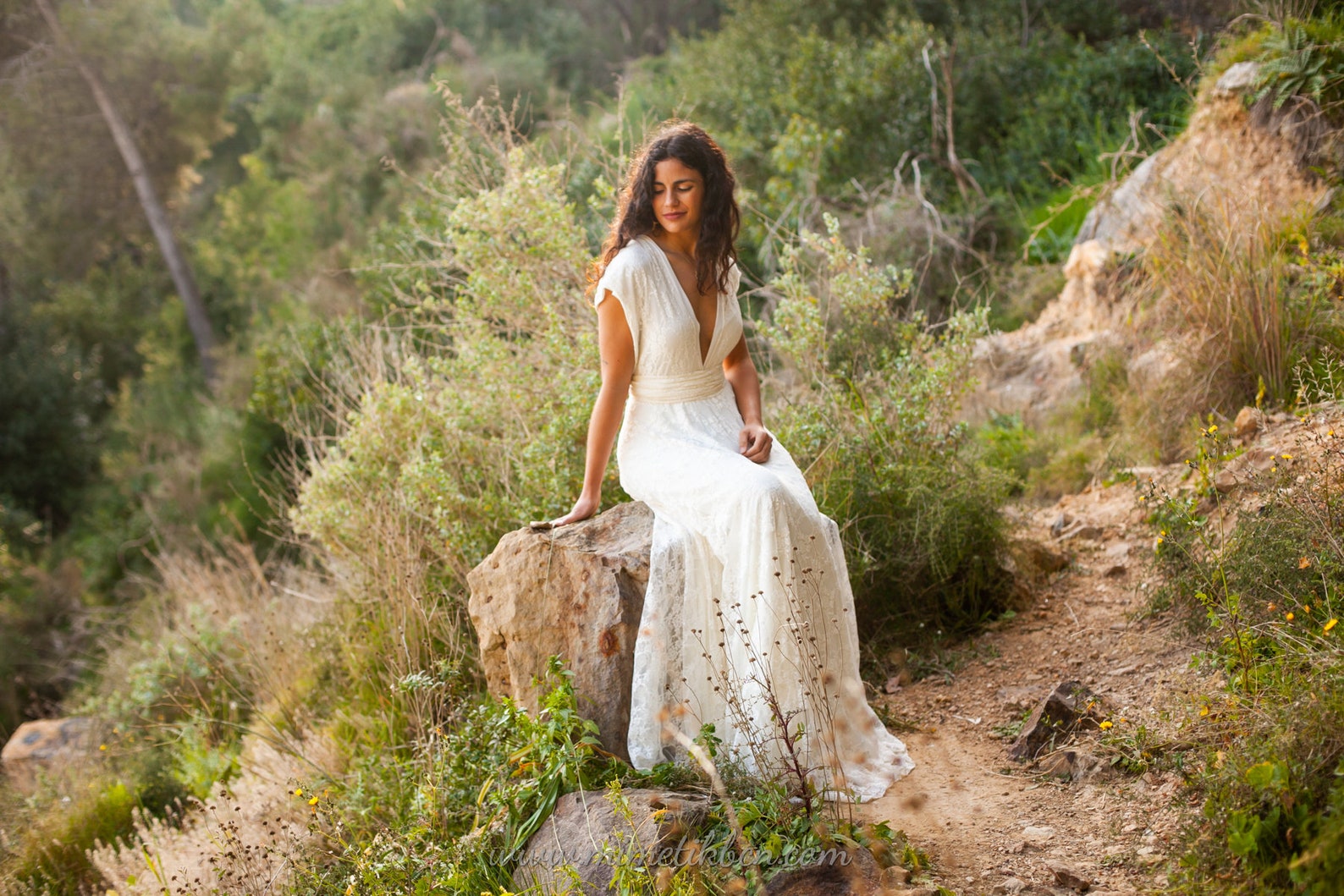 Etsy: mimetik, Boho wedding dress
Most popular styles of boho wedding dresses have baloon sleeves, wide skirts and all sorts of lace designs. There are some pretty unique designs available too, such as the one below with handmade peasant-style flower embroidery.
![](https://res.cloudinary.com/dttheory/image/upload/v1669741860/indieyespls/_lifestyle/wedding-rings/dress/e-floraandlane%20Ivory%20Embroidery%20Floral%20Dress%20-%20Flower%20Embroidery%20White%20Dress%20-%20Forest%20Woodland%20Boho%20Wedding%20Dress%20MEADOW%20sample.jpg
Etsy: floraandlane, Ivory embroidery gown
A loose, billowing maxi dress is always a good choice, though, but a lace gown might look more romantic. For something a little more daring, slips or even a mini dress can be a great option. No matter what style you choose, make sure it feels like you.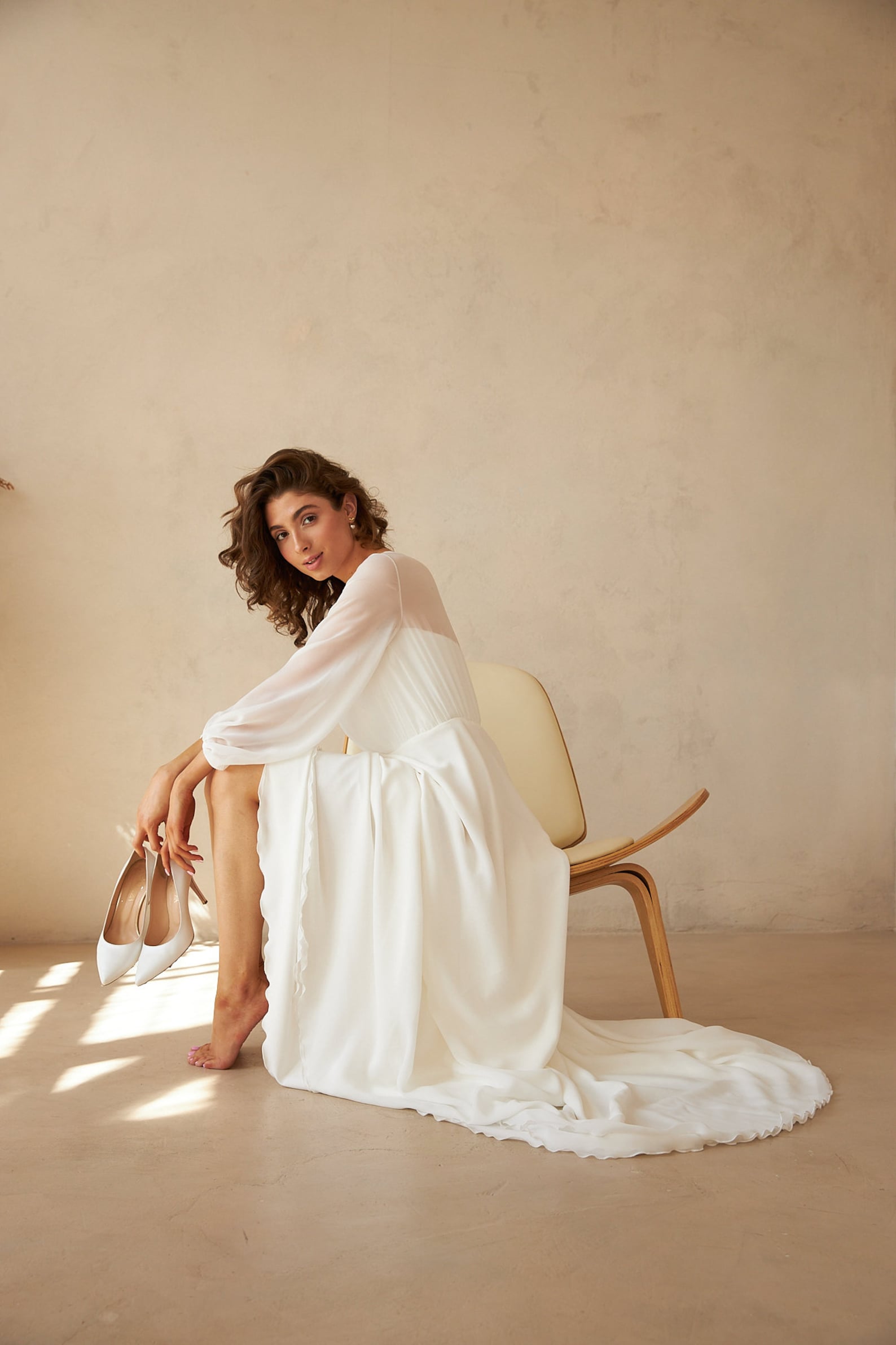 Etsy: LilyMarksDesign, Simple chiffon bridal dress with long sleeves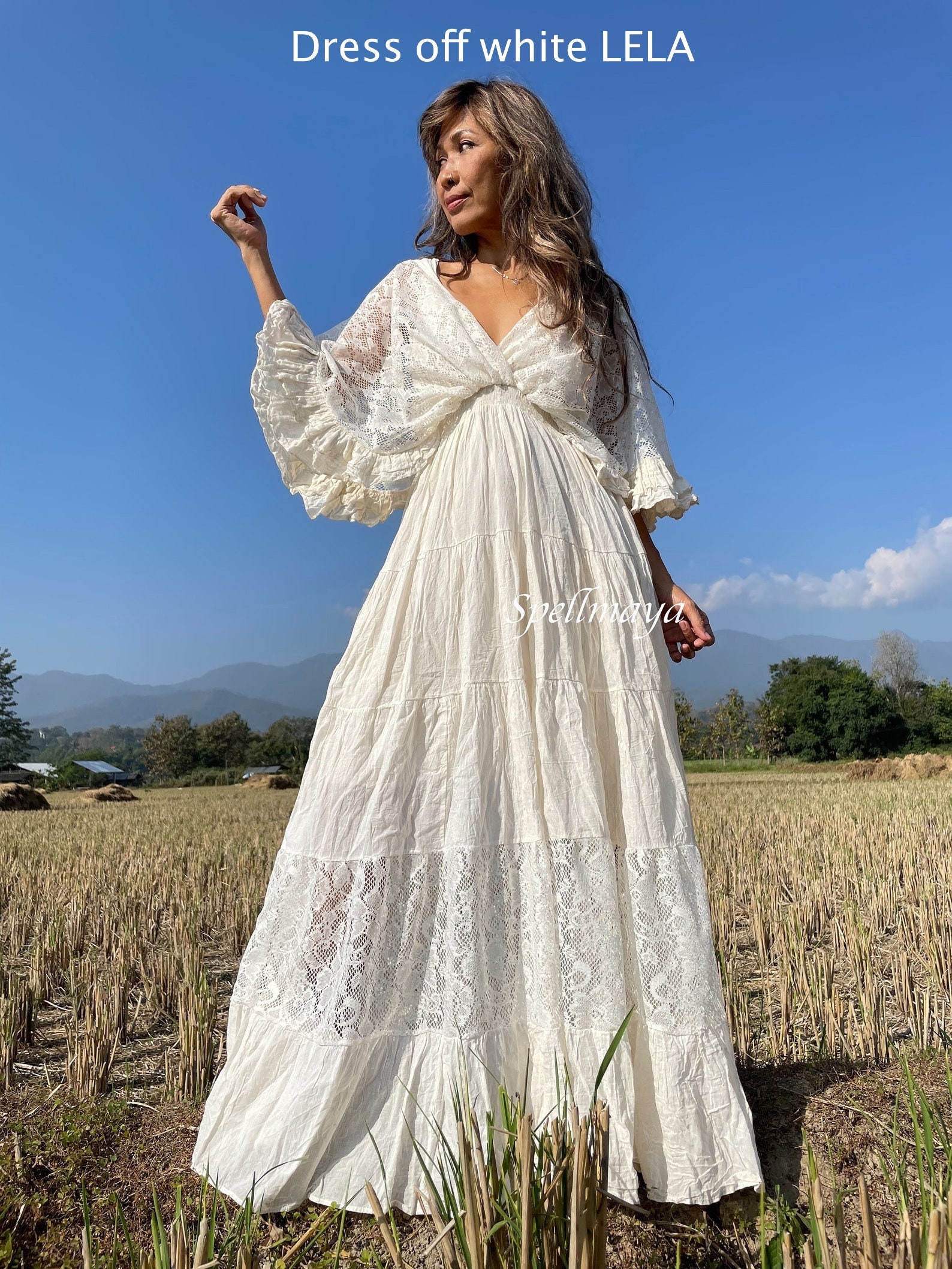 Etsy: spellmaya
3. For the Romantic
A romantic wedding is one for those of you who like embellishments, supple silhouettes and a lot of details.
The people behind the jovani wedding dresses believe that these dresses should reflect this. It is also important to keep in mind the location of the wedding and the time of year. A beach wedding will require a different dress than a formal ballroom wedding, for example, but there are romantic gowns fit for each of these settings.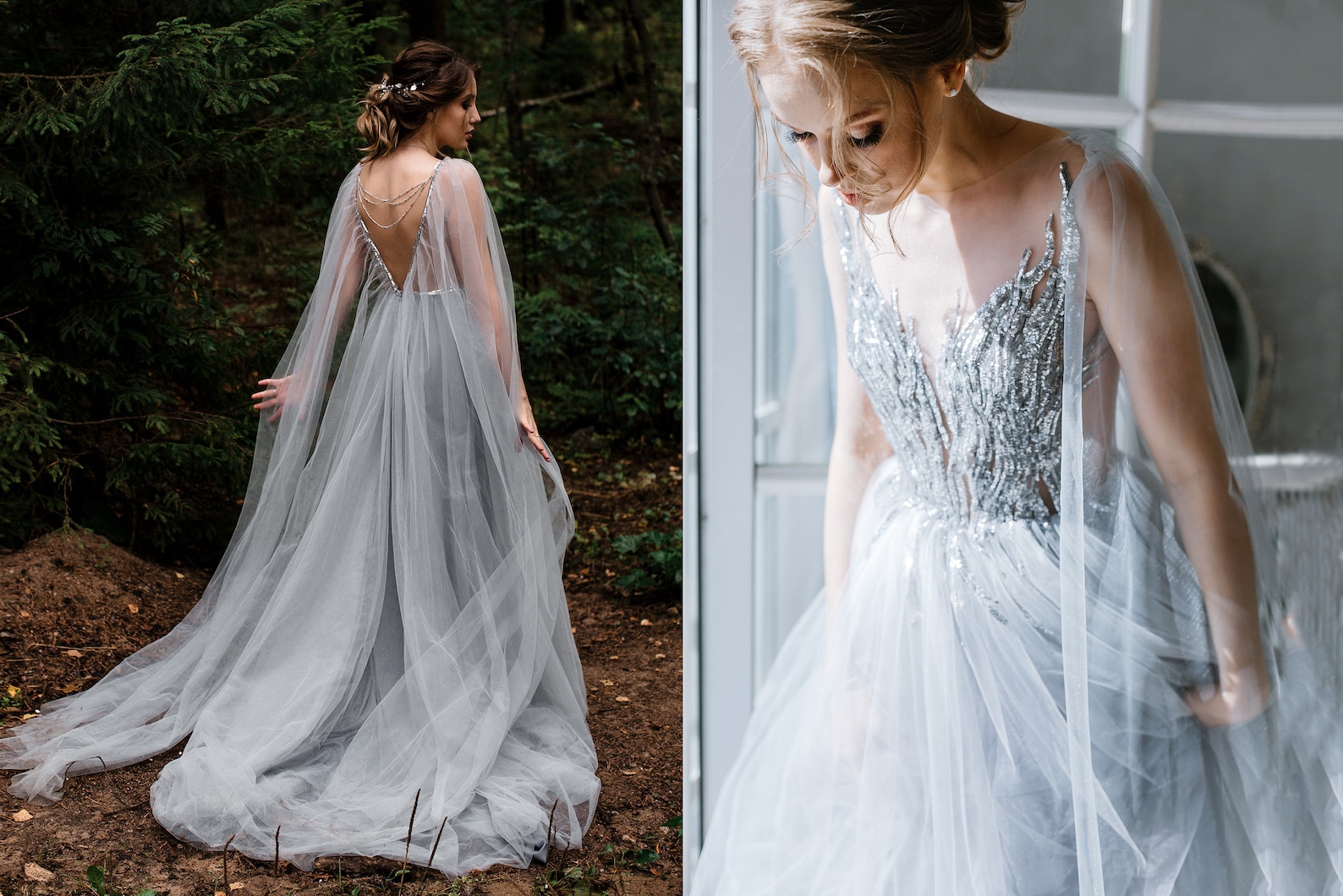 Etsy: BridalAtelierLutien, Romantic wedding dress with silver sequins embroidery
There are many different types of fabrics that you can pick for your wedding dress, some are more romantic than others. The first kind of fabric that might come to your mind will be either lace or tulle.
Tulle is the material you will not want to skip if you're planning to have a romantic vibe at your wedding, because you will certainly need it for your veil. It's not a romantic gown if it does not have a veil!
But as for the dress, one of the most romantic fabrics is silk. Silk is a smooth, sleek fabric that often has a bit of shine to it. It's also a very elegant fabric, which makes it perfect for a wedding dress.
And, lastly, lace. Lace is often used for vintage or antique wedding dresses. It also has a very feminine and delicate look.
Romantic wedding gowns usually have rich embellishments as well. They can be ornate, flowery or just quite minimal - it all depends on your taste.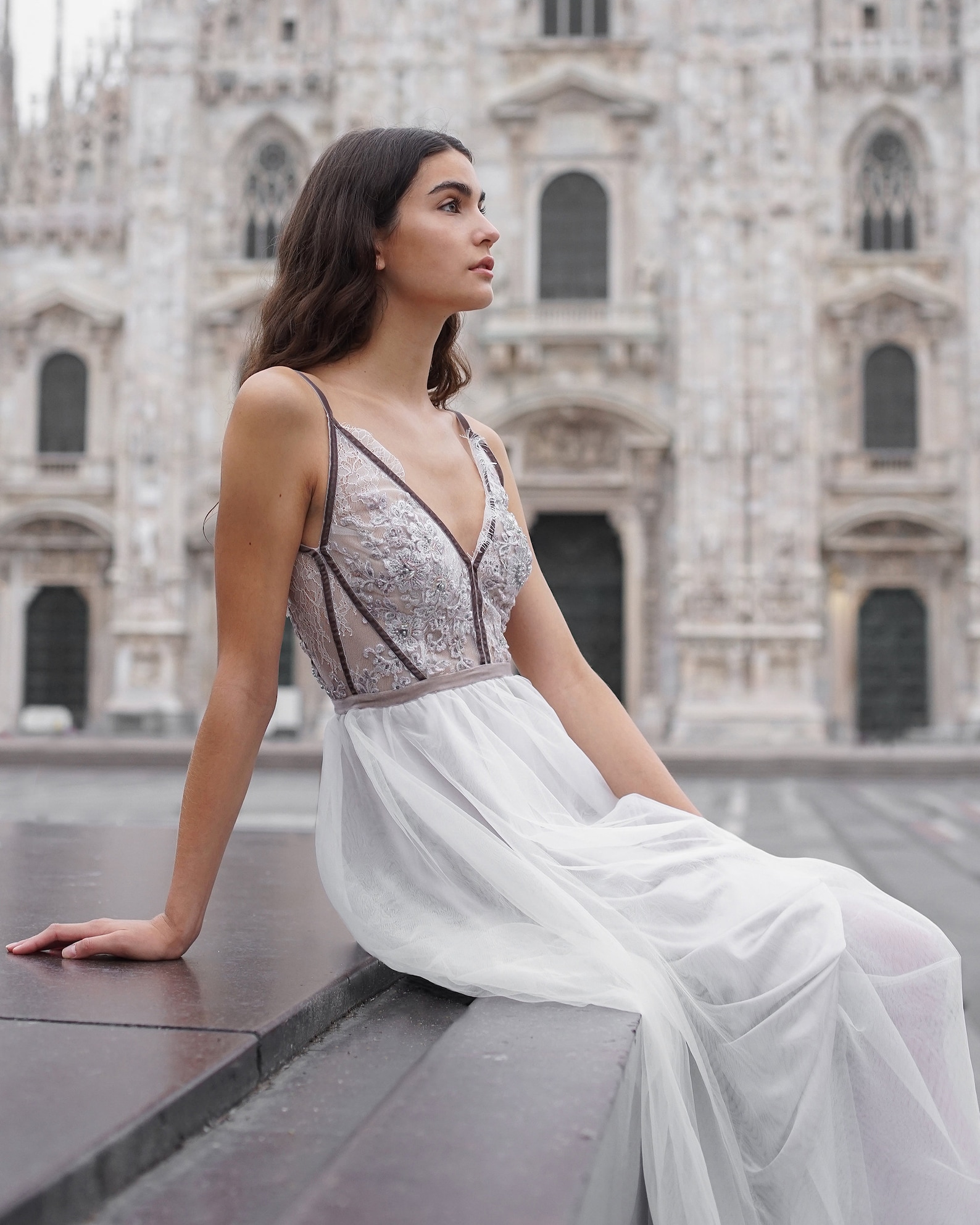 Etsy: BridalAtelierLutien, Romantic bridal gown with dainty flower embroidery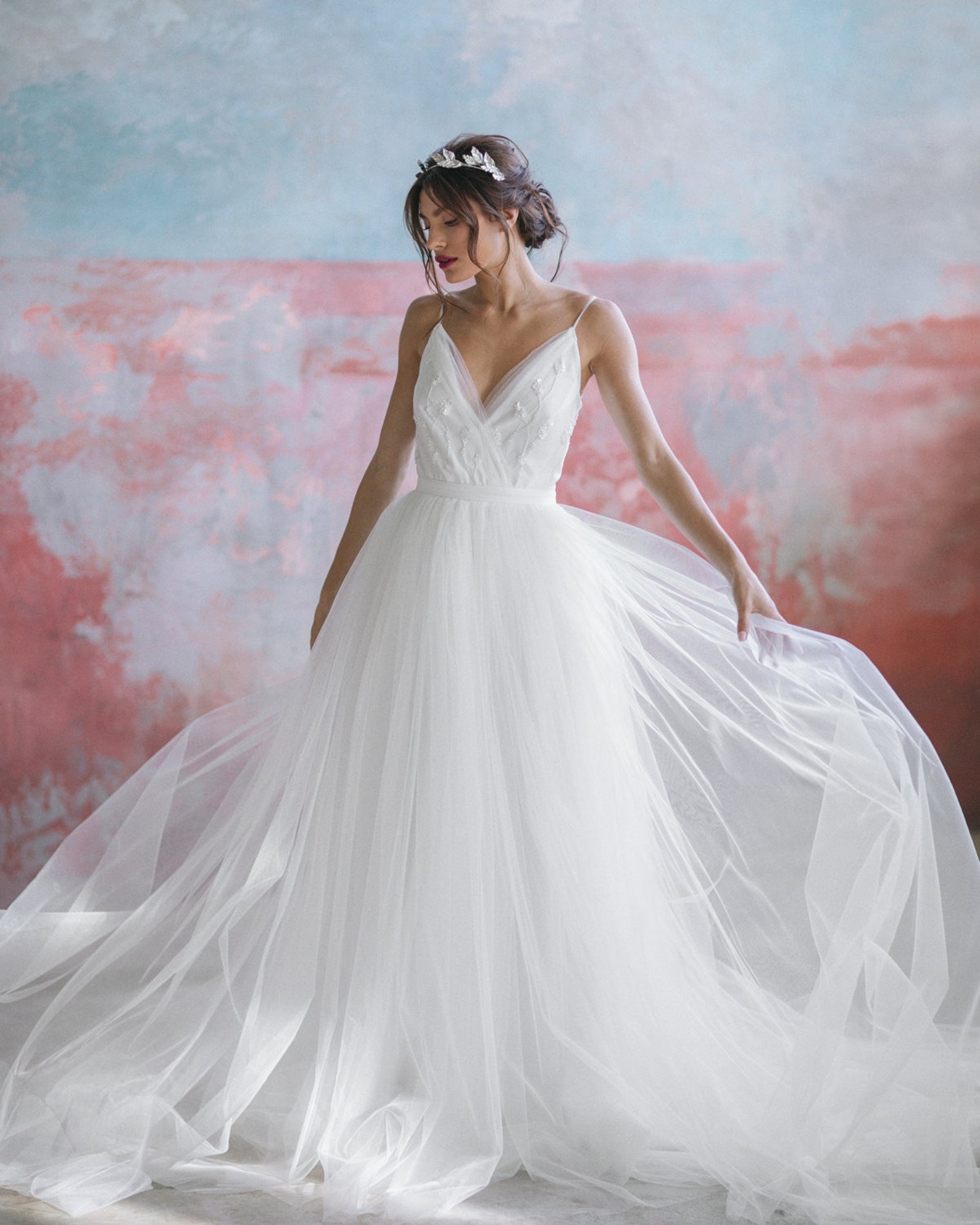 Etsy: SumarokovaAtelier, Off-white tulle bridal gown
4. For the Fashionista
The fashionista scoffs at timeless because what is wrong with being seen wearing a past hot trend in your wedding photo, right?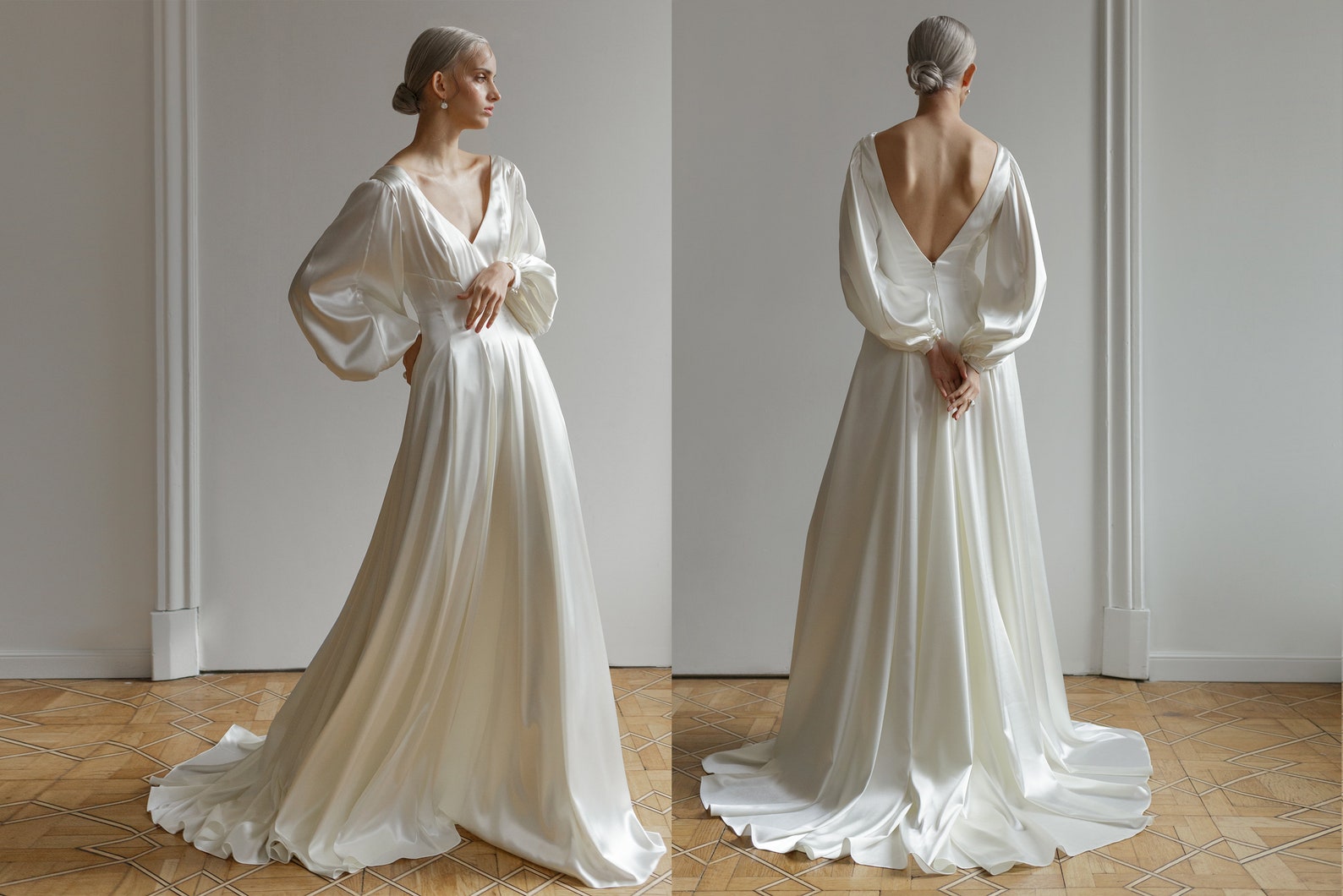 Etsy: BridalAtelierLutien, Baloon sleeve silk wedding gown
There are a few key things to keep in mind when shopping for a wedding dress as a fashionista.
First, no matter what flashy aesthetics you will go for, pick a dress that flatters your figure. Cinched at waist? Round neck? V-shaped neck? It all makes a difference.
Second, try the dress on and stay in it for a while. If the style is really daring, you might need to tape the dress to your skin in places.
Third, pay attention to the makeup and jewelry. If your dress is a true call for attention, you might need to tone down your jewelry and makeup choices.
Etsy: BridalAtelierLutien, Feather wedding dress
5. For the Minimalist
For the minimalist bride who wants something a little different for her wedding dress, consider a sleek and simple gown. This type of dress is perfect for a woman who wants to make a statement without going over the top.
A simple, sleeveless gown with a deep V-neckline is a beautiful option for the minimalist bride.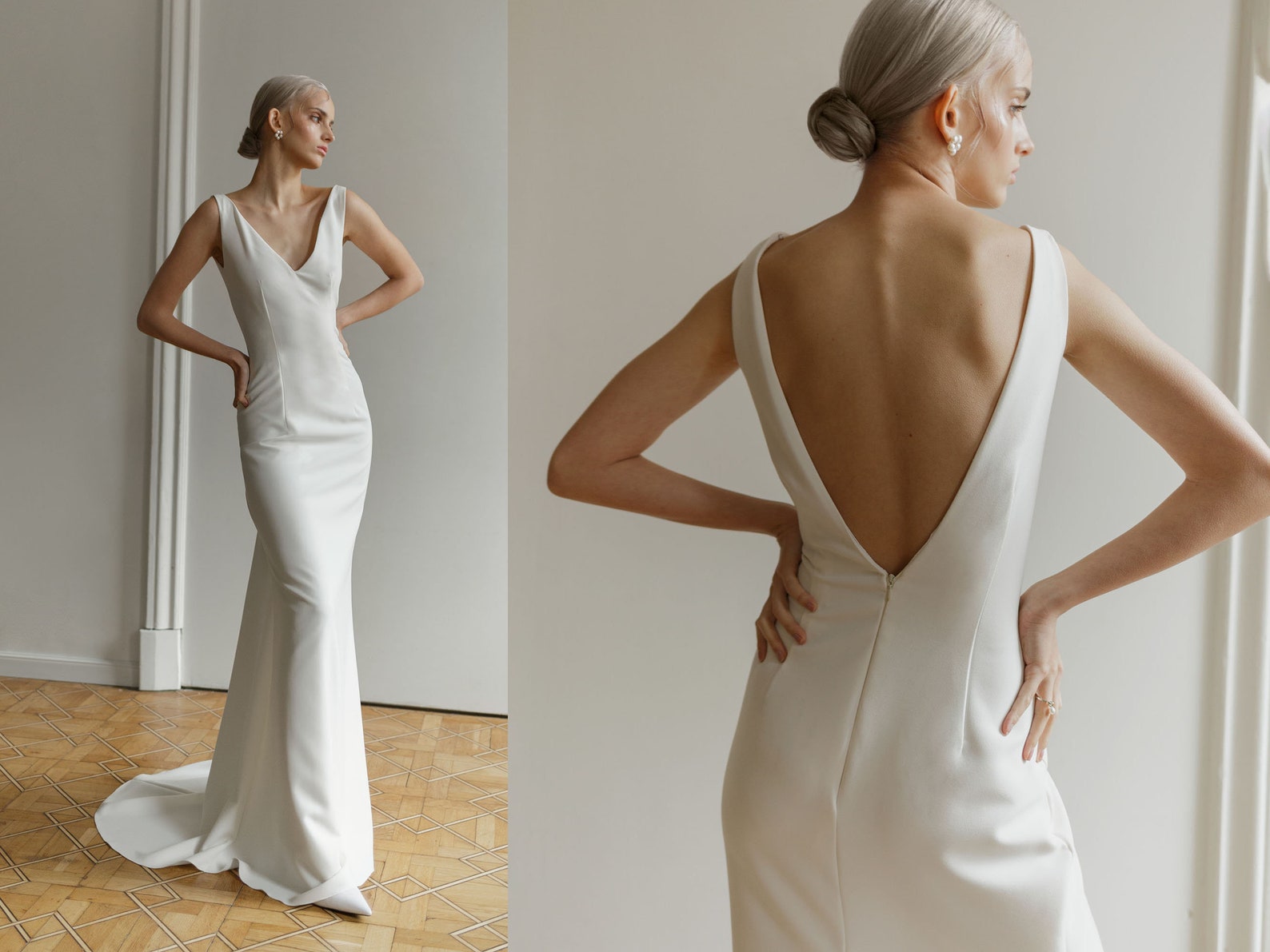 Etsy: BridalAtelierLutien, Minimalist wedding dress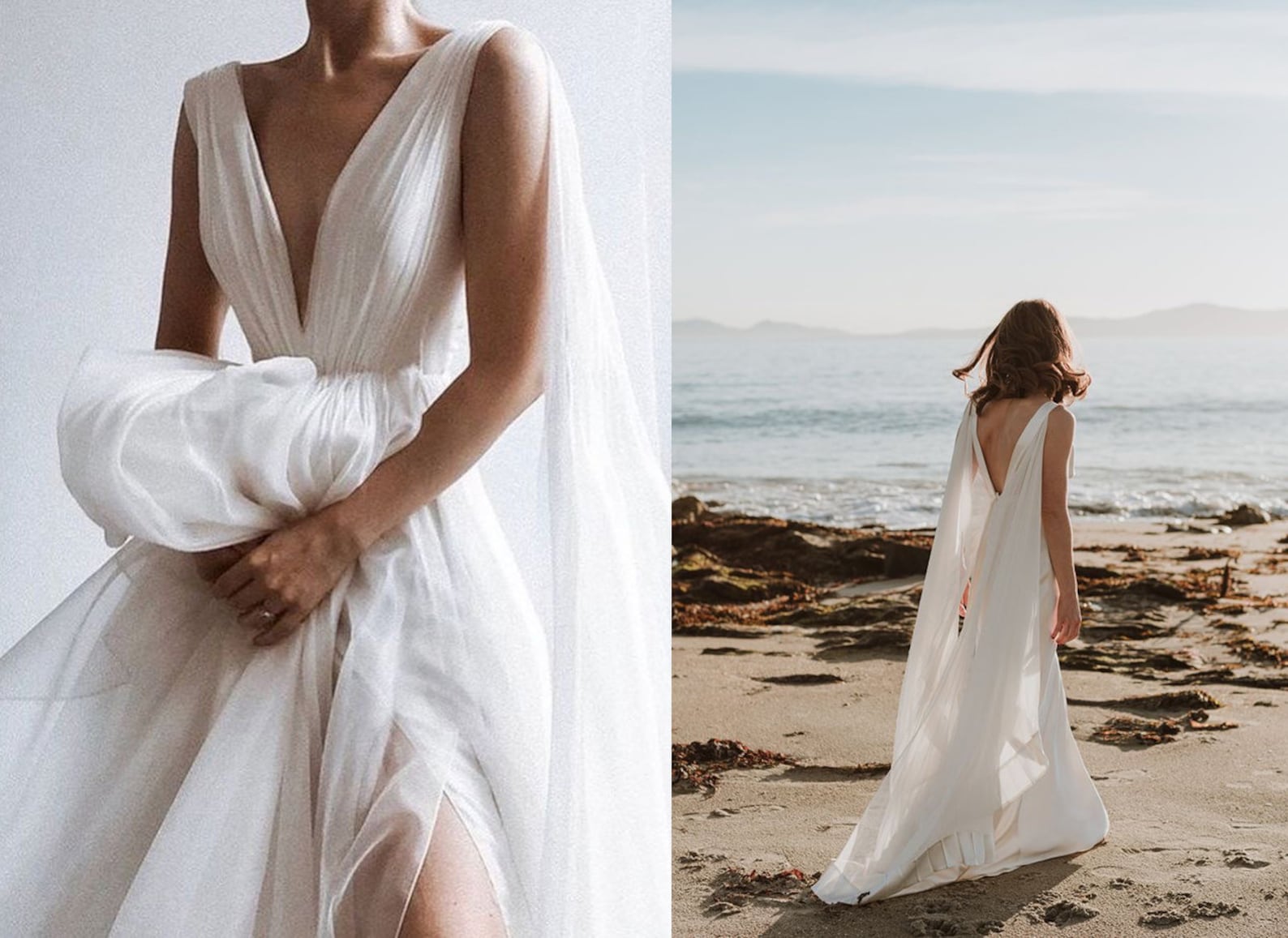 Etsy: BridalAtelierLutien, Wedding dress with cape sleeves
Another great choice for the minimalist bride is a slim-fitting gown with a high neckline. This type of dress will show off your figure and give you a sophisticated look.
If you want a little bit of color, consider a wedding dress with a wide sash in a bold hue. This is a great way to add a pop of color without going overboard.
Finding a Wedding Dress That Fits Your Personality
When it comes to finding a wedding dress, it's all about finding one that fits your personality. And with so many different styles to choose from, there's sure to be one that's perfect for you. So don't be afraid to try on a few different dresses until you find the one that you're absolutely in love with.
Wedding planning can be stressful, but finding the perfect wedding dress can calm your nerves. Follow our tips and be confident in your gown.
If you want to read more articles on everything wedding-related, visit our blog.