Tips for Buying a Wedding Ring On A Budget (& Inspo)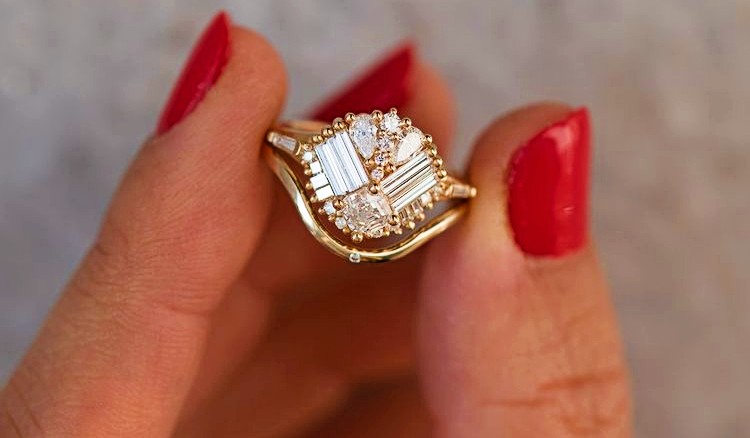 Hero image is a mirrored cluster ring from Artemer
Wedding rings are a symbol of love and commitment, but they can also be incredibly expensive. With the average wedding ring costing thousands of dollars, it's no wonder many couples are looking for ways to save money on their purchase. Fortunately, there are actually quite a few tips to help you buy a beautiful wedding ring without breaking the bank. Here are a few.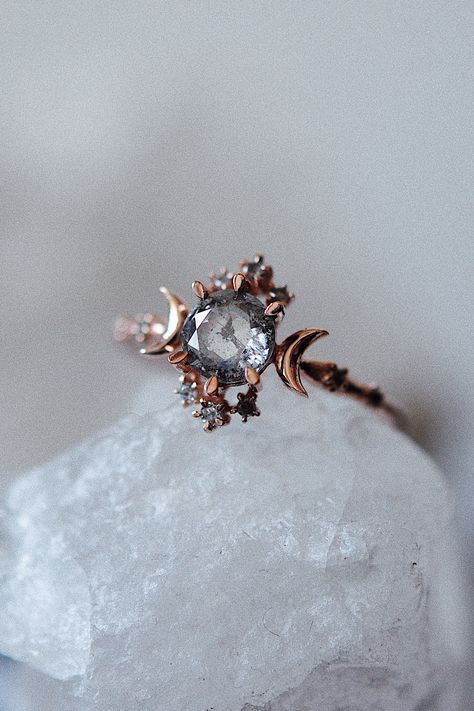 Salt & Pepper diamond ring from Sofia Zakia
1. Payment plans
Many jewelry stores offer payment plans for wedding rings.
If you don't have the cash on hand, then this can be a great way to buy your ring without paying full price upfront. Just be sure to read all the fine print before signing any agreement. Additionally, payment plans for engagement rings are subject to credit approval and require a minimum purchase amount.
If you're interested in this option, make sure your credit score is up to par. While this might not be the best option for everyone, it can definitely help those with a tight budget.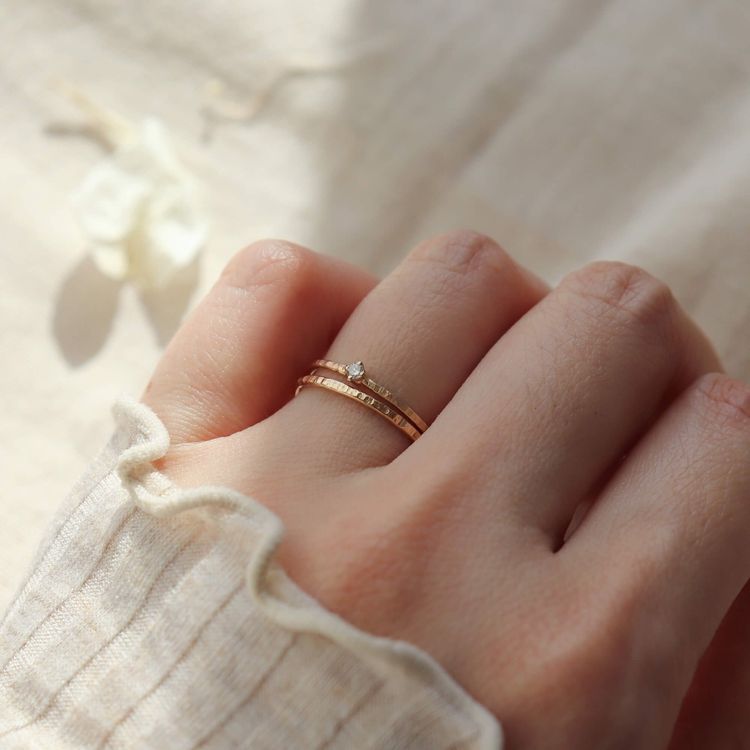 Dainty ring from Studio Cosette
2. Choose a less expensive metal or gem
Platinum and white gold are traditional choices for wedding and engagement rings, but they can be very expensive. Consider opting for yellow gold, which is slightly more affordable than its alternatives. Another option is palladium, an alloy of platinum that costs less but still gives the similar look.
If you want to save even more money, opt for less precious natural gems that are used as alternative for diamonds. There is a type of quartz that's called the Herkimer diamond for its likeness to raw diamonds.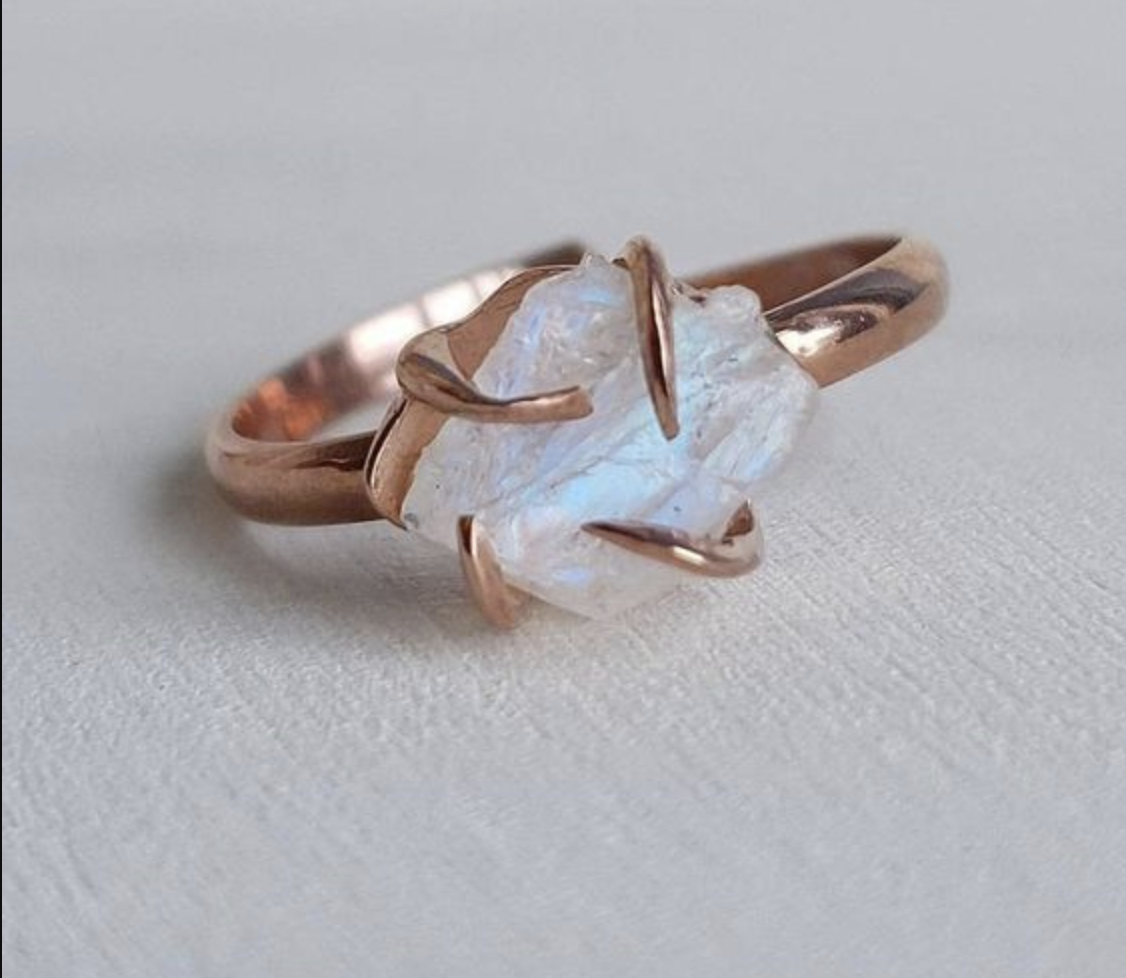 Moissanite rock crystal ring from Touche Doree
3. Consider buying pre-owned
Pre-owned jewelry is a great way to save money on wedding rings. You can find quality pieces at secondhand stores or estate sales and often get a very good bargain compared to buying new.
Plus, you can find unique items that are special and one-of-a-kind. Additionally, you can buy vintage pieces that are made with higher-quality materials than what is available today. And if the ring is in good condition, no one will be able to tell it's pre-owned. Just make sure that you have the ring professionally inspected and cleaned before buying, so you know it is in good condition and won't need any repairs.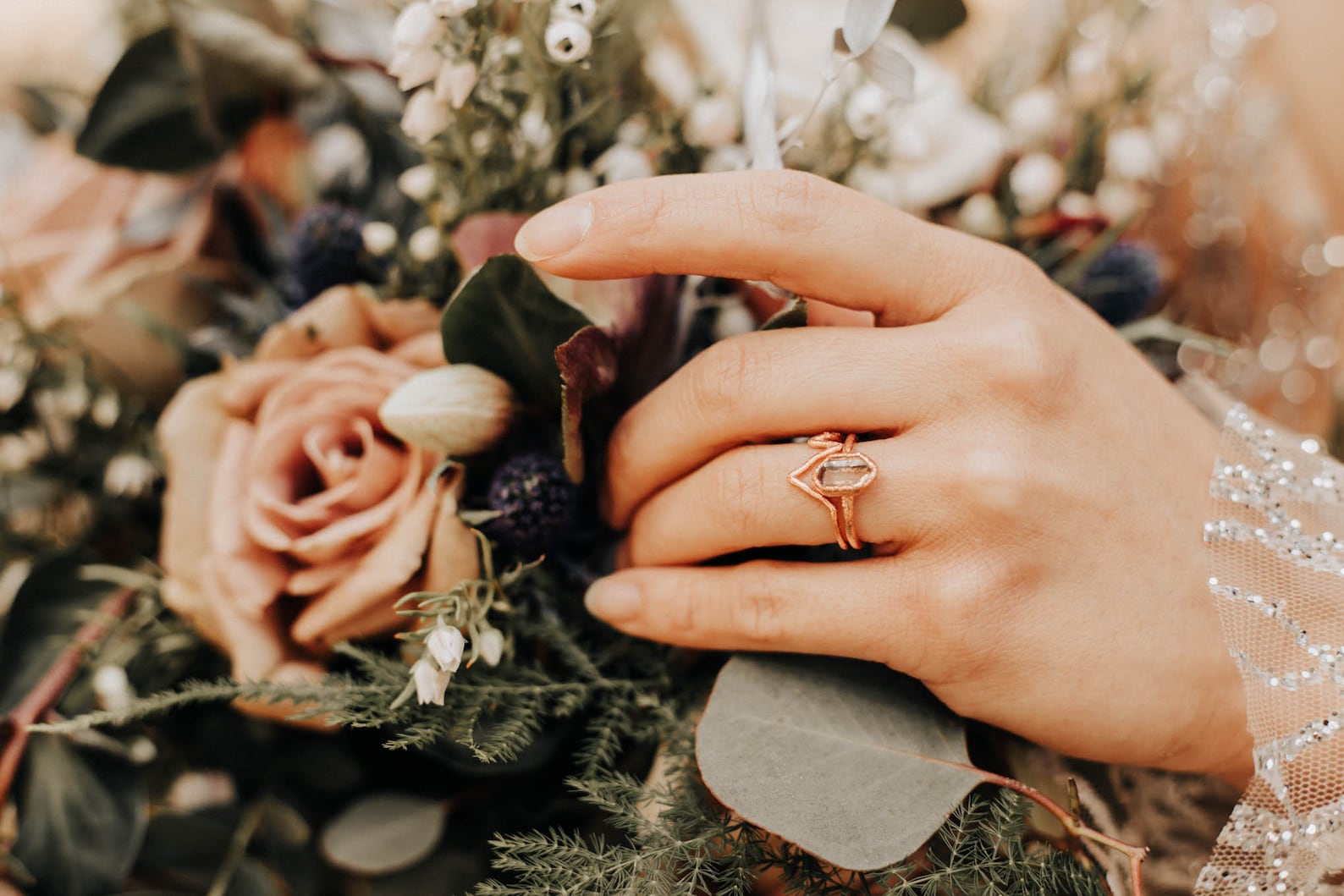 Herkimer diamond engagement and wedding ring stack from TheAuraMuse on Etsy
4. Shop around for the best deal
There are a lot of places to buy wedding rings, both online and in physical stores. Be sure to shop around for the best deal and do your research so you know what kind of quality you're getting. If possible, try on a few different styles and compare prices. And remember: don't be afraid to negotiate! Some retailers may be willing to offer discounts or special deals if you haggle a bit. Also, don't forget to factor in taxes and shipping costs when deciding where to make your purchase.
Finding a beautiful wedding ring without breaking the bank doesn't have to be difficult. With a bit of research and creativity, you can find an affordable ring that is as unique and special as your love story. Consider making use of payment plans, shopping around for the best deal, buying pre-owned jewelry, or choosing a less expensive metal.
With these tips and a bit of patience, you can find the perfect wedding ring without going into debt. Use your newfound savvy to shop a range of Melbourne engagement rings.