10+ Dainty or Giant Raw Crystal Rings (incl Engagement Rings)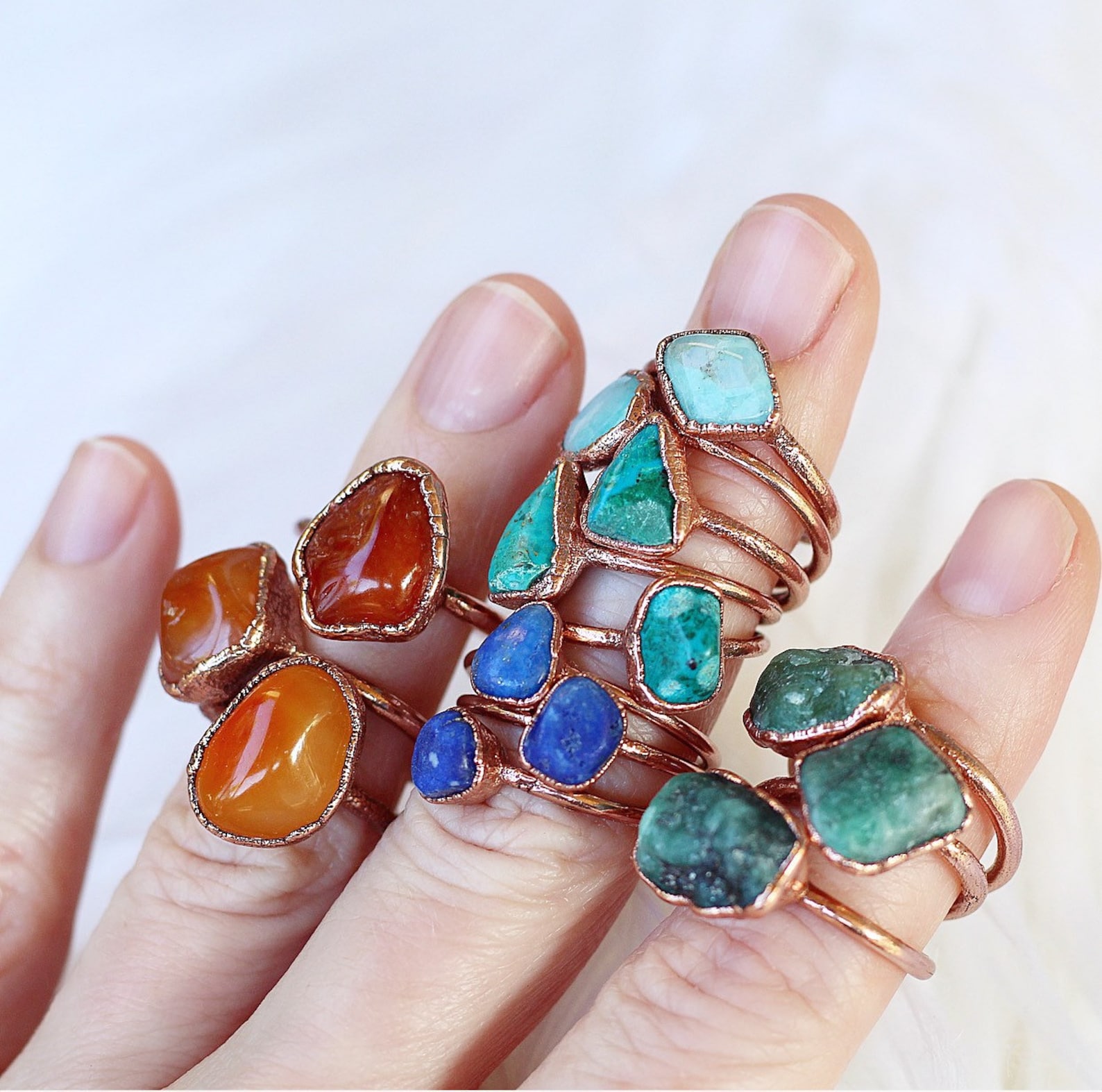 Hero photo via BuddhaBlossomJewels on Etsy
Raw crystal rings are a new trend in the aesthetic fashion world.
They come in an infinite range of shapes and sizes as the finished look depends on the natural shape of the crystal. That means that they can be worn in a ton of different styles. Rings with larger raw gems look best on their own but the daintier ones will look great stacked.
Crystals can come off a bit esoteric but the truth is that here's a whole bunch of indie aesthetics that you can accessorize with raw cut crystals. A lot depends on how they are set in the piece of jewelry.
A plain, giant raw crystal on a chain will look quite witchy, but a dainty pink stone set deep into gold on a ring will look softier and girly.
And then there are even raw cut diamonds, which are the best choice if you are looking for an engagement ring with a raw crystal.
In this post I am going to give you inspo from indie vendors that range from in-you-face magic crystals to the delicate coconut girl jewelry, all featuring raw cut crystals.
DAINTY: The perfect stackable raw crystal rings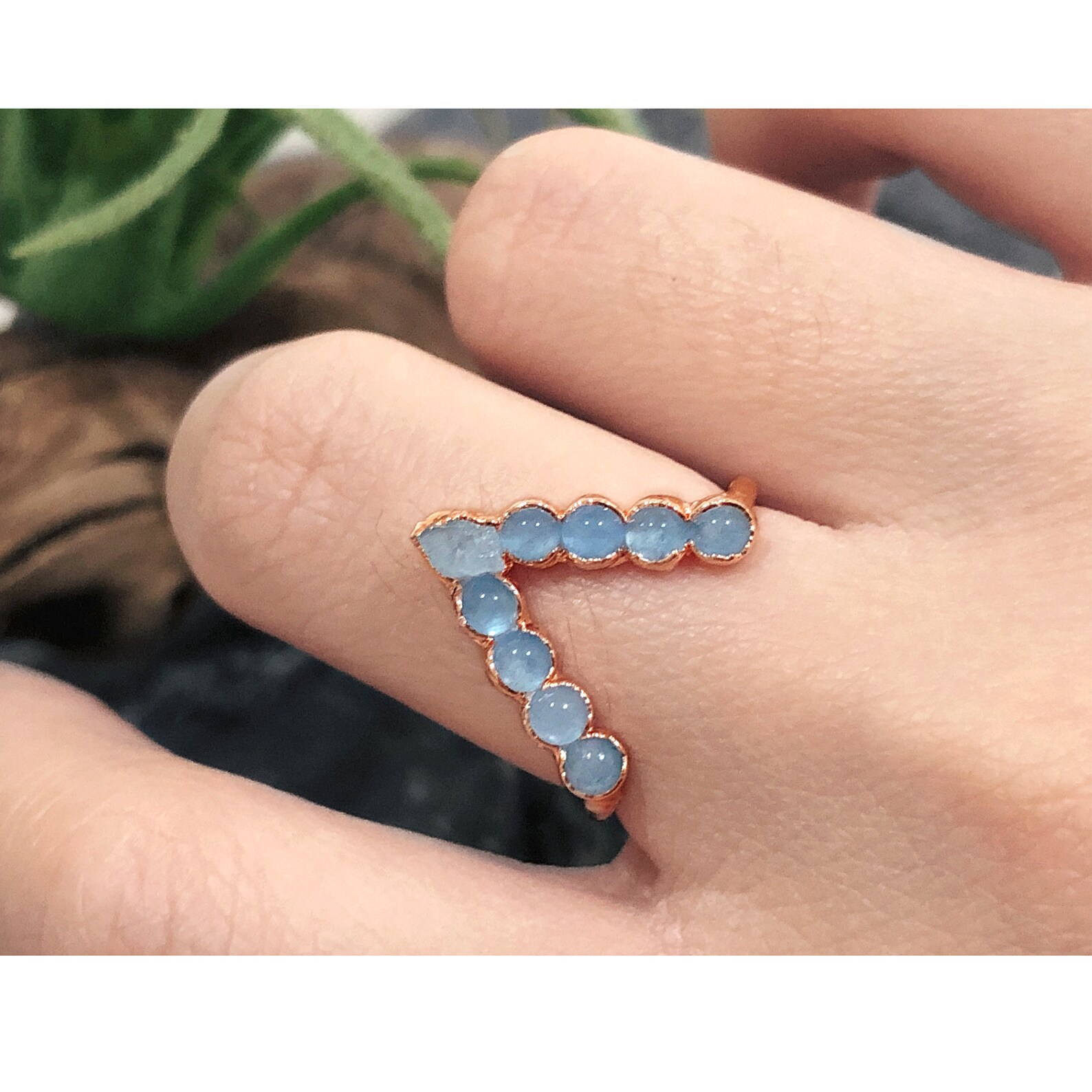 Etsy: JadedDesignNYC, Dainty stacking raw aquamarine ring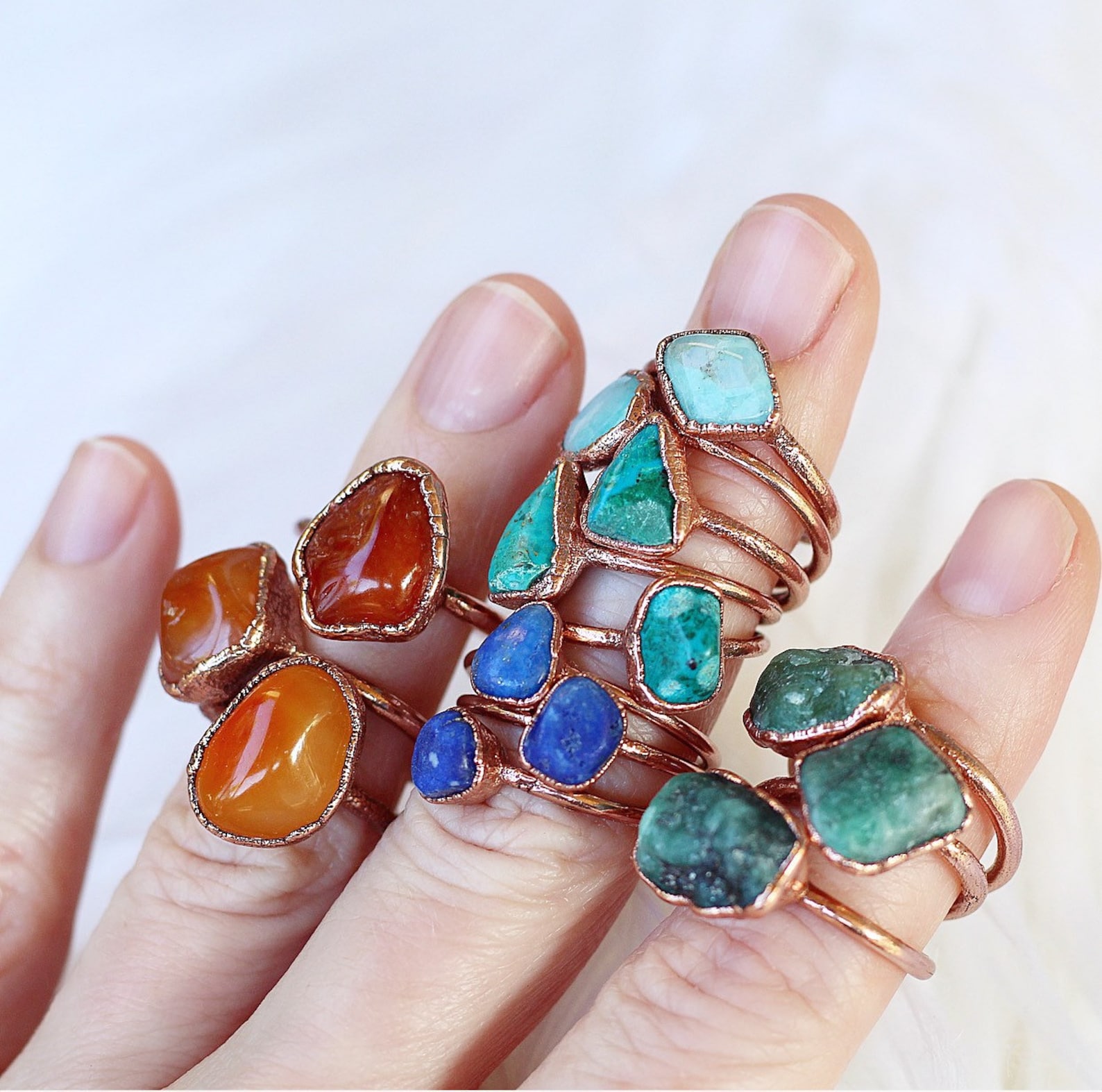 Etsy: BuddhaBlossomJewels, Chunky carnelian raw crystal ring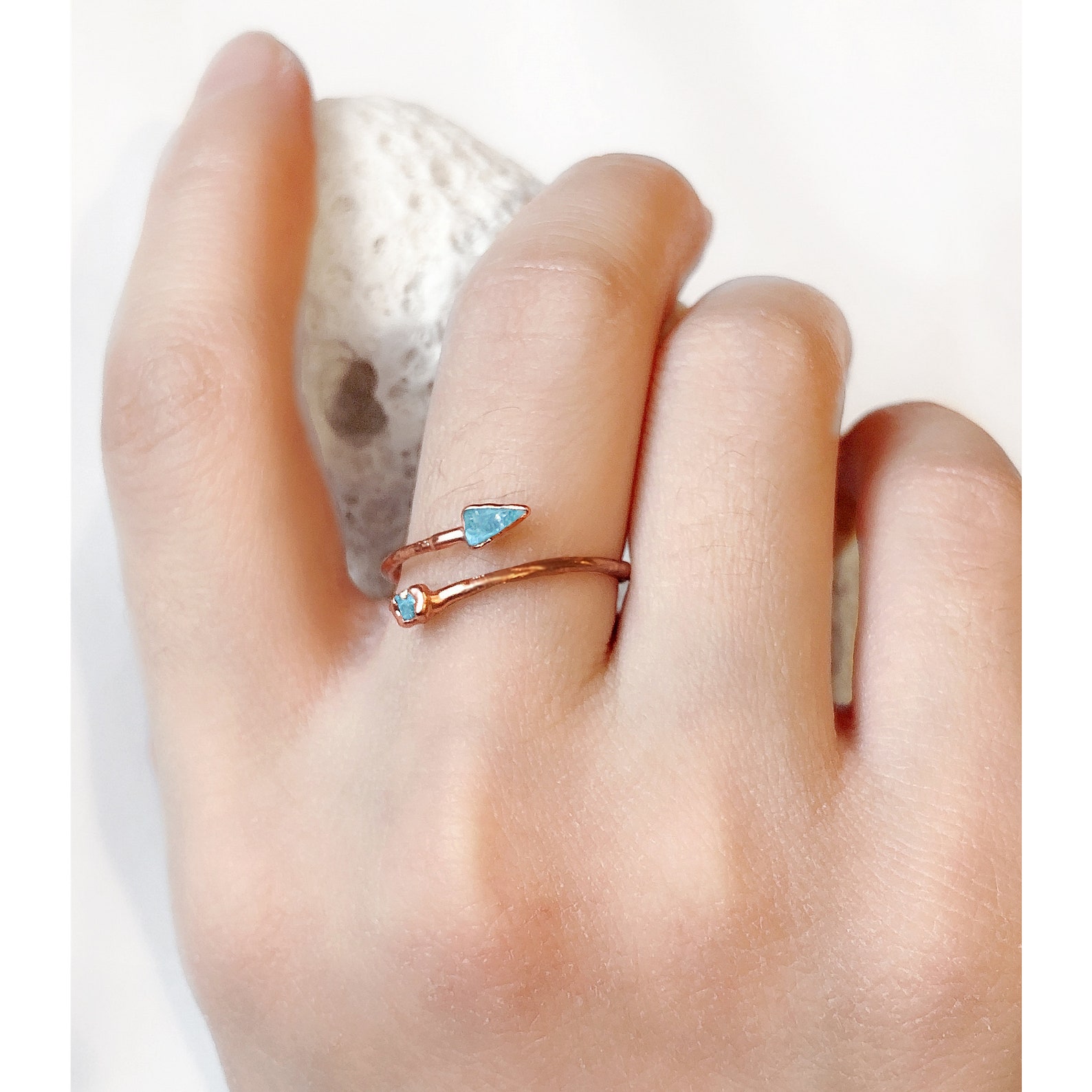 Etsy: JadedDesignNYC, Dainty aquamarine stacking raw crystal ring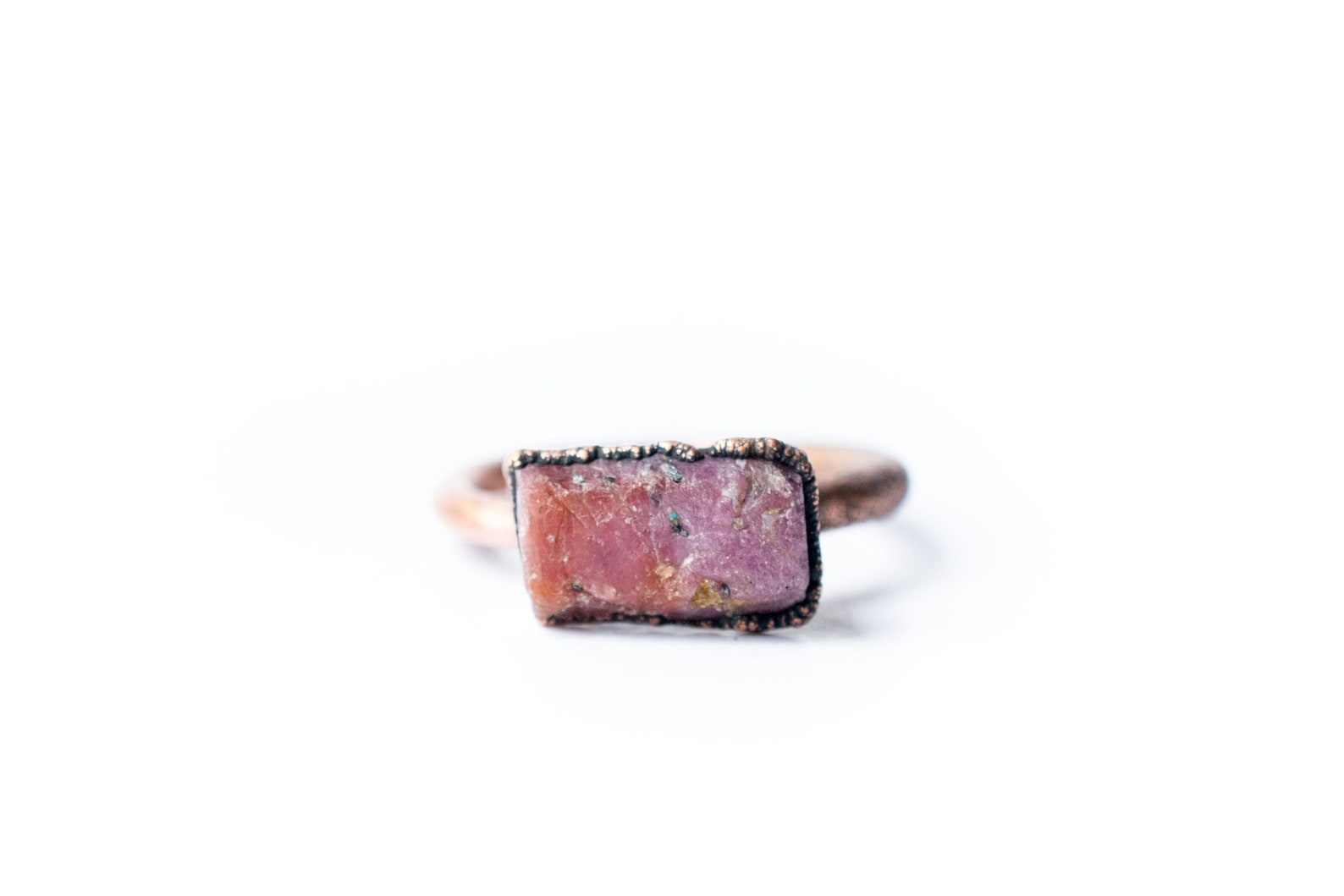 Etsy: HAWKHOUSE, Rough red ruby dainty raw crystal ring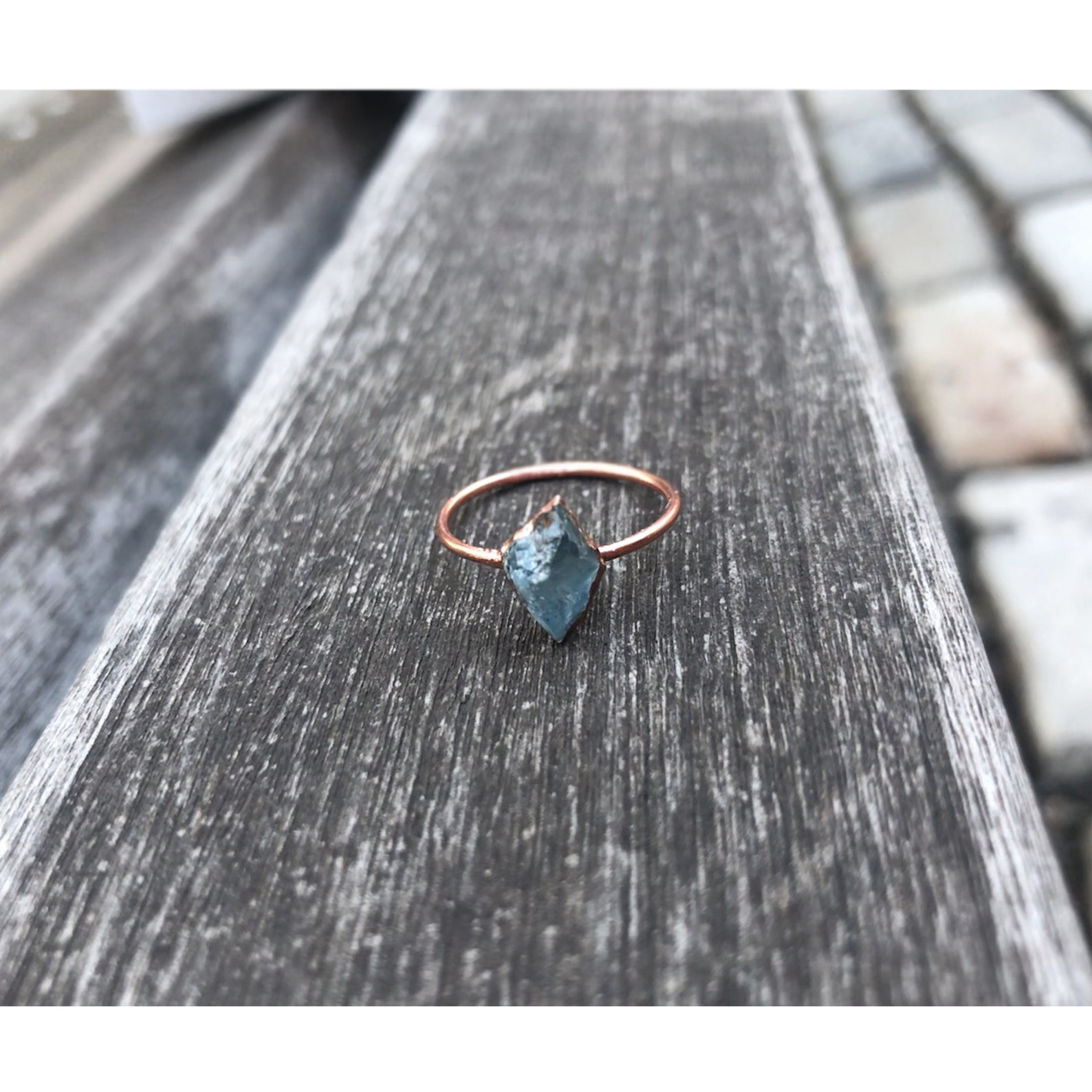 Etsy: JadedDesignNYC, Dainty stackable aquamarine raw crystal ring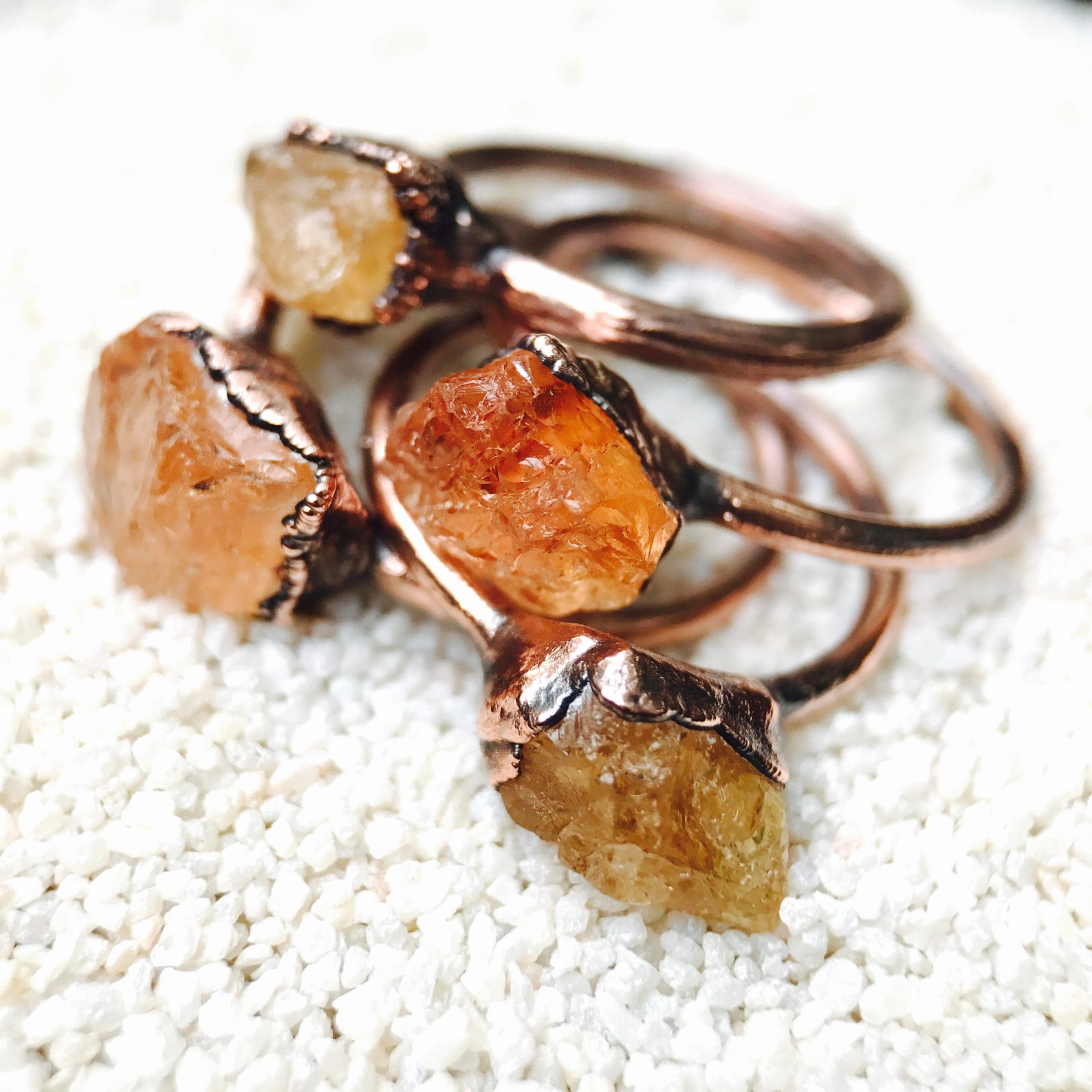 Etsy: TheMantraLife, Topaz stacking raw crystal ring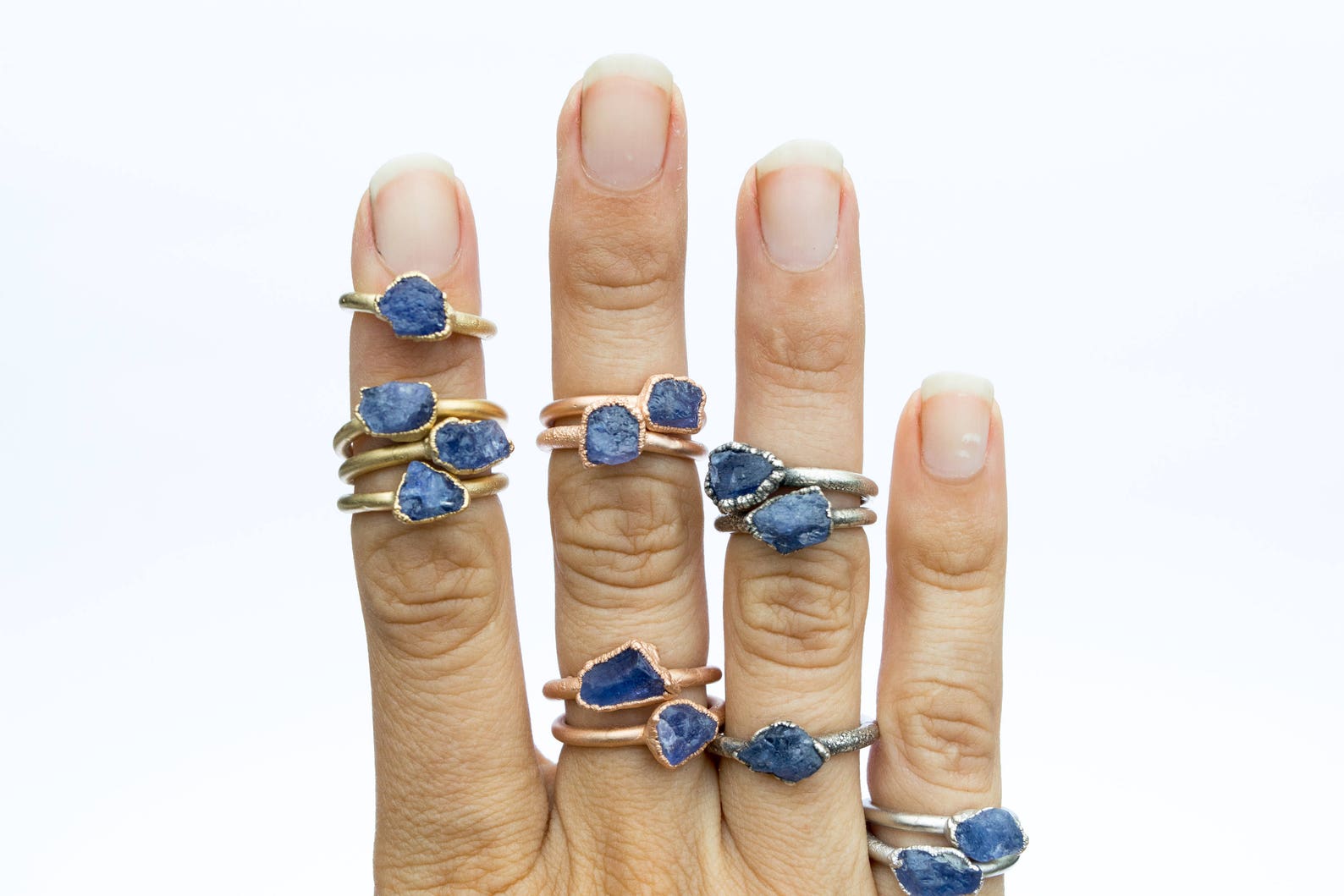 Etsy: HAWKHOUSE, Tanzanite stacking raw crystal ring
Etsy: HAWKHOUSE, Turqoise stacking raw crystal ring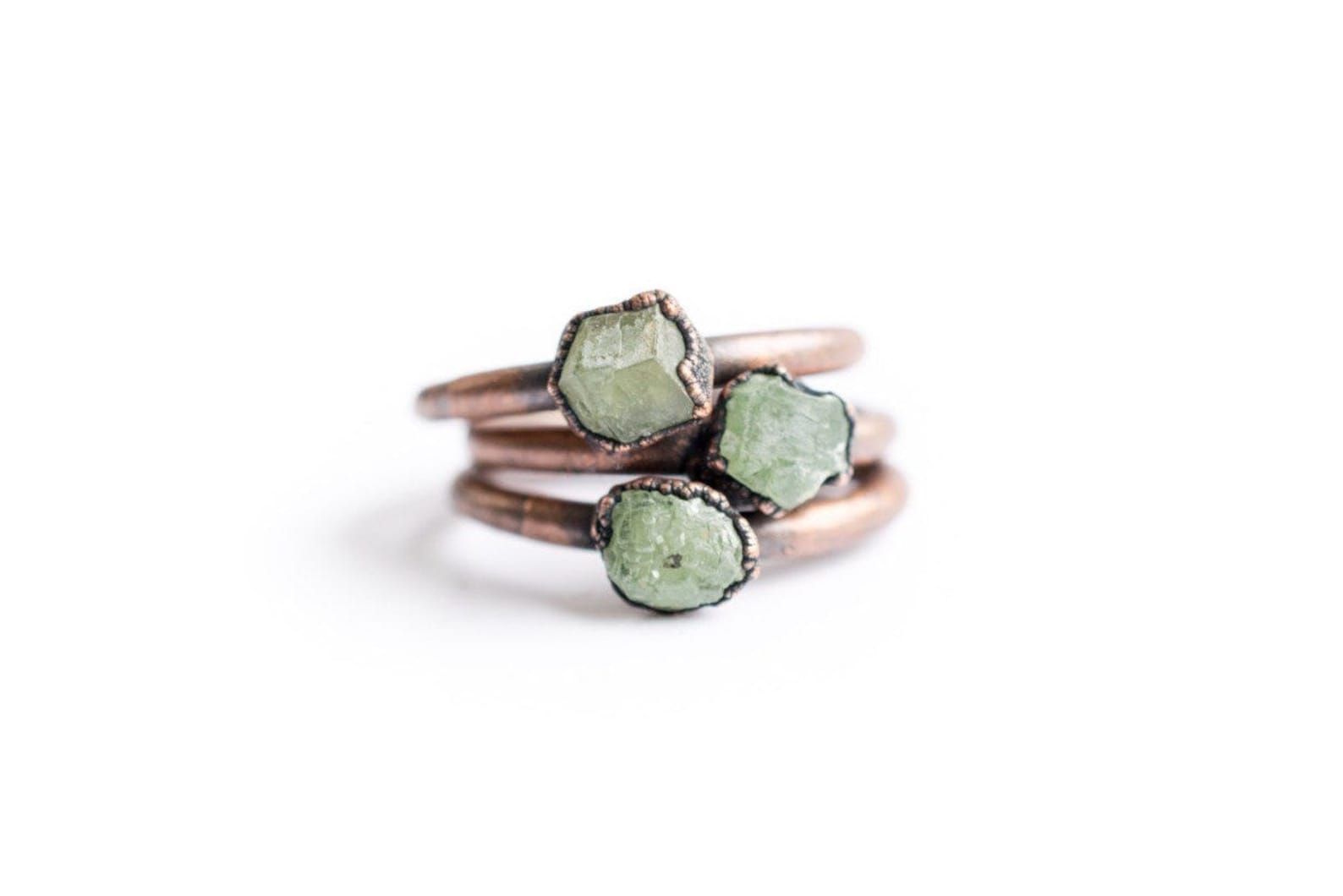 Etsy:HAWKHOUSE, Garnet stacking raw crystal ring
GIANT: Statement raw crystal ring inspo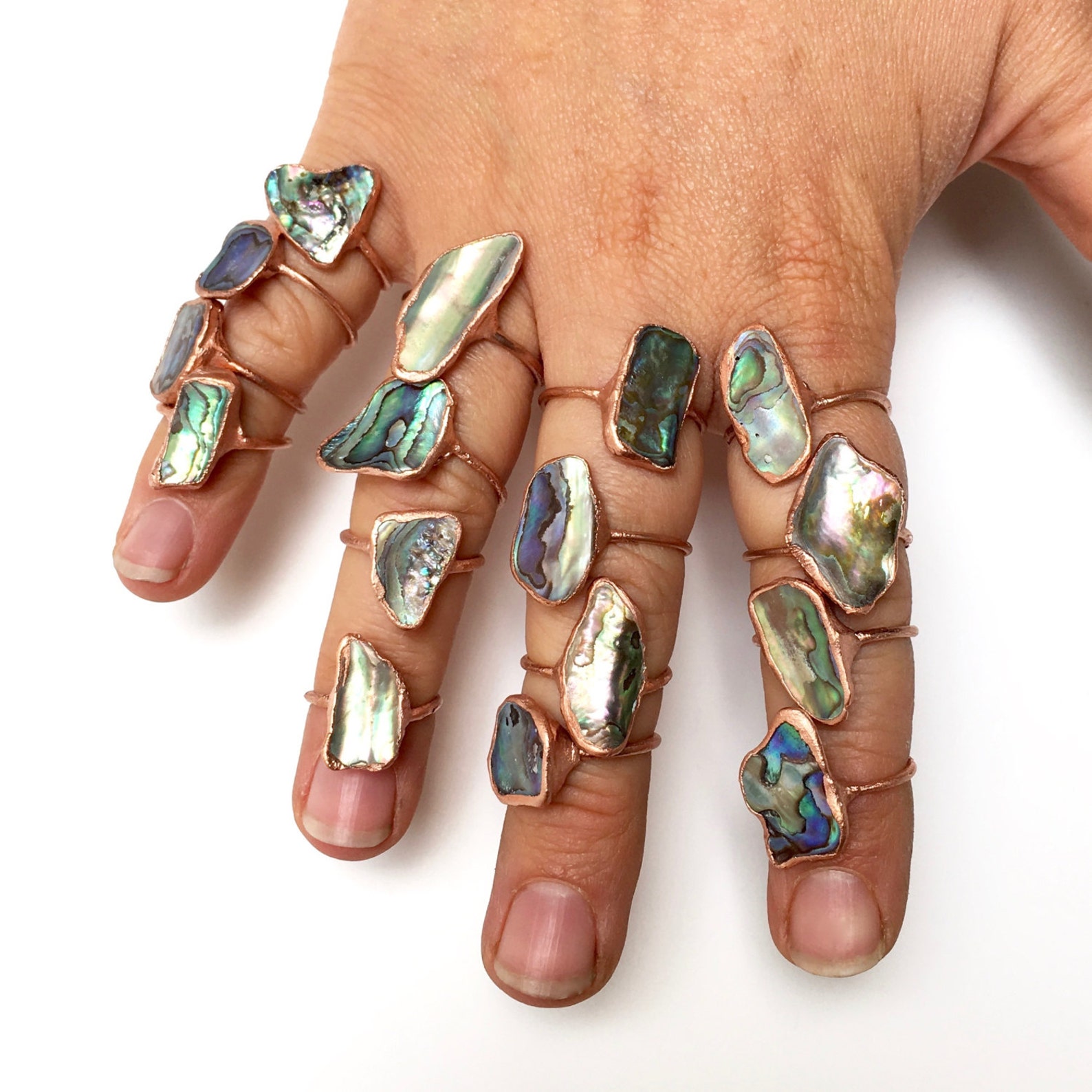 Etsy: DrishtiHandmade, Abelone giant raw crystal ring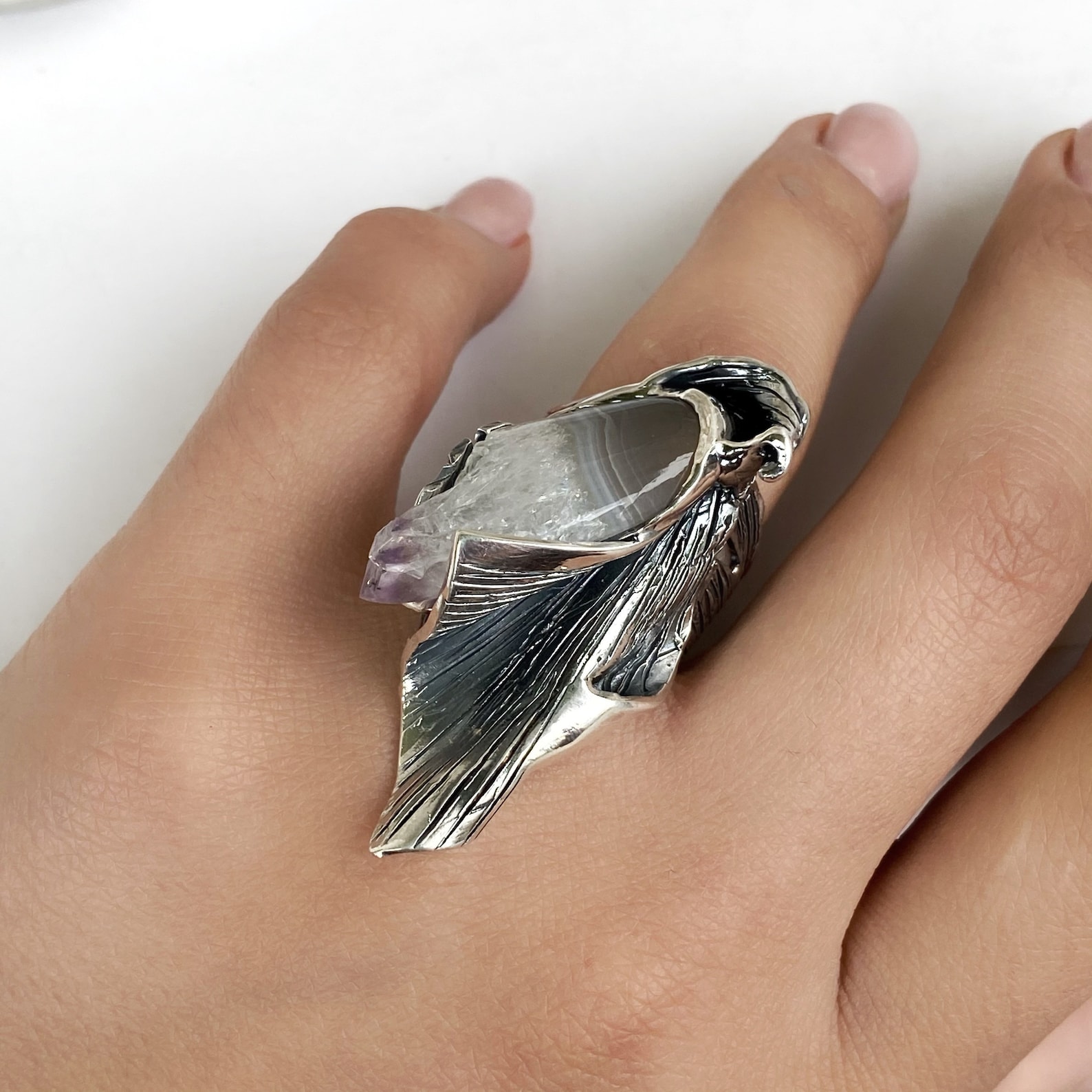 Etsy: ShahinianJewelry, Dark amethyst giant raw crystal ring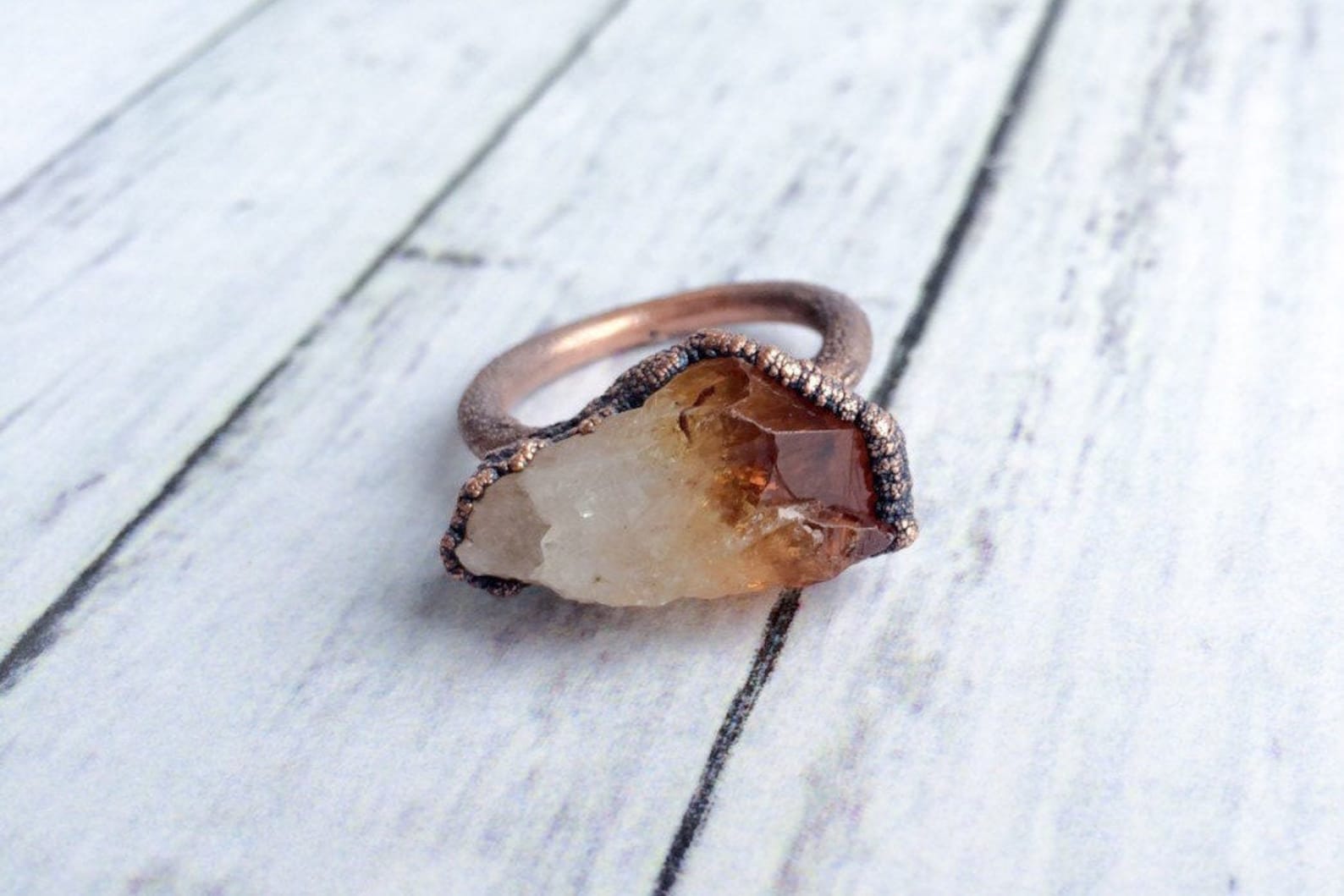 Etsy: HAWKHOUSE, Citrin natural statement giant raw crystal ring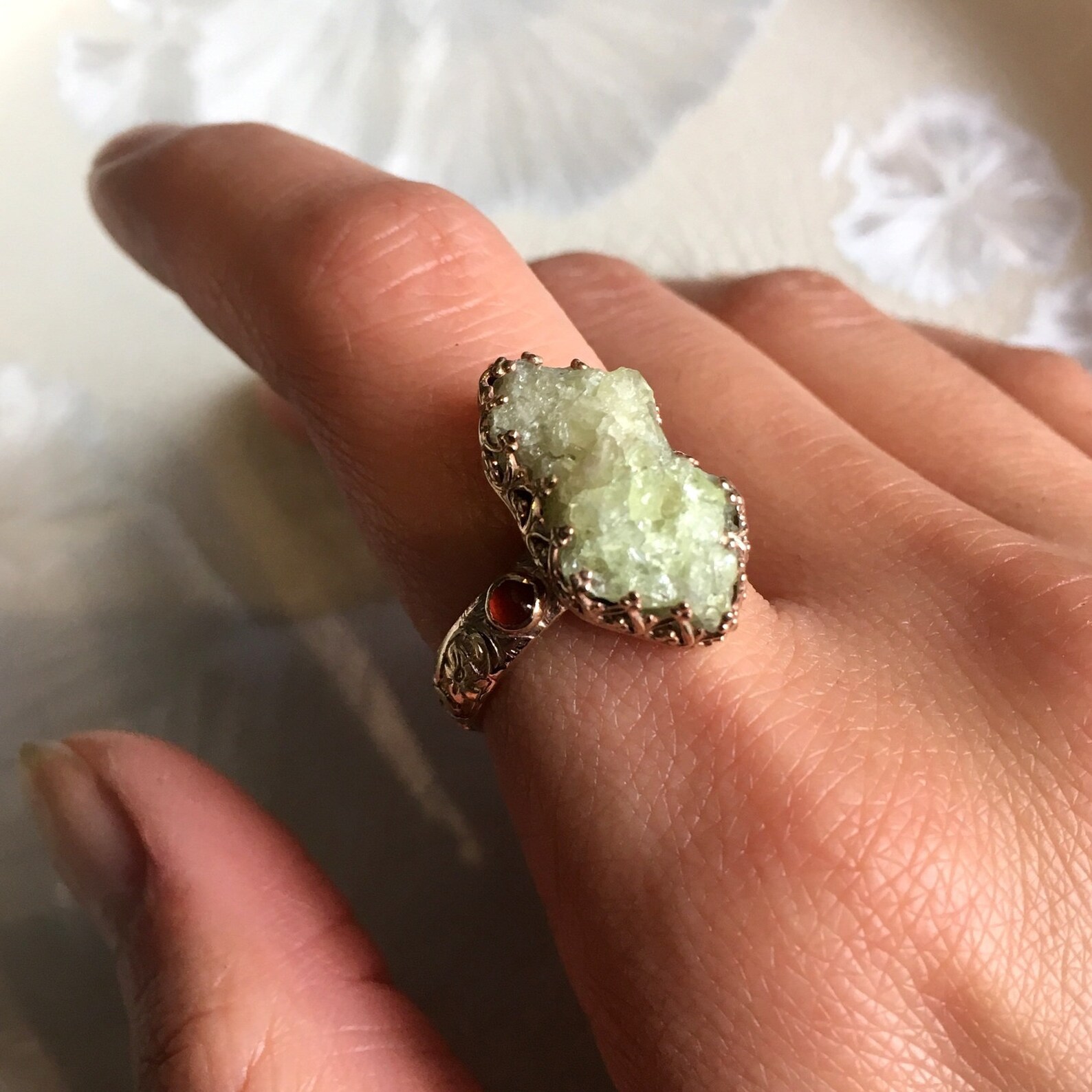 Etsy: artisanimpact, Druzy giant raw crystal ring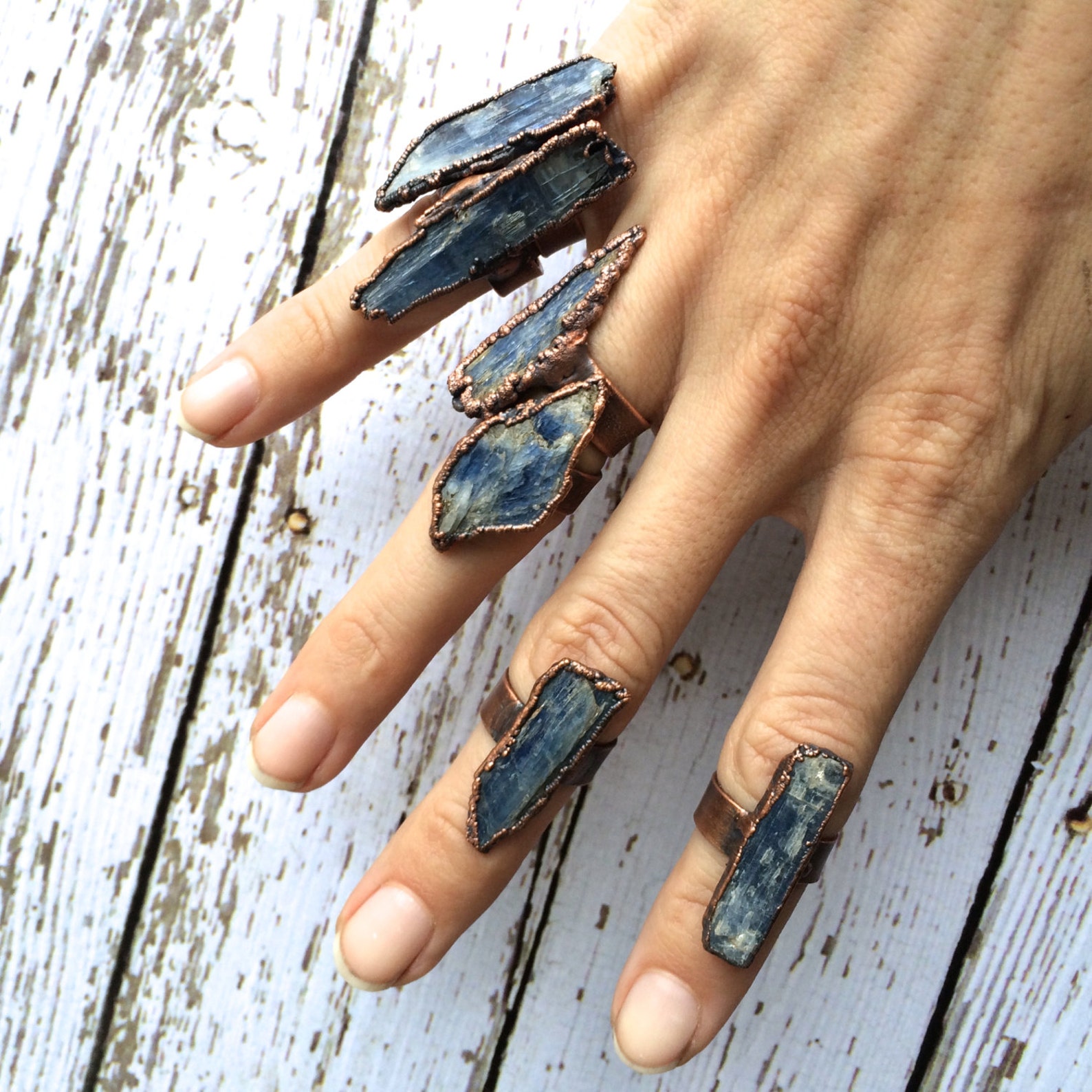 Etsy: HAWKHOUSE, Kyanite giant raw crystal ring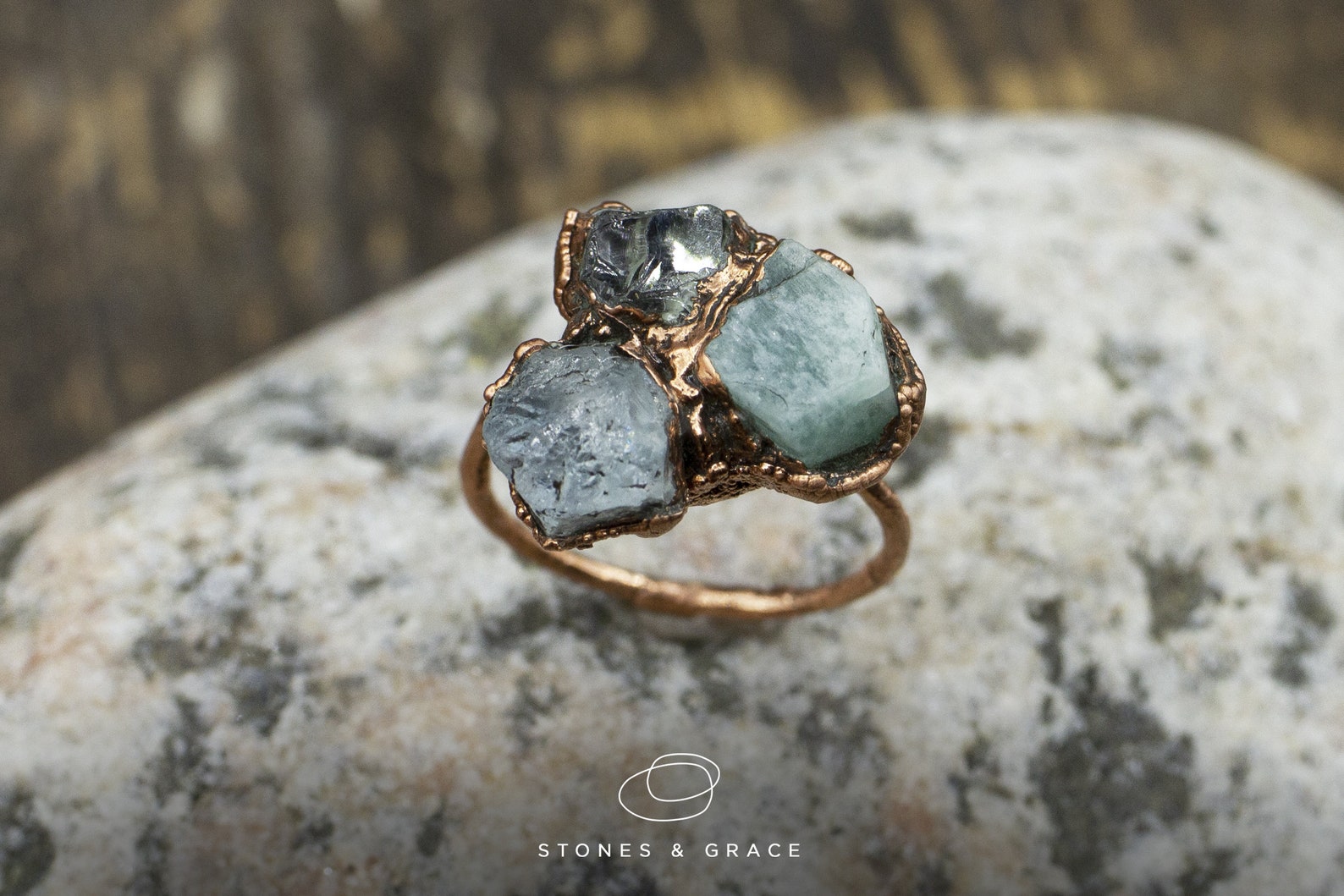 Etsy: StonesAndGrace, Multi-gen jade, aquamarine and tourmaline giant raw crystal ring
Raw crystal engagement rings
Engagement rings made with raw cut diamonds have a certain edgy air, but among artisanal vendors you will usually get engagement rings with the so-called Herkimer Diamond. This gem, while stunning, is actually a quartz and therefore much more affordable.
These "diamonds" wouldn't quite live up to the sparkling shine of actual diamonds but in raw crystal jewelry they do look similar to rough diamonds.
So if you do not care about the monetary value, Herkimer Diamonds are indeed beautiful with their ethereal milky translucent coloring.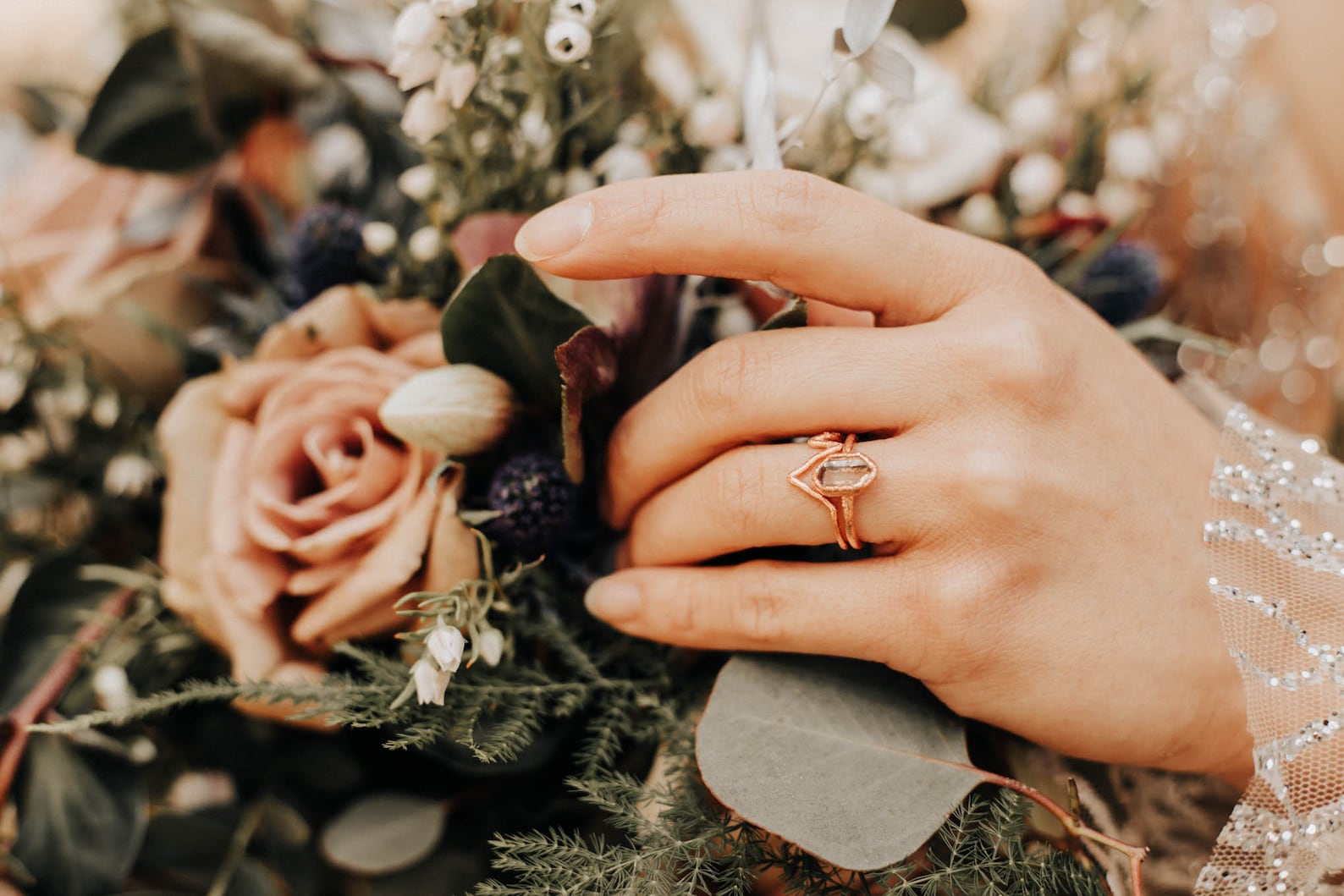 Etsy: TheAuraMuse, Engagement ring set with raw Herkimer diamond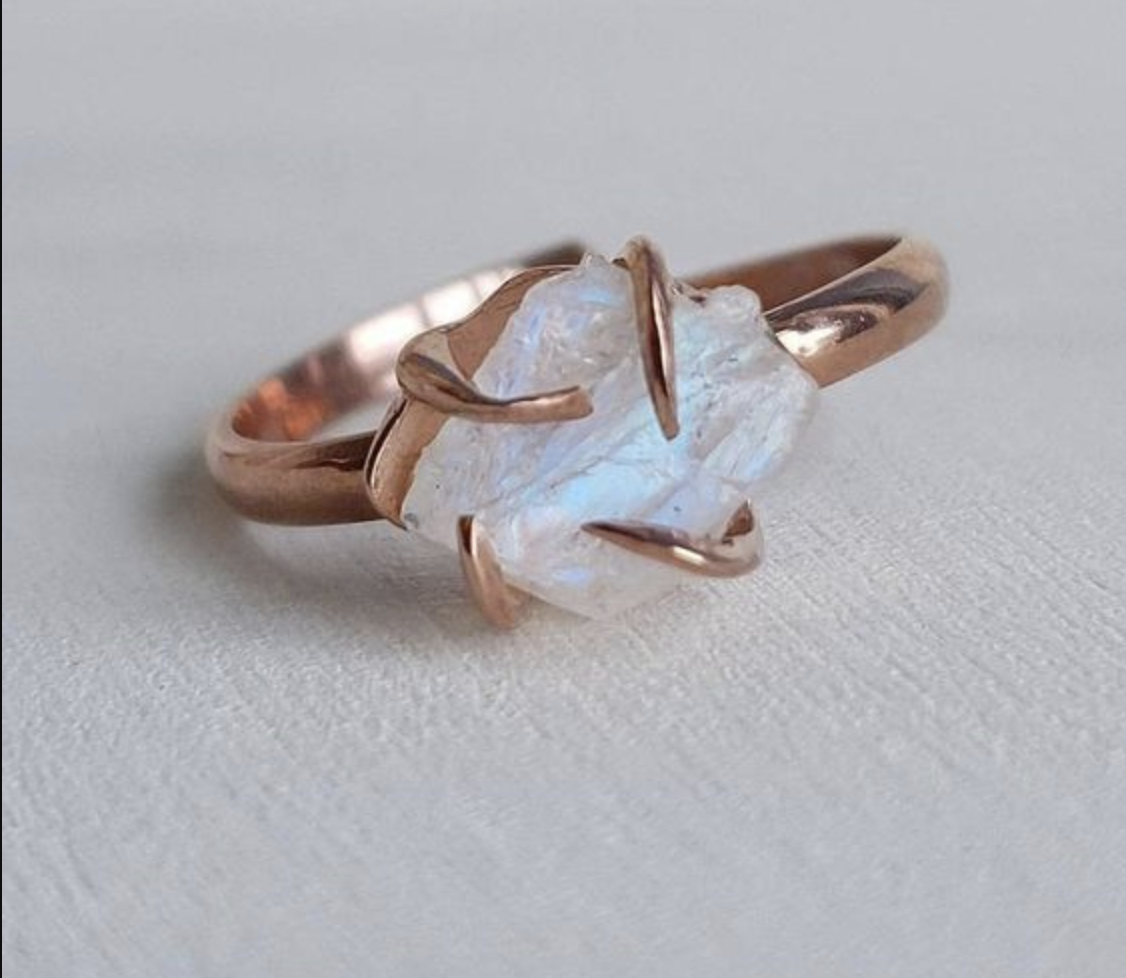 Touche Doree, Moissanite raw crystal engagement ring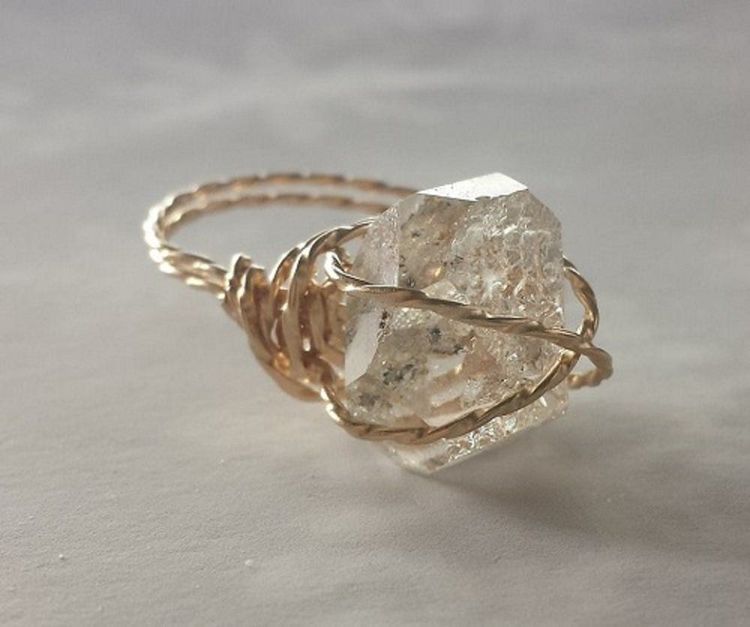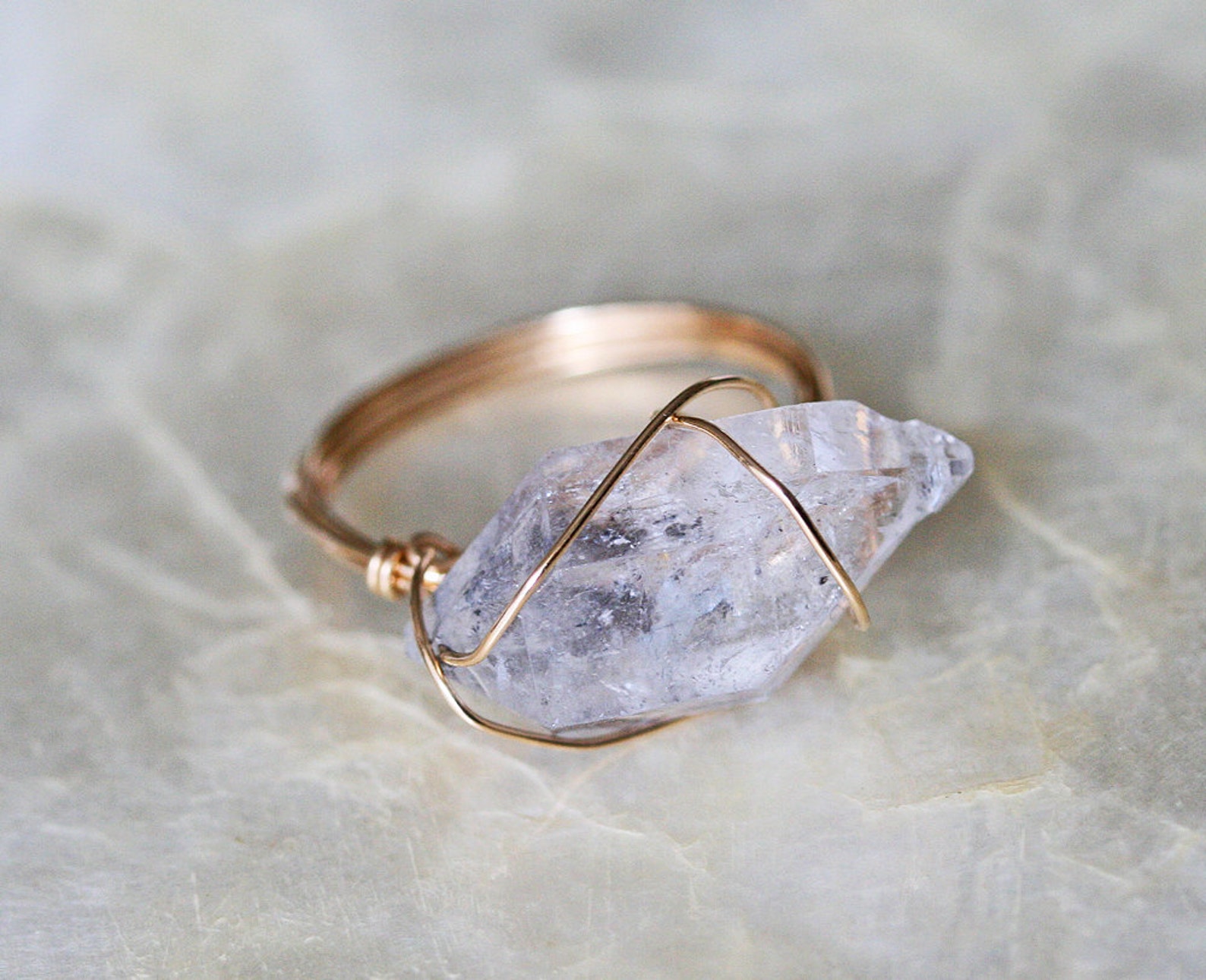 Etsy: LHJewelryBoutique, Herkimer diamond engagement ring
The trendiest ways to wear giant raw crystal rings
Now that you know all about raw crystal rings, it's time to think about how you can style them for your specific aesthetic.
If you're going for a soft and dreamy Danish look, raw crystals can be a great way to add some edge and whimsy. Try pairing raw rings with delicate gold pieces and light colors.
For a 70s vibe, raw crystals look amazing when paired with earth tones and rustic metals. Think browns, bronzes, and deep greens.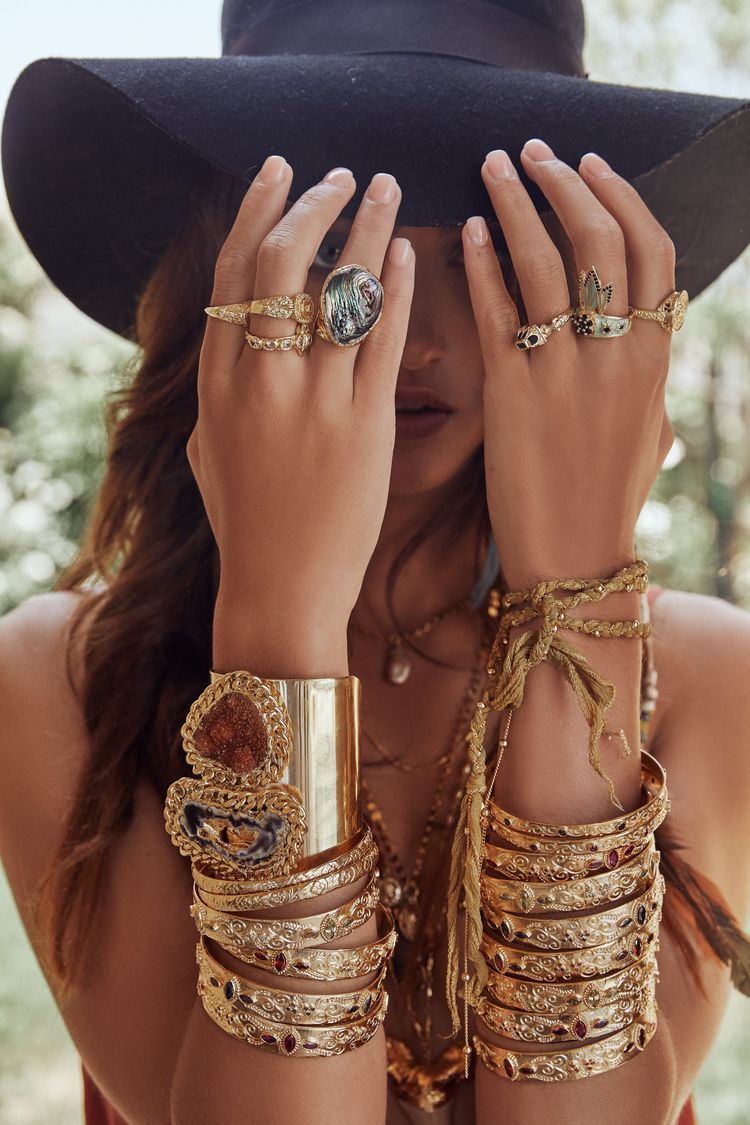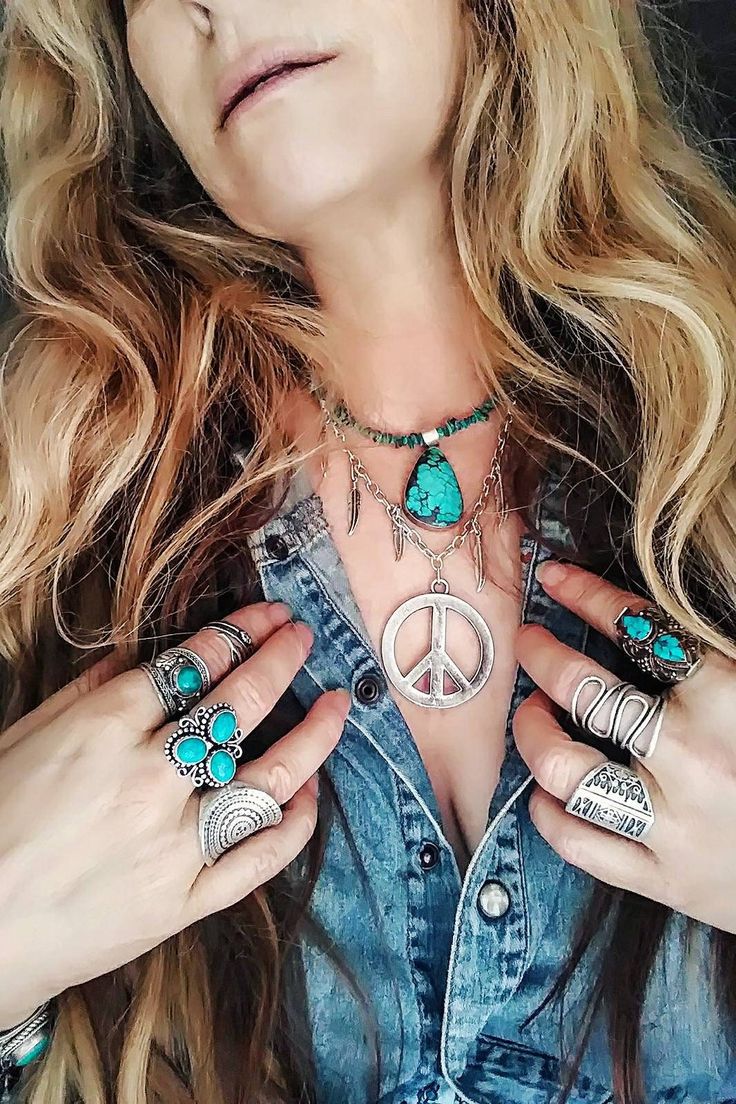 If you're into witchy or fairycore aesthetics, raw crystals are a must-have accessory.
Go for darker metals and bolder shapes to really make the crystals pop.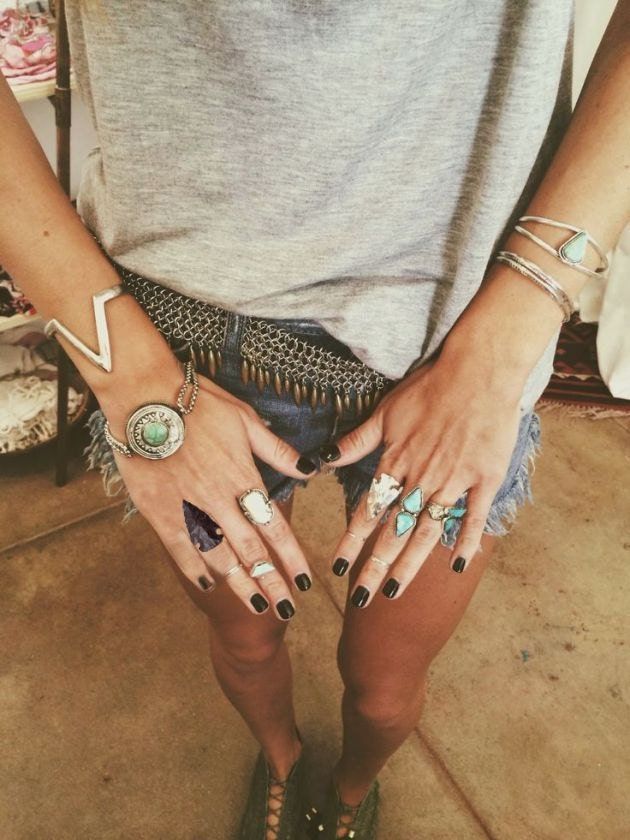 They are also a great way to add some edge to a soft or romantic look. If you're wearing a flowy dress and want to add a bit of toughness, just throw on a raw crystal ring and you're good to go.
Finally, raw crystal rings are just really fun and whimsical. They add a touch of magic and intrigue to any outfit. Whether you're dressing up for a special occasion or just running errands, a raw crystal ring will make you feel like you're part of the fashion world.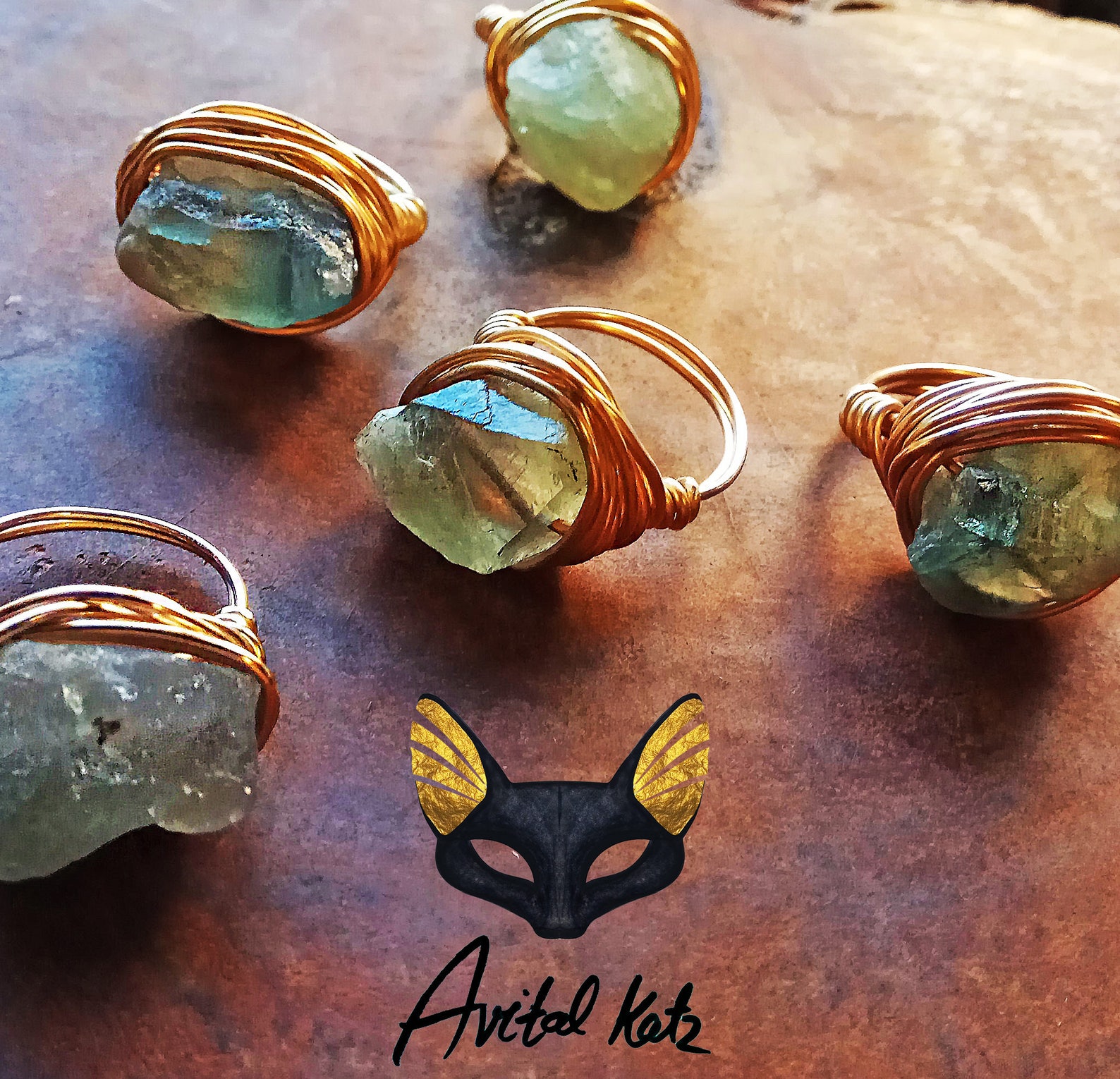 Etsy: AvitalKatzArt, Giant raw fluorite wire ring
And that's about it!
People love raw crystal rings because they are a unique and affordable way to add personality to their style. The raw crystals come in so many different shapes and sizes, so it's easy to find a ring that speaks to your individual style.
So go ahead, give raw crystal rings a try and see how they can add some extra flair to your style. Who knows? Maybe raw crystals will be the next big thing!