3 Types of Wellness Jewelry: Not Just Healing Crystals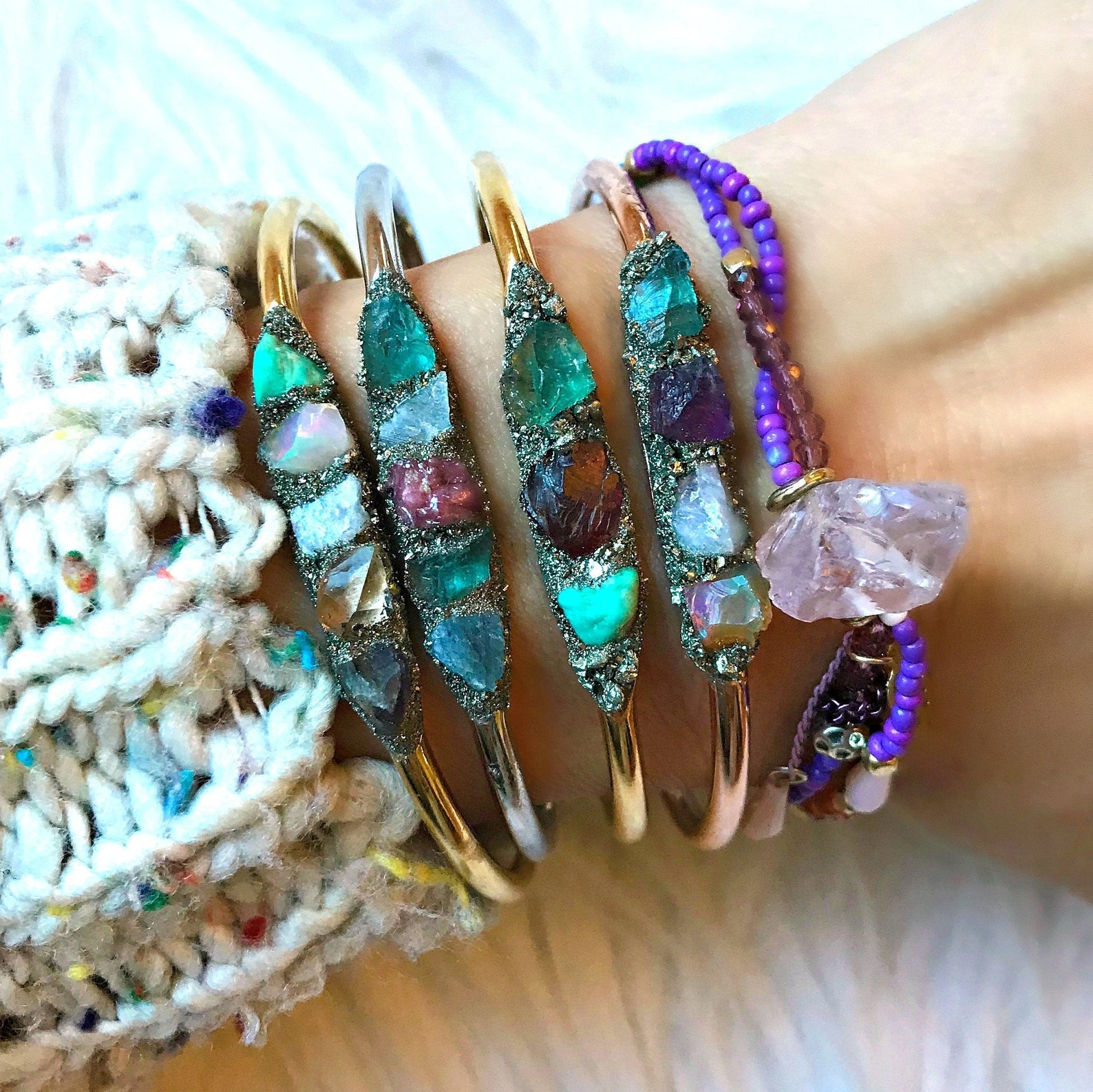 Hero bracelets via LeaSpirit on Etsy
Most people think of jewelry as something that is purely aesthetic, meant to enhance an outfit and make the wearer look more attractive.
While this is certainly true and there is nothing stopping you frpom wearing wellness jewelry just for its looks, there is also a growing trend to use jewelry with semi-precious gems that are said to have a more practical purpose, serving as wellness tools to promote better health and well-being.
Let's entertain the idea for a while and explore some of the different types of wellness jewelry available online today.
You might be surprised that wellness jewelry does not need to mean healing crystals.
Jewelry Made For Fidgeting
Jewelry with fidget mechanisms can be an effective tool for those who struggle with stress and anxiety. As the saying goes, "use it or lose it," and these pieces of jewelry allow you to keep your stress levels in check by providing a distraction from worrisome thoughts and anxious feelings.
The people behind Lovfor note that fidgeting is also thought to be a way of releasing energy, thus reducing the physical symptoms of stress. The types of fidget mechanisms vary widely, from pendants that rotate around their base, to dangling pieces that slide back and forth along an adjustable chain.
Fidgeting jewelry can also come in the form of puzzle rings which require dexterity and problem-solving to unlock and reset.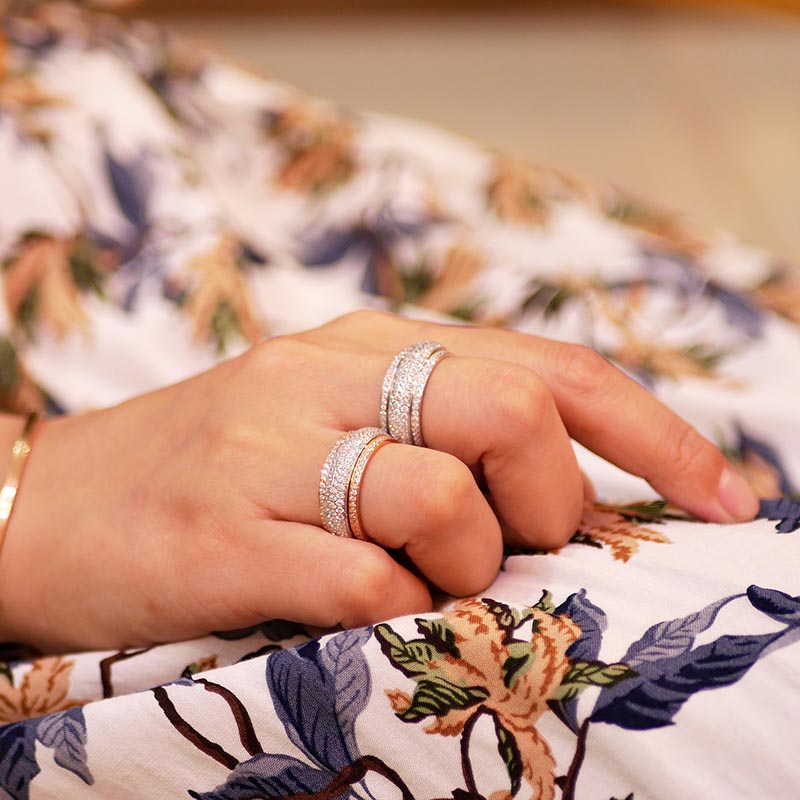 lovfor.com: Iced-out spinner ring
Jewelry With Aromatherapy Benefits
Aromatherapy jewelry are usually pendant necklaces that are made with diffusing capabilities. Usually they will come with an essential oil insert. The scent of the oil is often thought to help relax the mind and body, thus reducing stress levels and helping to combat fatigue and low energy levels.
Placing the oil insert into a pendant is a way to get the full, undiluted power of the essential oil. It would be too strong to put on skin but mixing with carrier oils softens its aroma.
Some of the most beautiful aromatherapy jewelry designs are made with lava diffuser stones. Lava is one of the natural materials that is porous. That means it can be used directly as the essential oil carrier, you just put a drop of the oil right onto the lava stone and let it soak in. Once that oil dries off, you can put the jewelry on and carry the scent with you.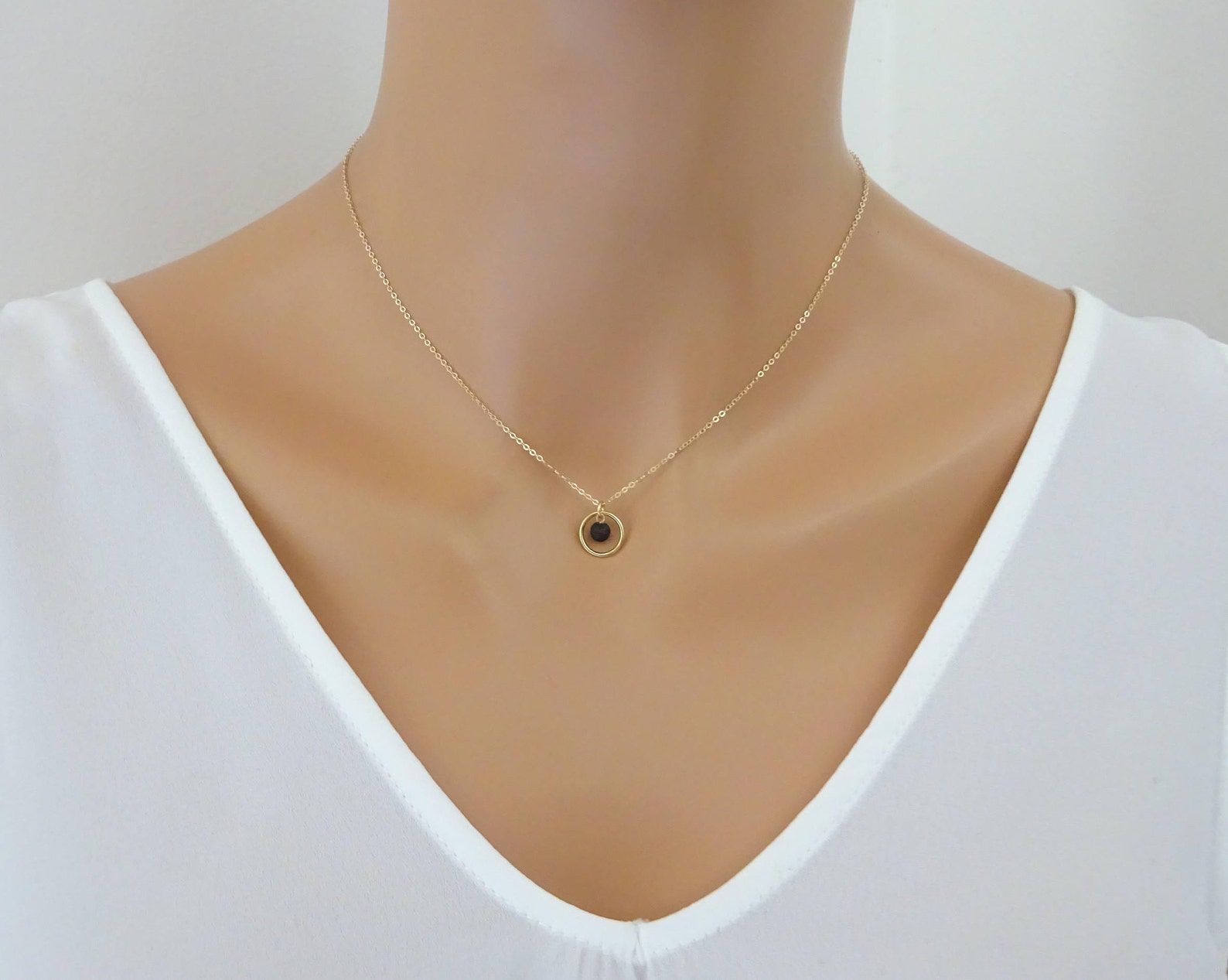 Etsy: LAminiJewelry, Lava diffuser pendant necklace
As you see, the jewelry designs are still as beautiful and as dainty as you wish, though. The essential oil built in within it does not show in any way.
Aromatherapy jewelry is a great way to take advantage of the therapeutic benefits of essential oils in your everyday life. These pieces can be worn as a reminder to practice self-care and relaxation, whether you're developing an active meditation practice or just trying to stay calm amidst the hustle and bustle of daily life.
Certain stones are naturally porous and absorbent, which makes them ideal for soaking up essential oil blends so they can be released in subtle whiffs throughout the day. As the natural aroma drifts around you, it can reduce stress levels, improve focus, boost moods, and evoke desirable emotional states.
Jewelry With Healing Crystals
And finally, there is indeed the good old classic: The supposed healing powers of crystals like opan, quartz or moldavite.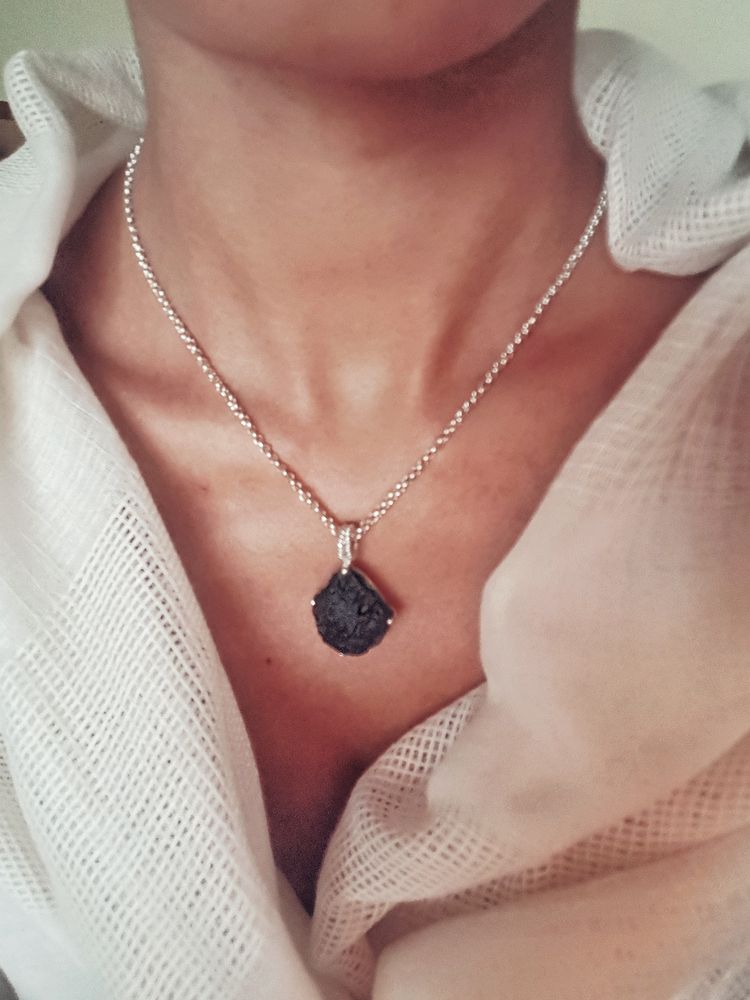 Etsy: Ioolajewelry, Moldavite pendant necklace
Healing crystal jewelry is getting popular with the comeback of the boho and hippie trends. This jewelry is crafted with semi-precious crystals, such as amethyst, rose quartz or jade.
These stones look beautiful and each of them is a unique piece. But other than that have been used for centuries in natural medicine as a tool to bring peace, calmness, and healing properties into one's life. It is said that these healing crystals can be beneficial in opening up the wearer's energy and allowing them to receive positive vibes from the environment.
But a lot of people find themselves drawn to certain pieces of jewelry simply due to their aesthetic look.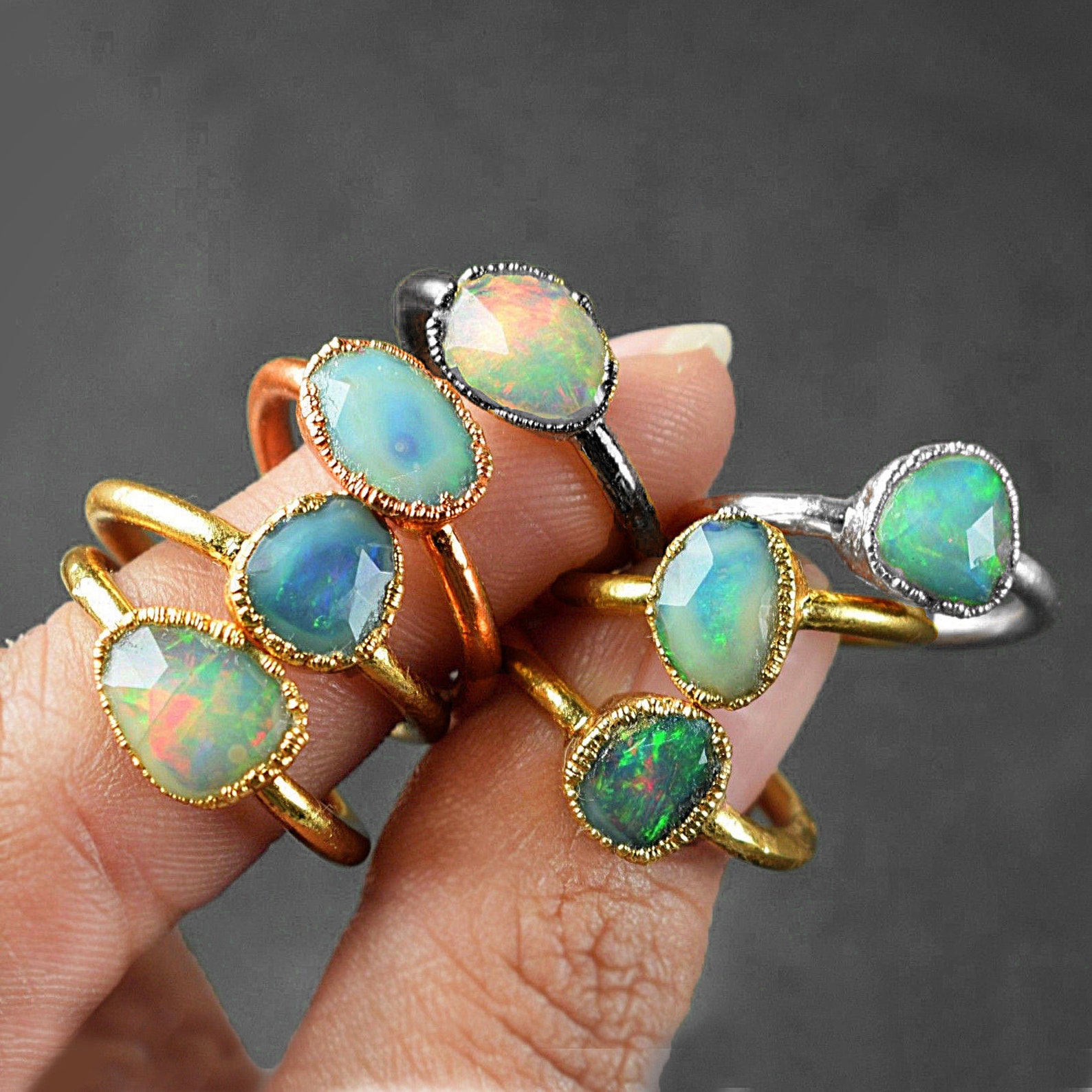 Etsy: GemFormingStudio, Fire opal rings
Healing crystal jewelry can be a great addition to anyone's wardrobe, especially for those who enjoy the boho or hippie aesthetic. Crystals have long been said to absorb, store and emit different types of energy, but either way wearing them as jewelry will always allow you to reap the benefits of looking stylish.
If you want something aesthetic but subtle, consider layering thin necklaces like it's done in the pastel Danish way – this style is both minimalistic and fashionable, but will still draw attention in all the right ways.
All in all, healing crystal jewelry is perfect for those who love a hippie or boho look!
In conclusion, wellness jewelry is a unique and beautiful way to incorporate the power of healing crystals into one's everyday life. From fidgeting pieces to aromatherapy diffusers, there are a variety of styles available that can help promote balance and wellness in the wearer. With the right knowledge and understanding, anyone can benefit from the healing powers of gemstones and crystals. By selecting the right pieces and taking care of them properly, you can find yourself surrounded by peace and good vibes.