5+ witchy aesthetic clothing items that will make you look and feel powerful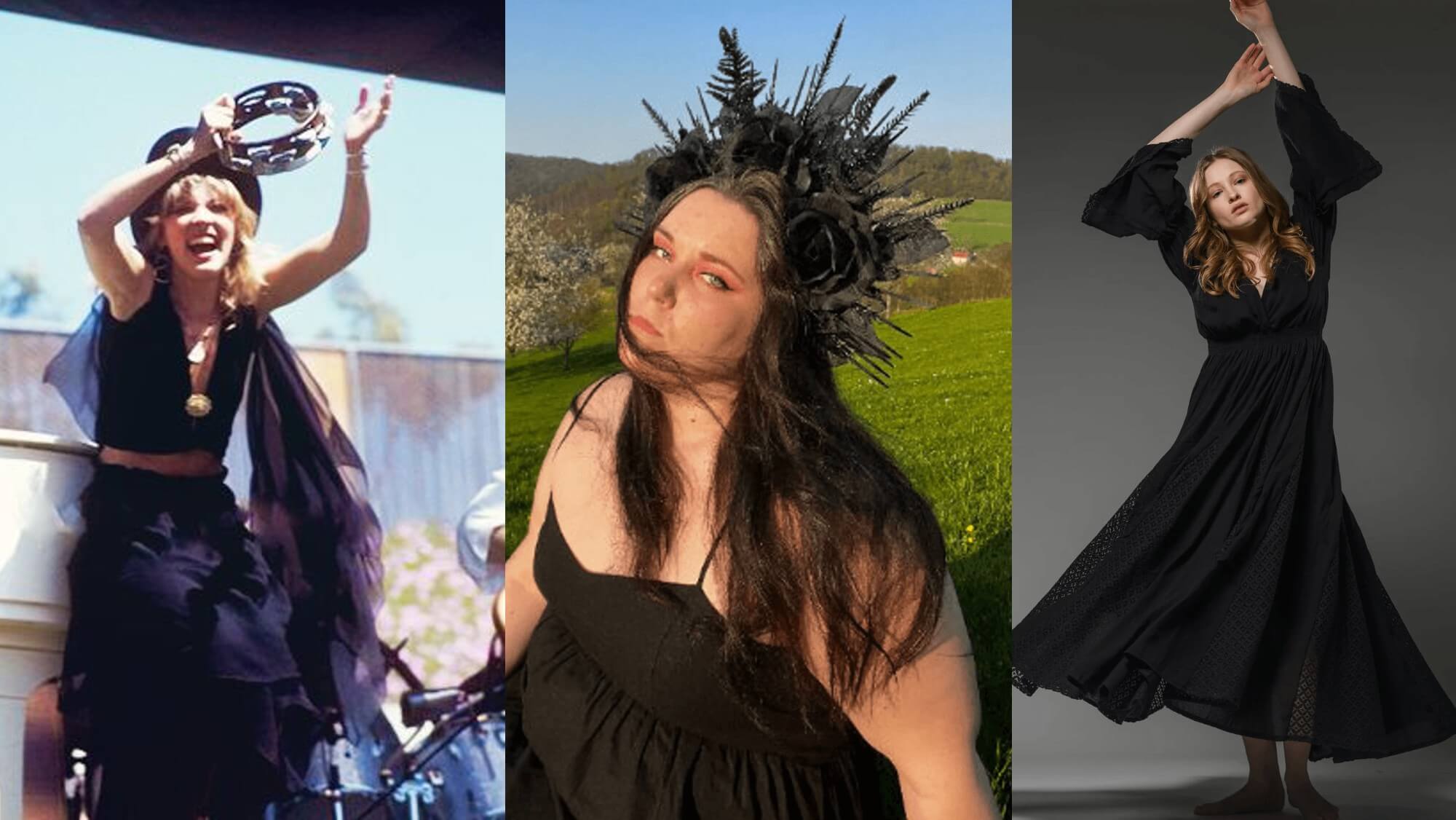 Witchy aesthetic has been popular especially among the feminist-minded indie aesthetic crew, but no fashion is tied too strongly with an organized political movement.
On the other hand, there is some link. No wonder that witchy is the aesthetic that became related to the anti-patriarchy moods: Witchy aesthetic pieces are designed to make you feel powerful and confident.
What witchy aesthetic clothing says about your personality
Why do women love witchy aesthetic clothing? There are a number of reasons, but one of the biggest is that witchy aesthetic allows them to express their feminism in a powerful and confident way.
The stereotypical women's fashion is focused on the softer side of femininity - we see that everywhere: softcore, cottagecore, kawaii are the most popular aesthetic fashion trends right now.
What if that doesn't speak to you, but at the same time you are not into emo and darkcore styles, or baggy clothes aesthetics, because they are (duh) not feminine?
Witchy aesthetic clothing is all about embracing your feminine power, and for many women, this is a very empowering message. witchy aesthetic allows them to feel like they can take on the world and be themselves unapologetically.
So if you're looking for a way to express your feminism and embrace your power, witchy aesthetic clothing is the perfect way to do it.
The witchy aesthetic is about female empowerment
Women who love the witchy aesthetic take a lot of inspiration from Fleetwood Mac's Stevie Nicks. The witchy aesthetic is all about embracing your feminine power, and if you're drawn to it, there's a good chance that you're a strong and confident woman yourself.
But strong and confident does not mean unfeminine, as Stevie Nicks shows on herself very well. One particular quote comes to mind, when she described in an interview the time when her and her boyfriend Lindsey Buckingham became part of Fleetwood Mac. They had been poor until then so once they joined a far more successful band, there was a surprising amount of money coming in even before they ever toured or recorded with the band.
Apparently Nicks' mom went to tell her, that's a lot of money, you can't just take the money like that? To which Nicks responded, "I am taking the money. Back off, mom." There you go, that's taking power without sounding like a bro.
So how do you style witchy aesthetic clothes for different occasions? Read on for some tips.
If you're looking to add some witchy aesthetic pieces to your wardrobe, here are five items that will make you look and feel powerful:
1) A witchy cape or shawl.
A witchy shawl became popular as a Stevie Nicks stage prop, in fact, and it has a good reason: A cape or shawl is the easiest way to add a very effective witchy flair to any outfit. Look for ones that are made from luxurious materials like velvet or satin, and make sure to choose a style that speaks to you.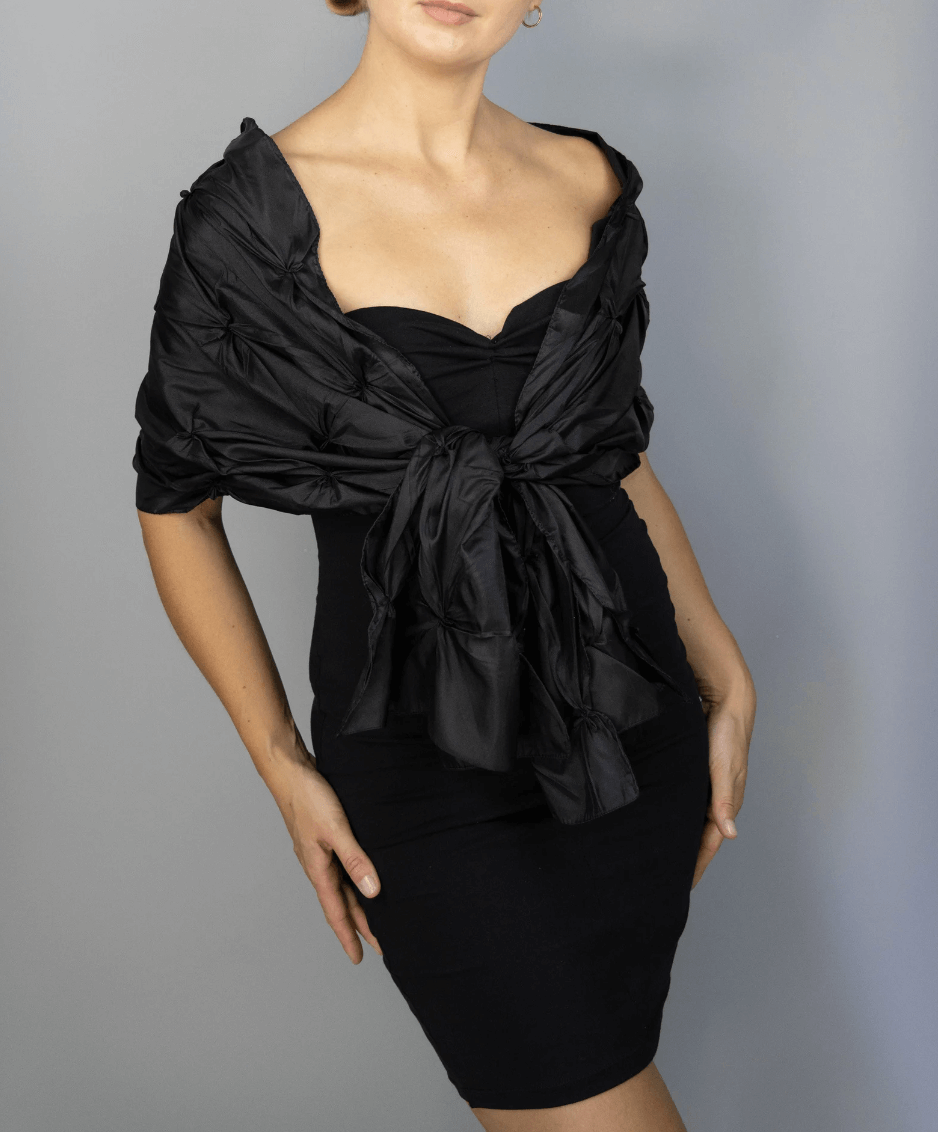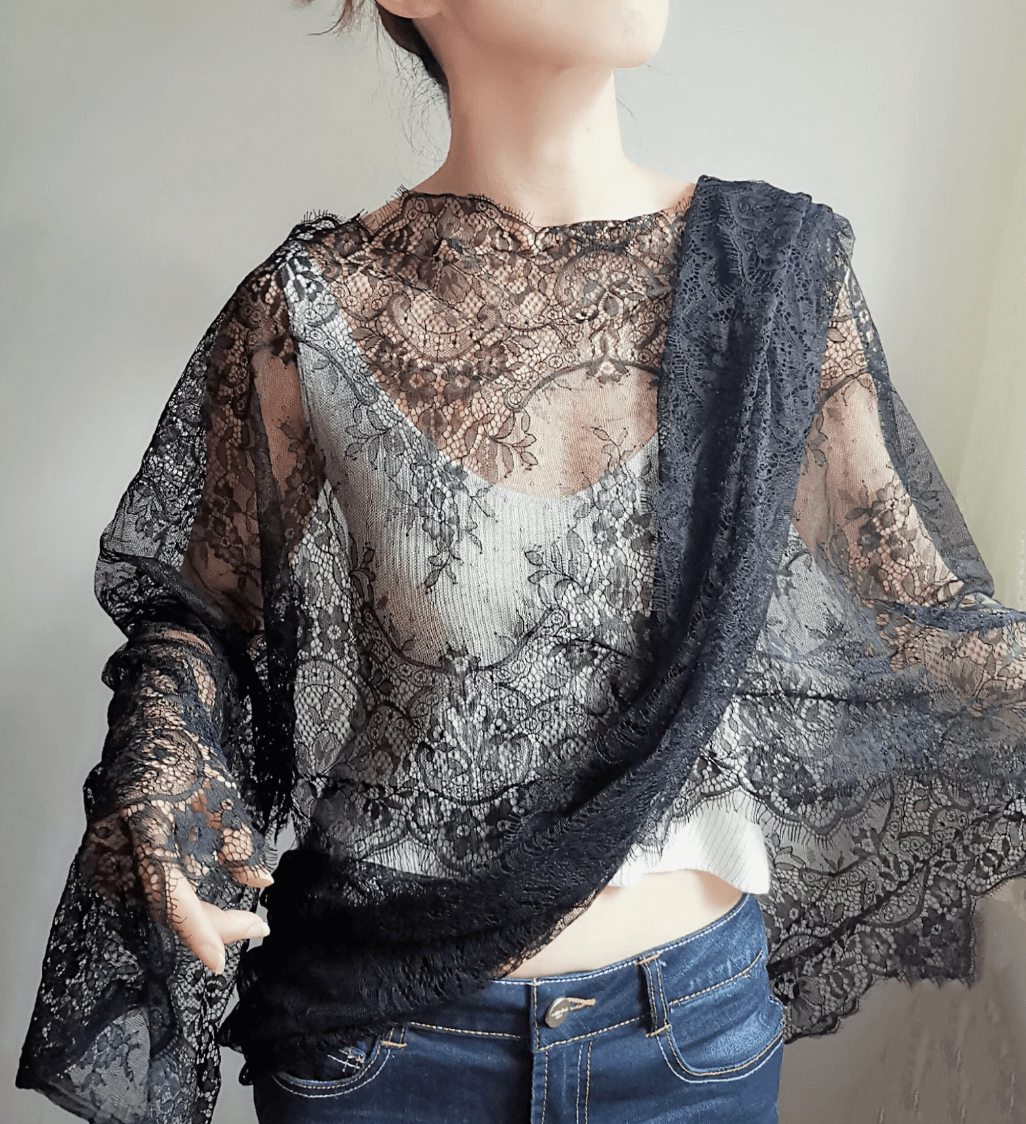 Etsy: bridalspain, Black satin shawl
Etsy: LaceFancy, Scarf shawl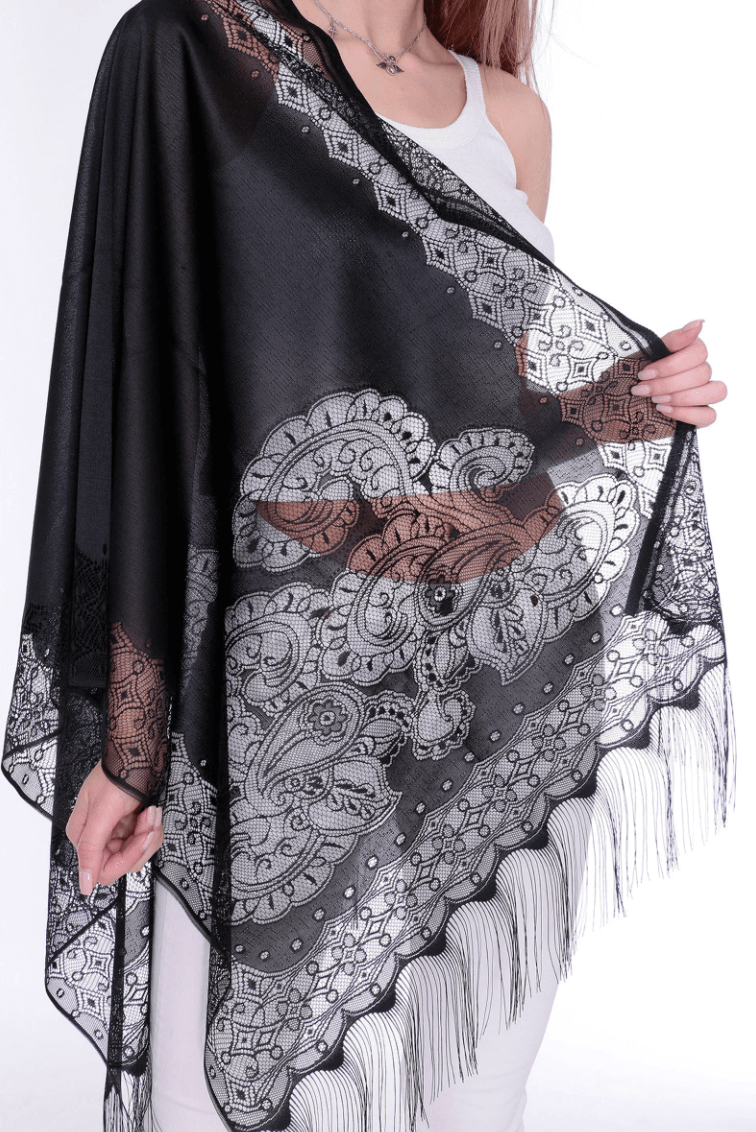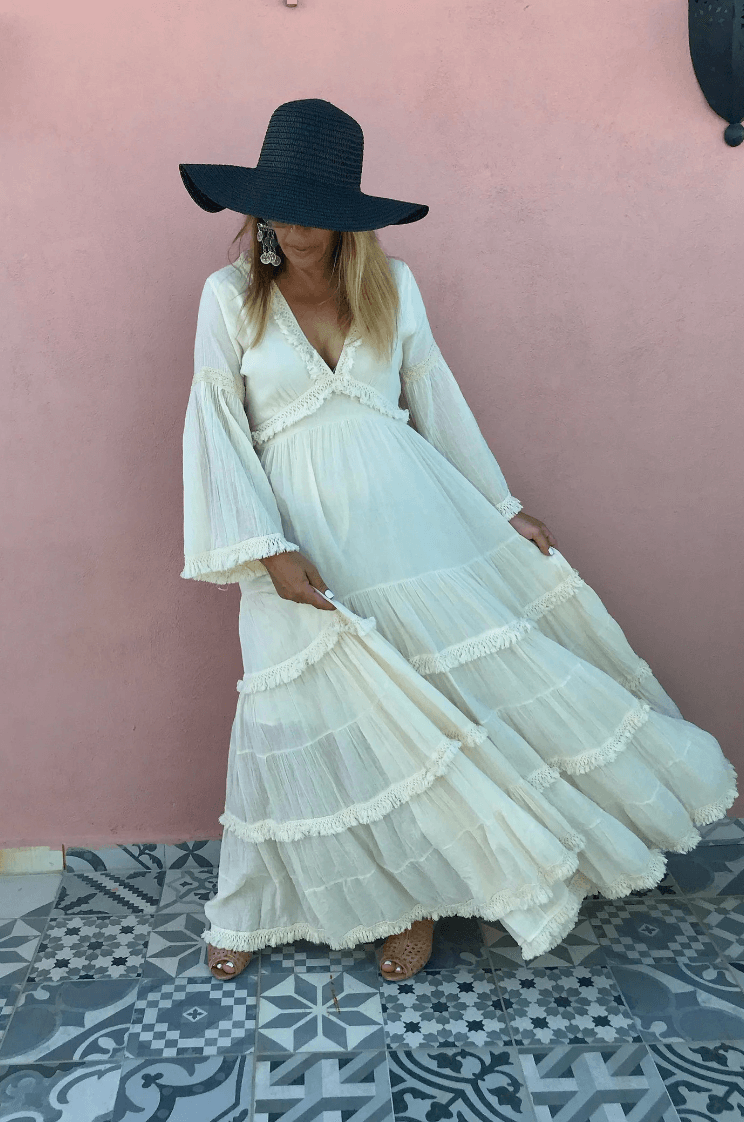 Etsy: KeenHomeDesign, Lightweight shawl
Etsy: Awatara, Offwhite romantic dress
2) A witchy dress.
Good news - some witchy dresses can be reused in dark cottagecore if that's an indie mood you like as well. There is a lot of overlap, the biggest difference between the aesthetics is probably in the modesty. Otherwise, a dress is the best way to show off your feminine power, and if you want to show its witchy side, there are plenty of different styles to choose from. Look for dresses with high necklines, detailed stitching, or layers of tulle and fabric.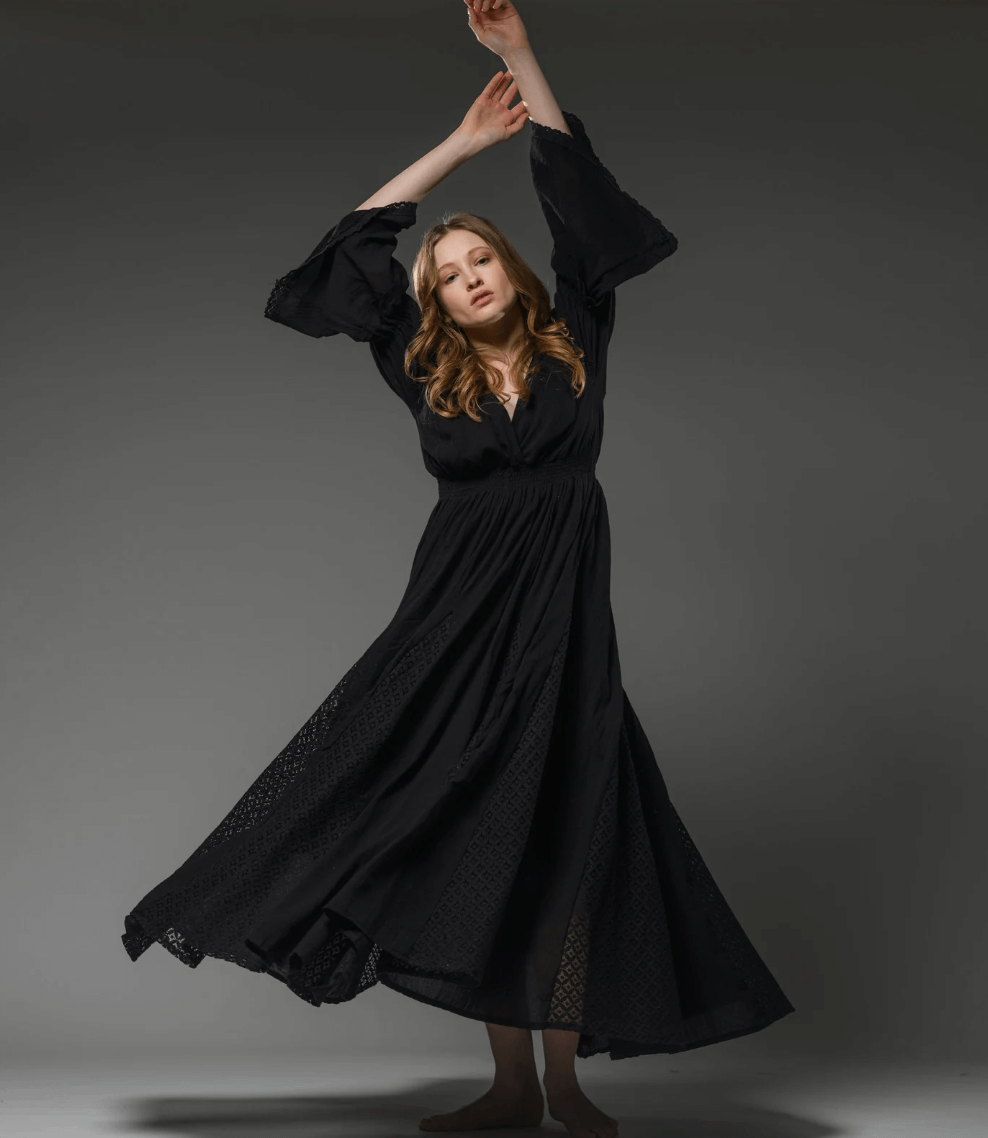 Etsy: Awatara, Black boho dress in lace
Etsy: SkairaShop, Black photo shoot dress
3) Interesting fabric finishes.
In witchy aesthetic, you will wear a lot of blacks and dark blues. That's flattering more or less on everyone, but then the outfit can look a bit dull. Make it less dull by combining a shinier black with a matte black, add in some velvet, use lace!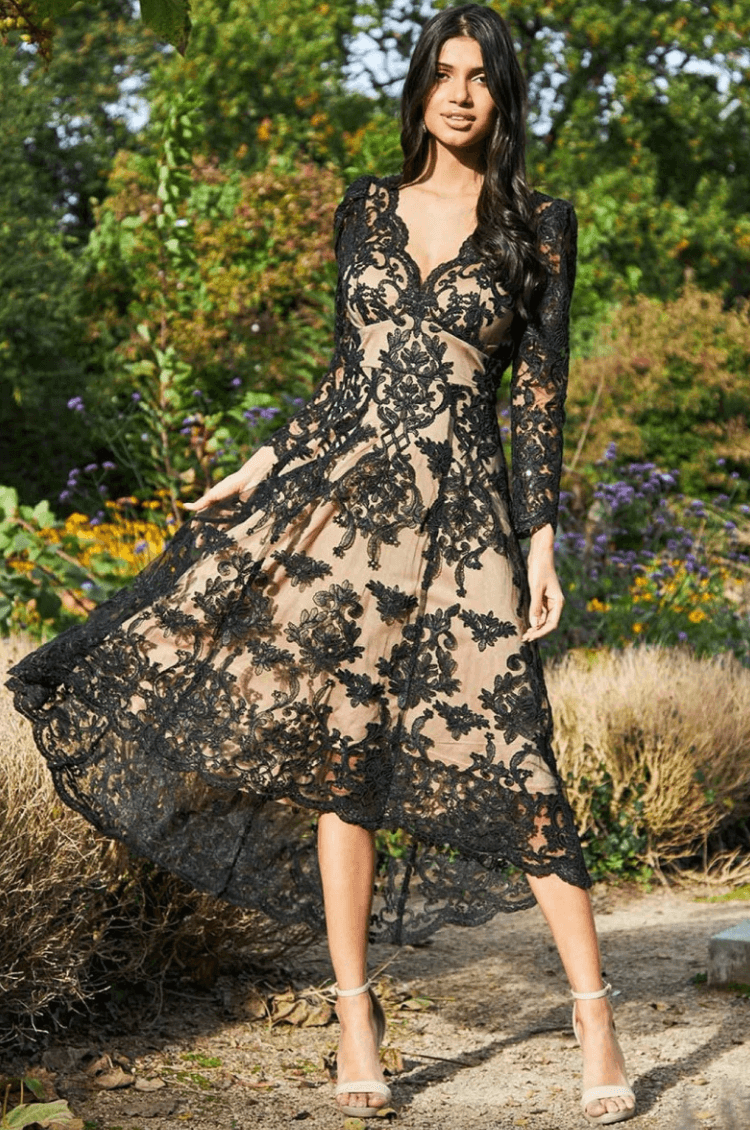 Etsy: FashionByGoddiva, Scalloped dress
4) A witchy headpiece.
If there's one thing that can make an autfit aesthetic, it's statement accessories.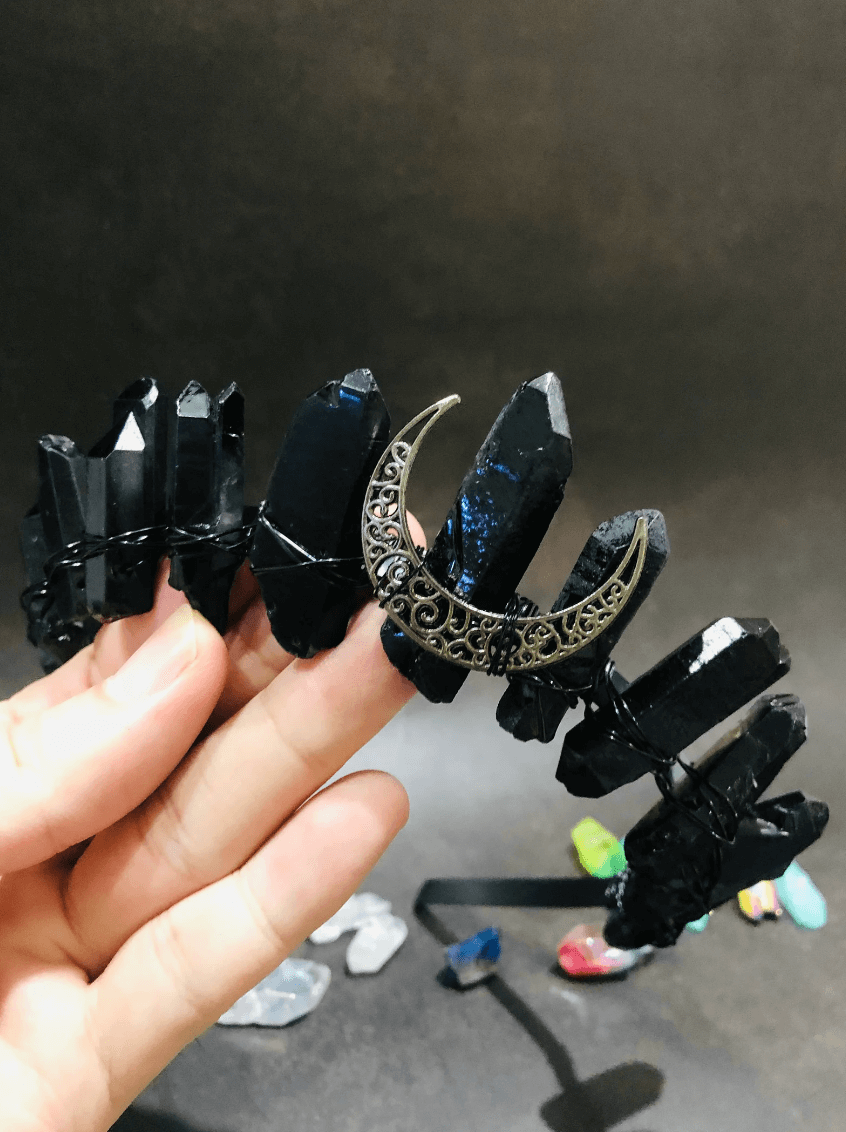 Etsy: RUBENGREAT, Moon crystal tiara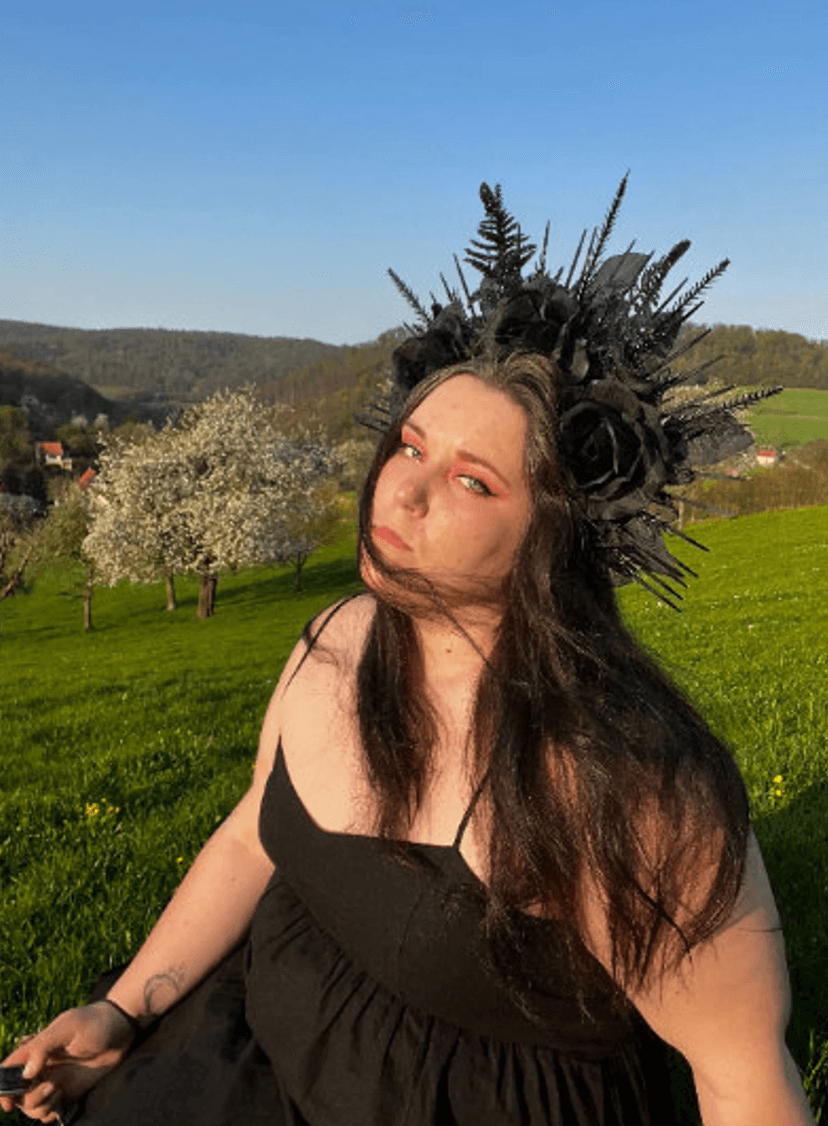 Etsy: CraftUAHandmade, Black halo crown
5) Witchy makeup.
Dark eyes, red lips - witchy makeup is all about making a statement. It's also a great way to add some witchy flair to your outfit without going overboard.
56 Statement jewelry.
Jewelry is a great way to add some witchy flair to any outfit, and there are plenty of different pieces to choose from. Look for jewelry with symbols like pentagrams or crescent moons, or go for pieces made from crystals or darker gemstones.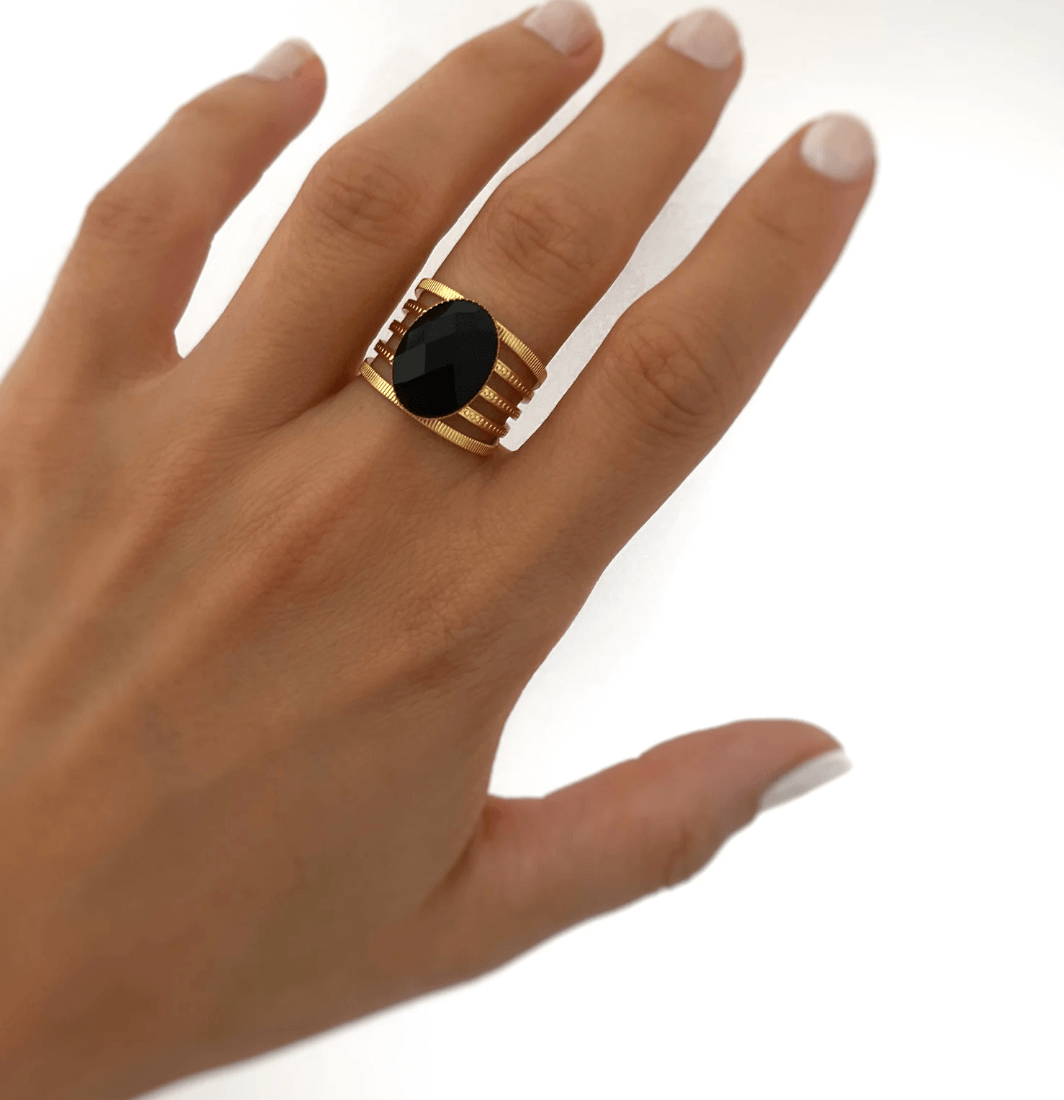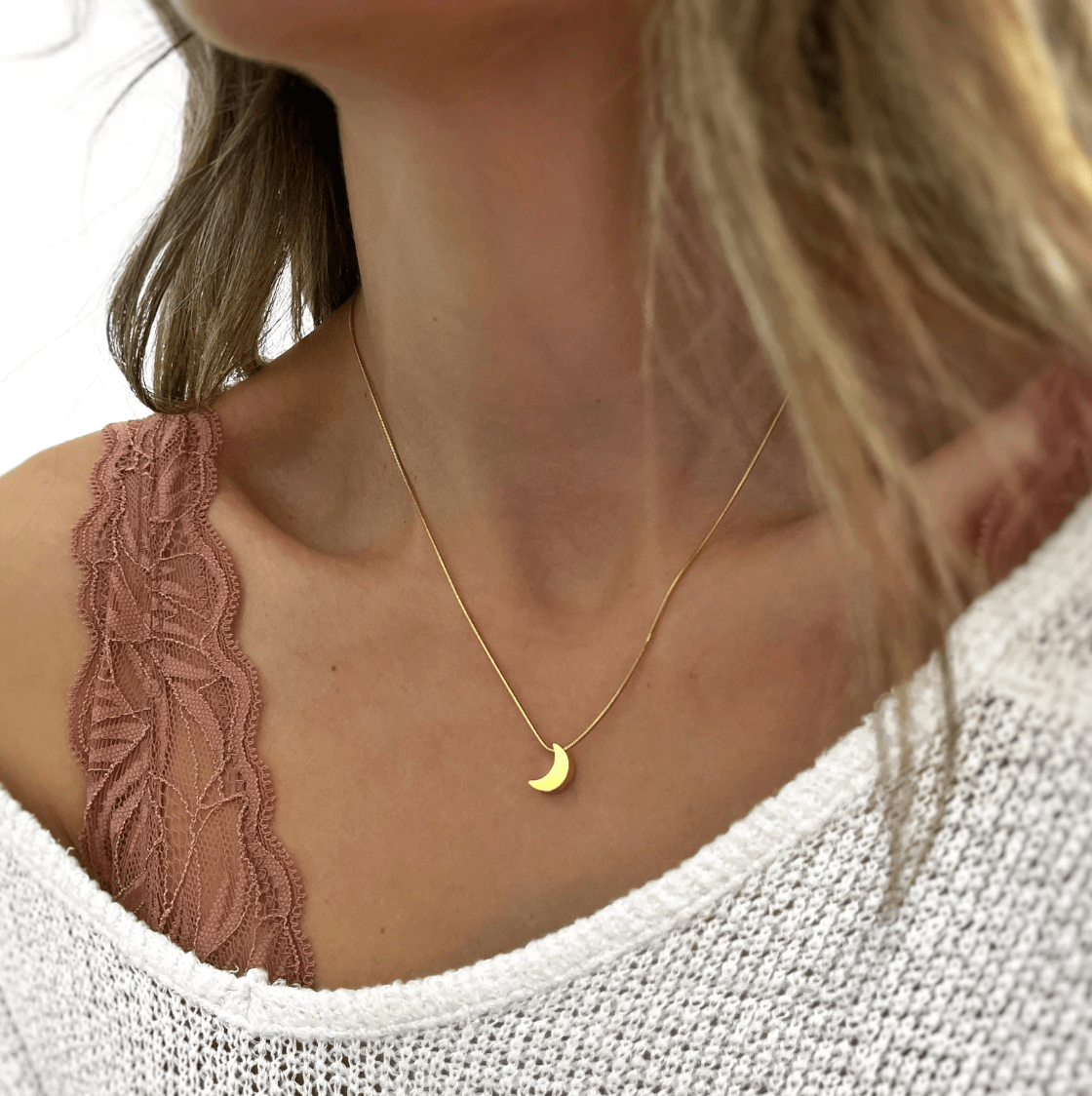 Etsy: MadJewelryCo, Stackable black onyx ring
Etsy: MadJewelryCo, Moon necklace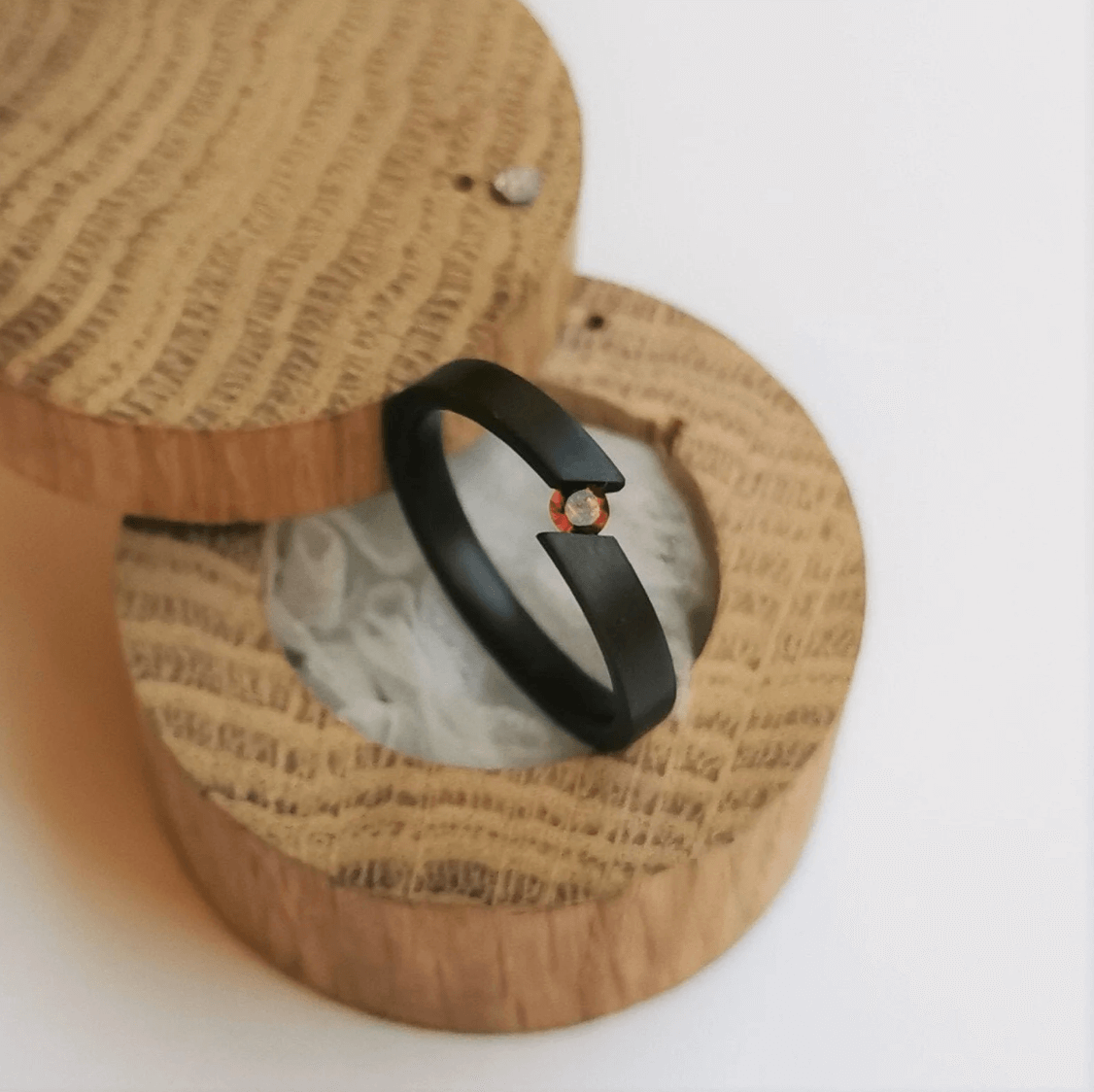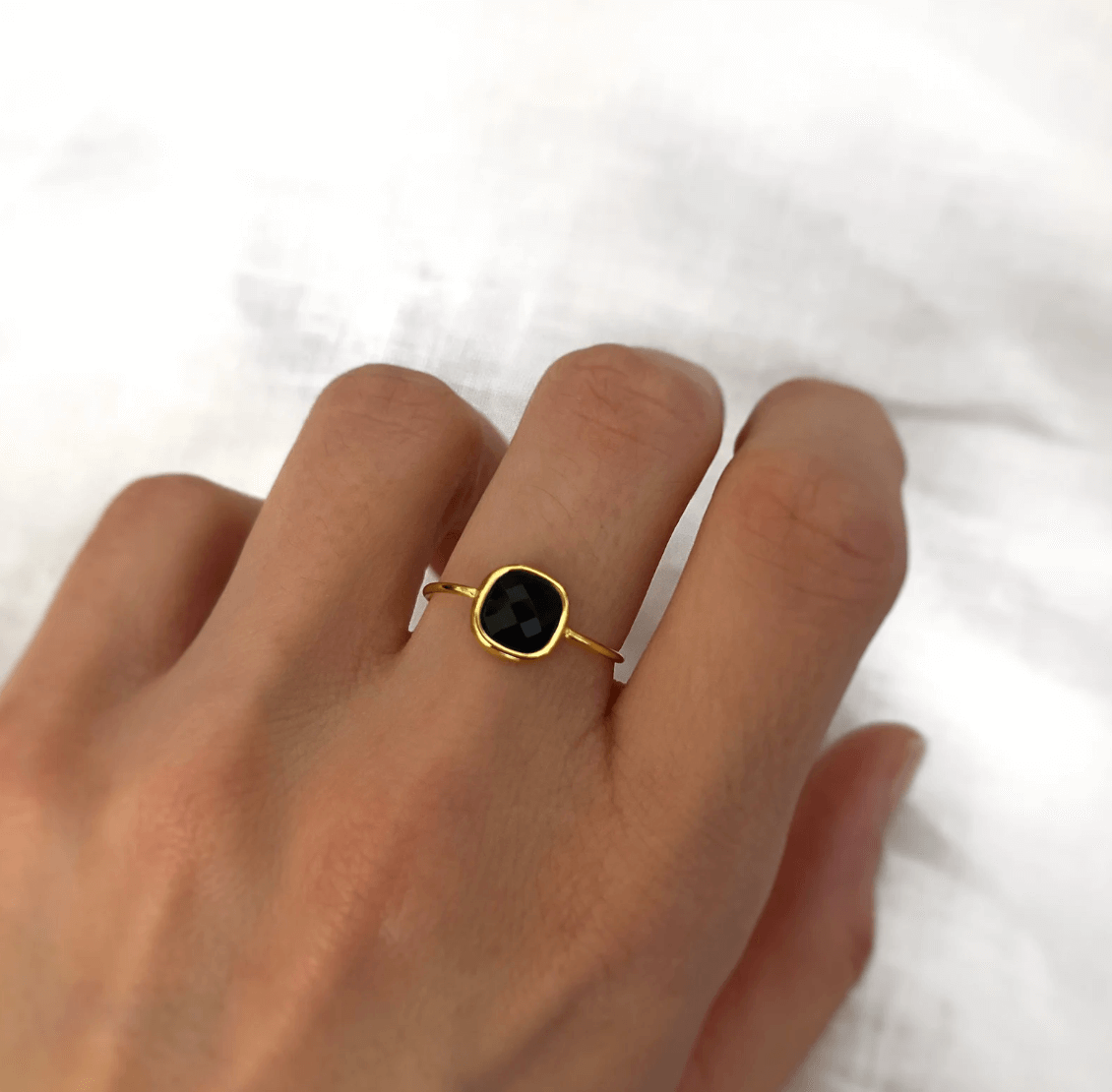 Etsy: ATDesignStudio, Black zirconium ring
Etsy: MadJewelryCo, Black onyx ring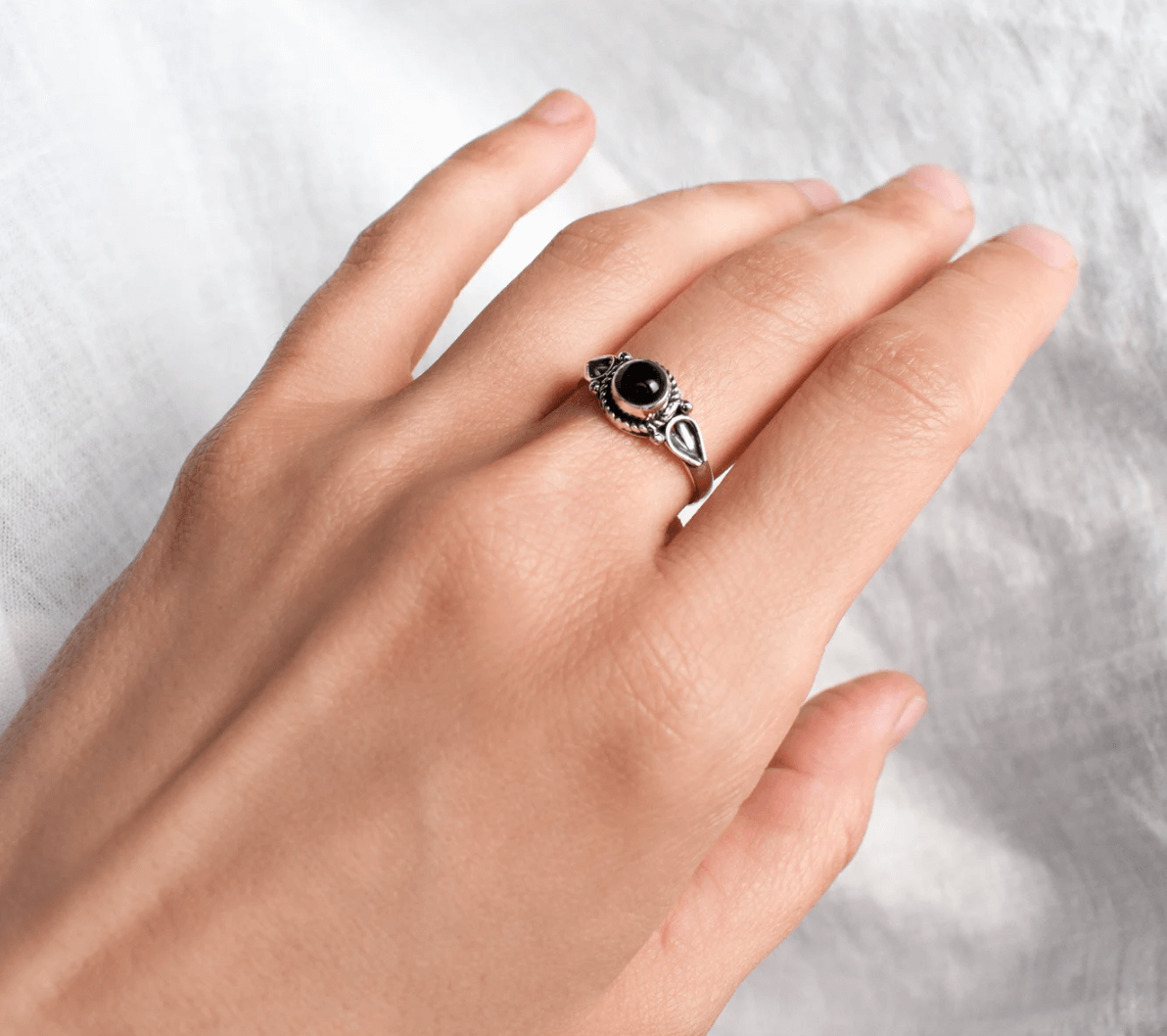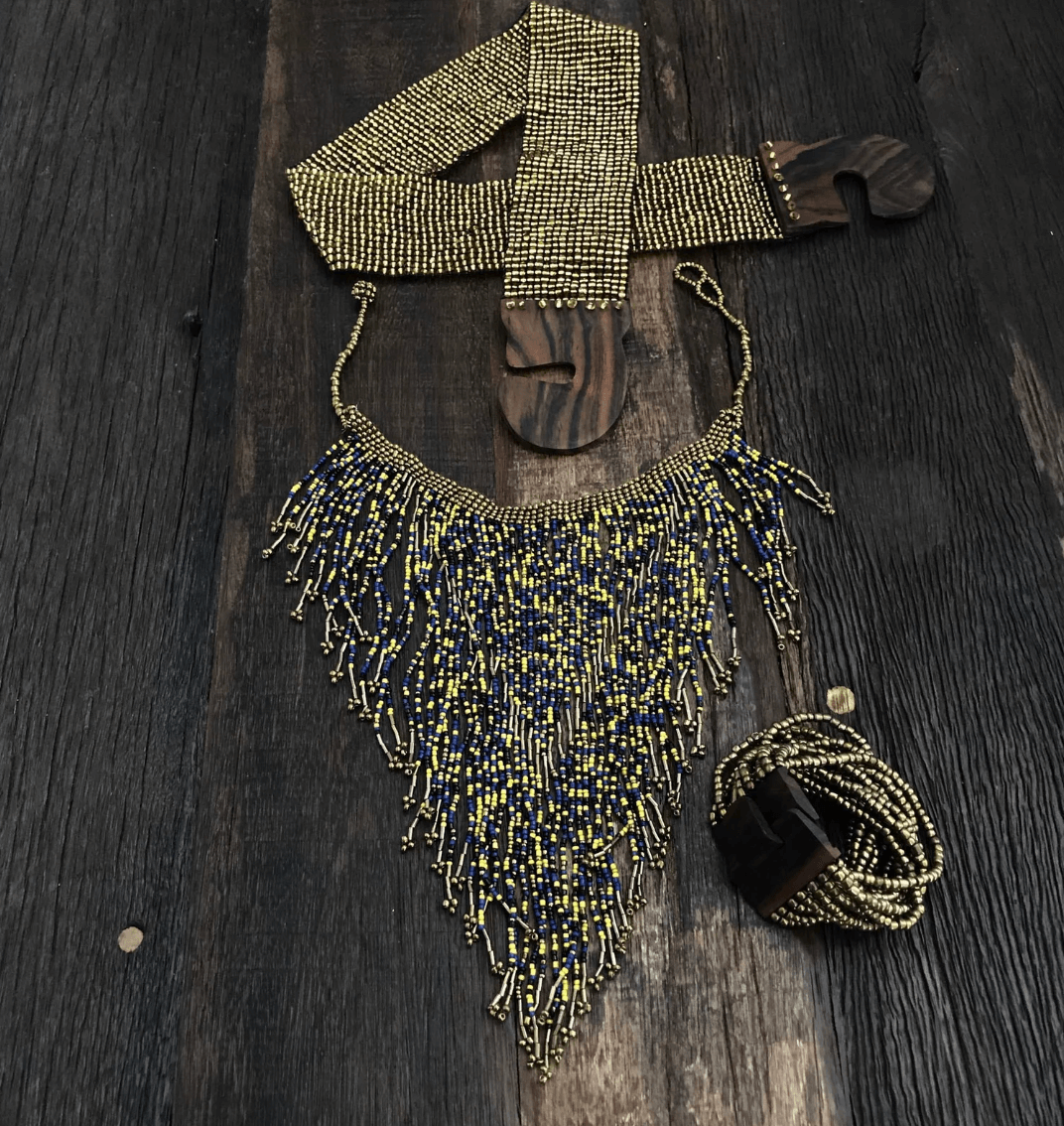 Etsy: ANNACID, Silver gemstone ring
Etsy: Awatara, Beaded jewelry set
More witchy inspo in this Pinterest board.