How Abstract Prints and Color Combinations Can Transform Your Interior Space
IG clash_of_the_patterns
The appeal of abstract patterns in interior design is pretty clear. From vibrant colors and loud geometrics to intricate floral motifs, abstract patterns bring a splash of drama, depth, and personality to any interior space. They are a bold statement of one's unique sense of style, creating a vivid and inviting atmosphere for the people who live in the space.
Clashing abstract patterns, when done right, are particularly alluring. They can absolutely feel too loud if not done right and if not done to your taste, though.
IG @colourfulleopard
But the right combination of unexpected shapes and colors creates a unique feel, allowing for the exploration of unusual vibe. This type of interior design is all about creating an atmosphere of visual harmony within the chaos of unexpected patterns. Done correctly, each element can come together in a pleasing way, providing a stunning and inviting space.
Choosing the right match
So, clashing abstract patterns can be a great way of introducing a bold and adventurous element to a room. How to do it? I am afraid the real answer is through trial and error, but there is still some general direction. Opt for shapes that are either a little similar to each other, or are done in similar hues.
As long as the patterns will not cover a lot of space, feel absolutely free to go for vivid colors and busier textured patterns, mixing quirky prints and tones to create an interesting and lively space.
Experiment with colors and materials, ensuring that they complement each other but not so much as to overwhelm the entire space.
Subtle pattern clashing via IG @melterioristic
Start small
Incorporating clashing abstract patterns into an interior space can also be a great opportunity to inject personality. This is your chance to express yourself, subtly creating an atmosphere of the unexpected.
Use an interior design app to test your ideas but overall, really follow your own aesthetic. Try to be creative with the colors and textures that you choose. From subtle pastel differences to more eye-catching contrast, abstract patterns provide ample scope for creativity and ensures that each interior space will feel aesthetic.
IG @littleterracedhouse
When it comes to abstract patterns and clashing colors, the options are almost endless. Treat each room as a blank canvas, ready to be filled with bright colors and imaginative prints. Be bold and daring – you never know what exciting combinations you might come up with! With abstract patterns, the possibilities are boundless – making your interior space a true reflection of your style and individuality.
Use clashing abstract wall art
Are you yearning to break up the monotony of a minimalist space but still want to keep your decor sleek and stylish?
A lot of designers say that it's a mistake to equate minimalism with dull and expressionless interiors. A couple of large abstract prints with mutually clashing motifs can be enough to add visual interest into your space.
It's no secret that fashion and beauty are about self-expression and making a statement. From bold and daring makeup looks to dramatic ensembles that demand to be seen, the power of personal style is undeniable. But perhaps one of the most interesting ways to make a statement is to embrace clashing patterns in visual art.
Depending on the vibe of rest of the space, you might end up with an interior that looks anything from a place of big business to a bohemian artist's dwelling place.
---
Abstract patterns simply have this timeless look adds a dynamic edge and sublime touch to any space without the fussiness of other elements. With a range of vivid colors and bold textures, these abstract creations will be sure to work.
When it comes to utilizing these beautiful abstract patterns, there are a few rules to take into account to add an exceptional layer of chicness to your home. Have fun, be creative, and don't be afraid to be bold. After all, it's the unique combination of colors, shapes, and textures that create the perfect abstract pattern.
If you want to keep your decor more minimalistic, opt for a single eye-catching piece. A lavish throw cushion in a bold color with an abstract print can enliven your space, with nothing more than a dash of artfulness. The best part about this look is that it is completely customizable and matches a range of design styles, from eclectic to Scandinavian.
IG @melterioristic
For those of us who crave a more daring look, incorporate abstract patterns into your walls. However, when it comes to patterns and the walls, less is more. Our suggestion is to add a single, large-scale pattern in an eye-catching hue. This look is perfect for people who want to keep their space relatively minimal across the board - think clean lines, small bits of greenery, and layers of texture.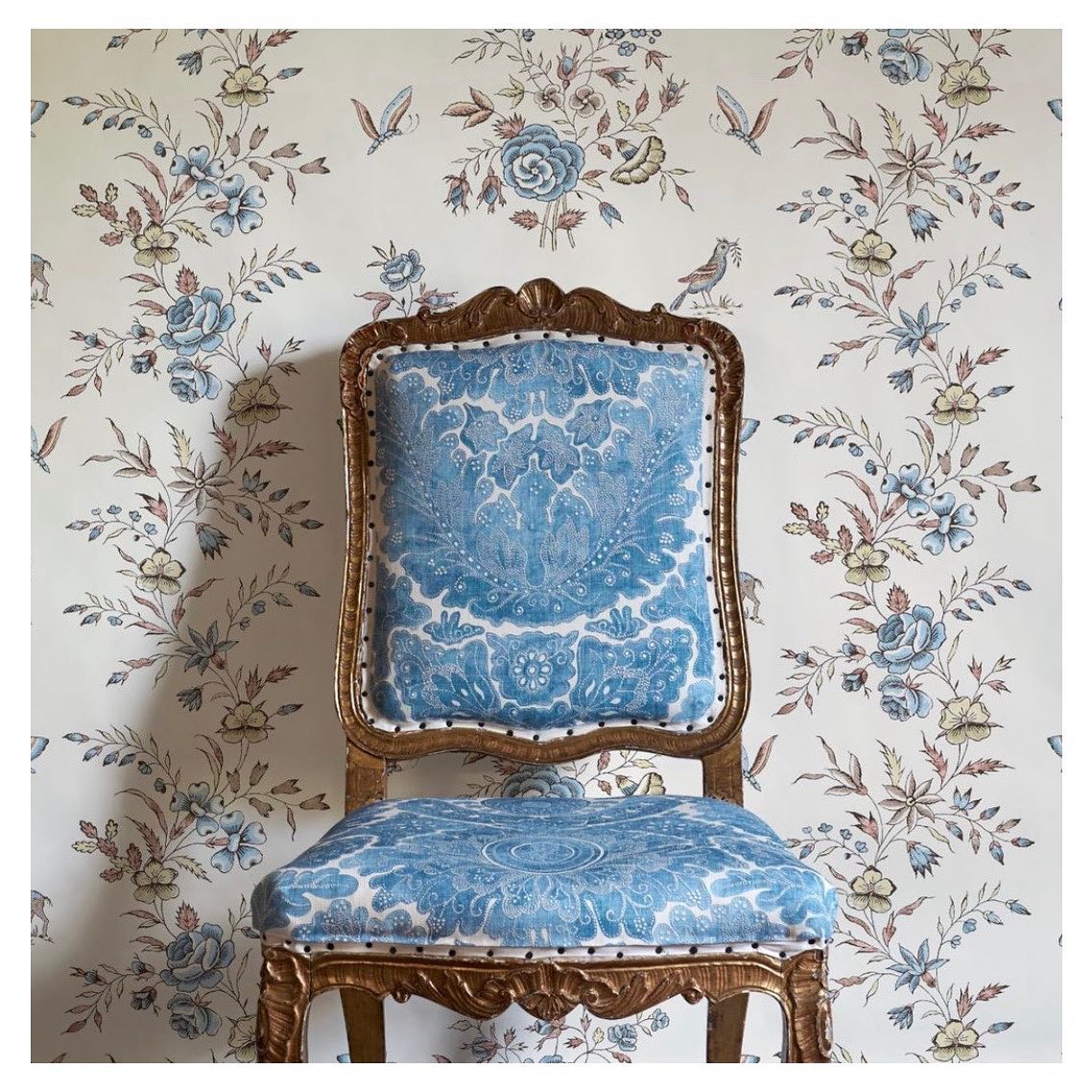 Some very cottagecore pattern clashing via IG @wearewearandwithin
As mentioned before, incorporating abstract art pieces will also bring a sense of tranquillity and charm to your home. There's often something deeply relaxing about studying the colors, shapes, and textures of a beautiful painting or photograph.
At the end of the day, decorating with abstract patterns can invigorate your home. So don't be afraid to experiment, take risks, and discover what works for you. Remember, it's all about discovering the perfect combination of colors, shapes, and textures to create your own abstract masterpiece.
There are subtle clashes, too
Clashing patterns are an edgy and daring way to create a unique look. Whether it's pairing a classic plaid pattern on your couch with a geometric print or combining a floral pattern with a bold and bright color, the options are limitless. Not only do they add a modern flair to any space, but they also offer an opportunity to be creative and express yourself.
In addition to creating unique looks, clashing patterns also offer another interesting dimension. It allows for a playful exploration of beauty and art, evoking a sense of self-expression that can be both creative and inspiring. By mixing and matching colors, textures, and patterns, you can explore a range of different looks that can add a special touch to any ensemble.
Whether you choose to boldly mix bright colors or opt for a more subtle pattern, clashing patterns can be a great way to experiment and have fun with fashion. It's a trend that offers endless possibilities, so you can create your own unique style with the perfect combination of colors, textures, and patterns. So go ahead and let your imagination run wild! Who knows, you might just discover your own new signature look.
IG @melterioristic
If you're looking to break up a minimalist space with a stylish flair, abstract patterns are the way to go! From vibrant colors and loud geometrics to intricate floral motifs, these patterns can be used to create a unique and inviting atmosphere. Injecting personality with a range of vivid colors, shapes, and textures, clashing abstract patterns can be a great way to mix quirky prints and tones in an interesting and interesting way. Make the most of this look by experimenting with colors, materials, and prints - who knows what daring combination you might come up with!