How to Create a Minimalist Look with Chain Outfits and Black Dresses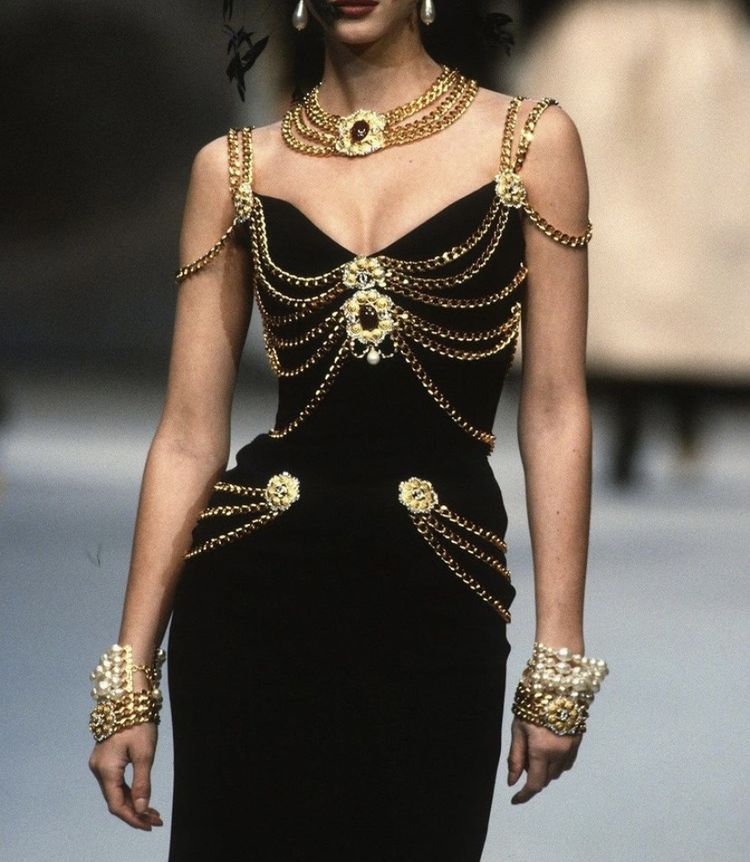 Dressing up with chain outfits and black dresses can be a great way to add some style and edge to any look.
Whether you're looking for a minimalistic, edgy baddie or steampunk aesthetic, pairing these two wardrobe staples together is sure to make an impact.
No matter what style you're going for, pairing chain outfits with black dresses is a fresh way to elevate your look.
Chains with a little black dress are an edgy outfit - edgy, but not too edgy. That can be a good thing or a bad thing as well. I for one would prefer to make a real statement, not a sanitized, patriarchy-approved one. But even that's doable with the chain and LBD combo. You just have to take it closer to an aesthetic that is a bit out there. Steampunk fits the bill here.
Make an Edgy Statement with Chain Outfits and Black dresses
Chain outfits and black dresses are a classic combination that create a look that's both eye-catching and sophisticated.
There's an easy rule of thumb for wearing chain jewelry and body harnesses:
If the chain is dainty, wear it on your body, underneath your clothes.
If the chain is chunky, wear it over your clothes.
For a minimalistic look, most opt for dainty chain jewelry such as thin harnesses and chokers. The classic way is to keep the rest of your outfit simple. Try to find pieces with clean lines and subtle details, like gold chains with tiny diamond accents or minimalist silver bar necklaces.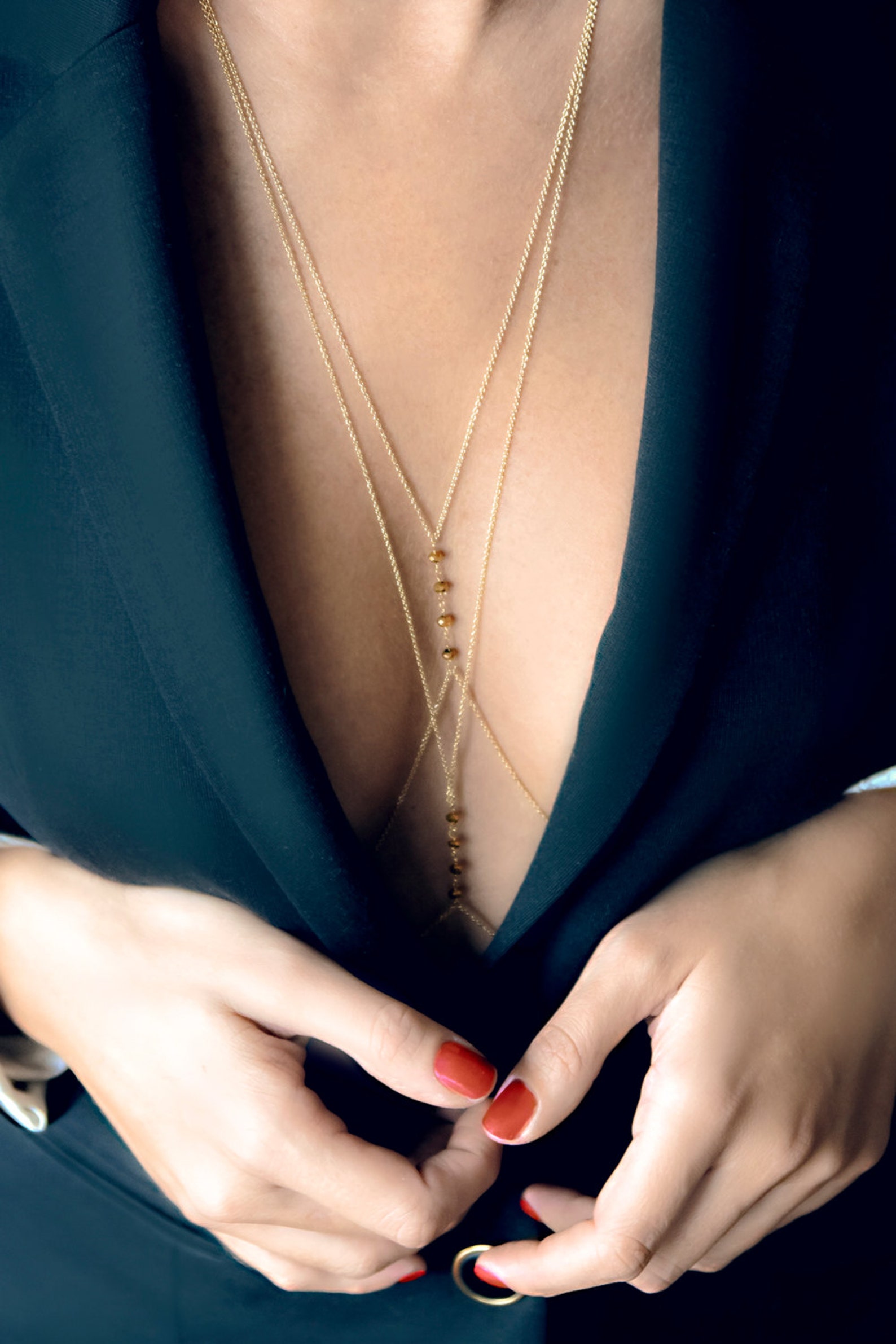 Dainty chain harness by PetitesPierres on Etsy
But the truth is, even a good chunky chain necklace can look minimalistic. It's just about choosing a chain that is made of one metal, one size of chain hoops and does not have any embellishments.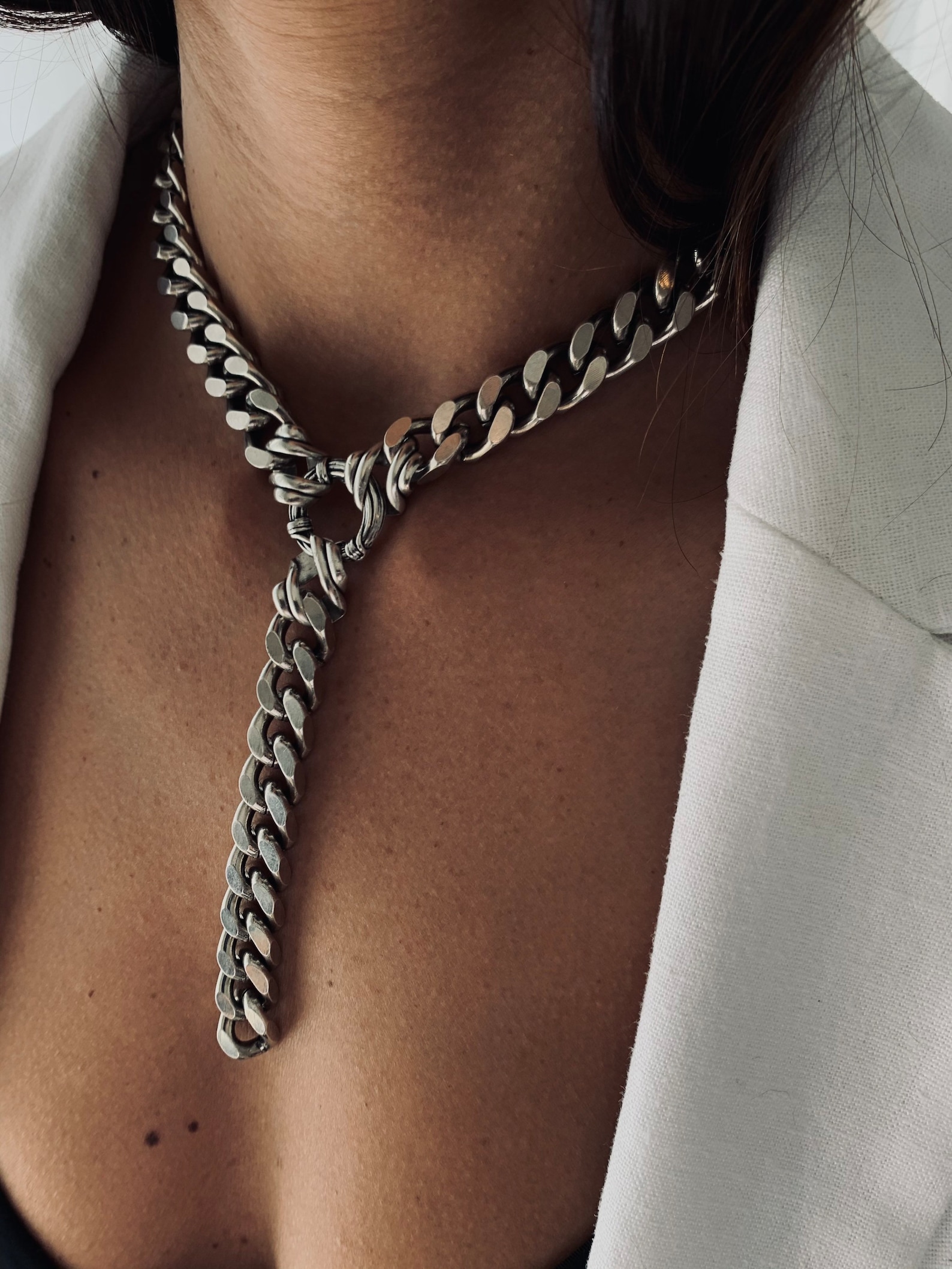 Chuinky but minimalist chain statement from Camijewellry on Etsy
Incorporating Steampunk Aesthetic Into Your Chain Outfit with a Black Dress
To make an edgy statement with chain outfits and black dresses, go for more chunky chains with bold details. Look for pieces that have multiple strands, large pendants or charms, or colorful stones. Pair them with an edgy black dress, like one with a fitted silhouette and cutout details. Add some extra attitude to the look by wearing dark sunglasses and boots.
Finally, if you're looking to incorporate steampunk aesthetic into your chain outfit with a black dress, accessorize with steampunk styles of chains.
Look for pieces with gears, chains and studs, or Victorian-inspired beads.
Anything that has some form of brass, gears or chains on it gives a touch of the industrial to the mix. There's no need to go full-on steampunk though - just add elements here and there so you don't overwhelm your look. A choker with an intricate gear design can be enough. If you want something edgier still, opt for spikes or chains with a bit of shine to it.
If you feel like the steampunk jewelry is too much, balance the edginess of the chain jewelry with a more romantic dress.
Chunky chain outfits inspo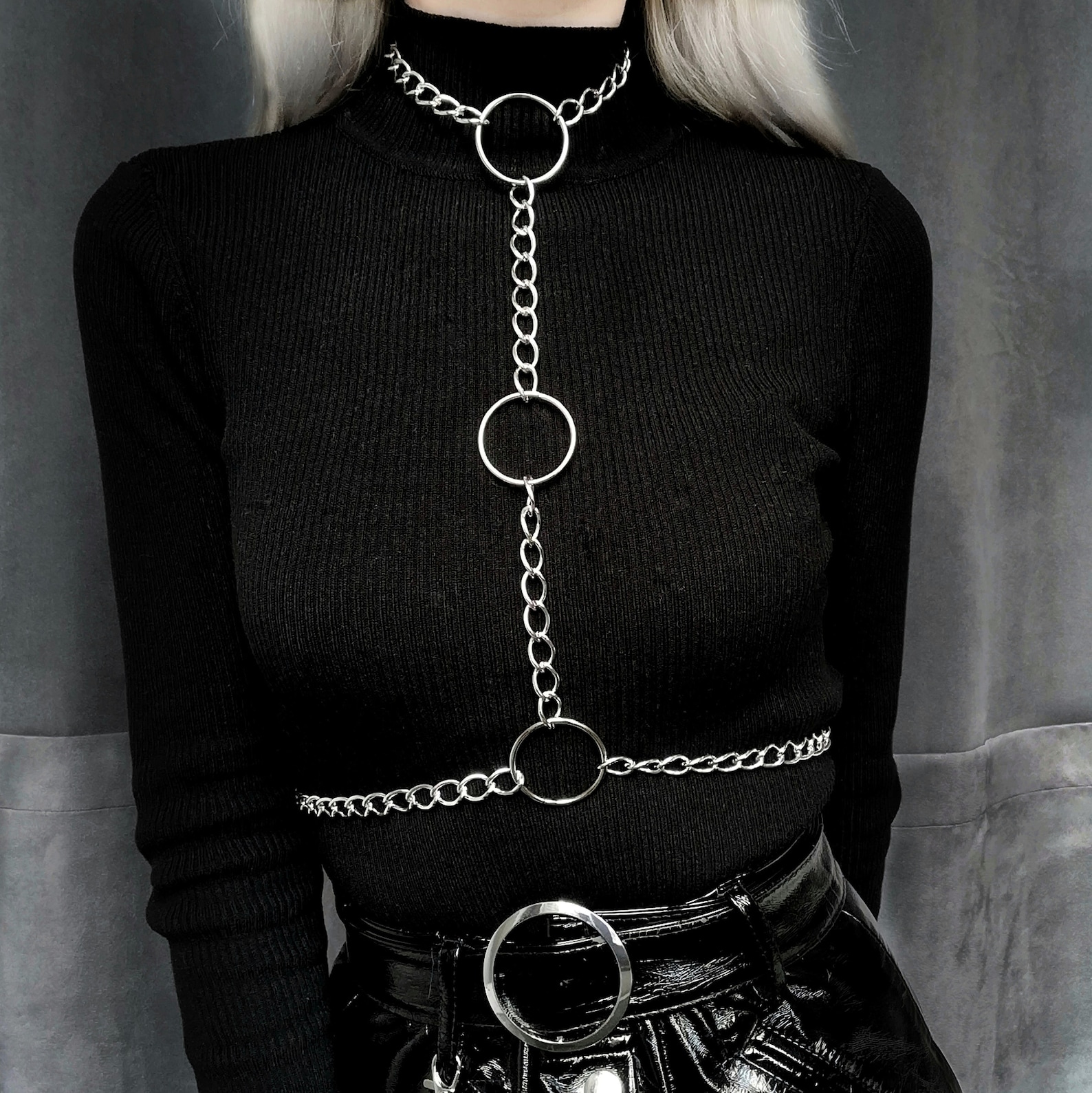 Etsy: ForvitniFr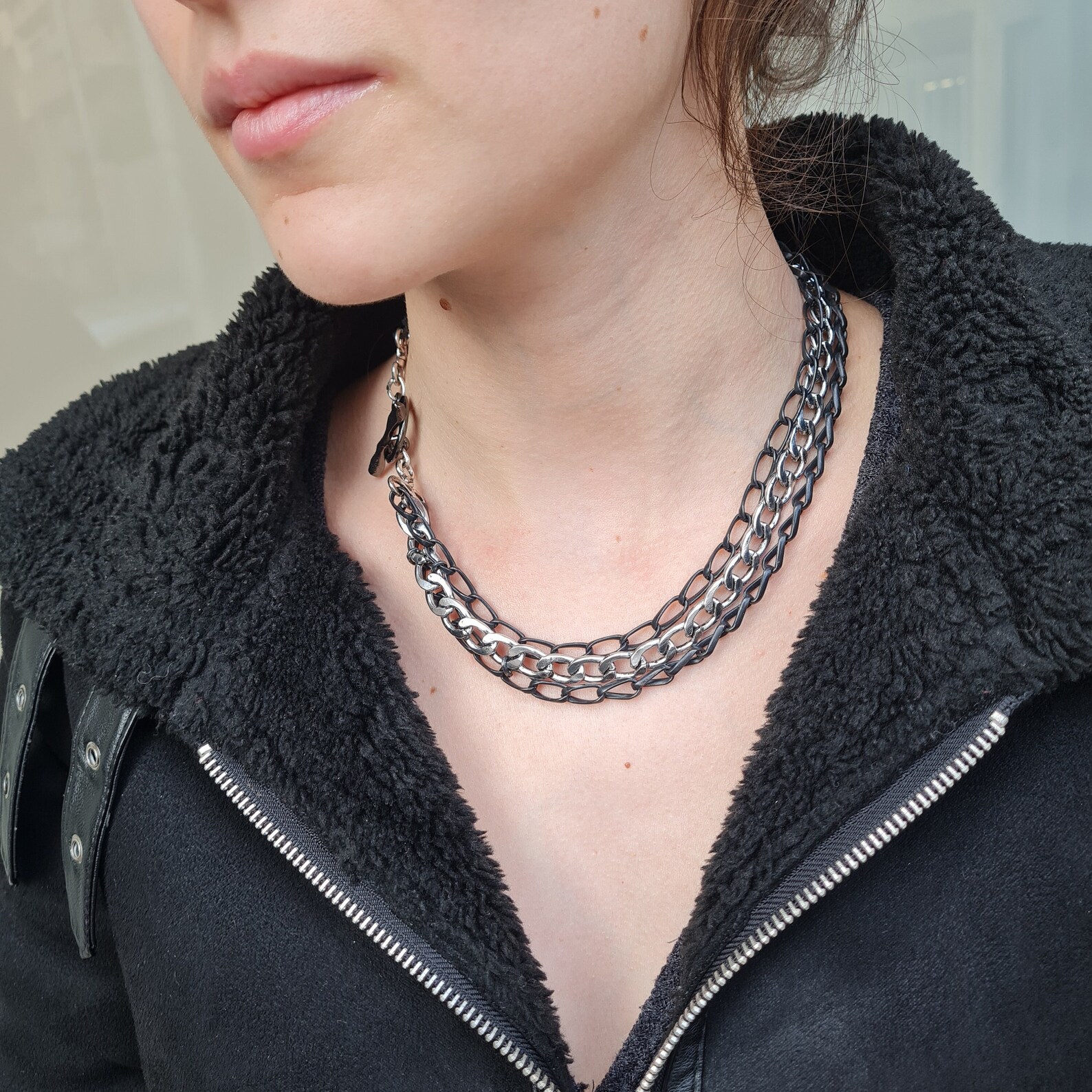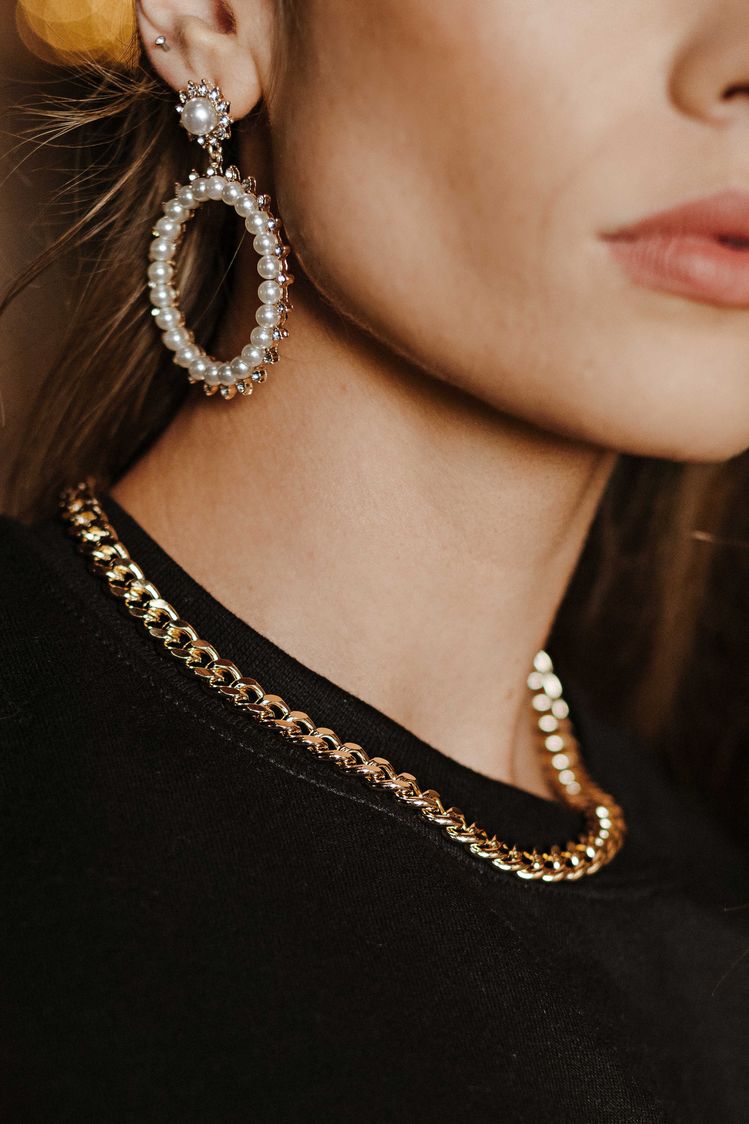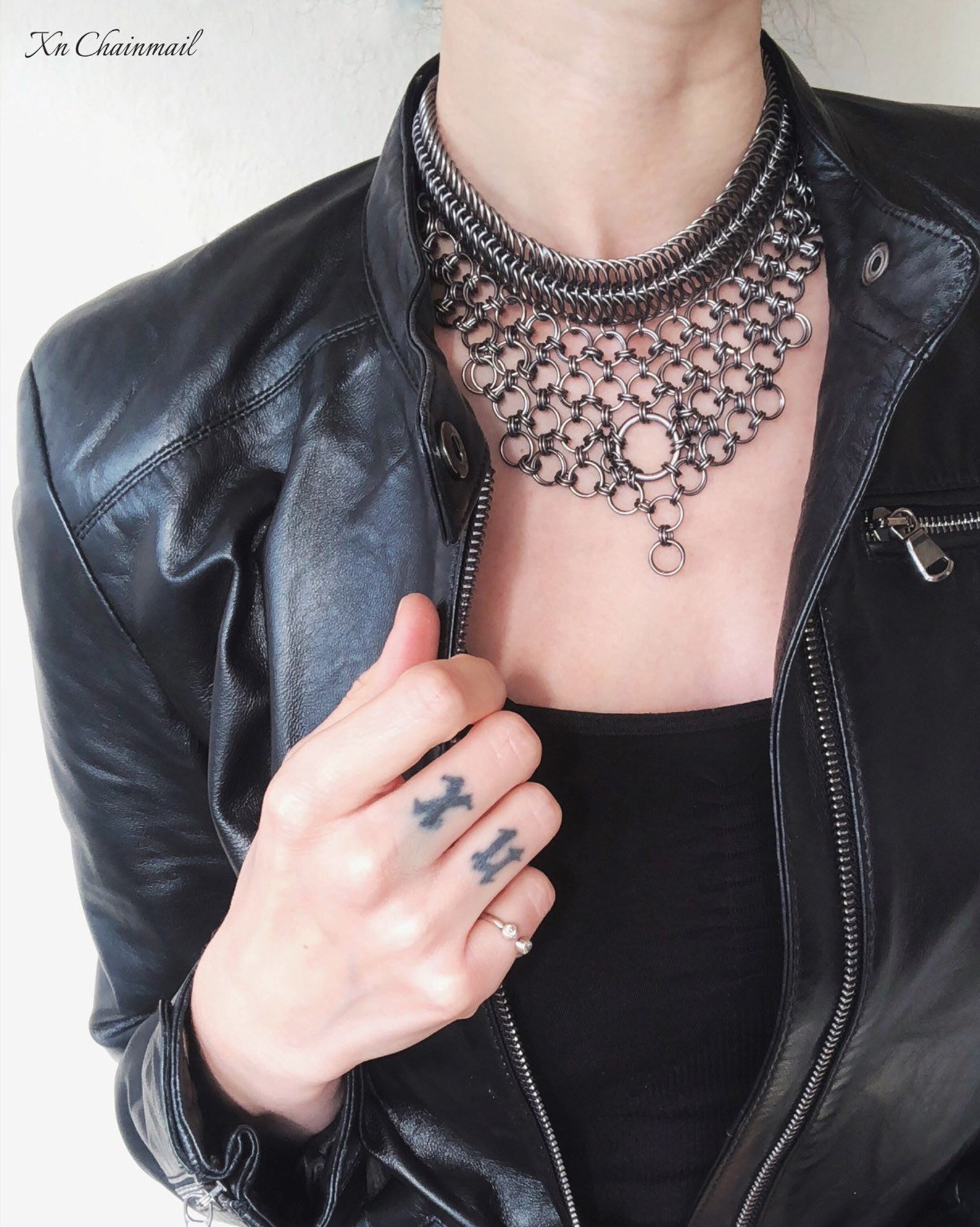 Etsy: XnCHAINMAIL
Dainty chain outfits inspo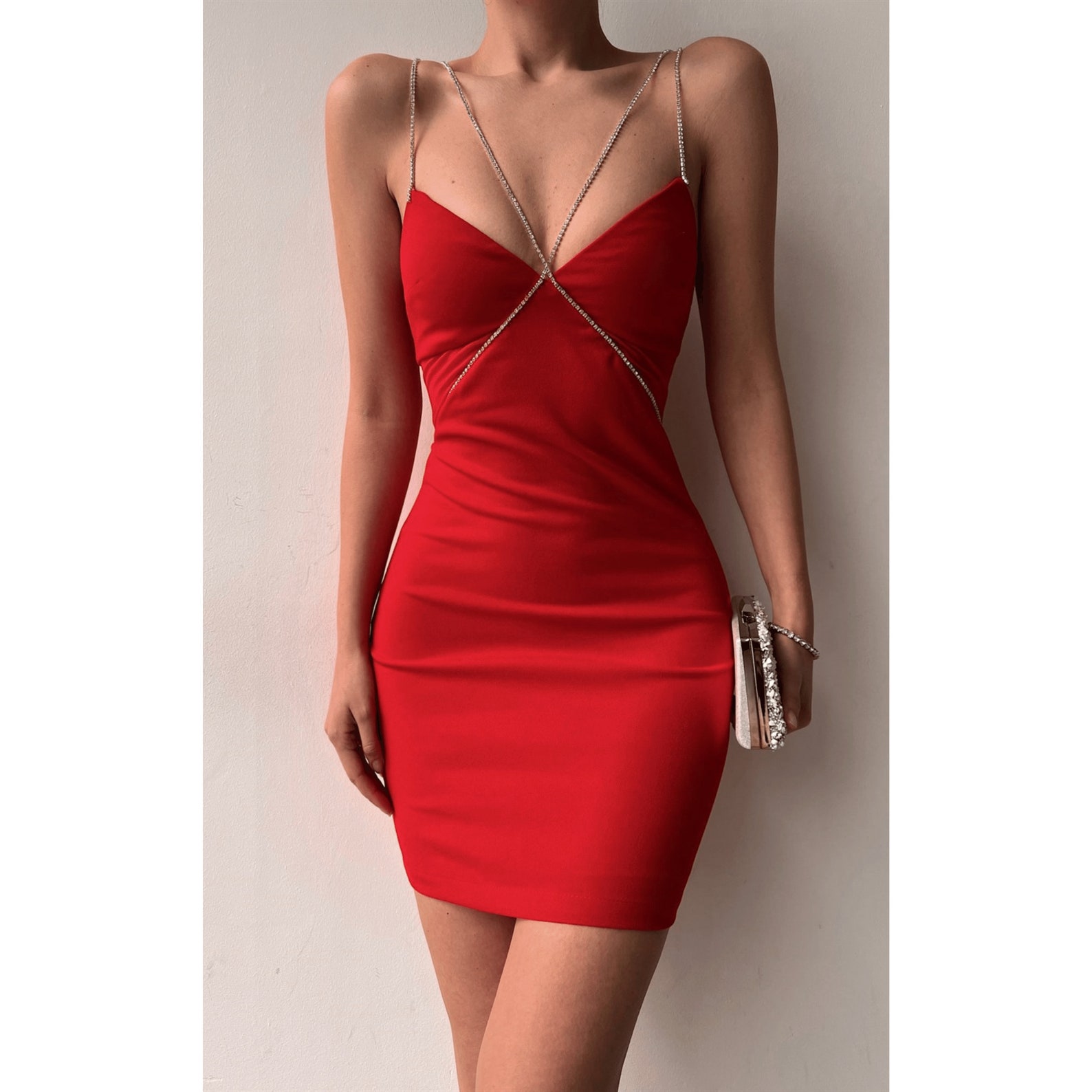 Dress with built-in chain harness by TentadorDesign on Etsy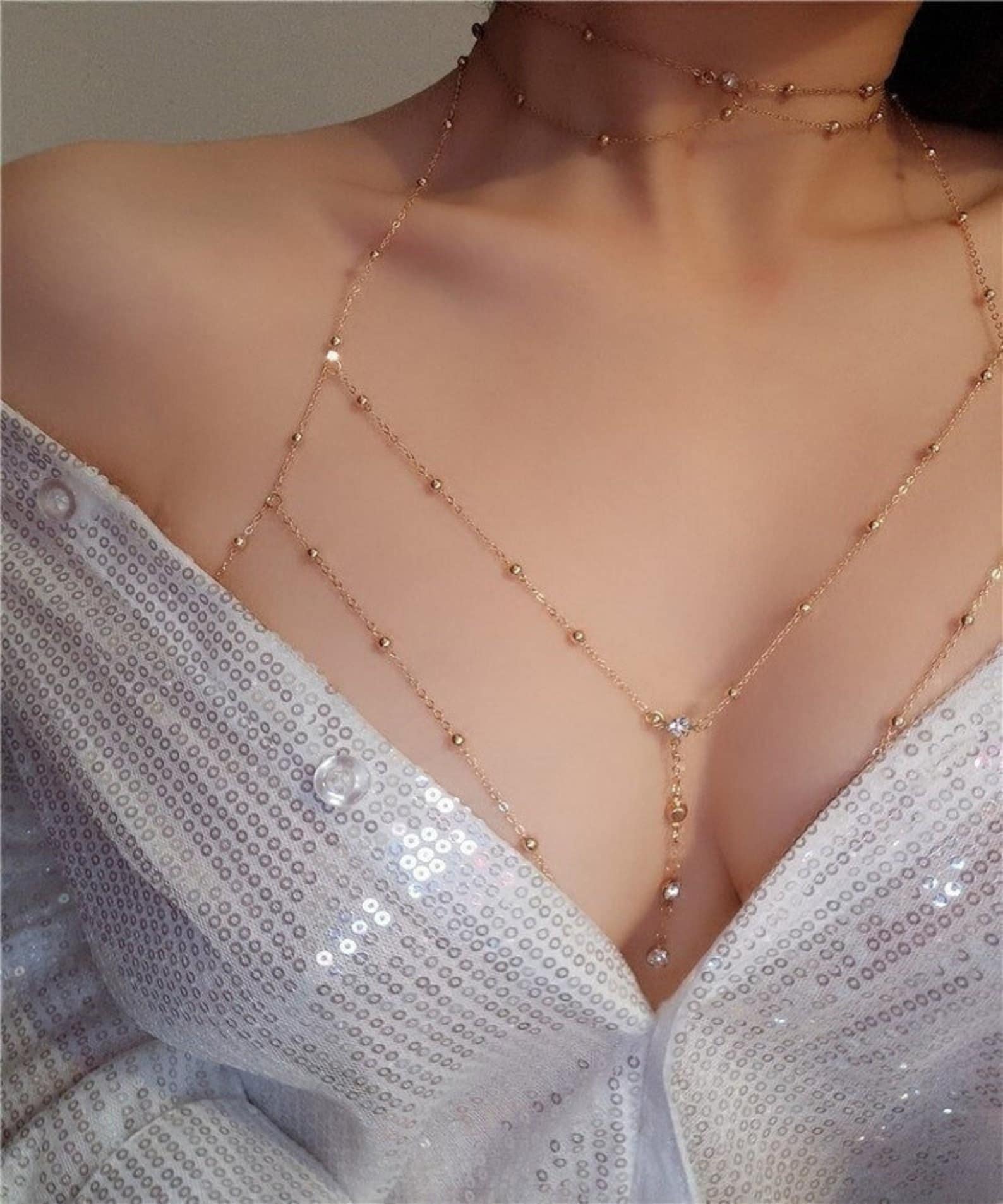 Dainty chain by Ordinarify on Etsy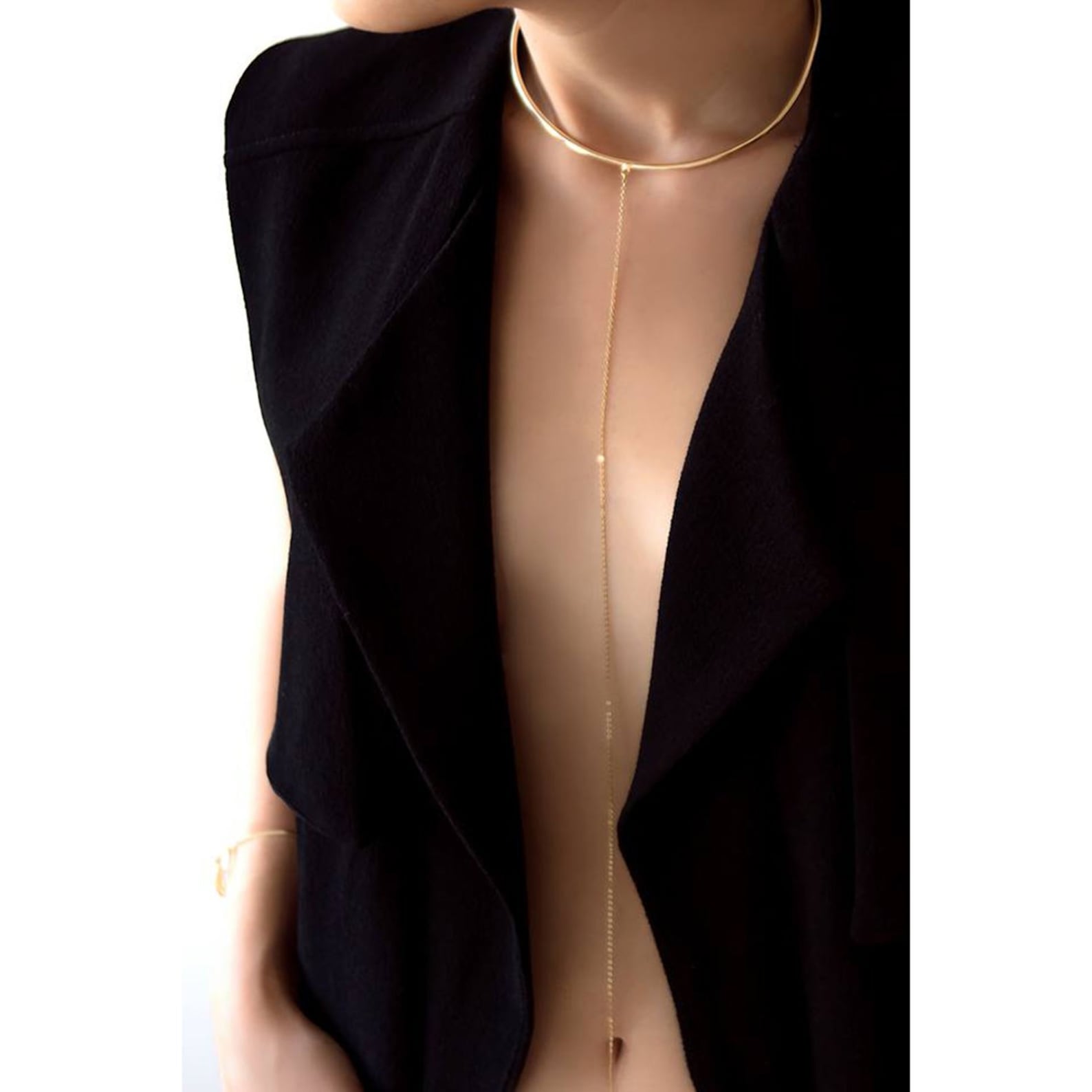 Dainty body harness by PetitesPierres on Etsy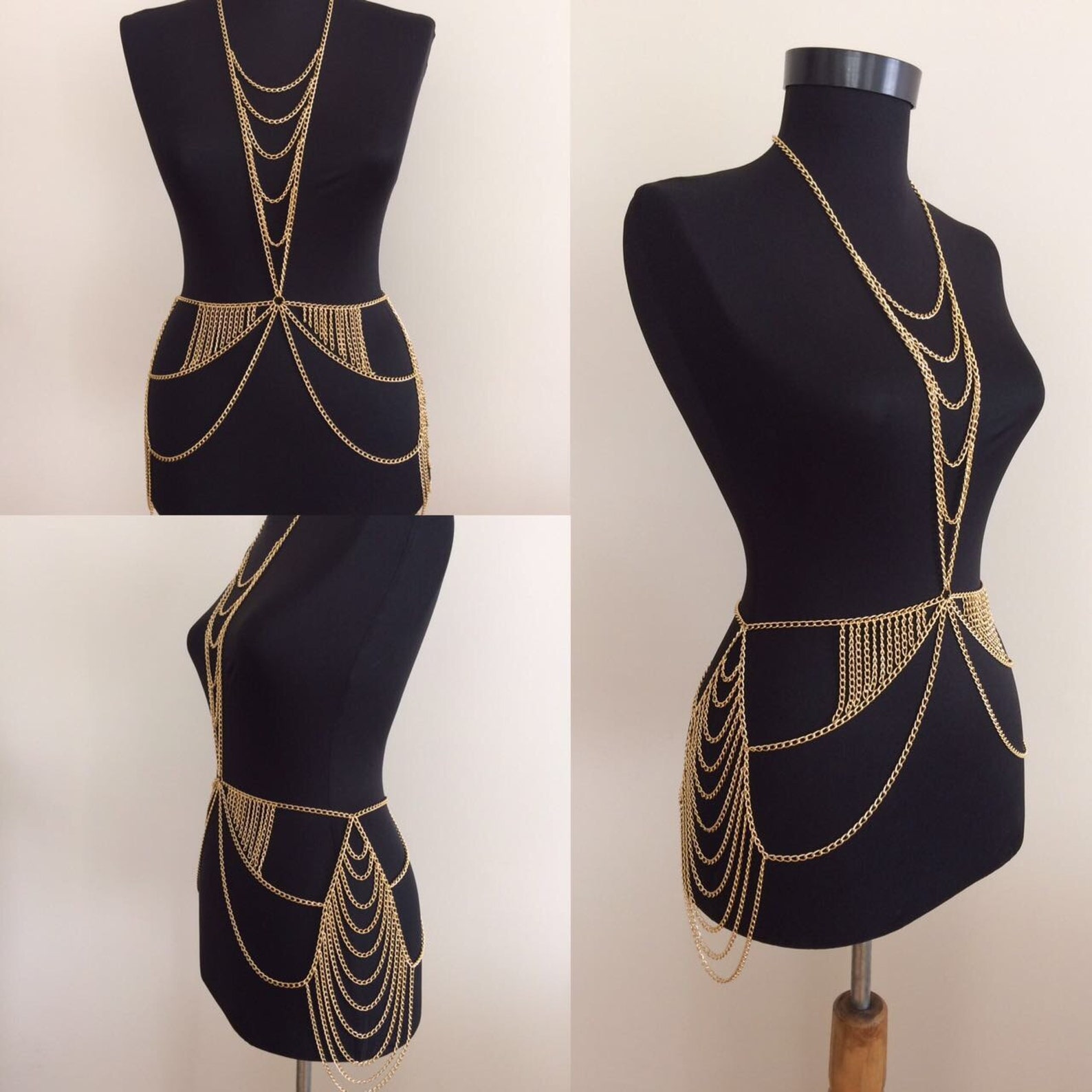 Chain harness to be worn over a slip dress by MukoShop on Etsy
A black dress may not be the most daring outfit choice, but pairing it with statement chain jewelry can definitely make all the difference. Now you have an outfit that's cool and eye-catching, yet still classic and polished. The perfect balance!
Indie aesthetics featuring chain outfits and black dresses are all about making a statement. They take classic styles and add a unique twist that reflects the individual's personality. Indie style often features whimsical, vintage elements that create an eclectic look. For instance, a chunky metal necklace paired with an oversized black dress can give off a retro-chic vibe. Alternatively, try accessorizing with a bold headpiece or stackable rings and bracelets for a more playful look. Whatever you decide to do, don't be afraid to experiment and express yourself!
At the end of the day, pairing chain outfits with black dresses is all about playing around with your wardrobe and having fun. Whether you're going for a minimalistic look, an edgy baddie aesthetic, or a steampunk vibe, there are endless ways to style chain jewelry with black dresses.