Make IKEA Look Expensive: Addons for Minimalist Glam Look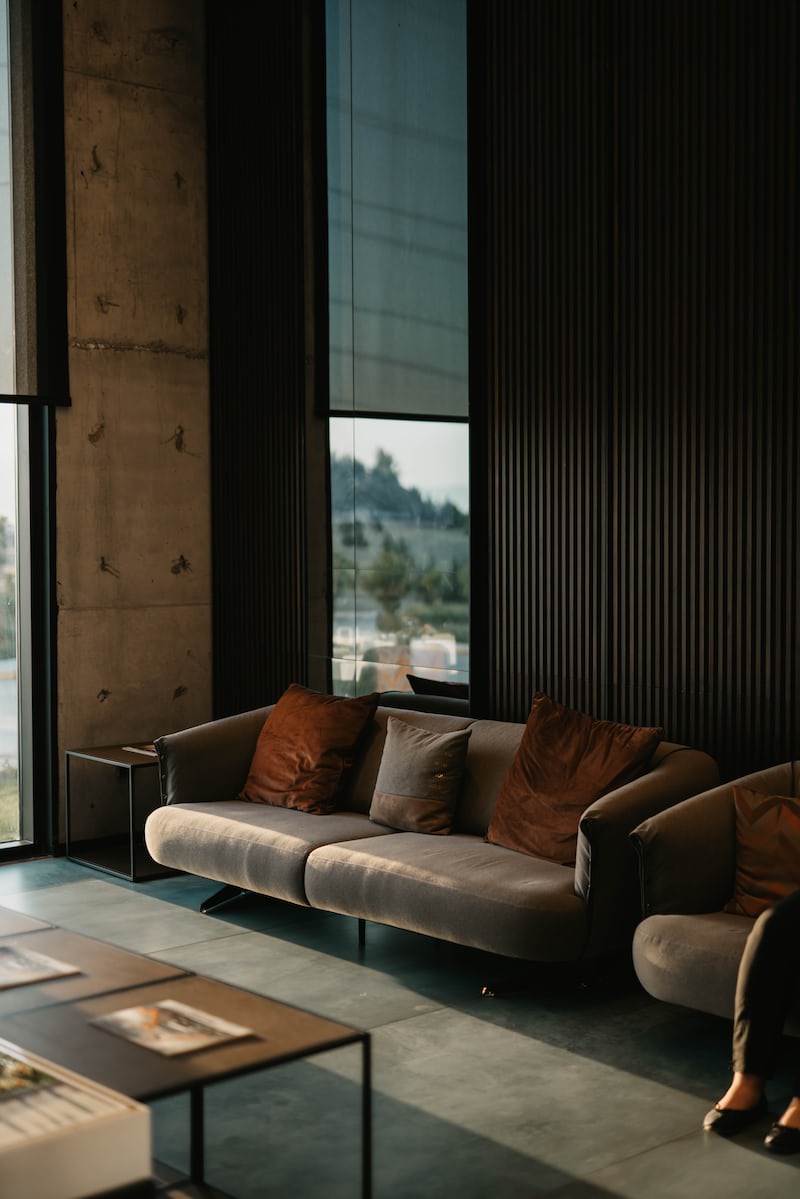 Furnishing your home with minimalistic and sleek designs is a popular trend that has been around for years. IKEA, the affordable furniture giant, has gained popularity for its contemporary designs that cater to this aesthetic.
However, you may wonder how to elevate IKEA pieces to make them look more expensive and luxurious. Transform your minimalist IKEA furniture into glamorous statement pieces, without breaking the bank with some elegant ideas.
You can also achieve the perfect balance between minimalism and luxury, and create a space that feels both inviting and sophisticated with furniture hunting. Furniture hunting is an excellent way to furnish your apartment on a budget.
It allows you to discover unique pieces that you wouldn't find in stores and add character and charm to your space. Not only can you save money by purchasing second-hand furniture, but you can also do your part in reducing waste and promoting sustainability.
Plus, the thrill of finding that perfect piece at a fraction of the cost is sure to make your apartment feel like a home.
Here are some ideas that can help you transform your home from basic IKEA minimalist to sophisticated and stylish.
Unique Wall Art and Mirrors
Just because you're shopping at IKEA doesn't mean you have to settle for a cookie cutter piece. Using imaginative upcycling furniture ideas and personalization, you can transform affordable IKEA pieces into one-of-a-kind features for your home that look designer – and expensive.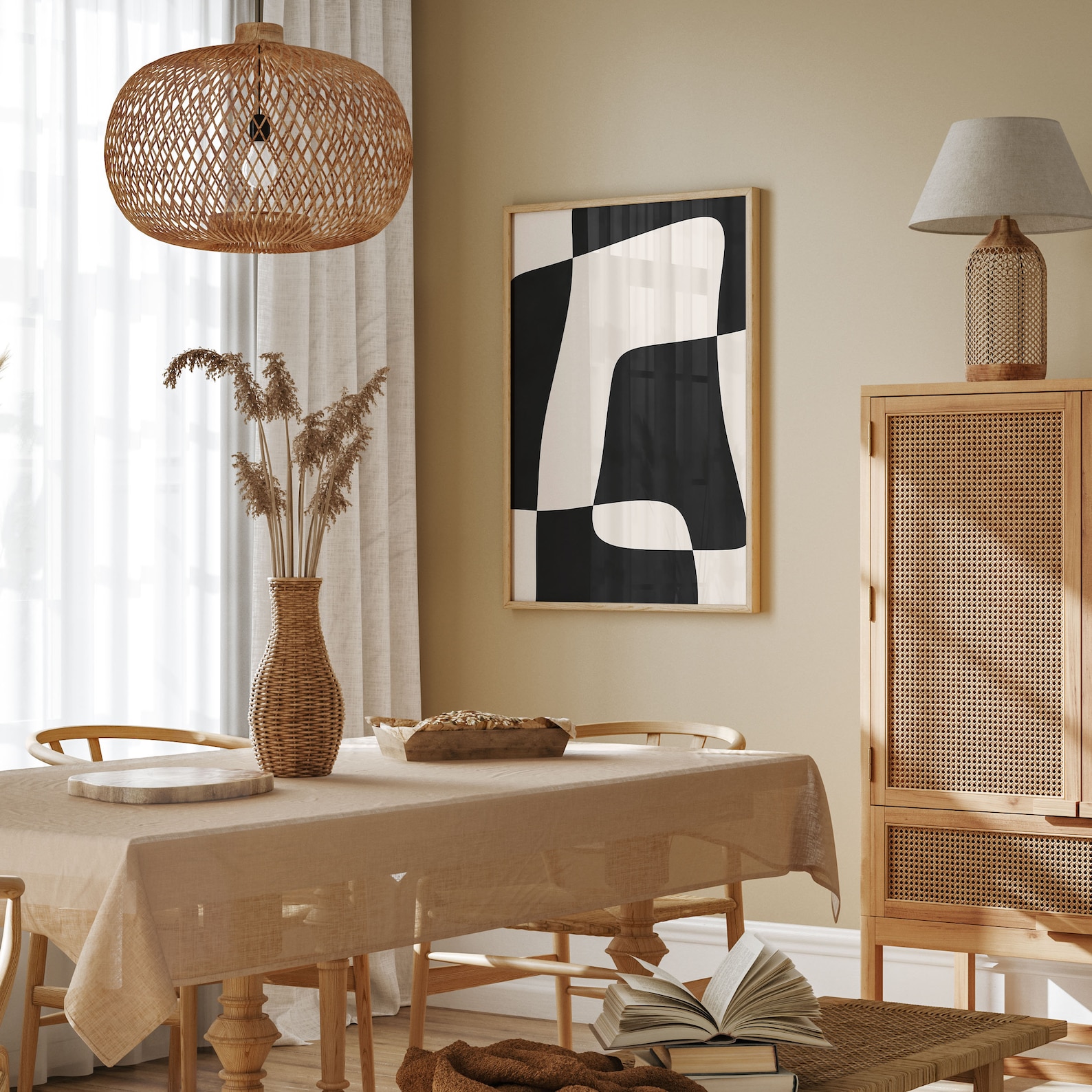 (digital) Minimalist black and white abstraction: bygabis on Etsy
Unique wall art and mirrors are a key element for modern, glam decor. A mirrored wall adds instant elegance to your bathroom, while an ornately framed mirror makes a statement on your mantel.
If you're looking to elevate a basic IKEA table or cabinet, try a custom front in a bold pattern or texture. The Joan front pictured above is a great option, but you can also experiment with other options.
Another easy way to make IKEA look high-end is by sanding down the edges of your furniture to slightly round them. This removes the telltale signs of painted laminate and creates a more solid feel to your furniture.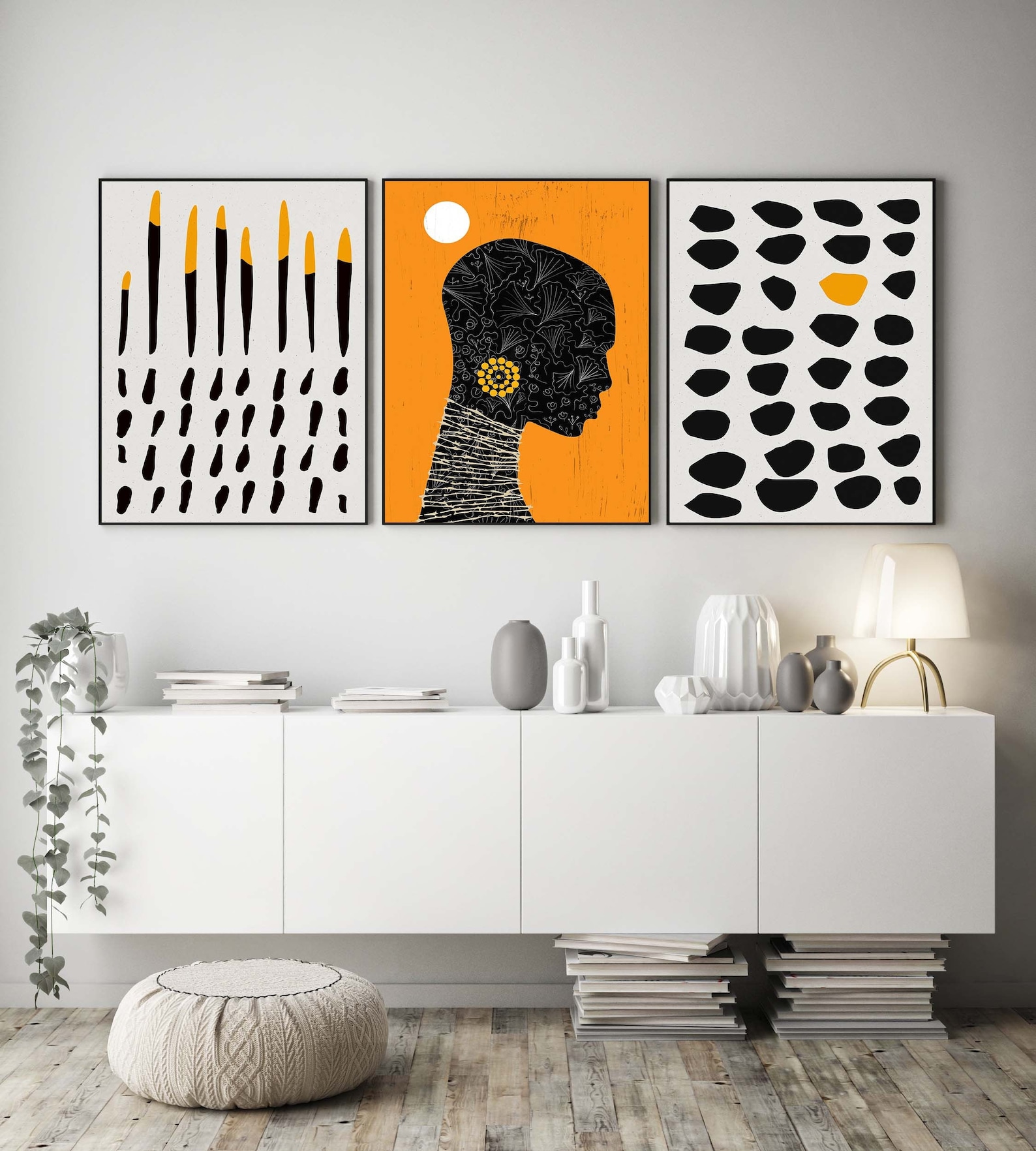 Poster print sets, afroethnic style: BlueArtDepo on Etsy
Gold-Plated Accent Pieces
Gold-plated accent pieces bring an element of luxury to any room. Choose a gilded chandelier for a contemporary feel or opt for antique brass fixtures to achieve a more traditional look.
A gilded mirror adds instant drama to a bathroom, while a gold-plated vanity tray is a great way to elevate your dining table or coffee table.
Even simpler ways to incorporate a glam design include using a few gold vases, planters, or pillows for decorative accents. You can also paint a few furniture legs or other hardware in gold to create a modern or minimalist vibe.
(digital) abstract art with gold elements by BoHoMePrintables on Etsy - golden frame is DIY
Wall art is another easy glam touch. Hanging abstract or travel posters with a golden frame is one option that fits many themes.
Alternatively, you can spray paint leaves or flowers and use them as wall decor. This simple idea will make your space feel like a fairytale.
Velvet or Luxe Upholstery
Velvet is a classic material that can work well for both minimalists and maximalists, whether paired with natural wood accent pieces or with boldly hued statement pieces.
A velvet dining chair can complement a wood dining table and chairs for a refined modern look, while a velvet ottoman can be styled under a console table or with a living room sectional for a more glam aesthetic.
Combo of luxe upholstery and golden design elements. Art (digital) is by InspirationAbstracts on Etsy
Velvet can be used in a number of ways to create the glam look, from drapery and furniture upholstery to pillow covers and throws.
A deep navy velvet sofa can be paired with white finishes and decor for a clean modern feel, or it can be used to frame a bolder upholstered armchair for an audaciously glamourous facade.
If you want a more subtle luxe vibe, consider this jade velvet upholstered pouf, which is versatile enough to work as an accent under a sofa or next to a side table.
It's crafted from solid and engineered wood with foam-filled velvet upholstery that comes in several hue options to match your existing color scheme. Its streamlined silhouette and elaborate button tufting also lend a timeless yet contemporary vibe.
Marble or Granite Countertops
Marble and granite countertops offer a sleek, sophisticated look that adds a luxurious touch to any room. These natural stone materials are available in a wide range of colors and designs to suit any style, from modern to traditional.
However, they are not inexpensive, with prices for both starting at about $75/square foot installed. Marble is more expensive than granite because it is softer and requires special care, including regular resealing to protect against water damage.
Alternatively, quartz counters start at $60/square foot and are harder than marble. These durable surfaces are more versatile and resist heat, scratches, and stains better than marble.
They are also a safer choice, as they are more resistant to bacteria than marble and do not release the carcinogenic gas radon 2 into the home.
Customization Options for Cabinetry and Furniture
Even the smallest details can make a big difference when it comes to making your home feel luxurious. A matte black shelf adds modern contrast to a room, while chrome knobs on an IKEA cabinet give it an elevated look without changing the piece much.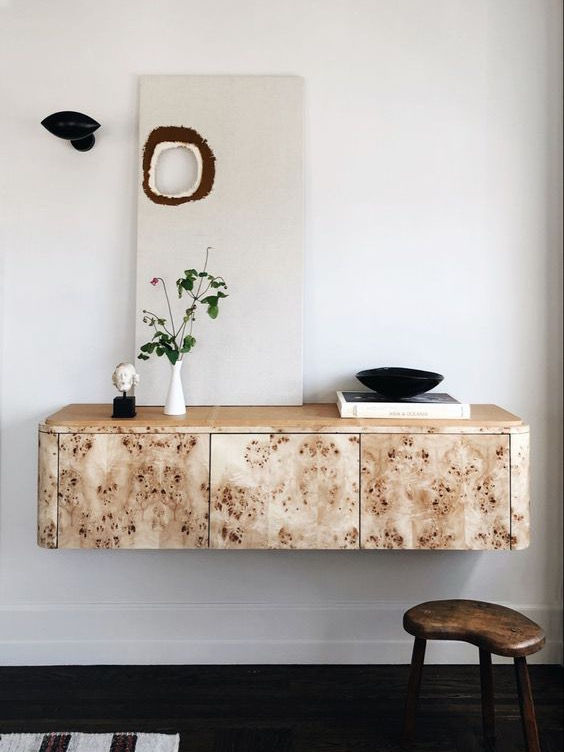 Designer veneer cabinet by Shade Degges
It's easy to overlook the parts of furniture that don't necessarily come in contact with people, but they can be the secret ingredient that gives your space a designer look. Add crown molding around her built-in BILLY bookcases to create a stylish accent that makes them look luxe. The same technique works for a TV stand or headboard, too.
Endnote
Elevating your IKEA furniture to look more expensive and luxurious doesn't have to be a daunting task. With a few simple tricks and add-ons, you can transform your minimalist pieces into glamorous statement pieces that will impress all who enter your home.
From adding elegant hardware to customizing upholstery, the possibilities are endless when it comes to upgrading your IKEA furniture. By incorporating these tips, you'll be able to achieve the perfect balance between minimalism and luxury, creating a space that feels both inviting and sophisticated.