Glamour in Black: 10+ New Inspiring Nail Designs That Are Black But Not Goth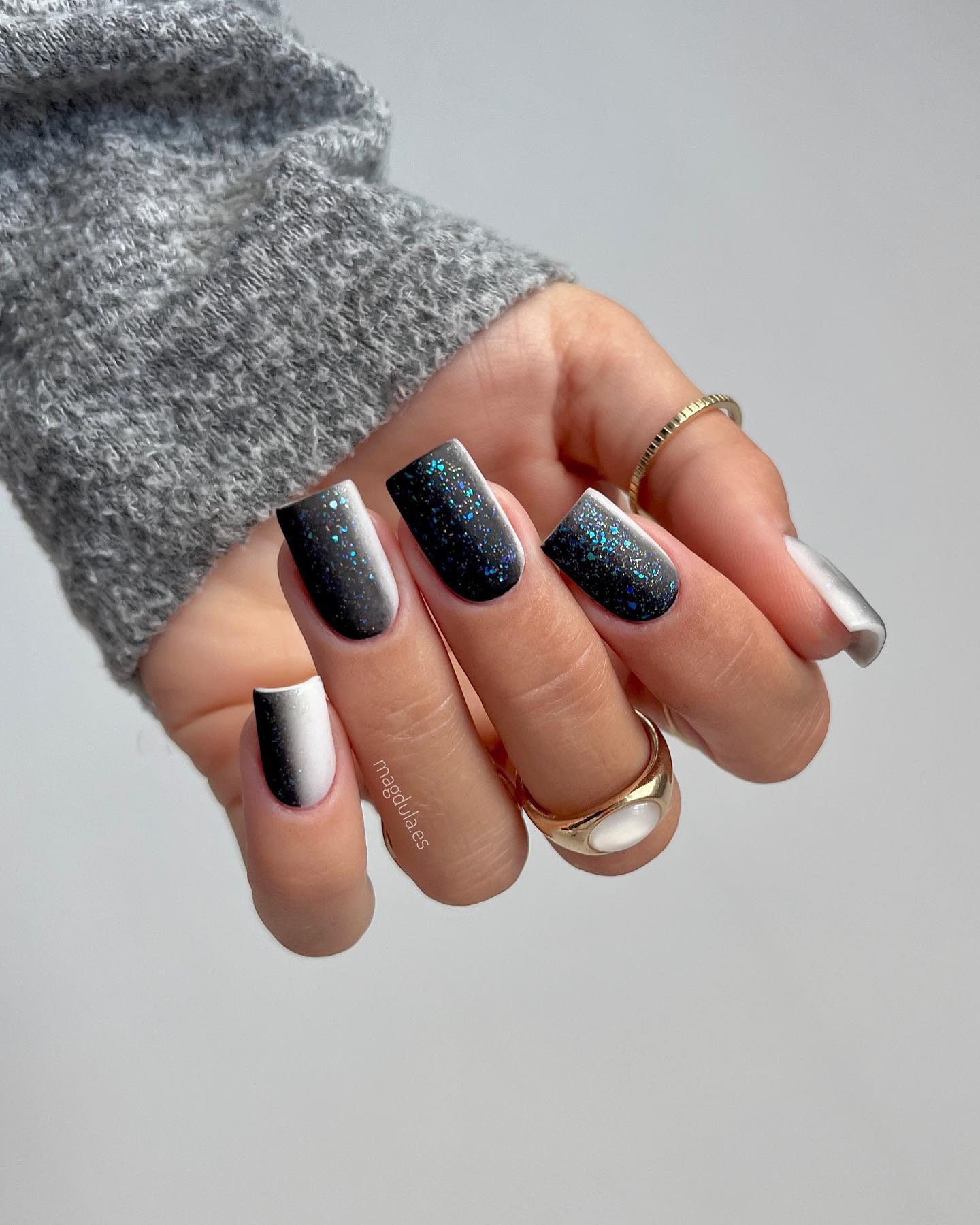 Hero nails by @magdula.es
When we think of black nails, we don't always think of modern sophistication and class.
More likely you'd be thinking emo, grunge, punk or goth.
All those aesthetics have a special place in my heart, but this once, let's reinvent the gothic nail looks and make them into minimalist black nails. A simple yet powerful way to effortlessly upgrade your manicure with an unexpected splash of mystique.
Unmatched Sophistication with Black Nails
Imagine immersing yourself in a world of minimalist patterns that allow you to perfectly reflect your preferred flavor of minimalism. Picture the best manicure that lets you seamlessly flow from day to night, from bimbo to baddie, with one look that's as fashionable as it is timeless.
With minimalist black nails, you can do all of the above! Gone are the days of worrying about trying to achieve some gothic-inspired look; manicure perfection just got a whole lot easier.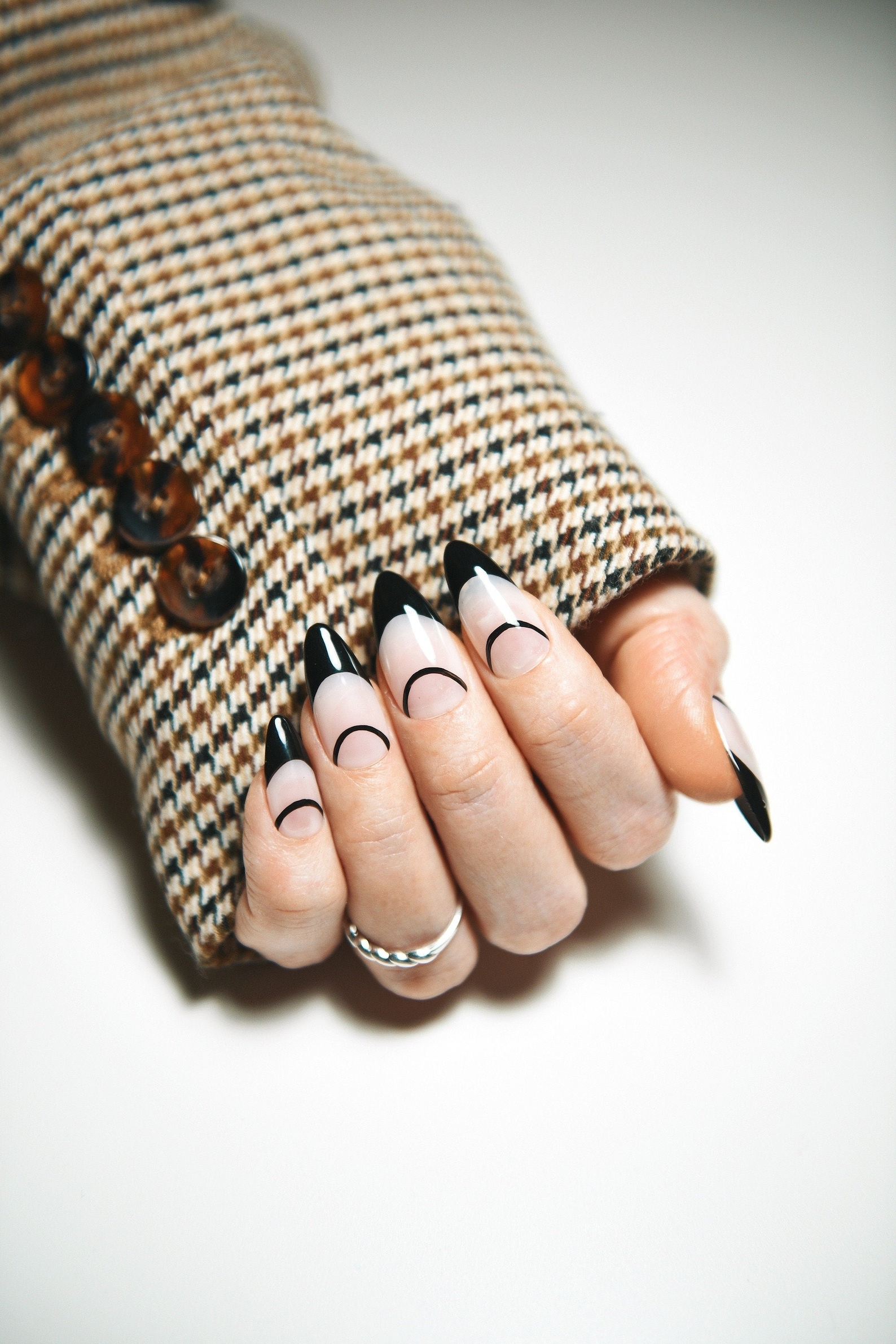 Classy black and white geometric pressons from BadTasteNails
By tweaking and redefining the way black nails are seen, you can now confidently lean into this classic color to make a timeless statement. It's all about a hint of black and a pop of glitz or a holo glaze.
That's enough color to draw curiosity but not so much as to look over-the-top. Mastering this look requires only a few beauty essentials. I am a big fan of doing the least amount of work for a good enough impact!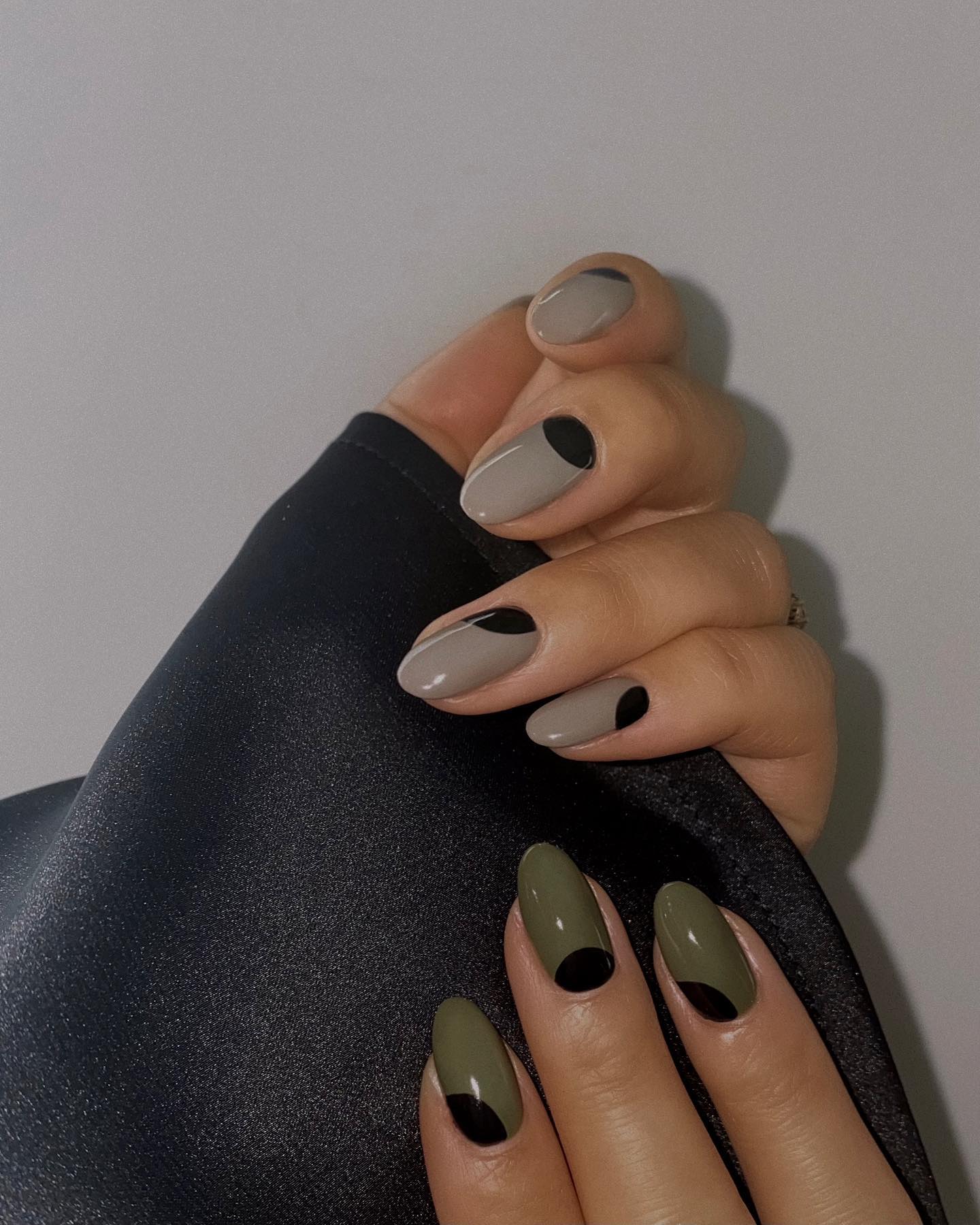 With a few simple steps, you can tap into your inner fashionista and reimagine the classic goth look. Create a black nail look that's modern, unexpected, and anything but gothic!
So, let's go ahead and take a second look at the dark side – it's about to become your latest beauty obsession.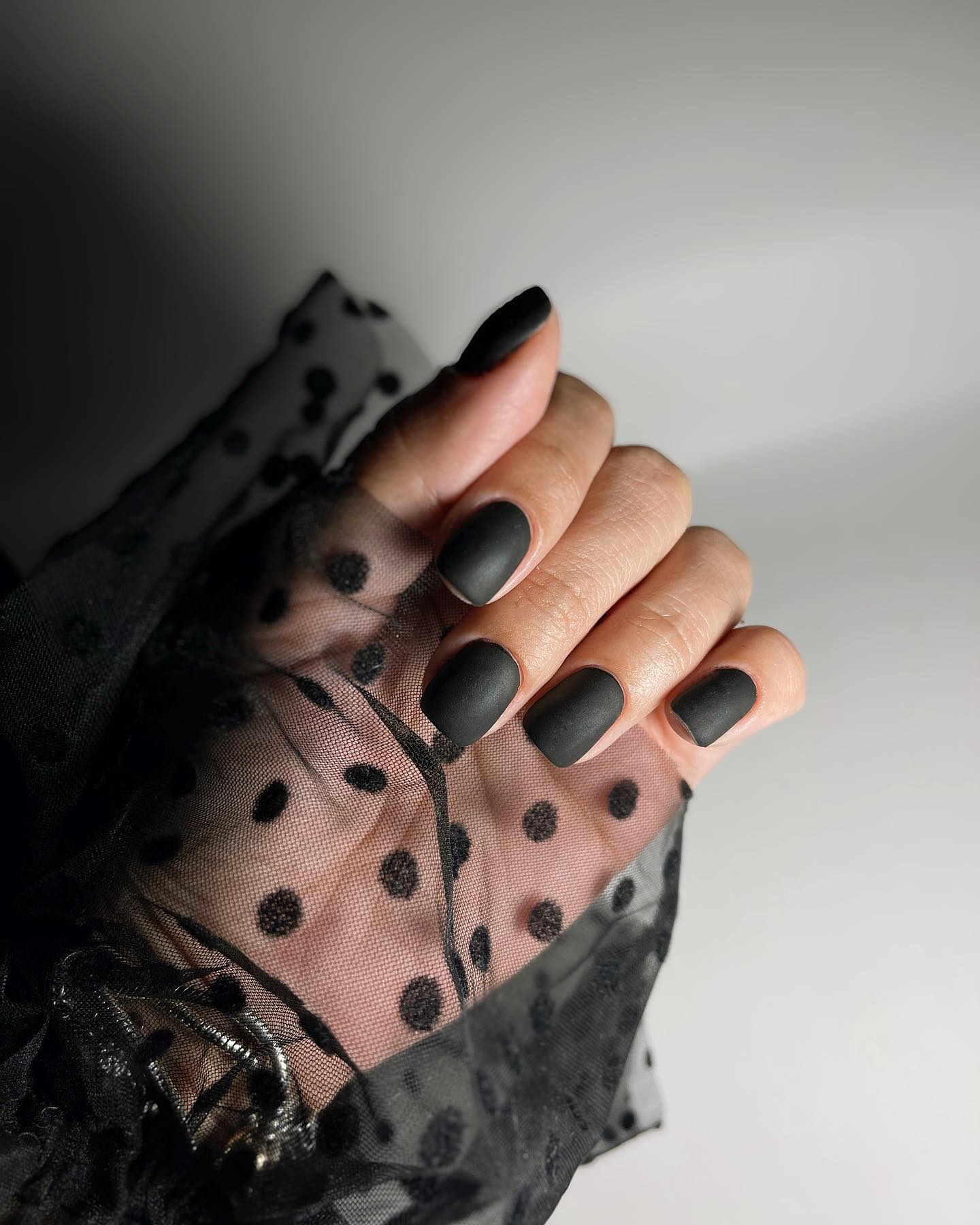 Nails by @alex.andranailtech
The Mystical Touches of Glitter
Let your nails twinkle with glamour. Go for accent nails that feature mystical sparkles, or pair a sparkle-infused black color with a simple, yet sophisticated matte base.
Show off your vintage side with gilded flakes, spangles, or cryptic designs.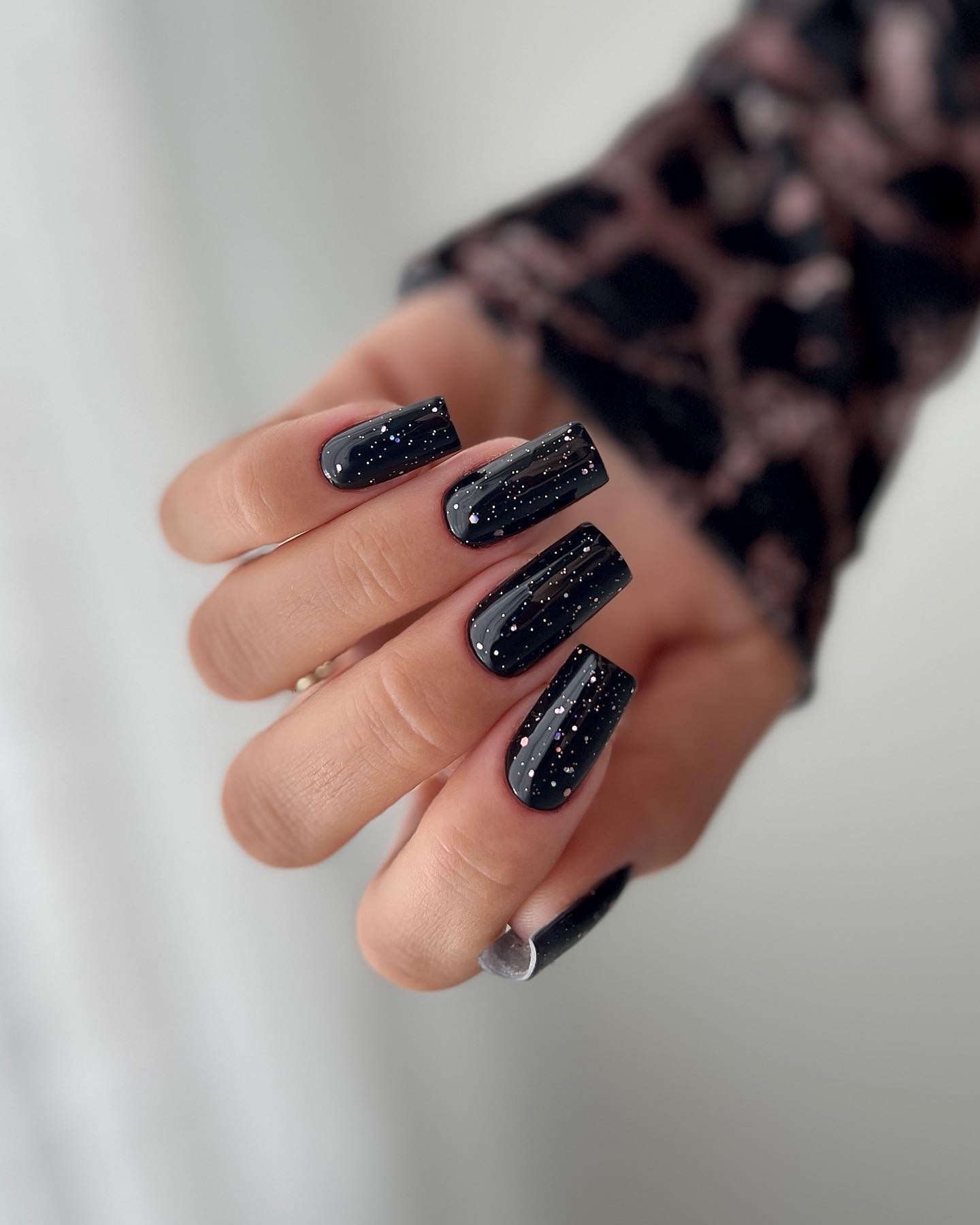 Nails by @magdula.es
Or take it all the way and unleash your maximum sparkle potential with a galaxy manicure. Here's a velvet mani, similar to the original "cat's eye" velvet nail trend from TikTok.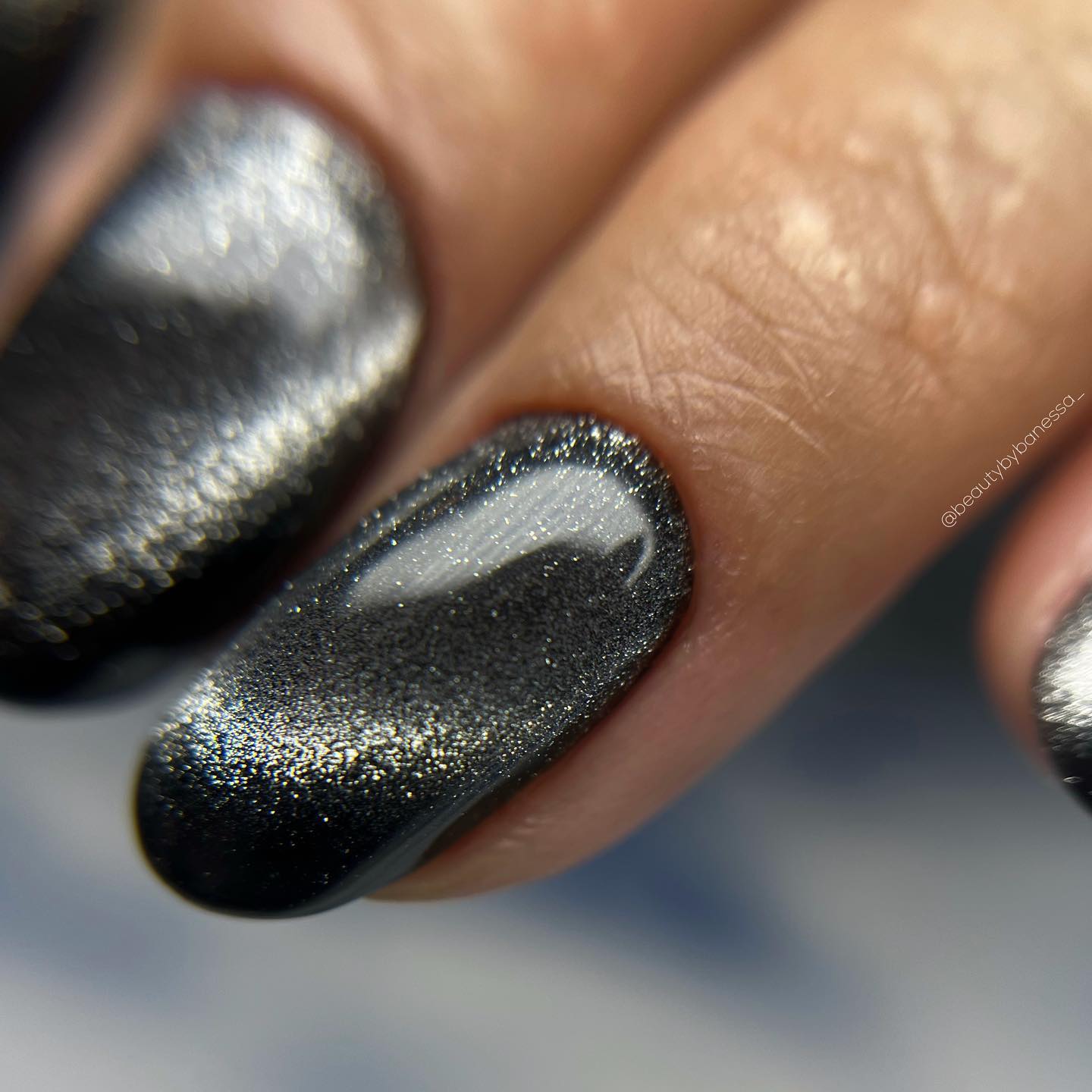 Nails by @beautybybanessa_
Passionate Damask
Put a little romance in your life. Use delicate prompts from the past to inspire a sense of mystery and passion. With some intense black pattern on a lighter base, you can recreate the enchanting Victorian-era motifs like beautiful damasks, lace, swirls, and silhouettes. The stickers for it are all over Etsy. Try NorthofSalem for minimalist ones.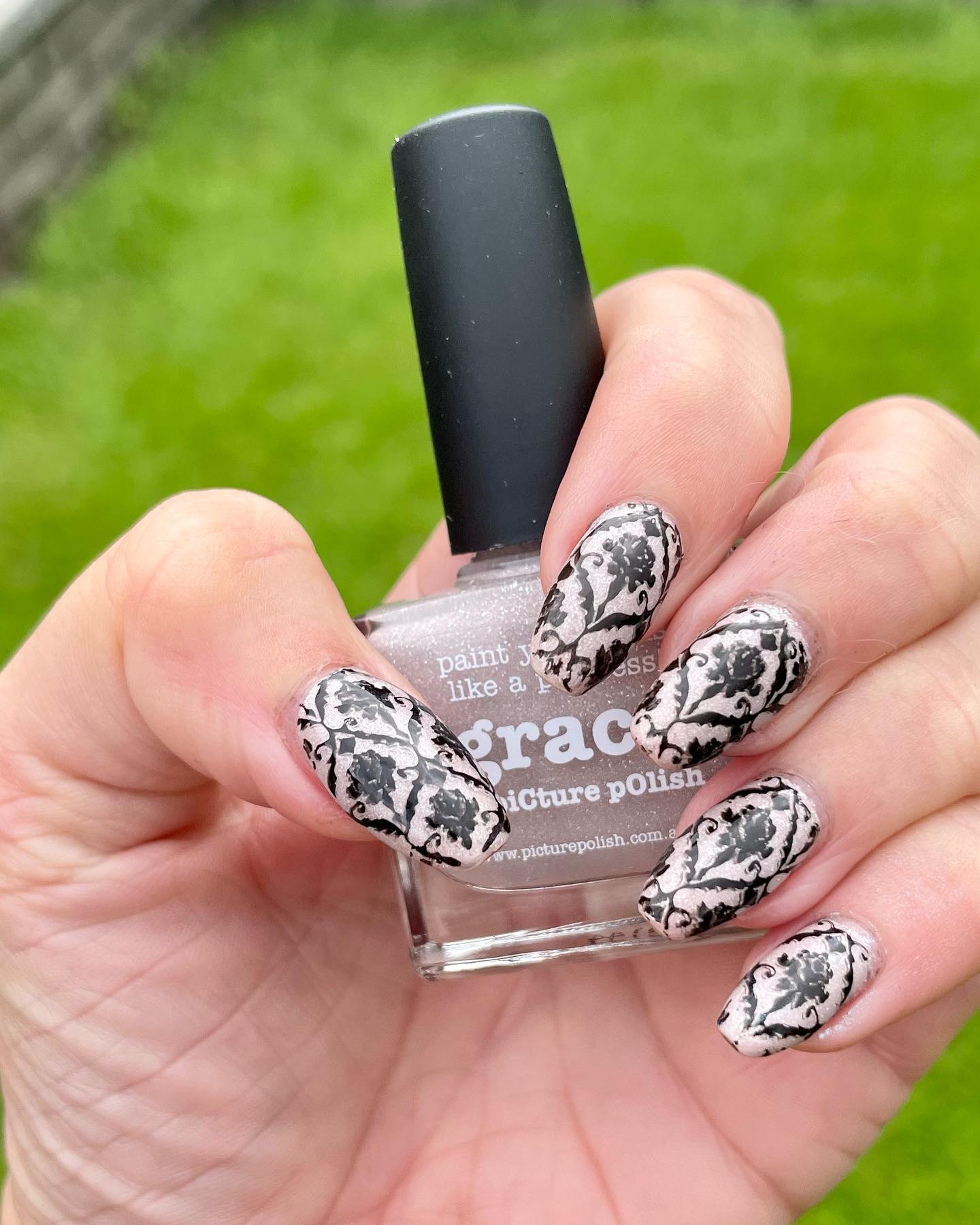 Nails by @kirstie303, it's a sticker on a silver base
Noir-Chic Geometries
Go for an edgy, minimalist effect.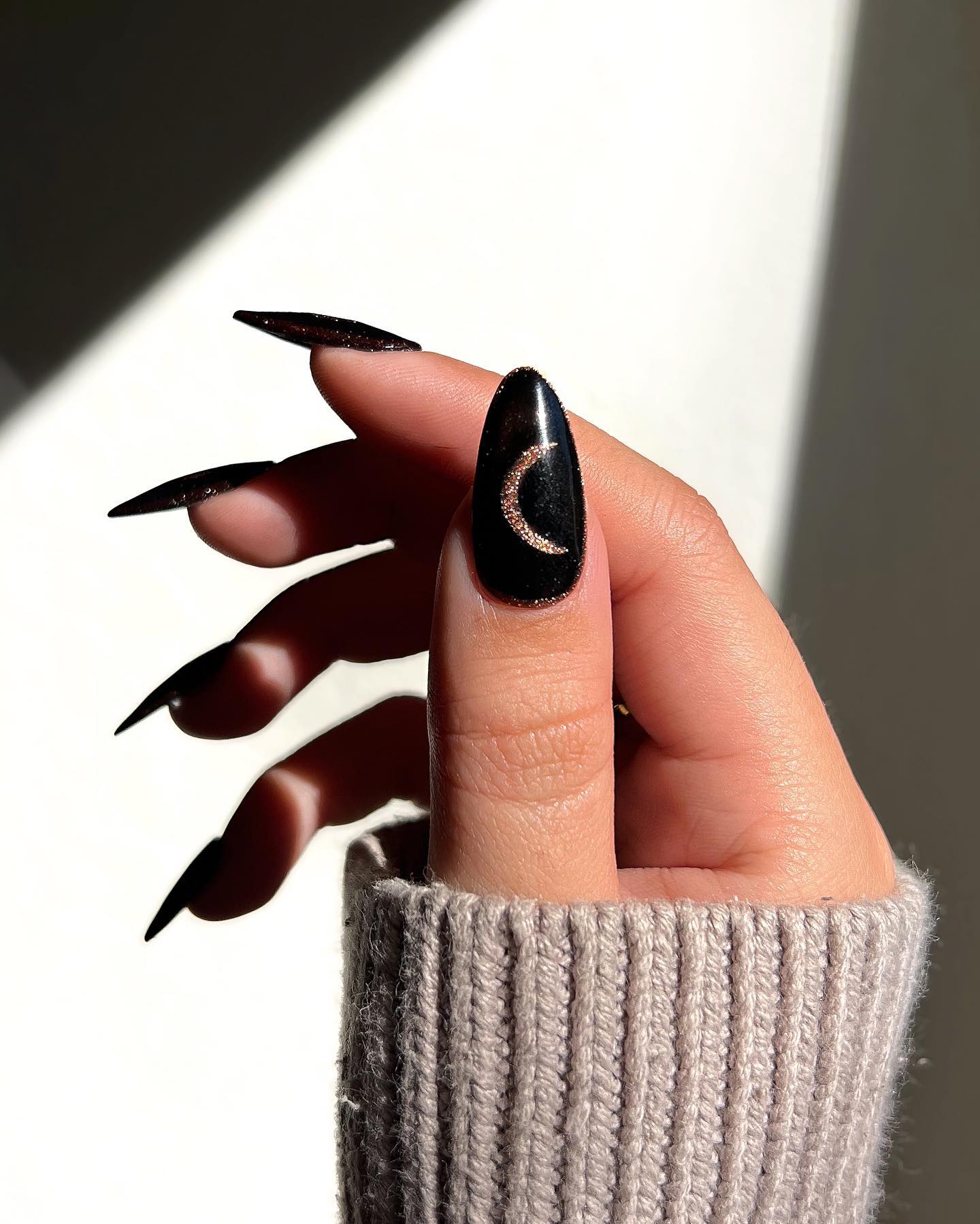 Nails by @nailswithami
To keep it sleek, opt for modern black nail art with dynamic shapes and geometries. When set against a black canvas, these patterns dramatically pop as if to reveal the essence of modern architecture.
Mix It Up
Have fun with unexpected textures and finishes. Whether it's glossy, matte black, a cream gradient, powdery(for the coffin nails style), chrome, or any combination of the above - everything looks eye-catching with black. Create your own unique style and when in doubt, develop intricate and lacy designs. Your nails are your canvases – go ahead and look the part!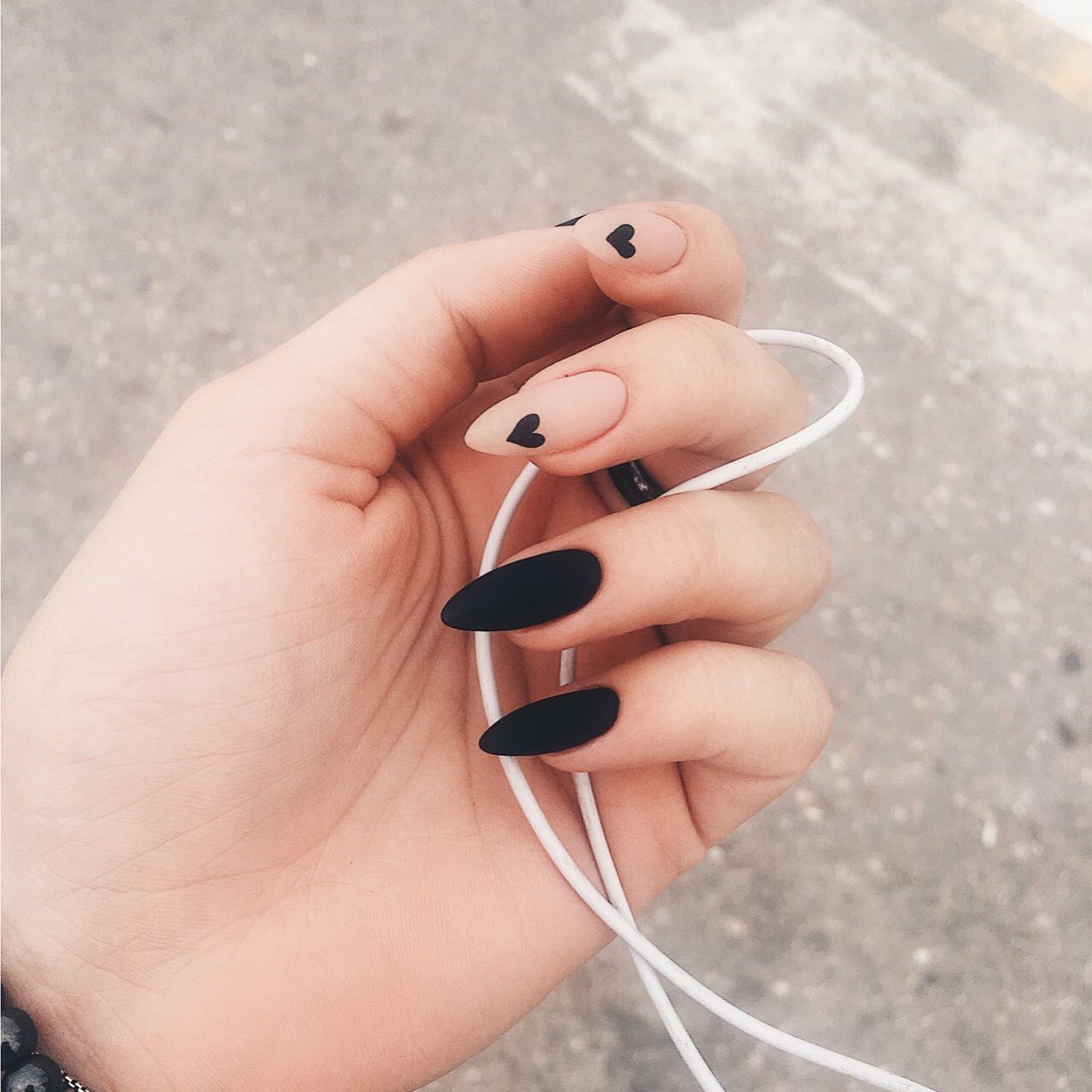 Nails by @loyalttty, BelleRoseNails has similar matte pressons
Why Play It Safe When It Comes To Your Nails?
It's always important to find a little cheekiness to keep us cheery, in winter even more so.
Winter nail art couldn't be more exciting and full of spirit. Dare to dream and cast your kawaii, romantic, and minimalist charms with these simple yet extraordinary black nail art ideas. Let your inner artist take the wheel and create the work of art that will be talked about all winter long.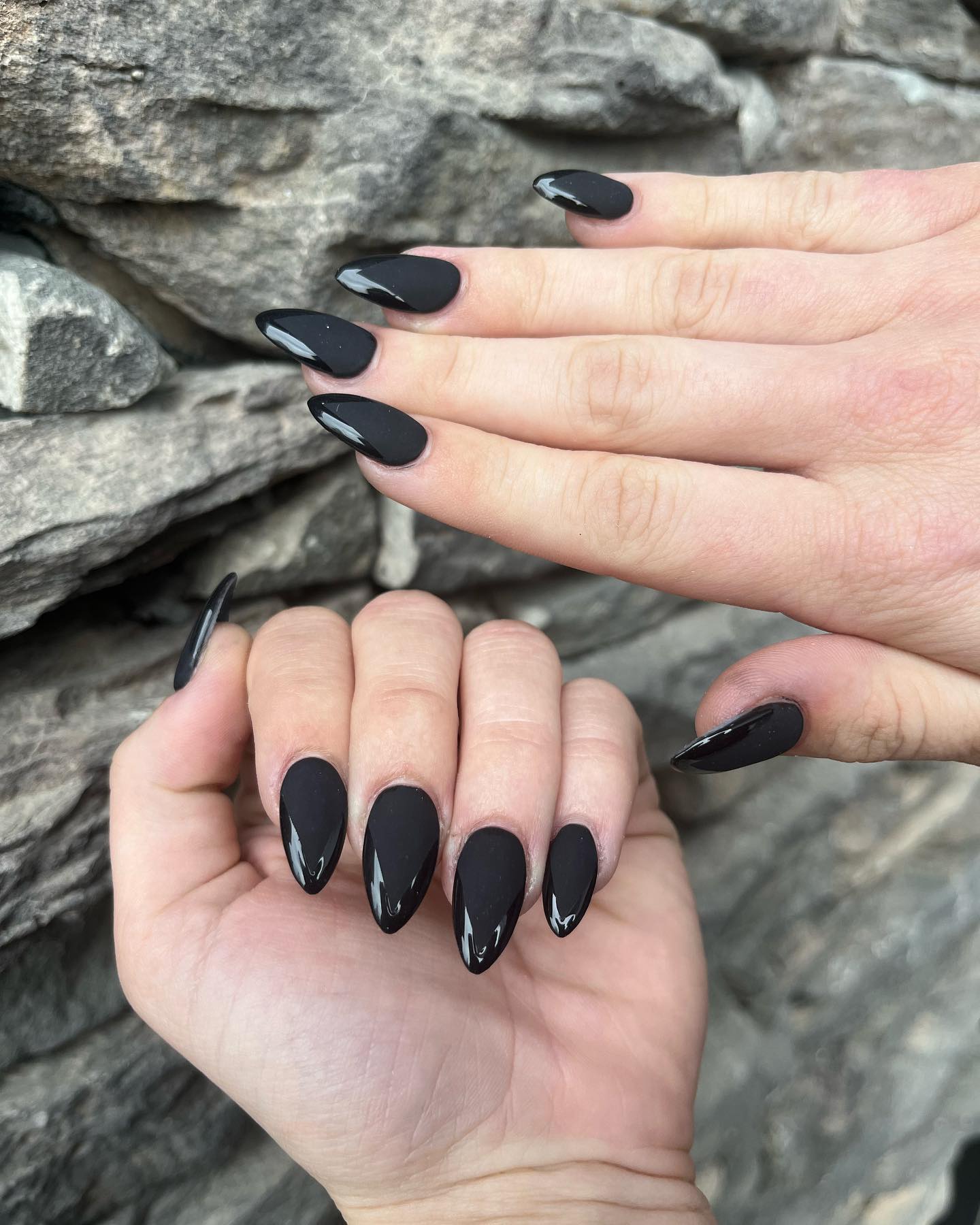 Nails by @nailbymayp
Forget the classic French mani or the regular manicured look – when it comes to nail art, there's a world of possibilities out there. From creative art pieces to sophisticated trends, there's more to explore than you think.
If you're looking to make a statement but don't want to take things too far, why not try black nails? This edgy trend is perfect for those who want to express their style, without going too gothic.
We have all been there. You want to make a statement with your manicure but you don't want to go over the top. Well, now you don't have to – with the modern black nail trend for minimalists, you can create a look that's both chic and sophisticated.
Dark and mysterious, but with a twist, the modern black nails trend is all about combining contrasting elements, such as glossy and matte finishes. Paired with the right accessories, such as small beading, these nails will give the impression of a minimalist yet daring style.
Going for a black nail look doesn't mean you have to compromise your sense of style. Whether it's a simple, classic matte finish or something more creative, such as an embossed or textured look, there are plenty of possibilities to explore.
The great thing about a black nail trend is that it's so versatile. You can wear it for work, for a night out, for a special occasion – the possibilities are endless. It's the perfect statement that won't take you too far out of your comfort zone.
So why not try something different this season? With the modern black nail trend, you'll be sure to turn heads – and feel confident doing it, too!
---
Make winter a magical season with a striking manicure! Get inspired by our lush list of ideas for black nail art that will complement any kawaii or romantic look. Whether you're feeling classic sophistication or slight edginess, this collection of creative art will make you feel like a star. Warm up your winter sensibility and be forever on trend with our chic selection of black nail designs—it's the perfect way to transform your look!