Gamer Girl Aesthetic Outfits: Inspo & Vibe
Gamers come in all shapes and sizes, but girl gamers often get left out of the conversation. While there's the 'Gamer Girl' aesthetic that has become cartoonishly sexualized, real-life girl gamers have much more fleshed-out styles.
For the everyday gamer, developing a meaningful relationship with their wardrobe can be transformative. It provides a way to express yourself in a unique way and adds personality to your avatar. Outfits should be more than just casual tees and joggers; it's an opportunity to express your newfound RPG prowess or show off your skills in the arena of e-sports.
Gaming fashion for women gives them the chance to break away from traditional gender roles and wear what they want, exactly how they want it. It's an opportunity to make a statement, express your ideas and passions, and make your dreams come true.
Let's look at real girl gamers
When you put a gamer-girl type of hashtag into Instagram, you will get to NSFW places. But let's look at what real girl gamers wear.
The essentials are a hoodie and a pair of tracksuit bottoms made from soft, natural materials. Makes sense - you're sitting down for a few hours. Who would do that in fishnets and tight shorts?!
IG @4ever_rotrotgruen
IG @dyshanastation
Then for those wanting something a bit more edgy, why not opt for an all-over graphic print t-shirt that reflects your favorite games or gaming character? There's a huge overlap with anime and related aesthetics here.
When it comes to accessories, good headphones are an essential for any gamer. Other than that it all depends on whether you are going outside or staying in. Heavy boots and the rest of the cool girl Y2K aesthetics are a big influence here.
Let's get on with the inspo.
Etsy: Logiamerch
LIPSTIK boots
Princess Polly: Lola mini skirt
Princess Polly: MVP sweatshirt and matching sweatpants
Etsy: NavunoStore
Princess Polly: Phoenix oversized 90s jacket
Etsy: NavunoStore cyberpunk top
Windsor Smith boots
Princess Polly: Carey denim
Princess Polly: Phoenix oversized 90s jacket
Etsy: MakeABenchy
Etsy: P4rsecsUS
Etsy: NavunoStore
Etsy: iprintasty
Of course, you don't have to limit yourself to just gaming fashion. Flex your creative muscles and combine styles to create a look that reflects your taste, personality and how you want to express yourself. Try mixing bright neons with earthy tones, soft pinks with bold block colors, and slick, streetwear-style pieces with quirky prints. As long as it makes you feel comfortable and look the part, anything goes.
With such a diverse range of fashion options available to girl gamers, there's no excuse not to get creative and express yourself through your wardrobe. Whether playing video games on the sofa or shooting it out online, you can mix and match pieces to create an outfit that represents your individual style. Step out of the box, enjoy your gaming sessions and have fun!
What is the gamer girl character in digital art?
When it comes to girl gamers, the world of digital art can be quite as inspiring as it is captivating. From the vibrant colors and vibrant characters, to the stories behind the artwork, there's an abundance of digital art that speaks to the heart and speaks to the mind of the gamer.
So what is it about girl gamer art that sets it apart from other digital art?
A girl gamer's art aesthetic is often young and vibrant. It often has a dreamlike, youthful quality to it that can be quite romantic and whimsical. It evokes feelings of nostalgia, of innocence and youth. From the characters to the scenery, the idea of a dreamlike fantasy world is ever present.
By Anthony Layederos
The characters featured in girl gamer art are usually young, but strong and often inspiring. Girl gamer art usually depicts them as brave and powerful, often achieving the impossible against all odds. It's this representation of strength and courage which resonates strongly with a gamer's own life experience. Girl gamer art expresses an appreciation for the strength of the human spirit and its indomitable will to succeed, no matter how hard the odds may be.
The colors and themes of girl gamer art often reflect the emotions and struggles of the world, but in a not-so-heavy way. Scenes and characters are often set against vibrant, dreamlike backdrops, with hints of nature and natural phenomena. This type of art appreciates the beauty that comes with life, even during difficult times.
The themes portrayed in girl gamer art often touch upon the concepts of hope and courage, of resilience and strength. It often provides a comforting reminder that even though life may bring you to dark places, this won't last forever. There's always a place of light, of joy, of security, and of beauty on the other side of the horizon.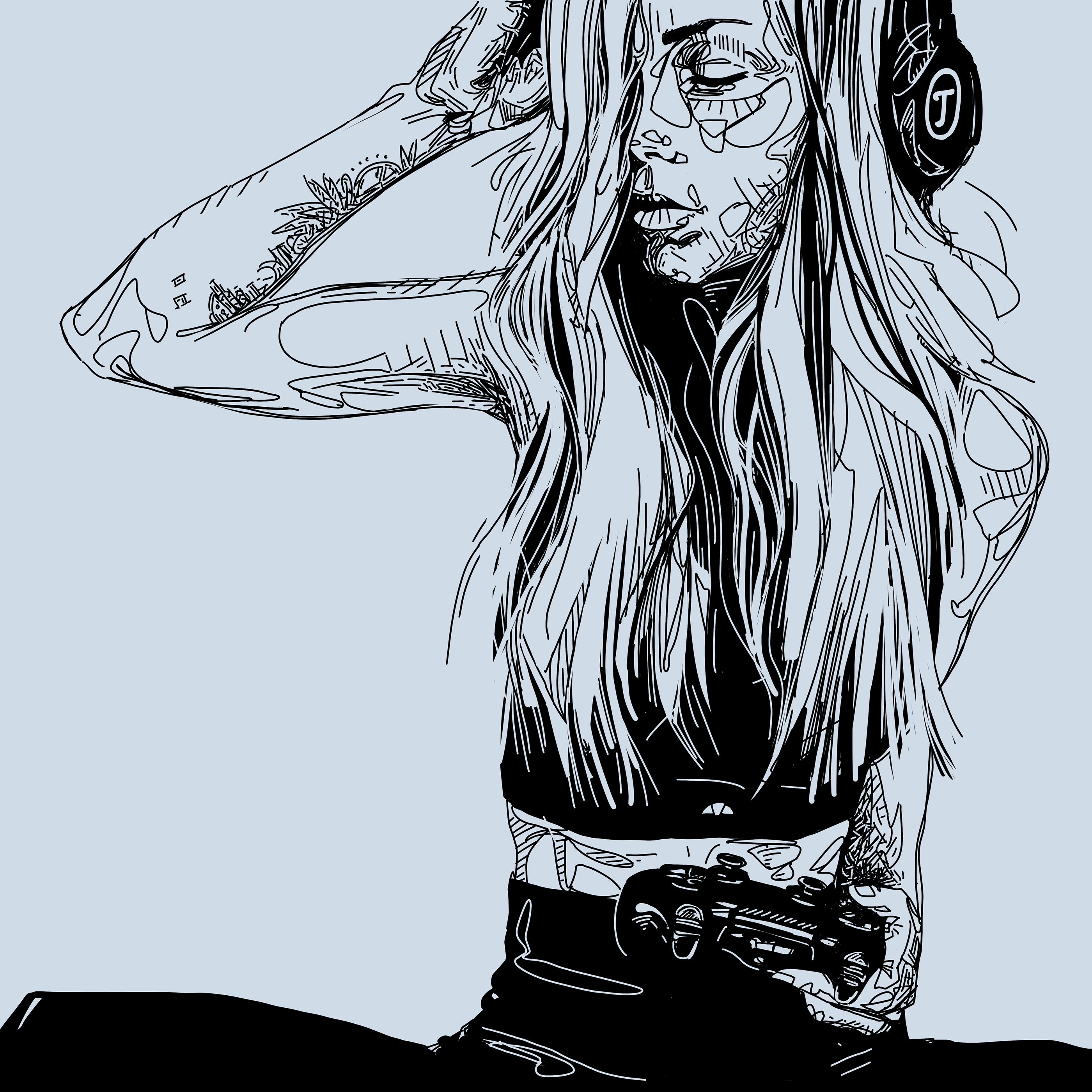 by Rikk Minor
This type of art can be genuinely inspiring and motivating. Not in the same way as motivational posters! There's more weight behind the message when you know there's a culture of girls behind it who have in fact gone against the grain.
So, this type of art can encourage you to keep going and press through difficult times. It can also help you to find peace, community, and sense of belonging in the little moments of life. You can look to girl gamer art for motivation, for a sense of hope, for strength and courage, and for a reminder to stay positive.
And that's a whole lot of contribution to the world, if you ask me.
---
Girl gamer aesthetic is a reminder that even in dark times, this world is still full of beauty and possibility. Whether you're a player, a bystander, or a spectator, take a moment to absorb the hopeful image and inviting colors of girl gamer art. Feel inspired and filled with courage, and know that no matter how difficult the journey, you'll make it through to the other side, and it'll be absolutely worth it.