From Bedhead to Bowl Cut: Boldest 90s Revival Grunge Haircuts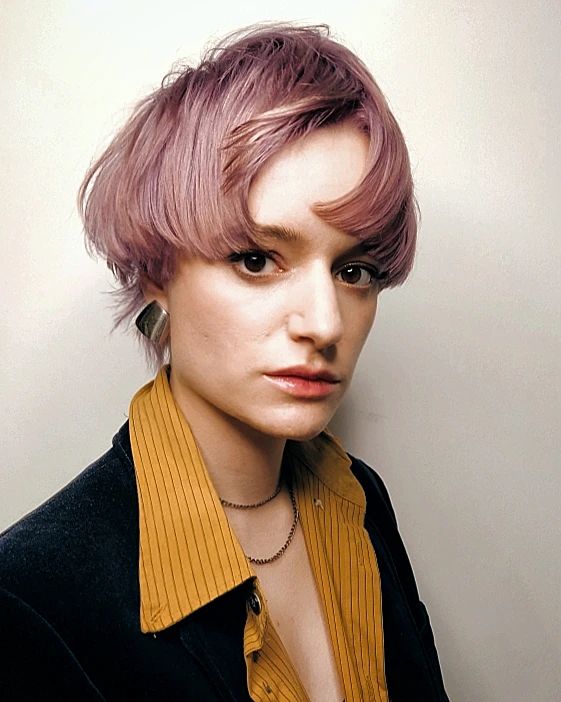 There's something to be said for the resurgence of the grunge aesthetic. As our world remains on the brink of a state of chaos, the classic look of the 90s has reemerged and is more stylish than ever.
Ah, the '90s. It was a time when we really embraced that grunge aesthetic, and it doesn't look like it's going away anytime soon. It's alive and well in punk, alternative, and indie fashion circles, and even in everyday streetwear. What makes a hairstyle truly "grungy"? Well, if it embraces the attitudes and emotions of the grunge period and conveys nonconformity, then it's definitely what you're looking for.
What can you expect when you embrace the grunge style? Think distressed denim, flannel, combat boots, and last but not least, hair.
Yes, even grunge hairstyles, once associated with an angsty adolescent attitude, can be incorporated into your look to create an effortlessly cool and offbeat statement.
While the look may have initially come from the early 1990s, it is sadly becoming timeless as the hard times stick around.
If you're looking for a way to express your dissatisfaction with modern society and show your personal style, then grunge hair is for you.
The grunge vibe in beauty
It might seem counterintuitive but best way to achieve the grunge look is to start by making sure your hair is in the best condition possible. After you've shampooed and conditioned your locks, consider adding a texturizing product like a sea salt spray to give it an extra boost of structure.
Next, style your hair using a curling wand or flat iron. But make it messy! The grunge aesthetic is all about a lived-in, messy look, so don't be afraid to create some intentional imperfections in your style. Once you've achieved the desired look, set it with a light-hold hairspray for extra hold.
IG @dedekind.cut
From here, it's all about accessorizing and adding the finishing touches. Consider adding some asymmetry, like a very deep side part for that extra dose of grunge. But even something as simple as a bandana tied around your forehead can do just the trick.
Lastly, don't be afraid to experiment with color. Streaks of muted pastels, gray, or purple provide a subtle yet edgy accent to your style.
Remember, grunge style isn't just a look - it's a feeling. So embrace your dissatisfaction with the state of society and opt for a look that reflects your individual sense of distancing from all that gaff. After all, that's the real beauty of the grunge aesthetic.
Grunge hairstyle inspo
Long, Messy Bedhead: This one is super straightforward yet effective. It basically consists of not brushing your hair and letting it be free. Whenever you wake up, just throw some bedhead paste or product onto your hair and you're good to go! Grunge is all about not caring and being lazy, so this hairstyle definitely screams anti-establishment and rebellious.

IG @dedekind.cut

French Braid, but Messy: This is great for short to medium-length hair. The French braid is simple and classic, but it has a bit of an edge that makes it perfect for a grunge look. Pull out a couple of hairs from the braid to make it a bit messier and add a headband for an even more grunge-y vibe.

IG @curlmind

Half Up Half Down: This look is great for a grunge-inspired look if you don't want to go all-out messy. The best way to make this look grunge is to leave some hair out around the face for a more relaxed, wavy look. To really bring it to life, embrace the attitude and embrace some rebellious color.

IG @lacedbyariii_

Bowl Cut: This is a classic '90s look that everyone should try out at least once. It's a little more daring than other looks and definitely adds some attitude. It looks best if the rest of the hair is left a bit messy and if you don't mind a bit of layers. It works on both straight and wavy hair - this is grunge, baby!

IG @dedekind.cut

IG @gypsy.stylez

Mohawk: Rockers have been rocking mohawks for decades and it is still one of the edgiest and punkiest haircuts around. Embrace the rebellious attitude and get it asymmetrical if you want to stand out more.

IG @justbraidsinfo

Pixie Cut: This is a great option for short hair. The key to making this look grunge is to leave some hair out in front and side-sweep it, or go for a more messy and tousled look. Adding a few layers also adds some texture and style to this classic cut.

IG @dedekind.cut
So, if you're looking to embrace the grunge trend, then any one of these hairstyles is perfect. Just remember to make it your own and embrace the attitude!
Instant grunge: Change your hair color
Our love affair with grunge-inspired fashion remains unabated, with the trend continuing to blur gender stereotypes and push the boundaries of style. But for those of us who want to pull off the look without going full commitment, something as simple as the right hair color can achieve the desired effect.
We've done the research and gathered inspiration to help you find the best hair colors for grunge vibes.
If you want something fool-proof, go with a base of jet black for an intense and edgy look. Its dramatic tones complement any outfit and give you the quintessential grunge style that's all about attitude. If you'd rather have a more subtle approach, try light brown shades—they give off a natural and less severe look.

Think about using a metallic color. If you're going to be channeling your inner rock-star, then a metallic hue is the way to go. Silver is ideal for creating a cool and chic feel, while bronze and gold colors give off a warmer, more glamorous vibe.

If you want something a bit softer, don't forget highlights. They were the 90s thing, too! If you want to add texture and shine to your locks, then experiment with highlights. Honey and brown hues will bring out the subtle colors of your hair, while light blond colors can add an appealing contrast.
No matter your style, you will be sure to find the perfect hair color to get that grunge-inspired look. And with a little experimentation you'll be turning heads with your edgy and unique style.
To make it stylish and on-trend, opt for a bedhead bowl cut. Don't overthink it - just let the bedhead movement take over and you'll be good to go! Grunge style is all about rebellion, edginess, and individualism, so go ahead and let down your hair and experiment with any of these looks! Embrace the nonconformist attitude of the '90s and opt for a look that expresses your individual style and personality by incorporating classic grunge elements, such as messy bedhead, French braids, half up half down styles, and even bowl cuts, with intentional imperfections, accessorizing, and subtle pastel or gray highlights.