6 Amazing Leather Garments That Are Worth Investing In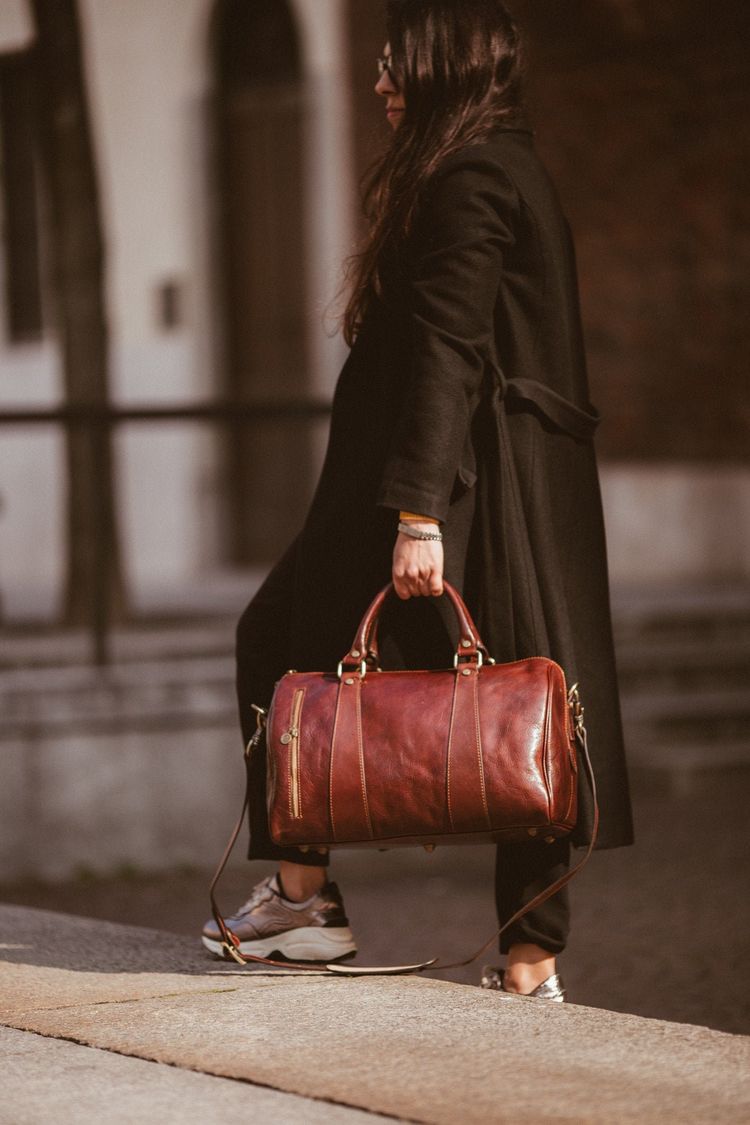 Leather is a controversial material. Leather has been used for centuries to make a variety of products, from clothing to furniture. It is durable and relatively easy to care for, which makes it a popular choice for many people. But - it is made from the skin of animals, there is no way around it.
Other than that, the chemicals used in the process of tanning can be harmful to the environment, but then the processing of plastic materials such as vegan leather is not without that sort of impact either.
Either way, it's safe to say that leather is a material that comes with a significant environmental cost. So, if you do decide to buy a leather product, do it with the idea of sustainable fashion the way Vivienne Westwood sees it: Buy fewer high quality pieces.
The beauty of leather is that it's a material that can be used for many different things. In this article, we'll cover 6 amazing leather garments worth investing in.
1/ Bull Sheath Leather Outerwear
Bull sheath leather is one of the most popular and versatile types of leather used in garments. It is strong and durable, yet soft and supple, making it ideal for a wide range of clothing items. Bull sheath leather is often used in jackets, coats, pants, skirts, and dresses.
It can also be used for accessories such as handbags, wallets, and belts but to tell the truth, it looks its best in large surfaces such as on the outerwear. The natural grain pattern of the leather gives each piece a unique look that will age beautifully with time.
Investing in a quality piece of bull sheath leather clothing is an excellent way to add a timeless piece to your wardrobe that is not a boring basic without character.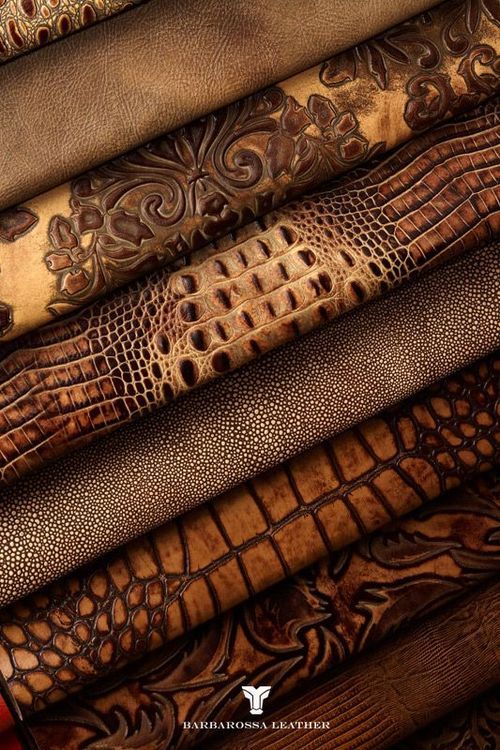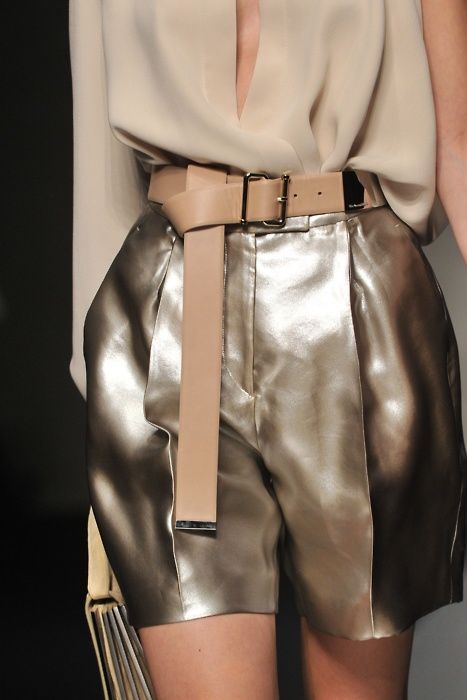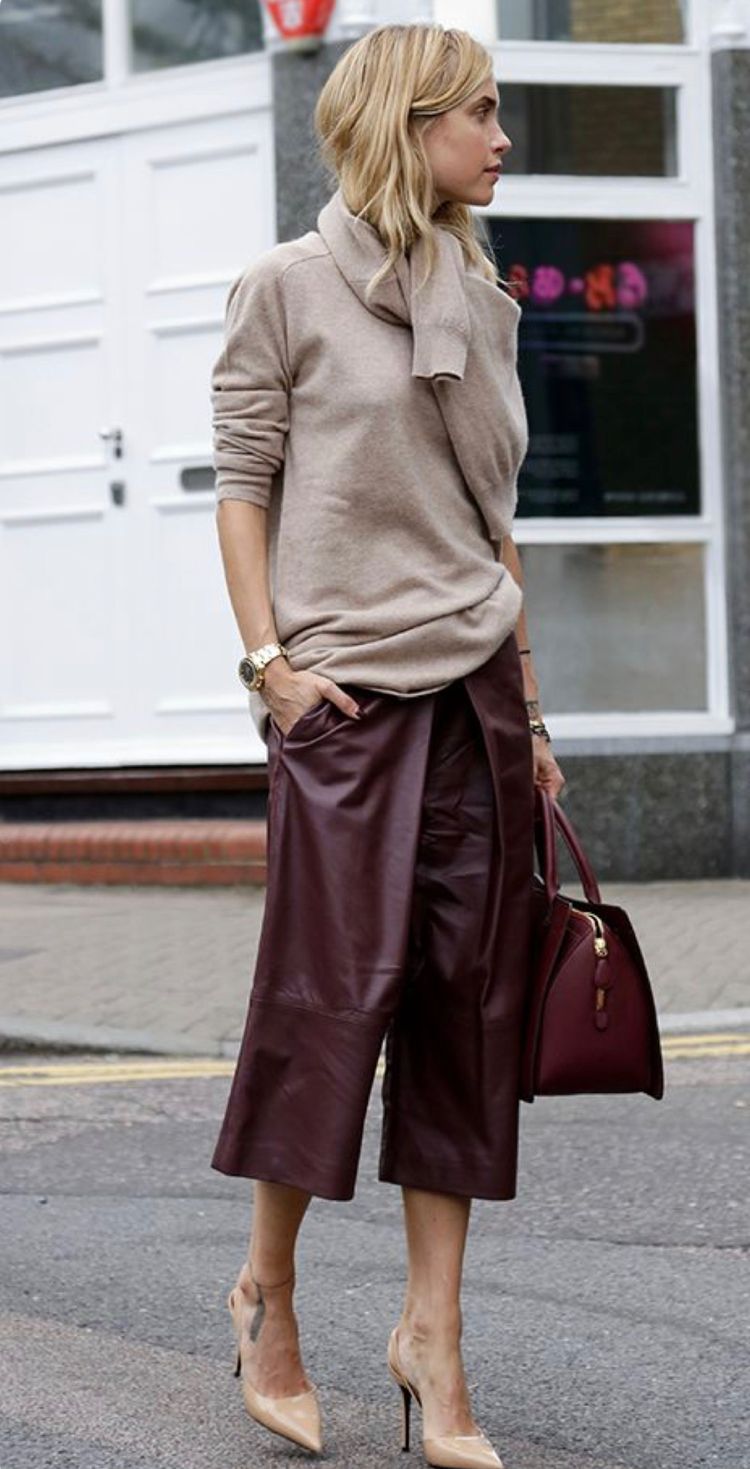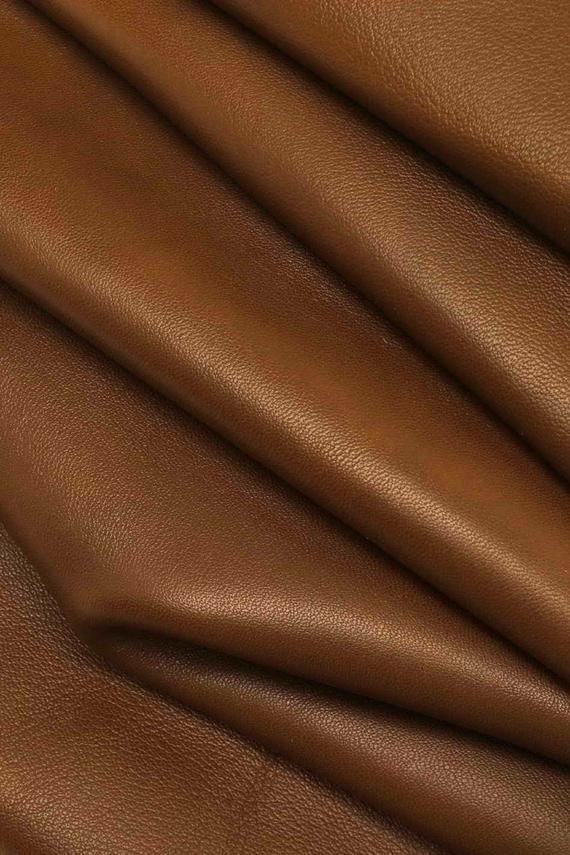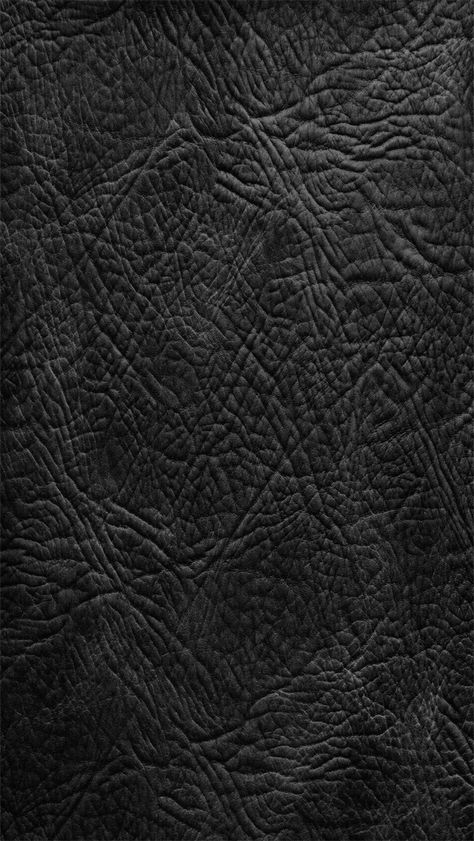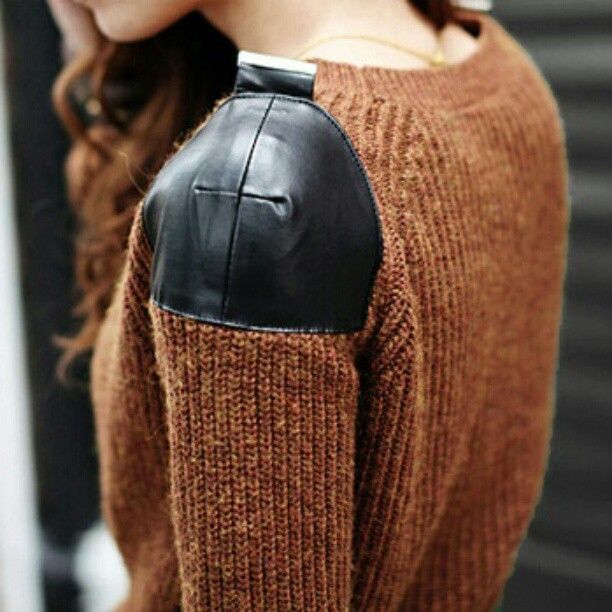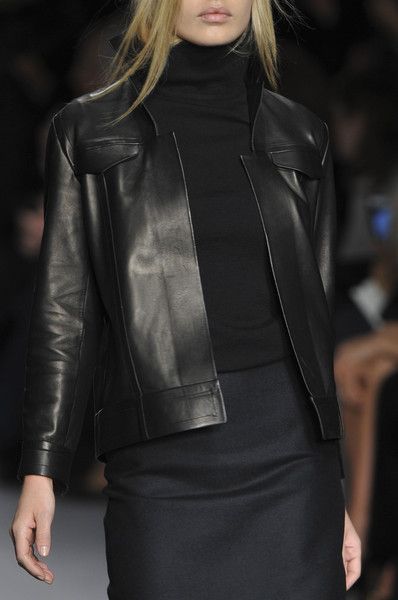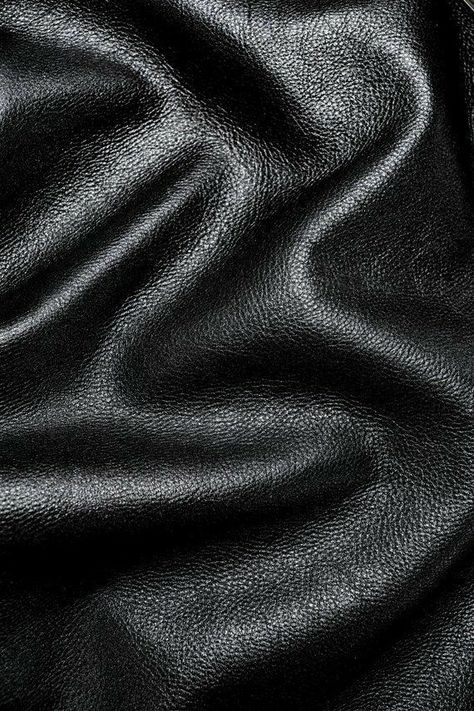 2/ Leather Biker Jackets
Leather biker jackets are a wardrobe staple that is versatile if you are into the baddie aesthetics. Throwing a leather jacket over a mini dress is or a bralette is the easiest way to do that aesthetic.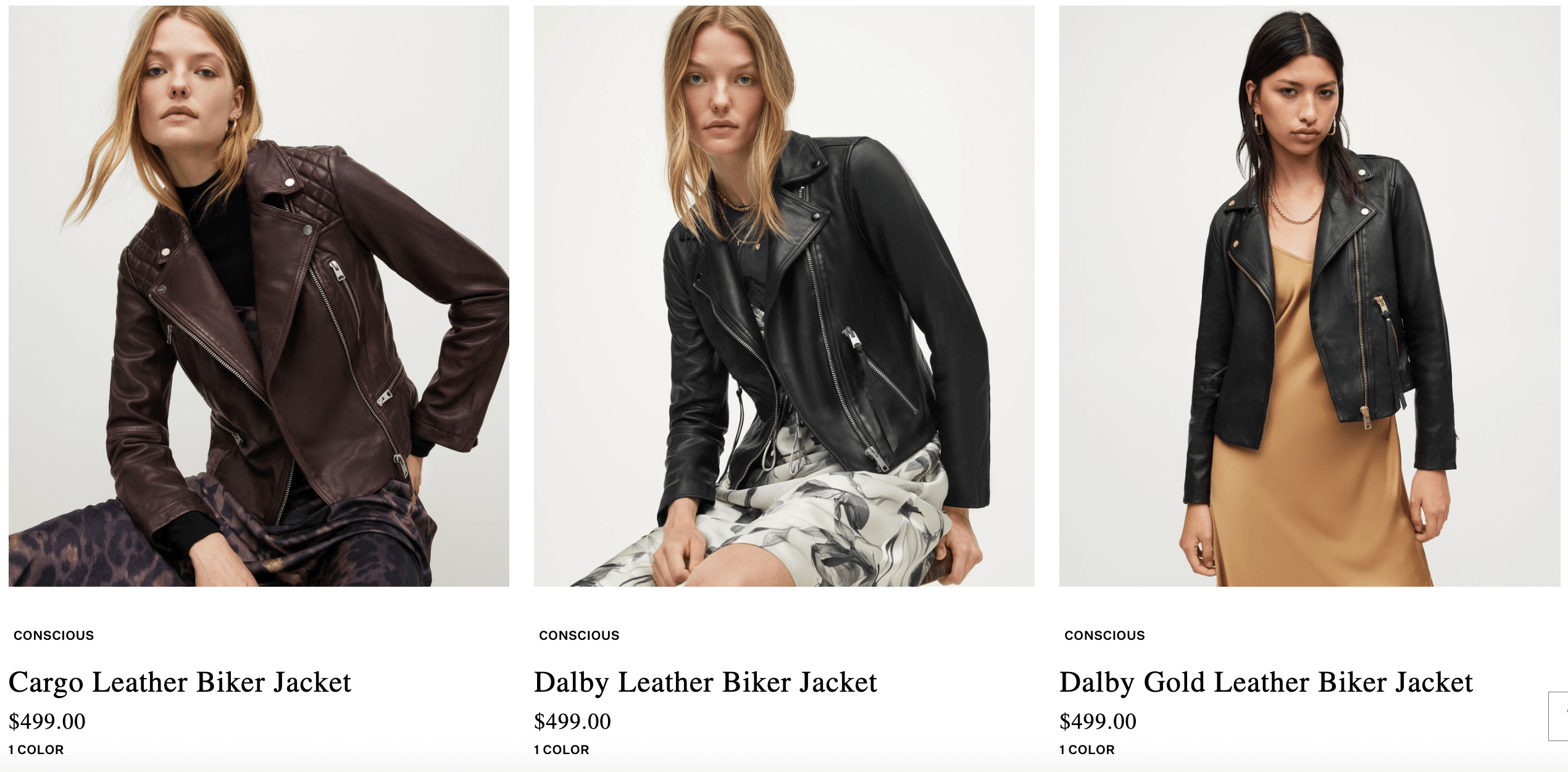 All Saints
There are many different styles of leather jackets to choose from. The most popular are the moto jacket and the bomber jacket. The moto jacket is a shorter, more fitted style that hits at the waist. It is usually adorned with hardware, such as zippers and snaps. The bomber jacket is a longer, boxier style that can be worn over top of other layers. It typically has a ribbed collar and cuffs, and may also have a fur-lined hood.
No matter what style you choose, make sure you opt for a quality leather jacket that will stand the test of time. Look for jackets made from full-grain or top-grain leather, which are the highest quality hides. These types of leather are more durable and will age better than lower-quality leather. Avoid jackets made from bonded or faux leather, as they will not last as long and will not look as good over time.
A quality leather jacket should last you for years, keep that in mind when shopping.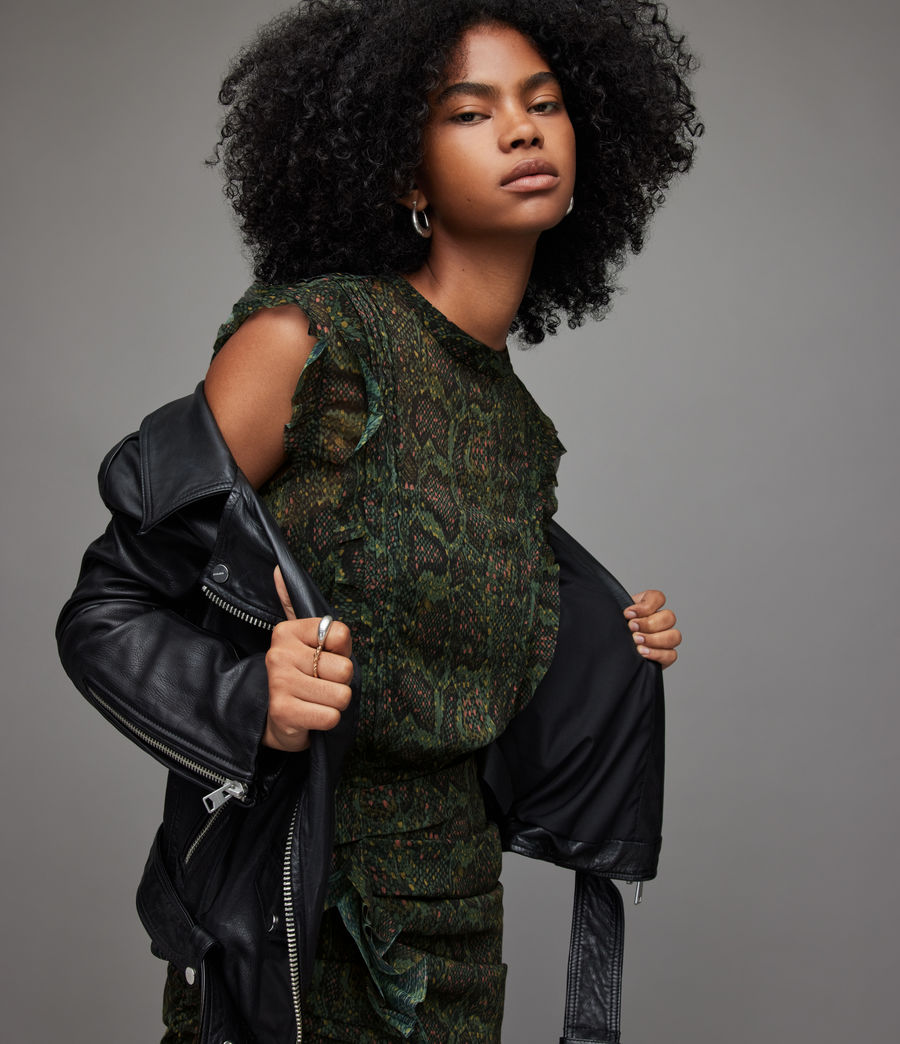 All Saints jacket and dress
3/ Leather Loafers
Ever since the heyday of Gucci loafer, these shoes have been popular for both men and women in variety of materials. They are meant to look a bit tomboyish though, so they usually do look best in leather.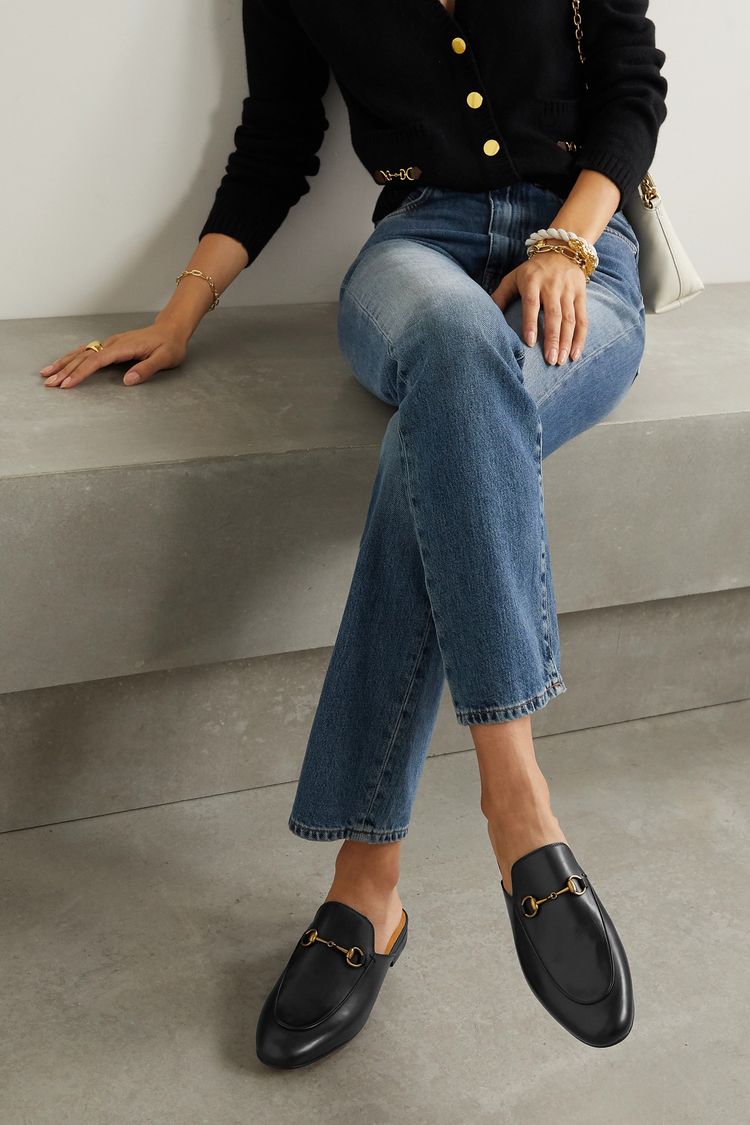 The OG Gucci loafers
Leather loafers add a touch of class and sophistication to a plain outfit, and it also helps to make you look like you did not try too hard.
For men, loafers are a great alternative to dress shoes, and they can be dressed up or down depending on the occasion. For women, loafers are a comfortable option for work or play.
Free People, Bass Esther 90s loafers
4/ Leather Duffel Bag
A duffel bag is a must-have for anyone who loves to travel. When made from durable leather, a duffel bag can look super stylish thrown over the shoulder and carried on long journeys.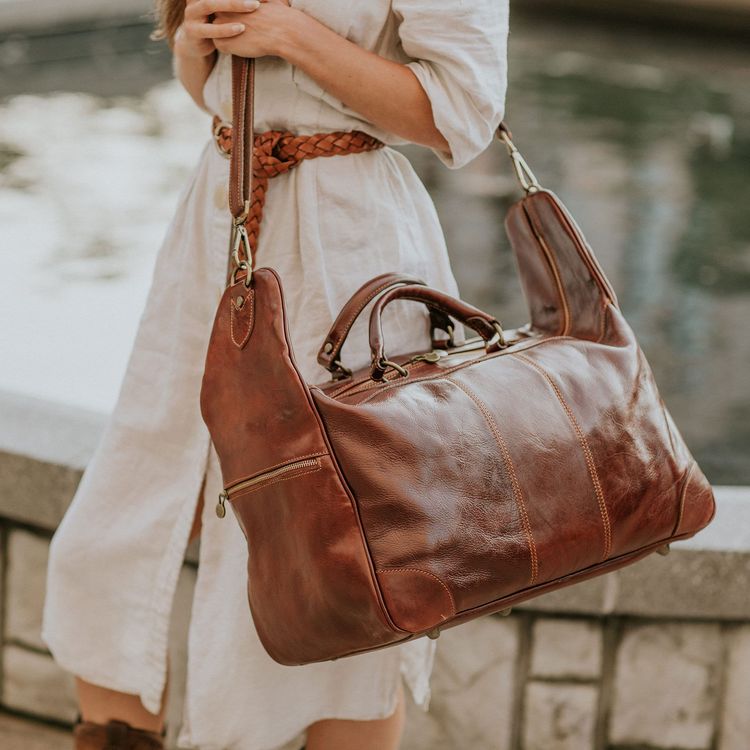 Etsy: FlotoBags, Travel duffel in leather
Duffels almost always pass as the airline carry-on, so whether you're going on a weekend getaway or a multi-week adventure, a duffel bag can be the perfect way to carry all your belongings. And because they're usually fairly spacious, you can pack everything you need without having to worry about overweight luggage fees.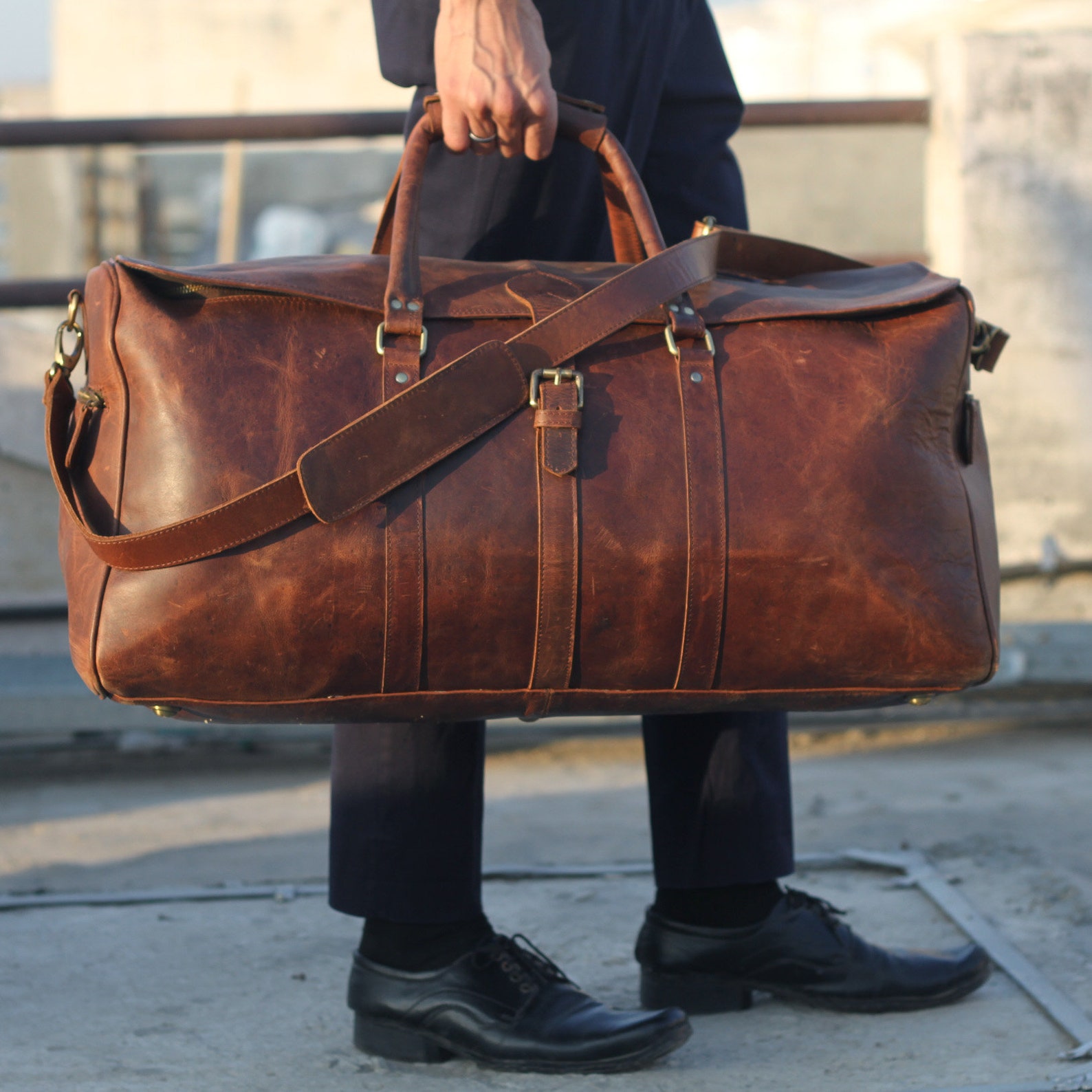 Etsy: DOTCHBAGCLUB, Full grain leather duffel
5/ Leather Briefcases
There is nothing quite like the smell and feel of a brand-new leather briefcase. Not only do they look amazing, but they are also built to last. If you are looking for an investment piece that will serve you well for years to come, then a leather briefcase is a great option.
When it comes to choosing a leather briefcase, there are many different factors to consider. The first is the size. You want to make sure that the briefcase is large enough to fit all of your essentials, but not so large that it becomes cumbersome to carry.
The next factor to consider is the type of closure. There are many different options available, from zipper closures to snap closures. Choose the option that best suits your needs and lifestyle.
Finally, take into consideration the price. Leather briefcases can range in price from a few hundred dollars to several thousand dollars. It is important to find one that fits your budget and meets your needs.
With so many different factors to consider, it can be difficult to choose the perfect leather briefcase. However, if you take your time and do your research, you will be able to find the perfect one for you.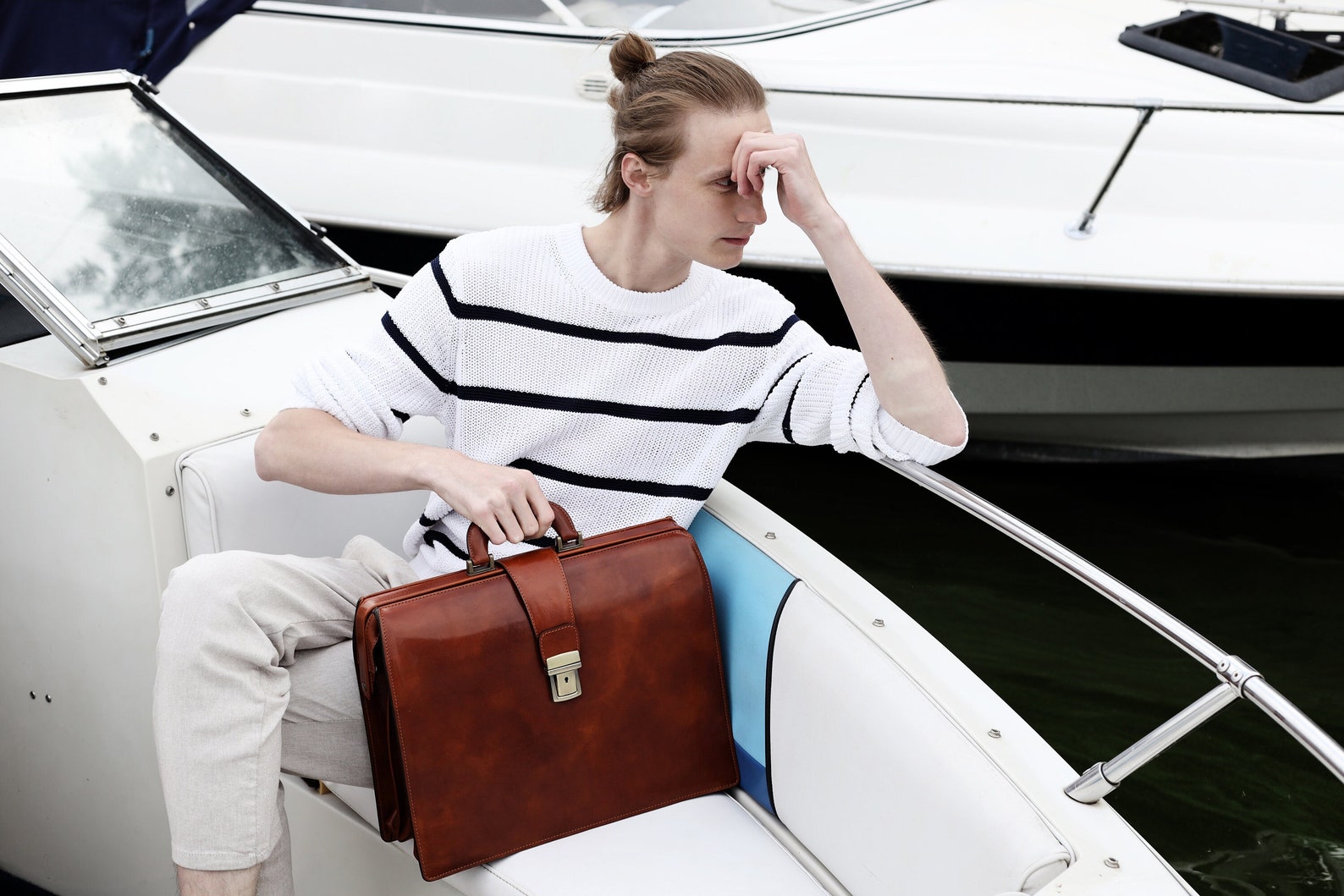 Etsy: TimeResistance, Womens Leather Briefcase
6/ Leather Messenger Bags
Leather messenger bags are a stylish and practical option for carrying your belongings. They come in a variety of sizes and styles, so you can find one that suits your needs. Whether you're looking for a small bag to hold your essentials or a large bag to carry everything, there's a leather messenger bag out there for you.
Here are some things to keep in mind when choosing a leather messenger bag:
Size: Messenger bags come in all different sizes. Think about what you'll be using the bag for and how much space you need. If you're only carrying a few items, a small bag will suffice. But if you need to carry more, opt for a larger size.
Style: There are many different styles of leather messenger bags to choose from. Do you want a classic look or something more modern? Do you want a flap-over style or one with a zipper? Consider your personal style when choosing a bag.
Color: Leather messenger bags come in many different colors, from traditional black and brown to more vibrant shades. Choose a color that goes well with your other leather garments, or pick one that stands out from the rest.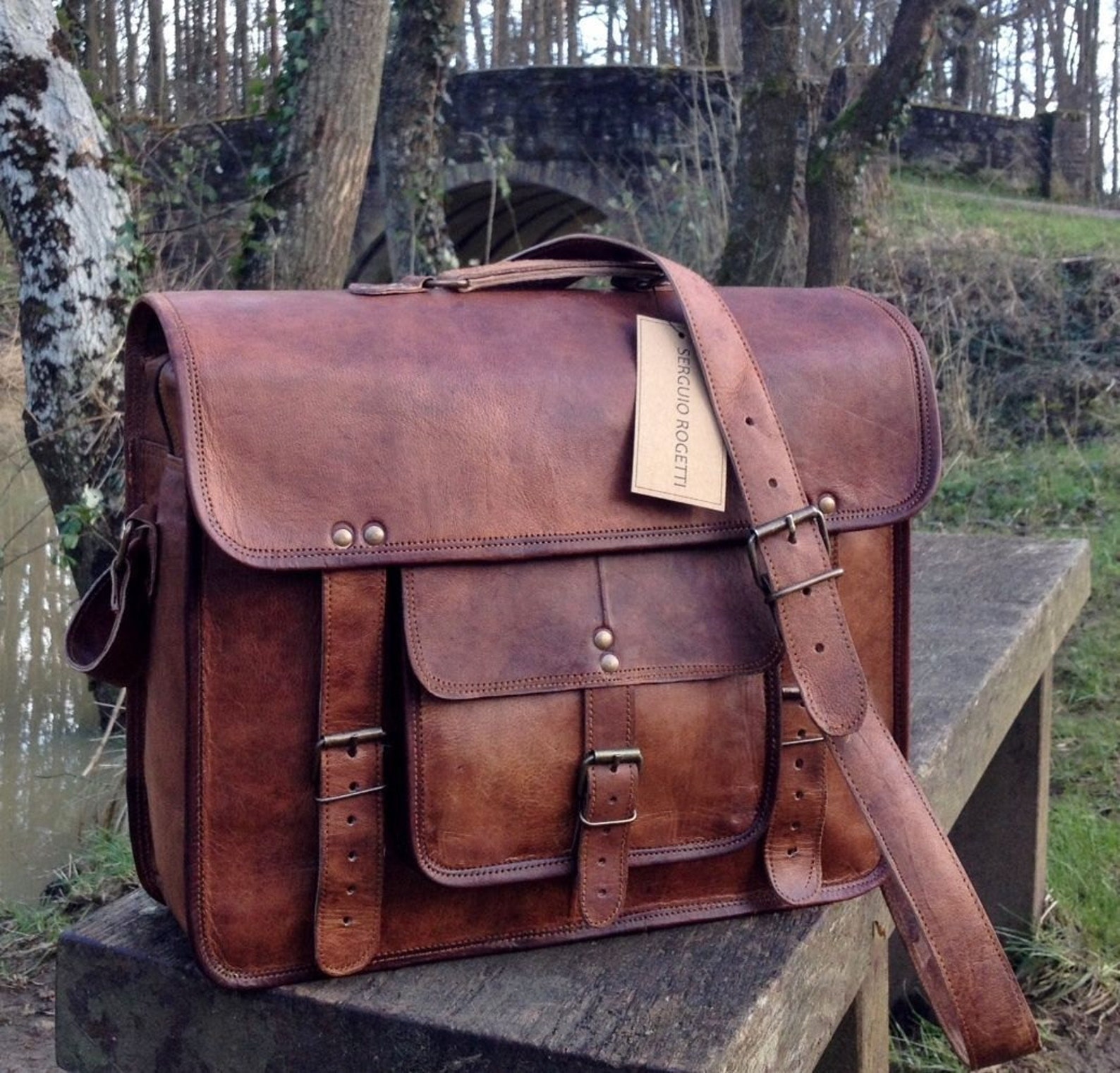 Etsy: SerguioRogetti, Leather messenger bag
Leather garments are definitely worth investing in because they last longer, look better, and feel more comfortable than other materials. Not to mention, leather is also environmentally friendly and sustainable. If you're looking for some amazing leather garments to add to your wardrobe, be sure to check out our selection of the best leather jackets, pants, skirts, and more.