Japanese Modern Bedrooms: Inspo and Accessories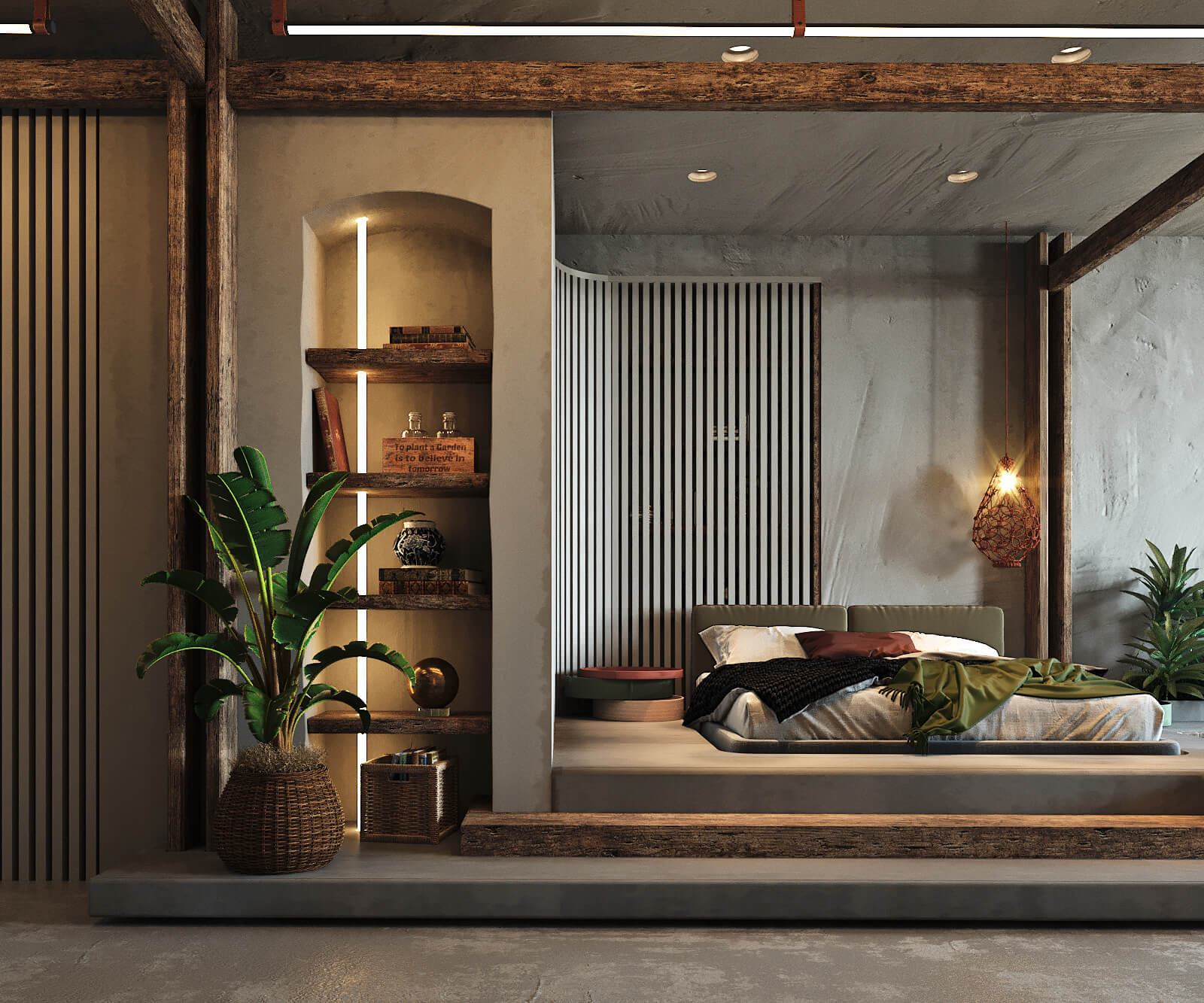 The asthetic of modern Japanese bedrooms will appeal to indie minimalists, that much is certain. If you are someone who likes the organic modern aesthetic, you might find inspiration here, too. It's not a coincidence that mixed bag aesthetics like Japandi exist.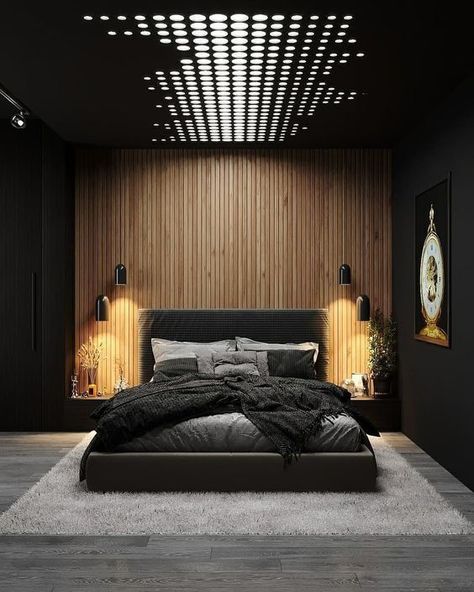 Either way, Japanese modern bedroom designs are all about simplicity and dark colors - sometimes very dark. The dark hues help create a relaxing, private atmosphere where you may feel safe, but they are also fiercely modern and aesthetic.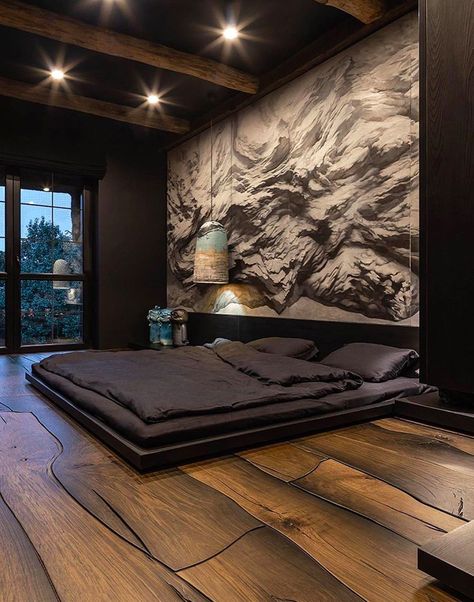 The Aesthetic Focuses on Comfort and Privacy
The modern Japanese bedroom aesthetic can be described as simple, dark, and relaxing. The relaxing feel is achieved through the choice of colors and materials first and foremost: The darker colors on the walls invoke a sense of privacy, the touch of nature comes from all the wooden surfaces.
Combined with natural accessories, this design is relaxing, easy on the eyes and pleasant to touch. In short, a modern Japanese bedroom will have something for every sense.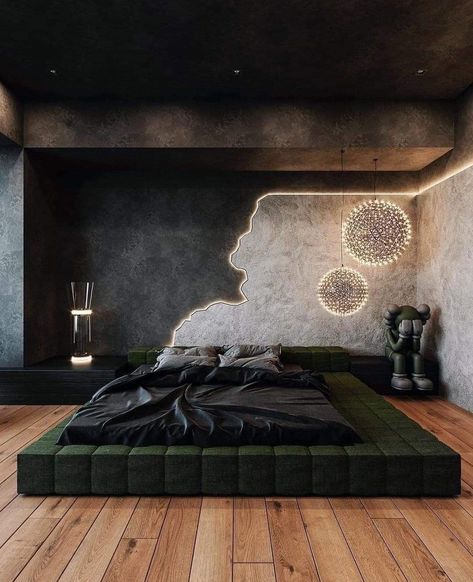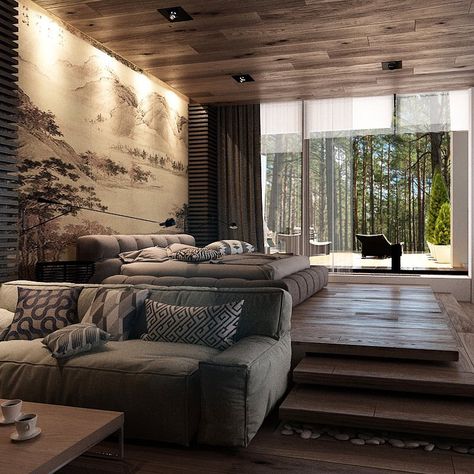 This style is perfect for people who want a minimalist bedroom with just a touch of Japan.
If you're looking to add some Japanese flair to your bedroom, these tips and ideas will help get you started!
Dark colors and matte surfaces
If you are a minimalist you will love modern Japanese bedrooms as long as you can take darker colors in your room decor. In the Japanese aesthetic sensibility, dark colors and natural materials create a calm and private atmosphere, perfect for those who want to escape the hustle and bustle of everyday life.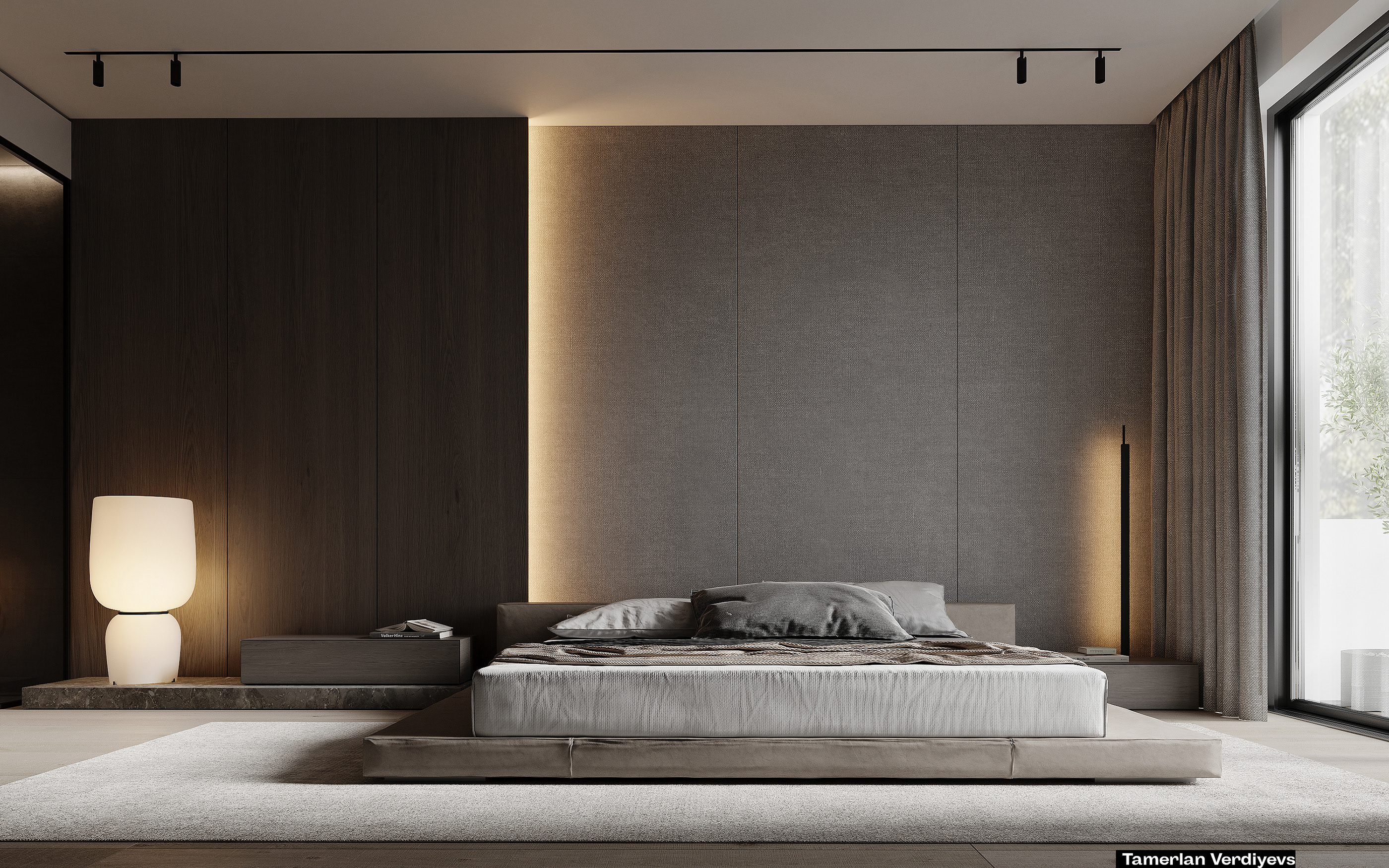 Behance: Tamerlan Verdiyevs
Futon or a very low bed
In modern Japanese bedrooms, the bed is typically a futon or low platform bed. This allows for a spacious look and feel in the room. Good news is that you can get futons easily all around the world these days - so many people found out that sleeping on a low futon is so much better for the back than a mattress!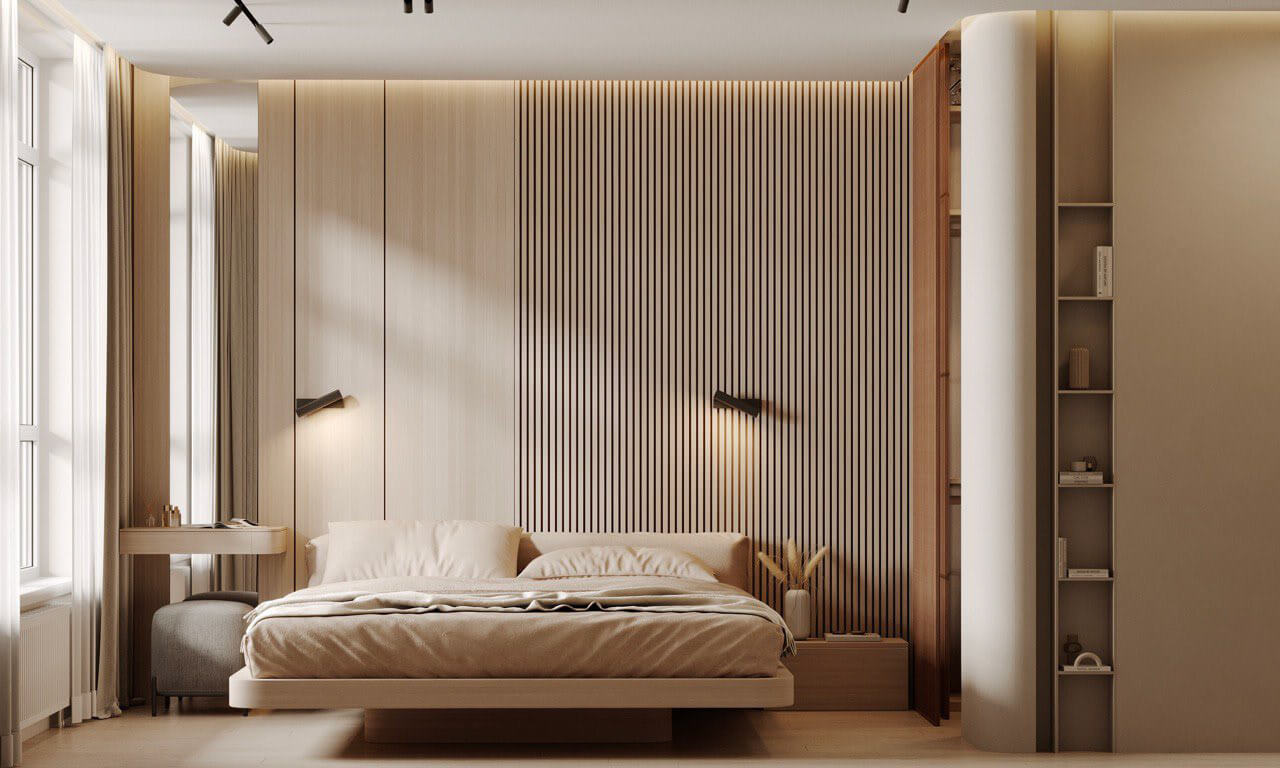 Behance: Valentina Katanova
Accessories in natural materials
The purpose of a bedroom decor is to make your bedroom a place to relax. Using aesthetic principles, you can get to that atmosphere using cozy fabrics, soft colors and natural materials. One of the main features of a modern Japanese bedroom is the use of natural materials. This extends to the furniture, as well as the accessories in the room.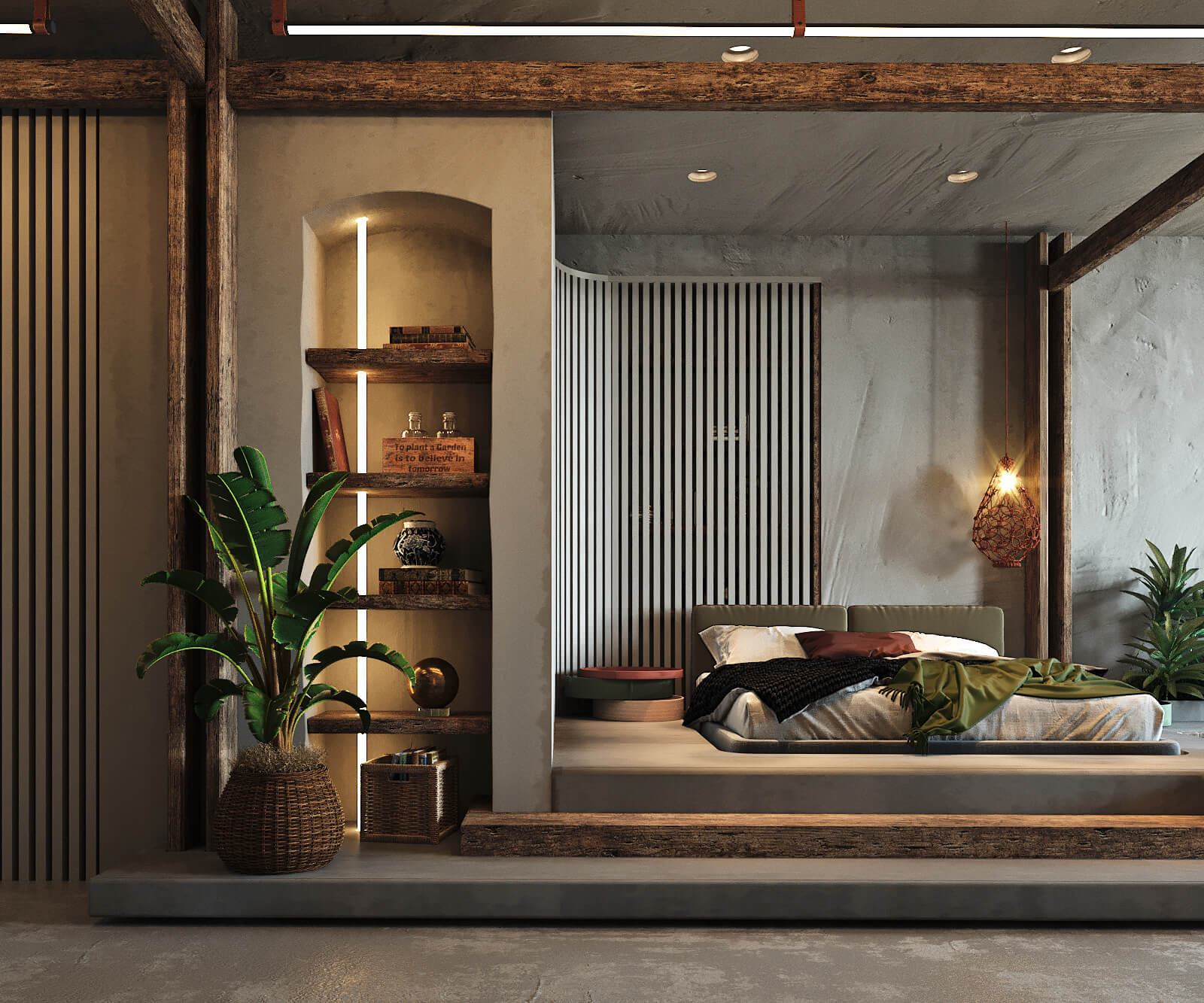 Behance: Konstantin Entalcev
If that sounds too much like a full makeover then you might want to try natural elements instead. There is a whole brand of relaxing Japanese wall art for that.
There are a number of other small accessories that you can use to add a touch of Japan to your modern bedroom. Wall scrolls, ikebana flower arrangements, and zen gardens are all popular choices.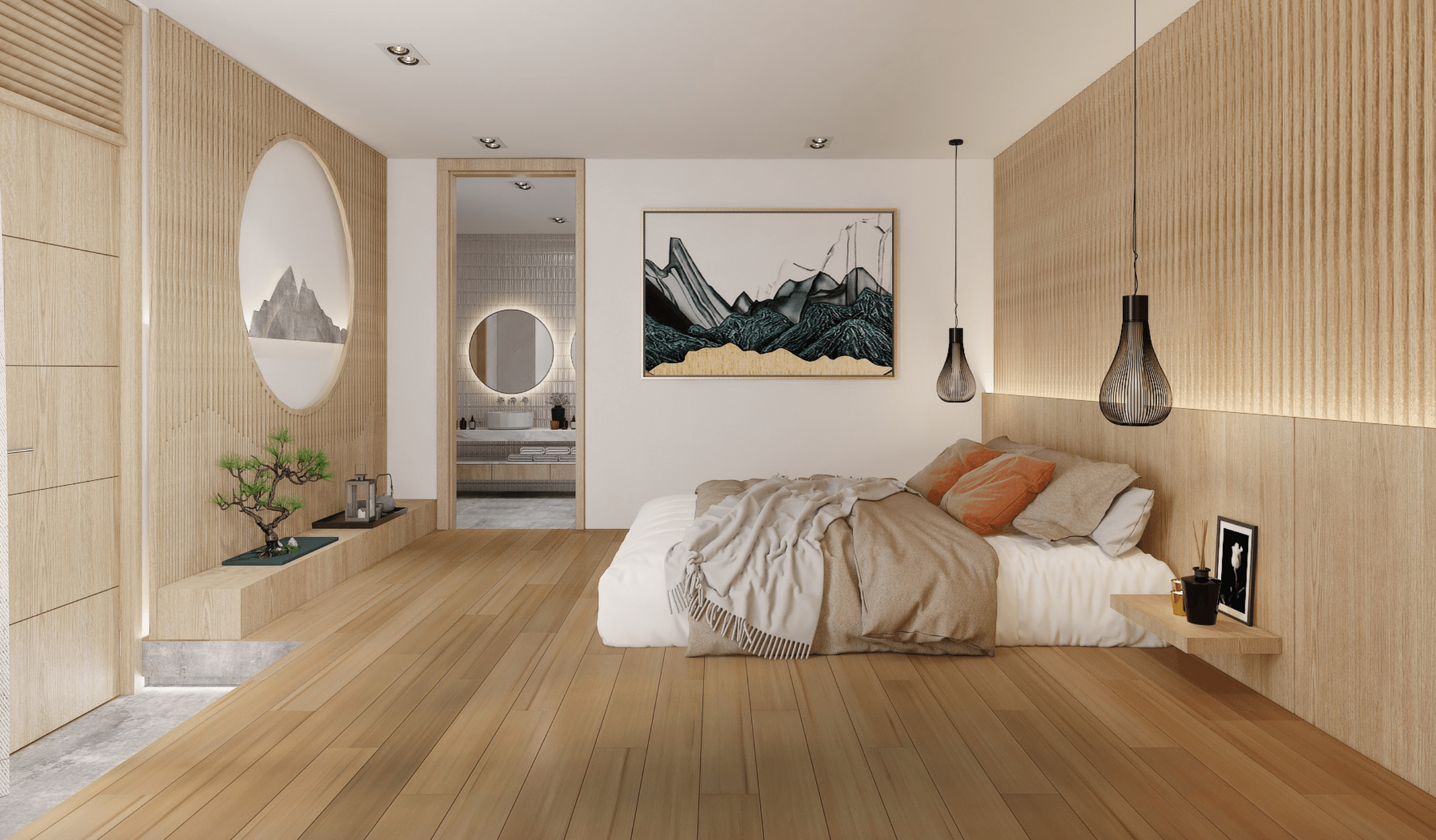 Behance: Duong Clover
People who gravitate towards modern Japanese bedrooms usually appreciate the minimalistic approach and design as well as the cultural aspects it provides. Dark colors and natural materials found in these types of bedrooms are often seen as relaxing, providing a serene atmosphere that is perfect for anyone who wants to escape the noise of everyday life.
Room dividers and geometry
If you want to create a more intimate space in your bedroom without any heavy wooden installations, consider using a room divider. This will help to section off the area where you sleep and relax from the rest of the room. Room dividers in natural wood or in dark colors are the best for the aesthetic.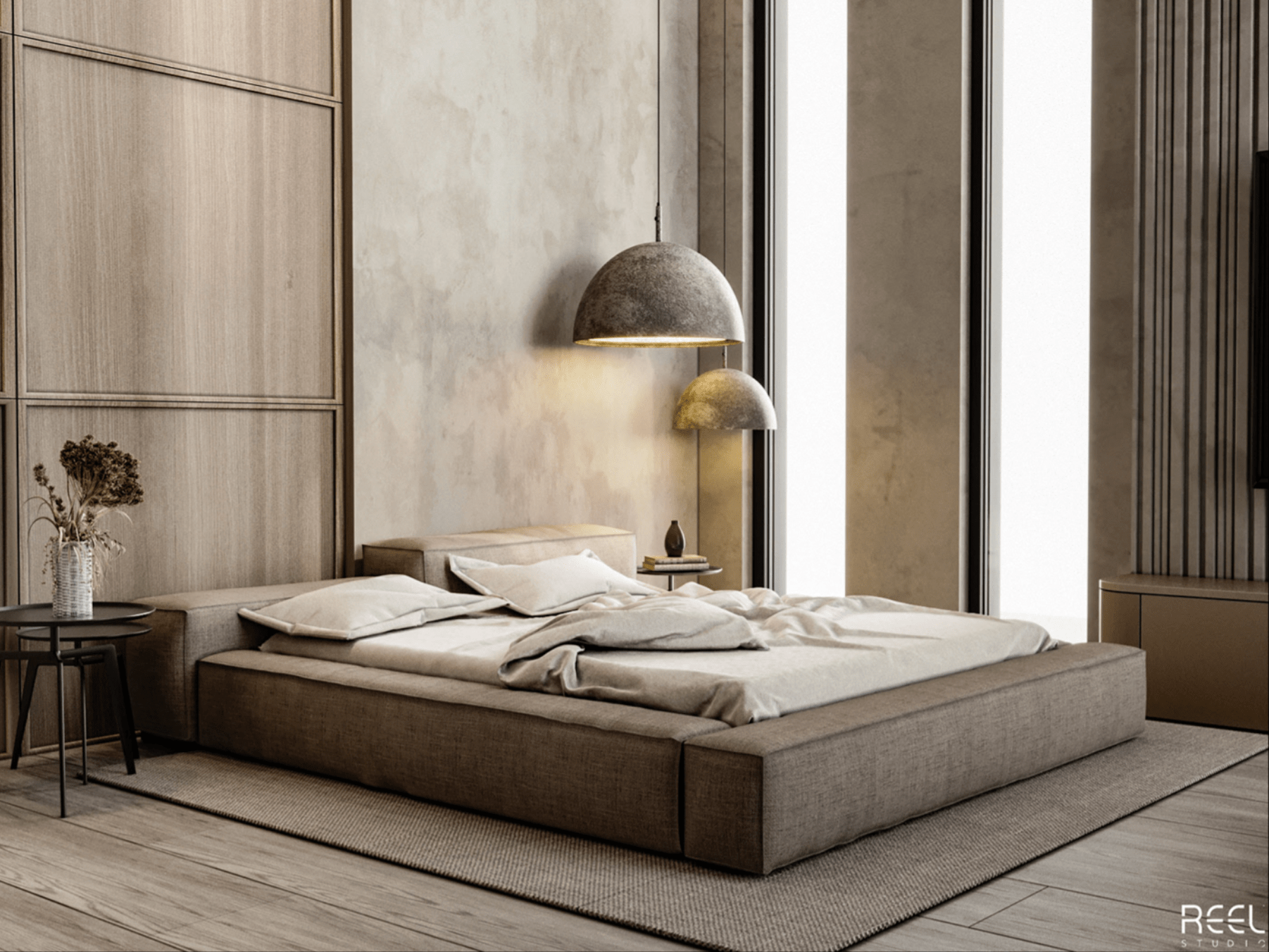 Behance: Reel Studio
If you're looking for a modern and minimalist bedroom and are not afraid of dark primary colors, you'll love a modern Japanese bedroom.