Pink Aesthetic Clothes: From The Romantic To The Boss Bitch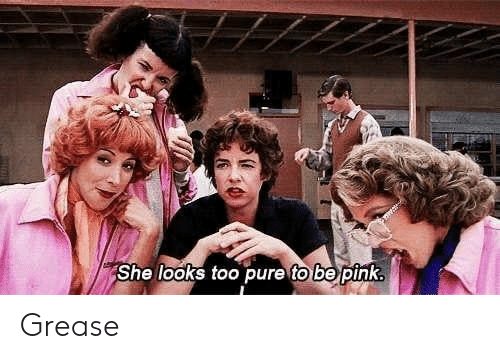 All photos except hero via Matches Fashion, retrieved 27 Jun 2022
Pink is the sweet and girly colour…If you want it to be. The famous line from Grease - She looks too pure to be pink - says it all.
Still, the full-on romantic is the most notorious way to wear pink aesthetic clothes.
Pink Frilly Dresses For Your Cottagecore Fancy
I know some of you love romantic aesthetics. Also, judging from the amount of frills that comes up when searching for pink clothes at most fashion retailers, I gather that the romantic version of pink must sell really well.
Thierry Colson, Yolande dress
It's also almost summer which means that half of the world is collectively shopping around for cottagecore dresses. Cottagecore, at least in its classic women's edition, is about looking like you just stepped out of a fairy tale. It's perfect for people who love flowery prints and soft colours.
There are other ways to do cottagecore, by the way.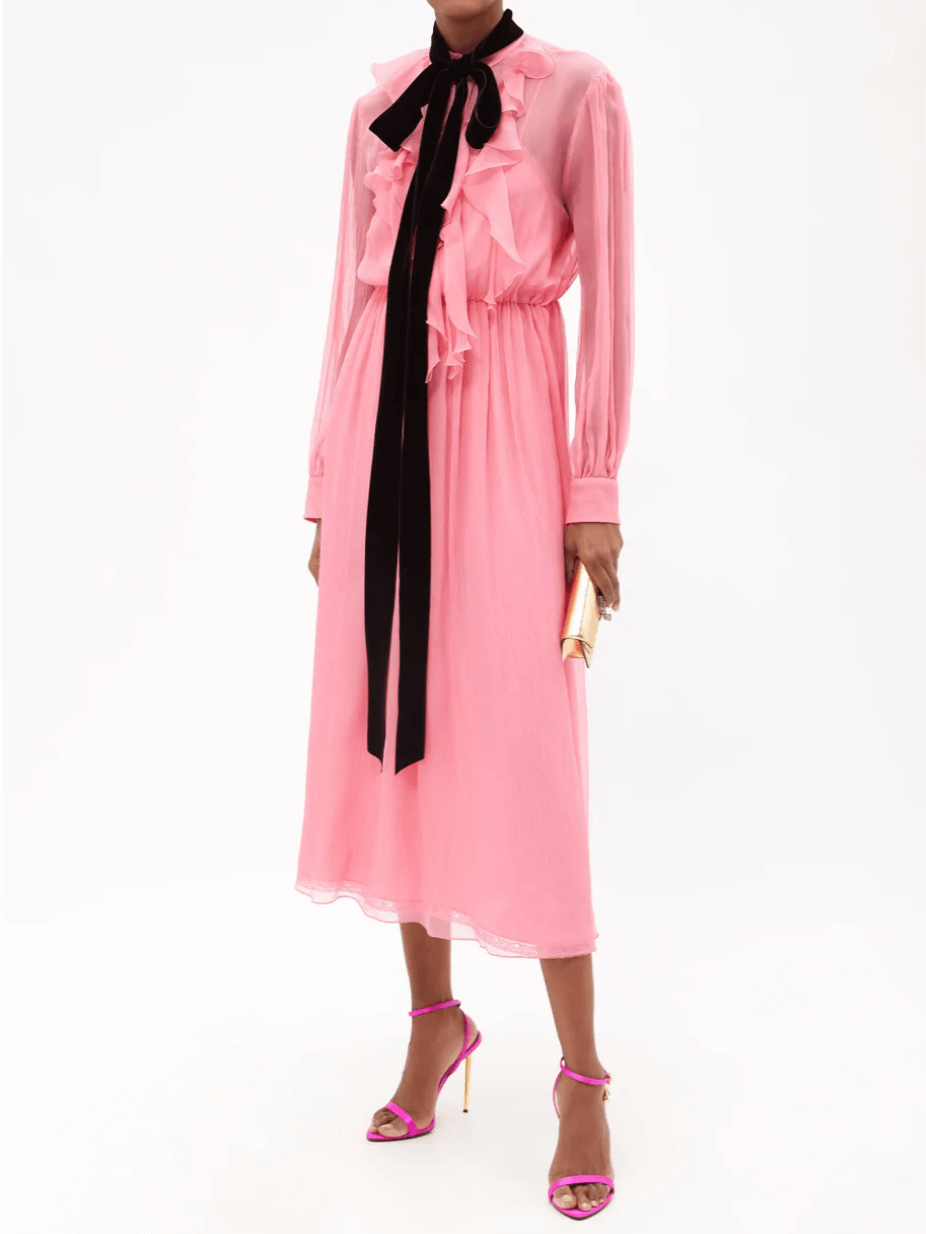 Gucci, Velvet ties silk midi dress
But if you do want to look like you've fallen out of a Jane Austen novel, and you want to do that wearing pink clothes, here's great news for you: There's so much to choose from in designer clothes right now.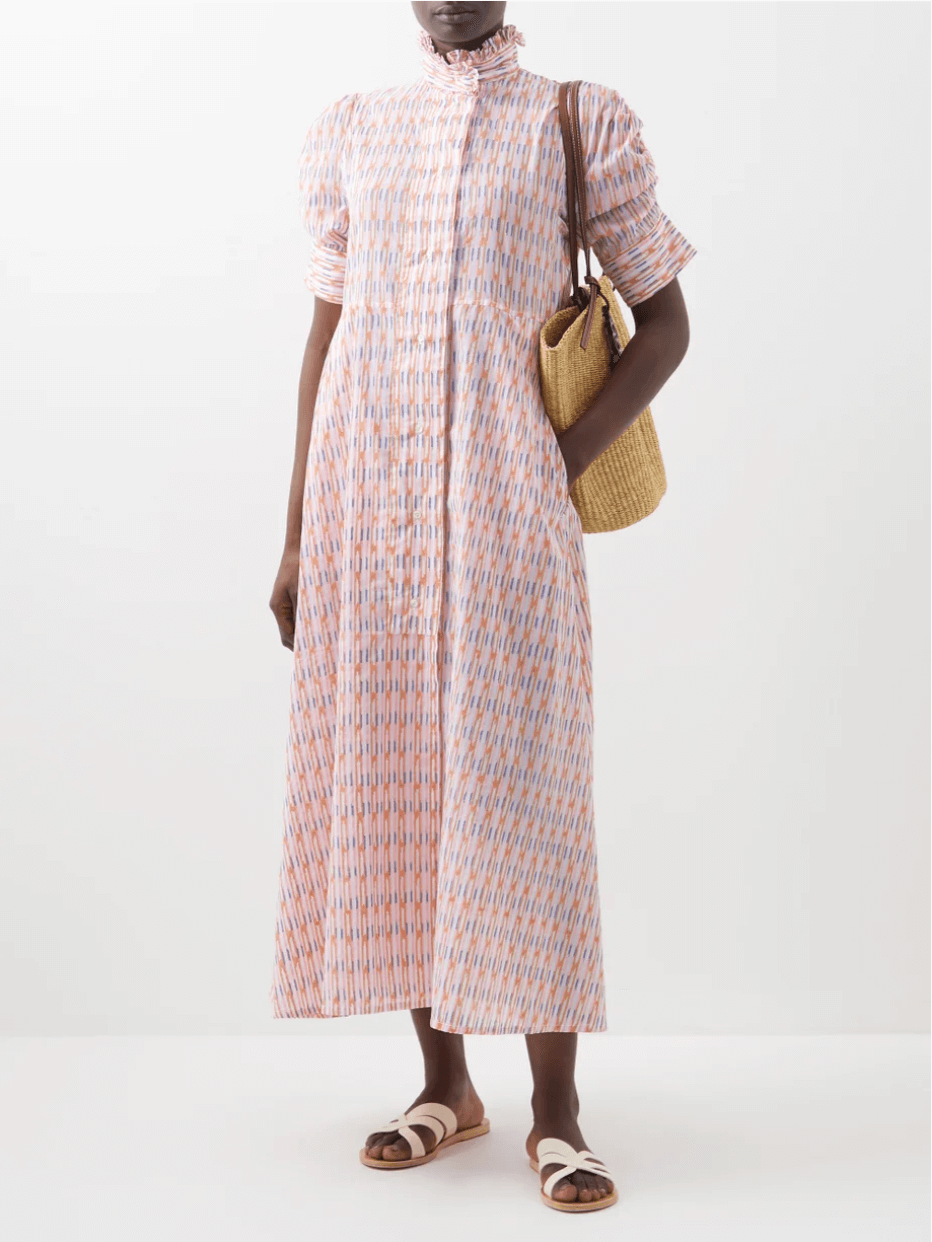 Thierry Colson, Venetia dress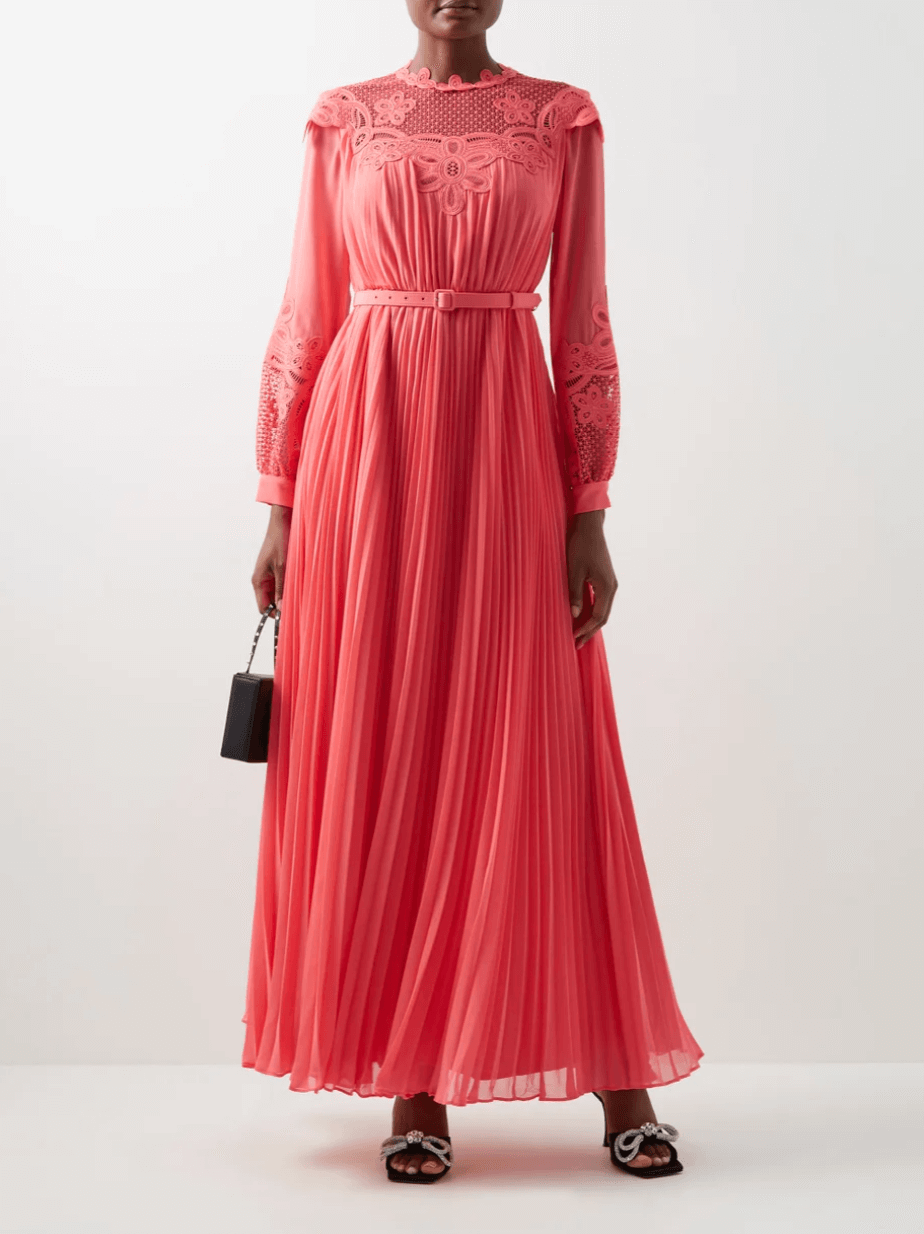 Self Portrait, Pleated chiffon maxi dress
Cefinn, Sawyer dress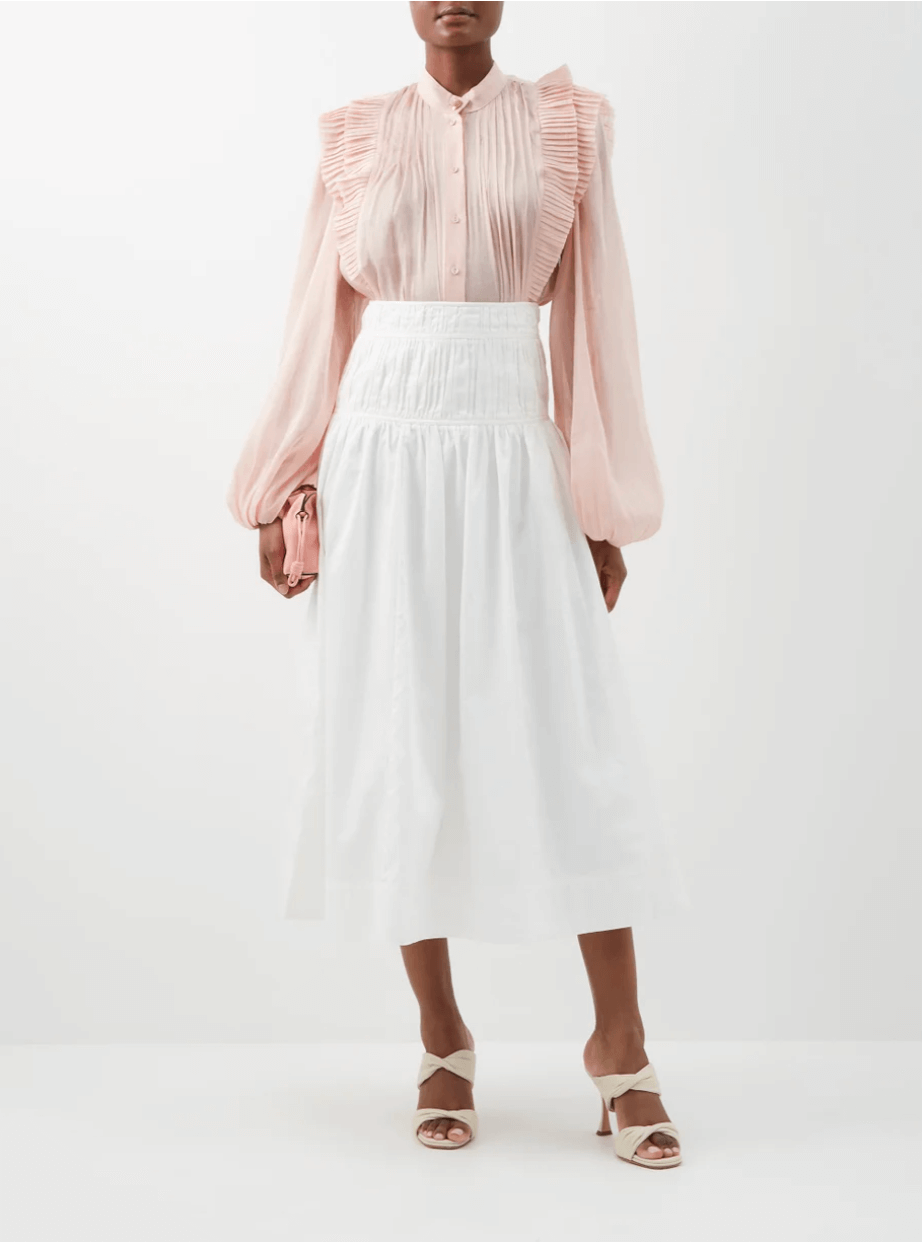 Aje, Ruffled linen blend blouse
Power Dressing The Girly Way: Go Big Or Go Home
So, that was the classic way to wear an outfit where the statement piece is a pink aesthetic garment. But what if you take the cute romantic pink dress and turn it into a power item?
Did anyone say frills and bows? Well then. Let's give them frills and bows!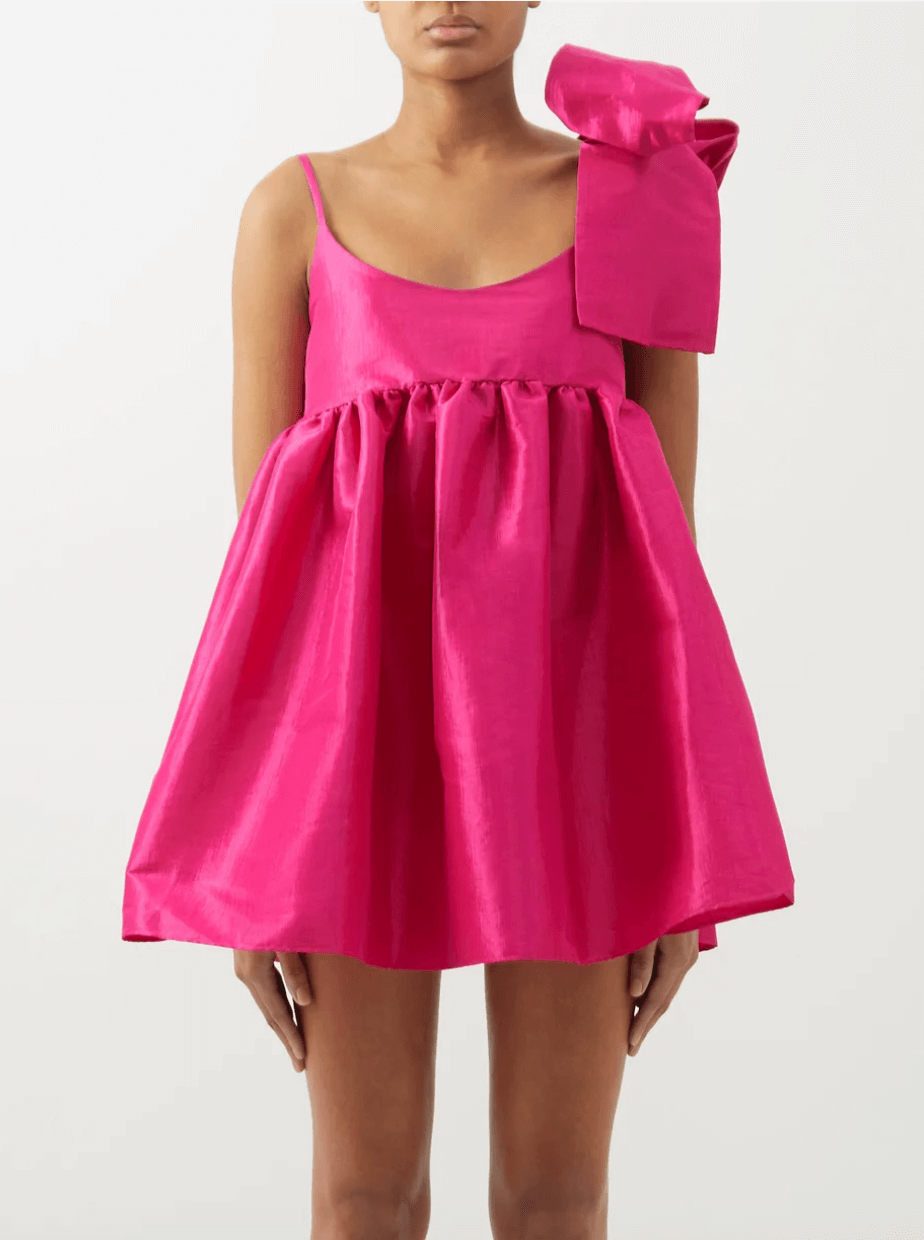 Kika Vargas, Mathilde taffeta dress
This way of styling pink has all the frilly details that a romantic aesthetic would have, but they are blown so out of proportion that the dress becomes aggressive in its femininity.
This is the way to wear pink without looking pure.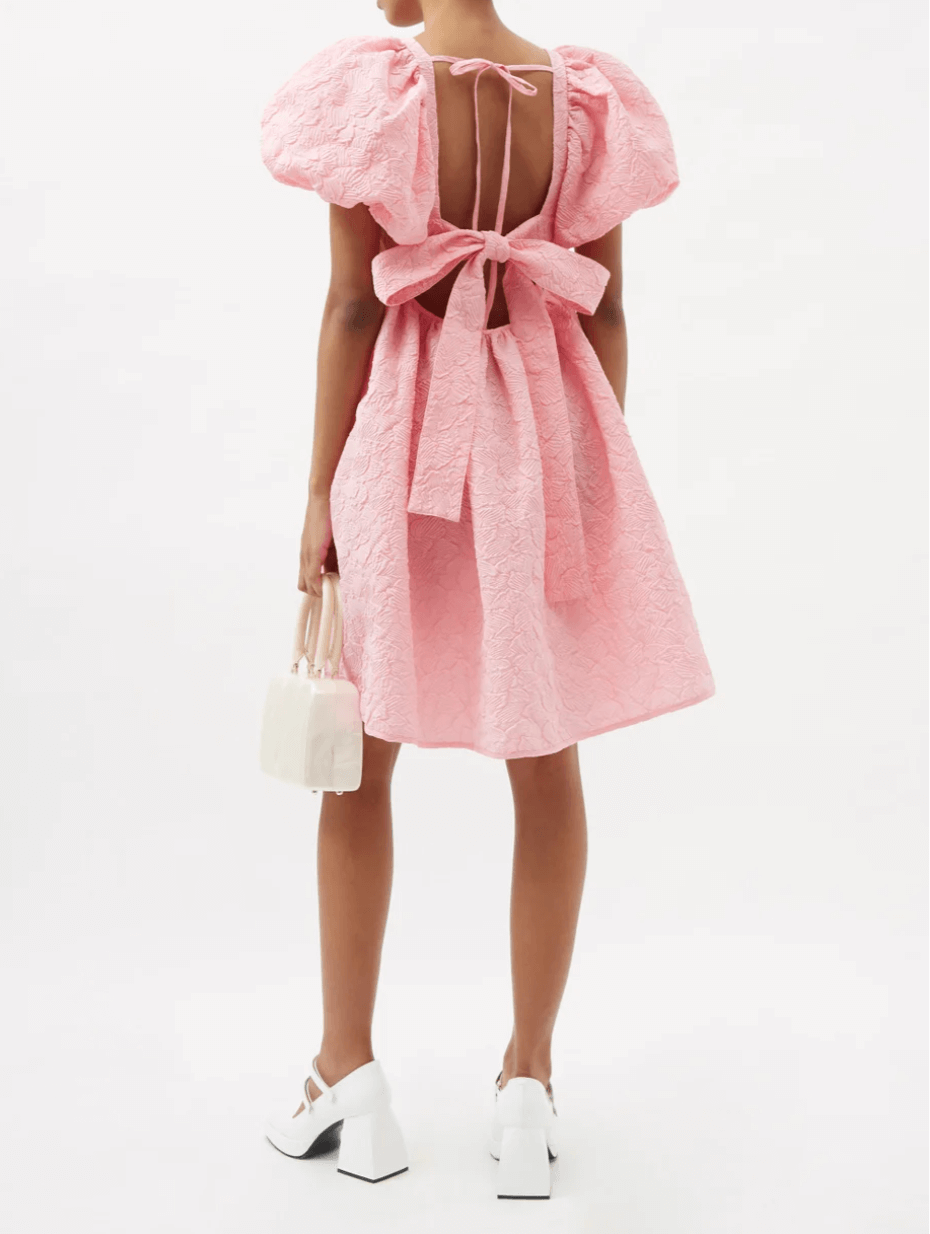 Cecilia Bahnsen, Tilde minidress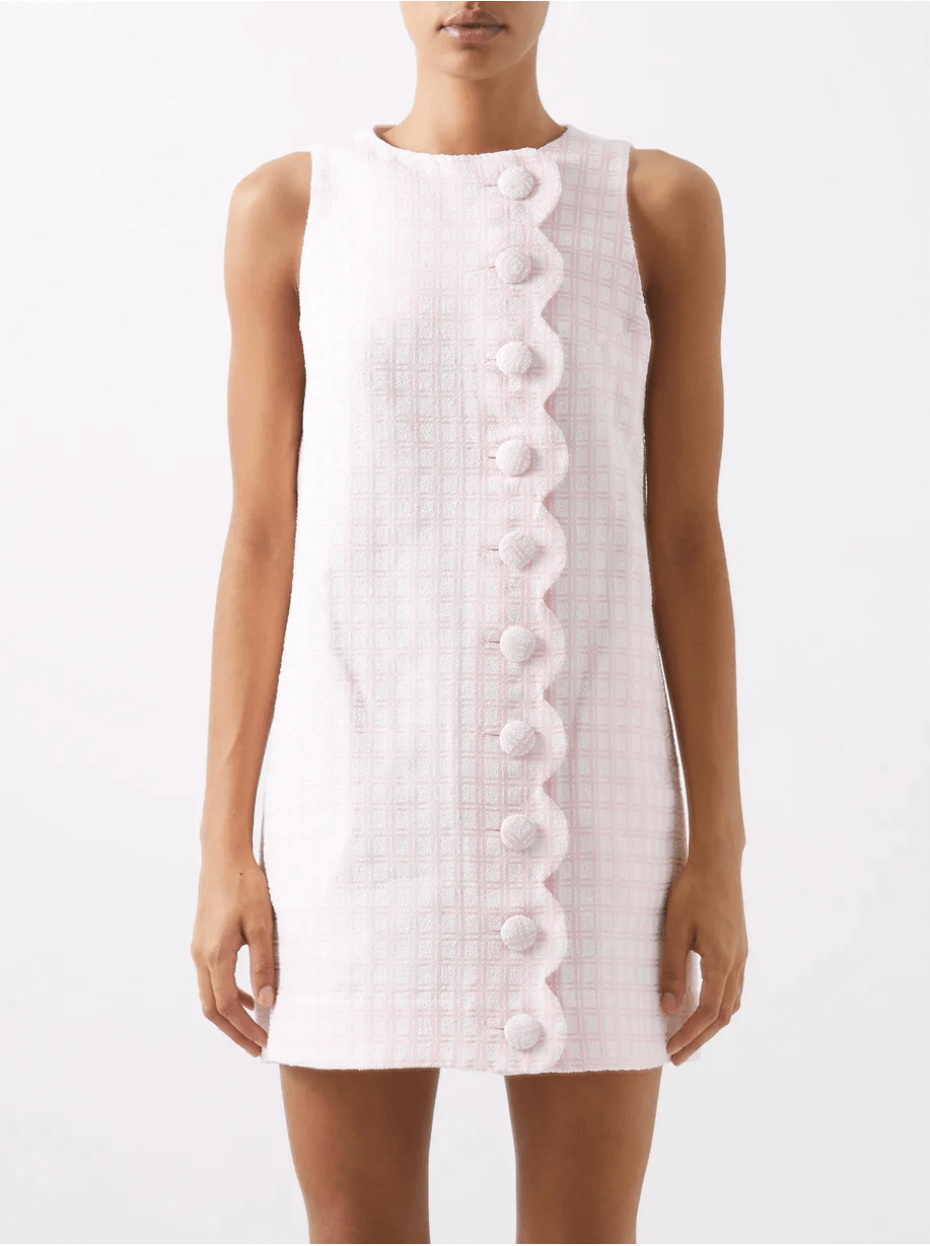 Lisa Marie Fernandez, Scallop front minidress
This is such a fun way to make a power statement. If you like it but don't want to spend on designers, Cocosin is a small indie brand that does this type of overstated femininity.
The Boss Bitch Aesthetic In Pink
OK. But is there a way to wear pink aesthetic clothes without making the outfit look sweet and romantic? Not even in an absurd way or as a joke?
Read on, if you want to know.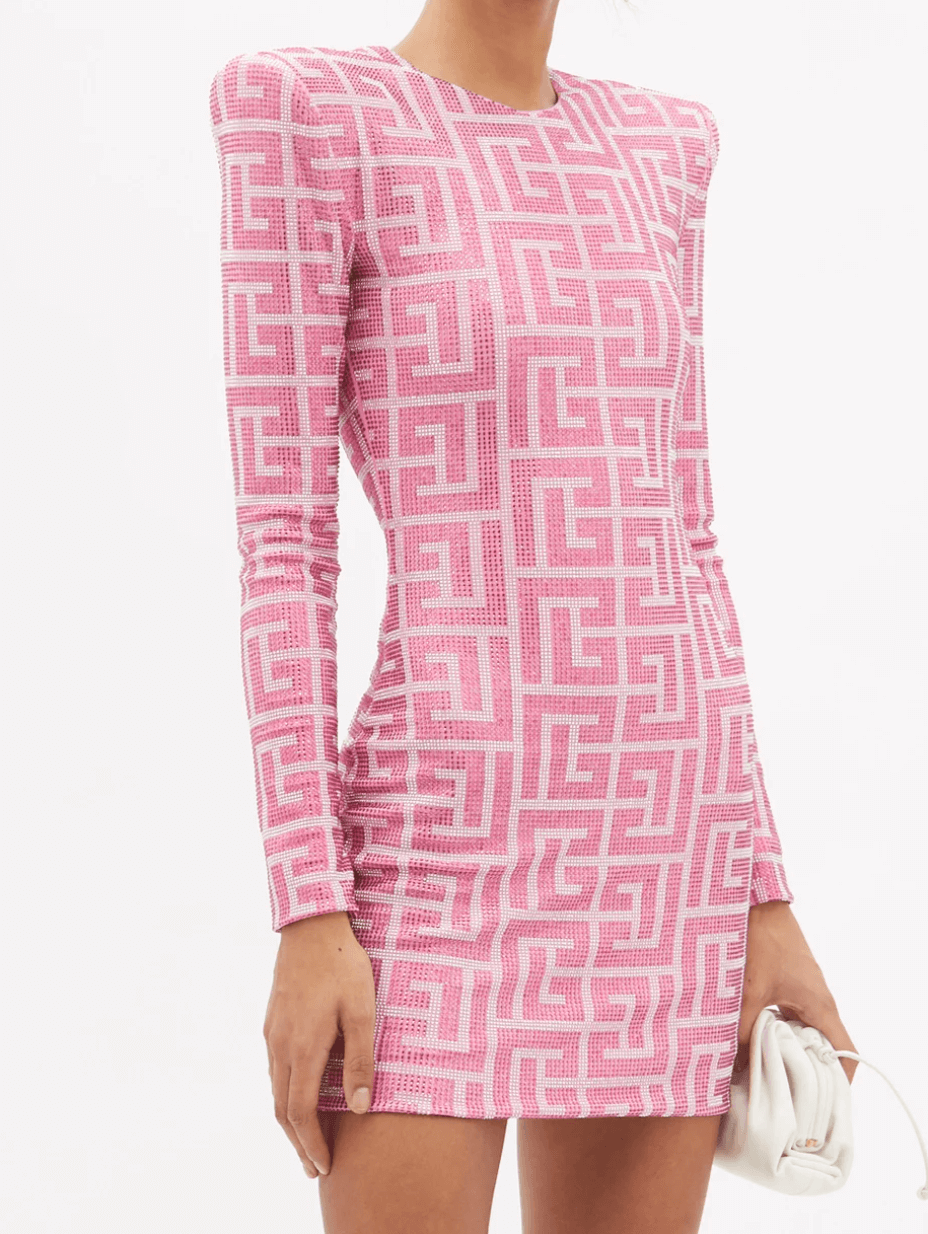 Balmain, Monogram jaquard minidress
Some of you might not know what I mean by boss bitch. It has nothing to do with arrogance or bullying which is what the term bitch suggests. Boss bitch is a woman who knows who she is and what she wants. It is this confidence that commands respect.
A boss bitch walks into the room aware of her power and not ashamed of it. She demands respect from others by the sheer energy of her strut.
Now that's an aesthetic, isn't it?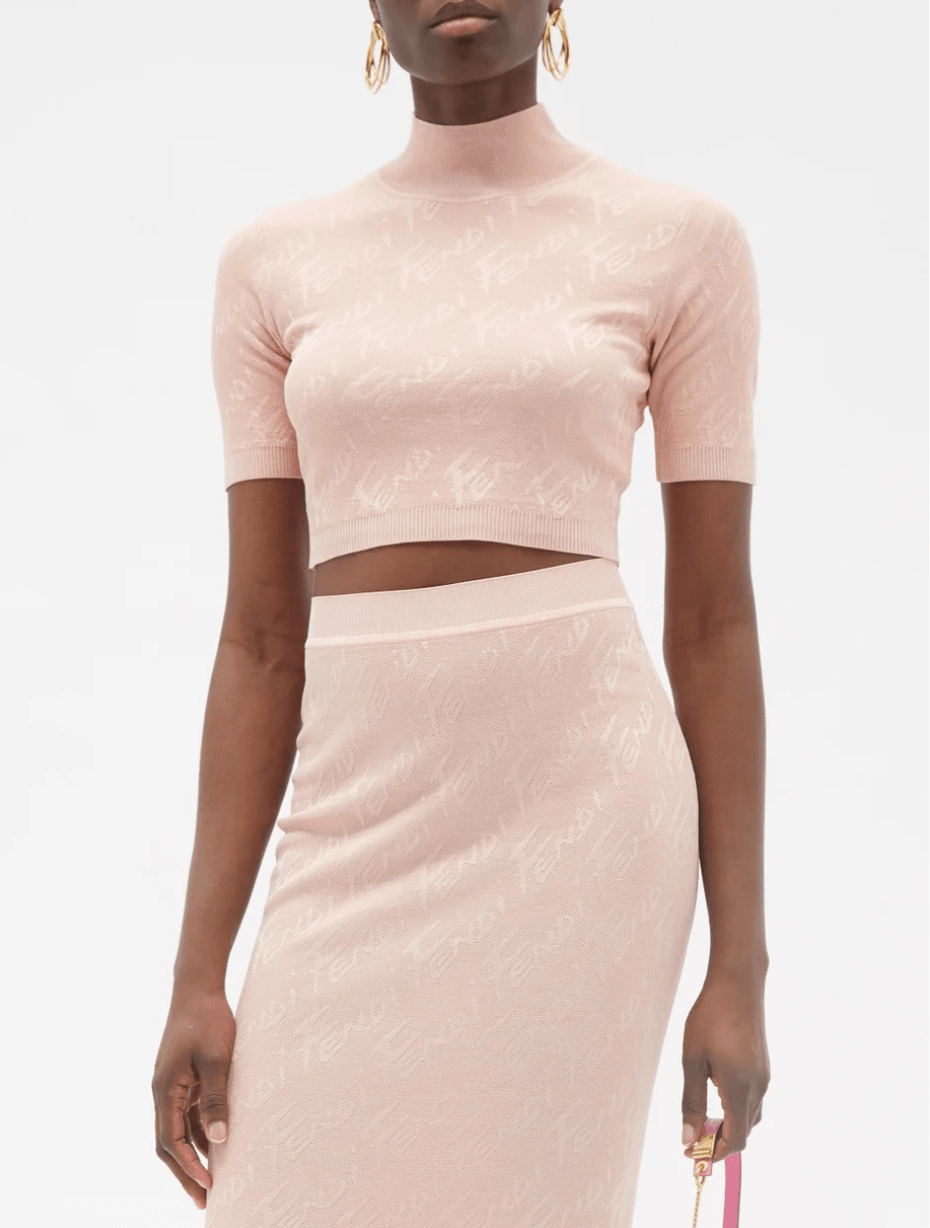 Fendi, Jaquard two-piece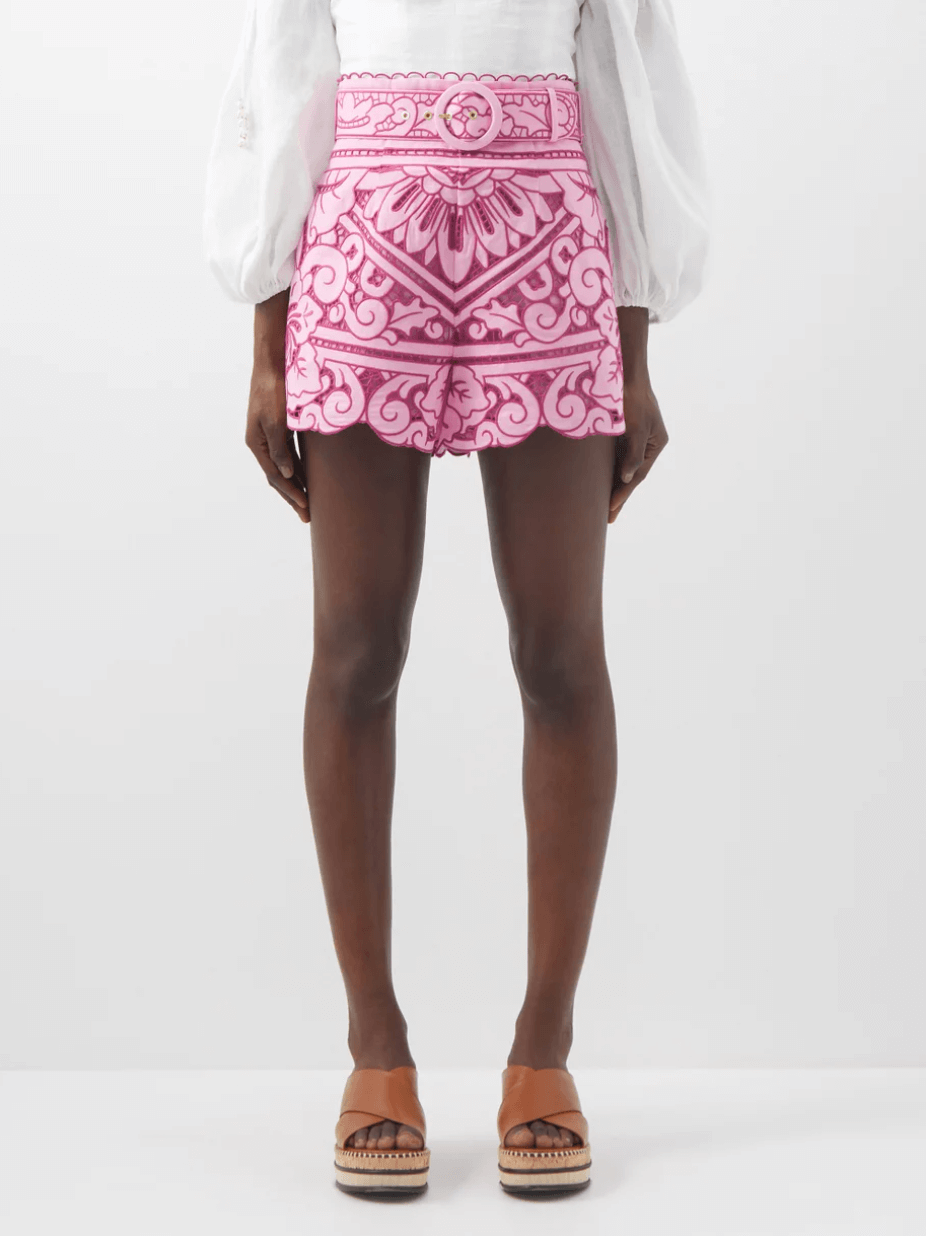 Zimmermann, Jude shorts
If you are more of the sporty type or if you just want to add pink to your outfit without going girly, here is the gist: Make it all about the cut of the pink garment and add any accessories that are the opposite of romantic.
If you're wearing a bodycon dress that screams "boss bitch", with the right accessories the dress will scream the same in pink as well.
There's a catch in it though: To complete the boss-bitch look, you'll need the right attitude.
It's never just about the clothes you wear but also how you carry yourself. So, when you're putting together your boss bitch outfit, remember that attitude is everything.
Here is the 101 on how to get the boss bitch aesthetic down:
Start with the basics: a good quality blazer, a well-fitting dress that shows off your body.
Add some edge with accessories: this is where you can get quite masculine.
Go for bold make-up: the classic choices are dark lipstick or smoky eyes, but if your eyebrows are done and your skin is OK, then you can have a nude lip and let the brows be the statement.
Final Words
So, how do you style pink clothes? You can go the romantic route by pairing them with soft neutrals and delicate accessories. For a more boss bitch route, mix pink pieces with edgy black accents for a striking contrast.
Whichever way you choose to wear it, make sure to have fun with this notorious colour, because that's what indie fashion is about!
Scroll for a few more aesthetic pink clothes ideas that did not fit into the post, but are too good to be missed.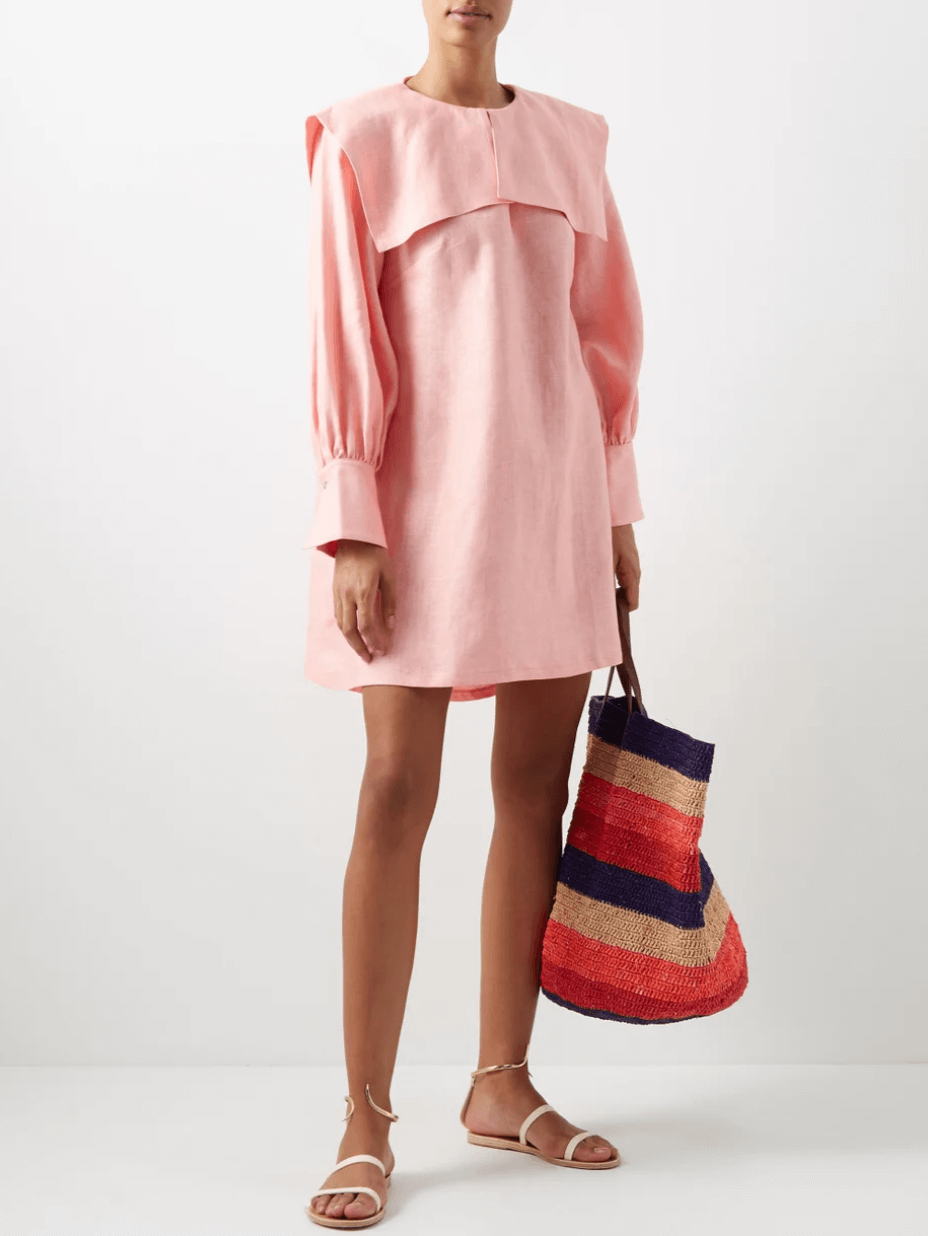 Les Vacances d'Irina, Panarea dress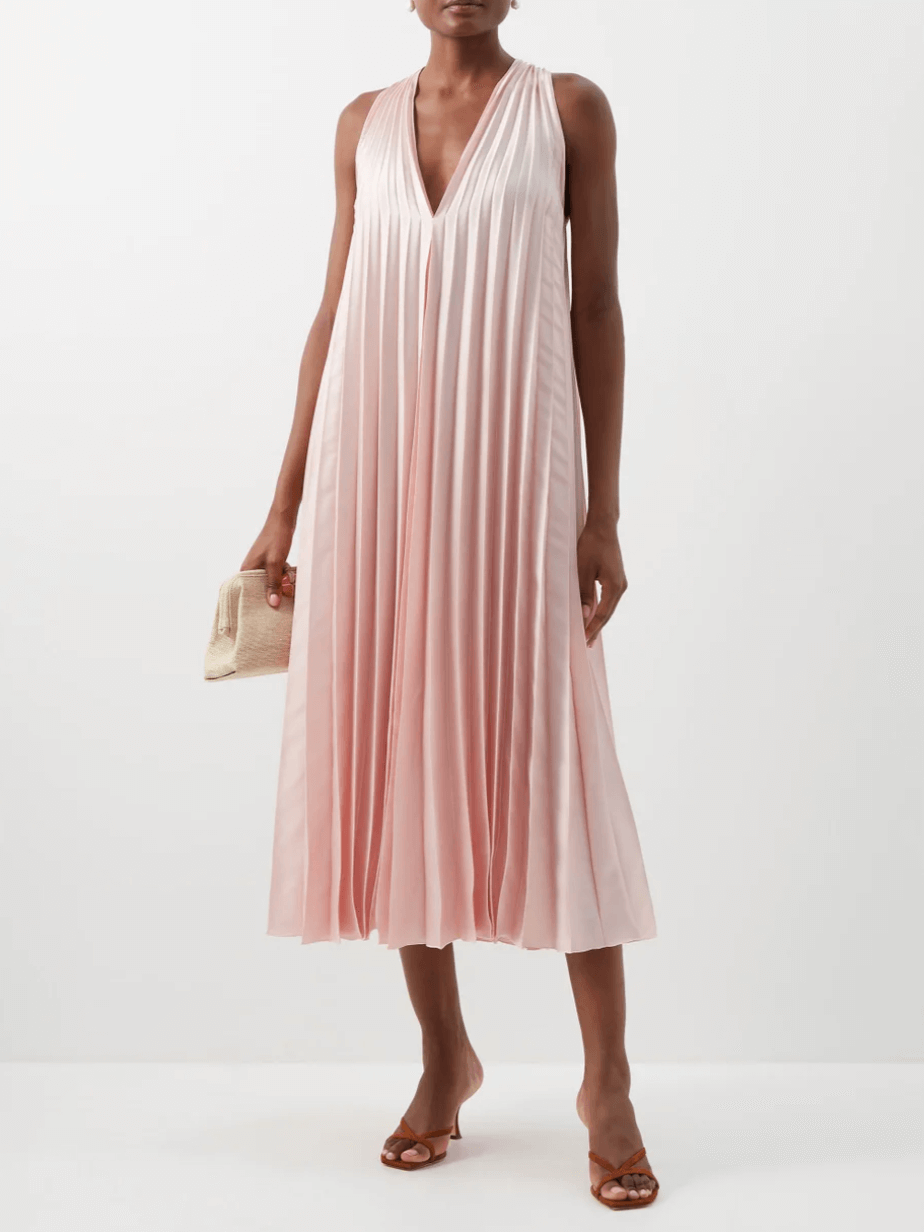 Zeus + Dione, Iante dress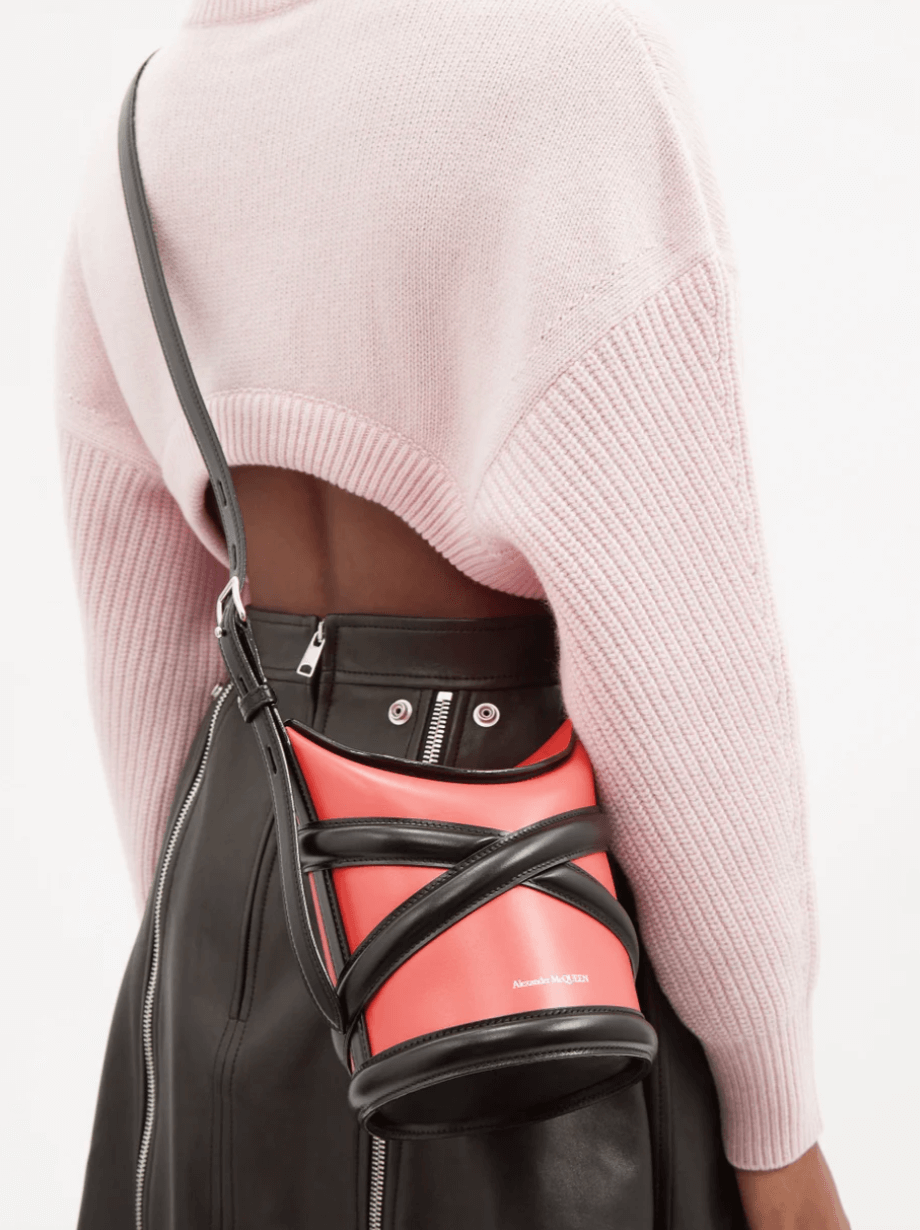 Alexander McQueen