Dark Academia Aesthetic Outfits: 3 Out Of The Many Vibes of Dark Academia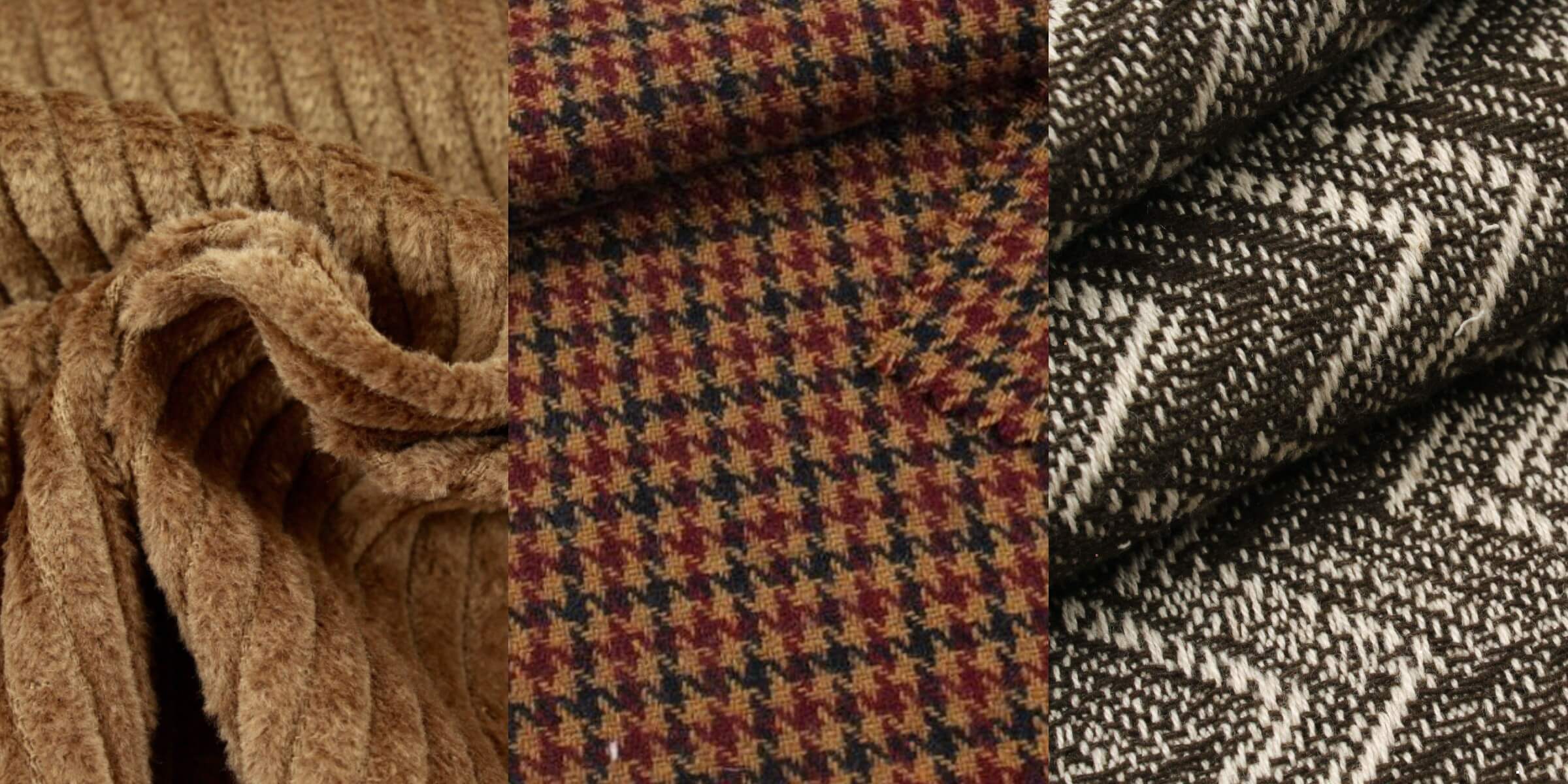 Hero image via www.fabricsight.com
Dark academia aesthetic clothes are the perfect way to capture the dark, romantic look of the dark academia aesthetic.
Dark academia clothes aesthetic is not all the way darkcore, but make no mistake: Dark academia is dark.
A Redditor on the sub dedicated to this indie aesthetic described the dark academia aesthetic really well:
The thrill of being in a murder mystery novel while studying Greek gives more motivation to some rather than just reading or writing papers.
You want your experience with the language and the culture of it, not only reading about it.
So you dress up as an actor playing one of the main characters from any tragedy or even a self-insert story where you're rebelling against your school because "they" don't understand you.
The dark academia aesthetic aims to encapsulate the darker side of academia, the scary walks on a remote campus late at night, the pressures of pursuing achievements and the heavy thoughts that come with knowledge you gain.
How do you do that?
This is an indie aesthetic, there are very few rules: You can absolutely get a print tee with a horror-inspired slogan.
But if you're going for the vibe of an actress who's playing the role of a distressed student who scrambles to pull herself together, there are better options.
1. Slouchy Dark Academia
One way to let the stiff academic face slide is to do it baggy. Baggy aesthetic is often associated with slightly anti-social tendencies and that might be the dark element that does it for you.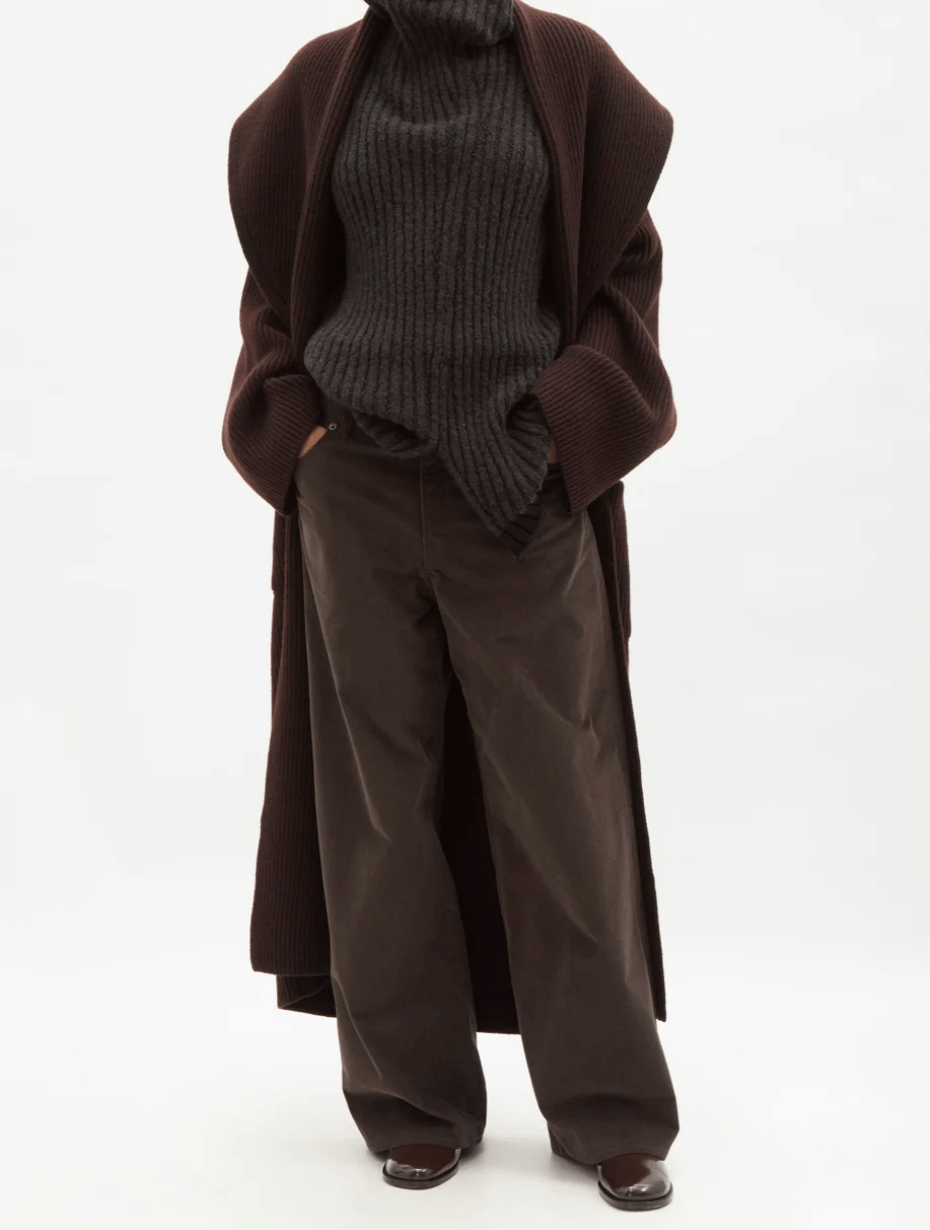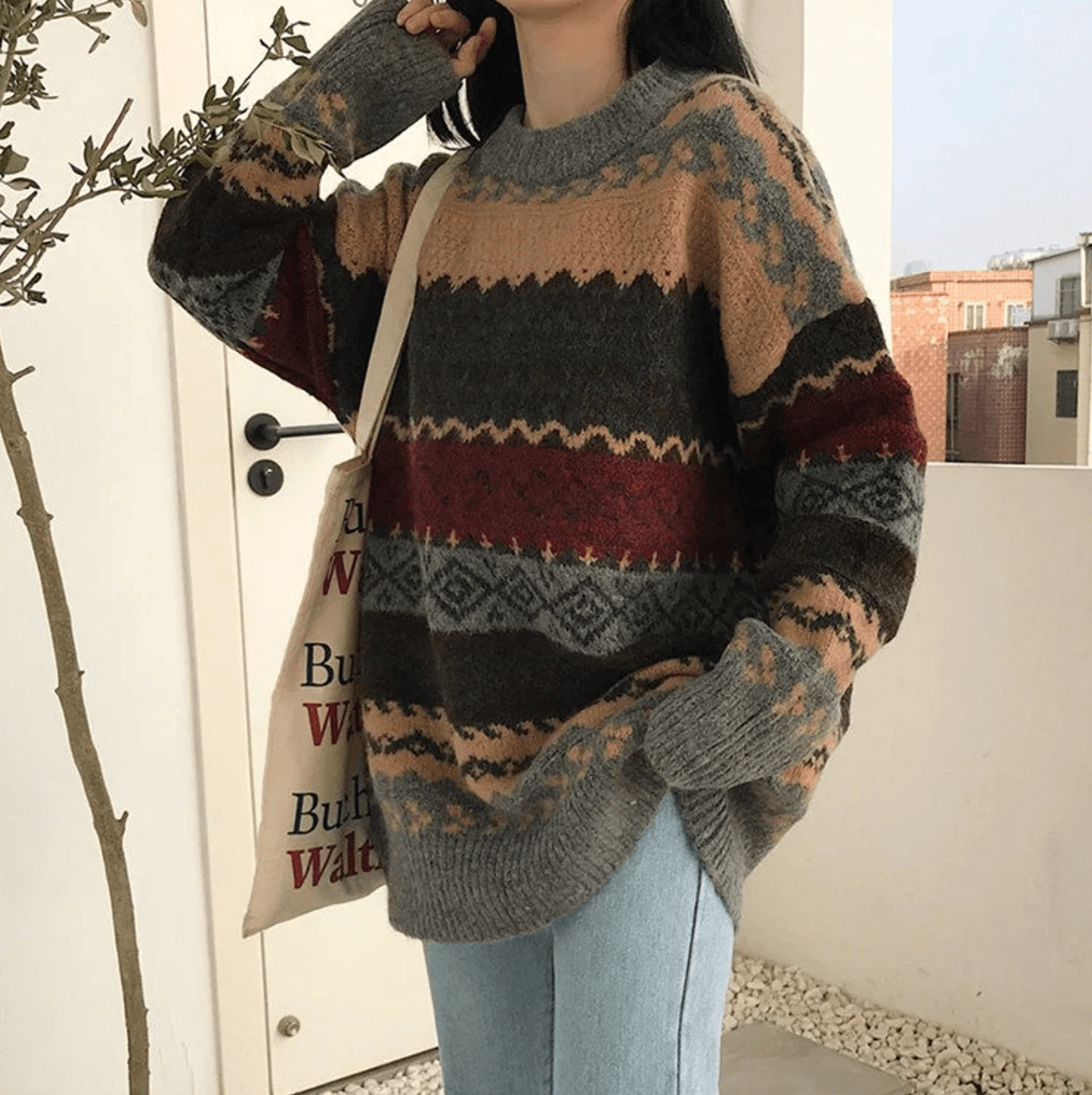 The Row, Egli Corduroy Trousers via Matches Fashion
Etsy, TpopZ, Vintage Jumper
2. Distressed Dark Academia
Another way to get the garments that could well be preppy, if they weren't distressed. That's a way to get the vibe of a starving artist.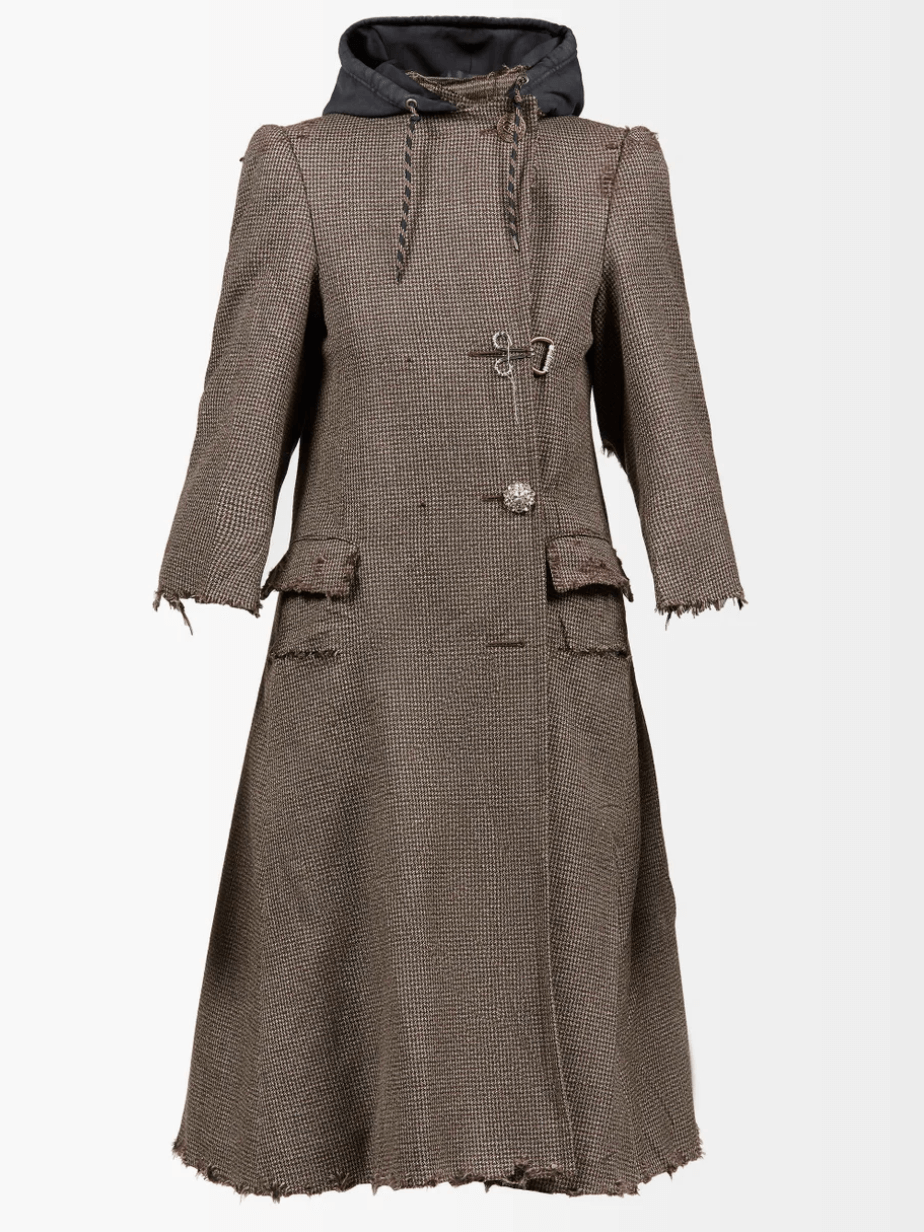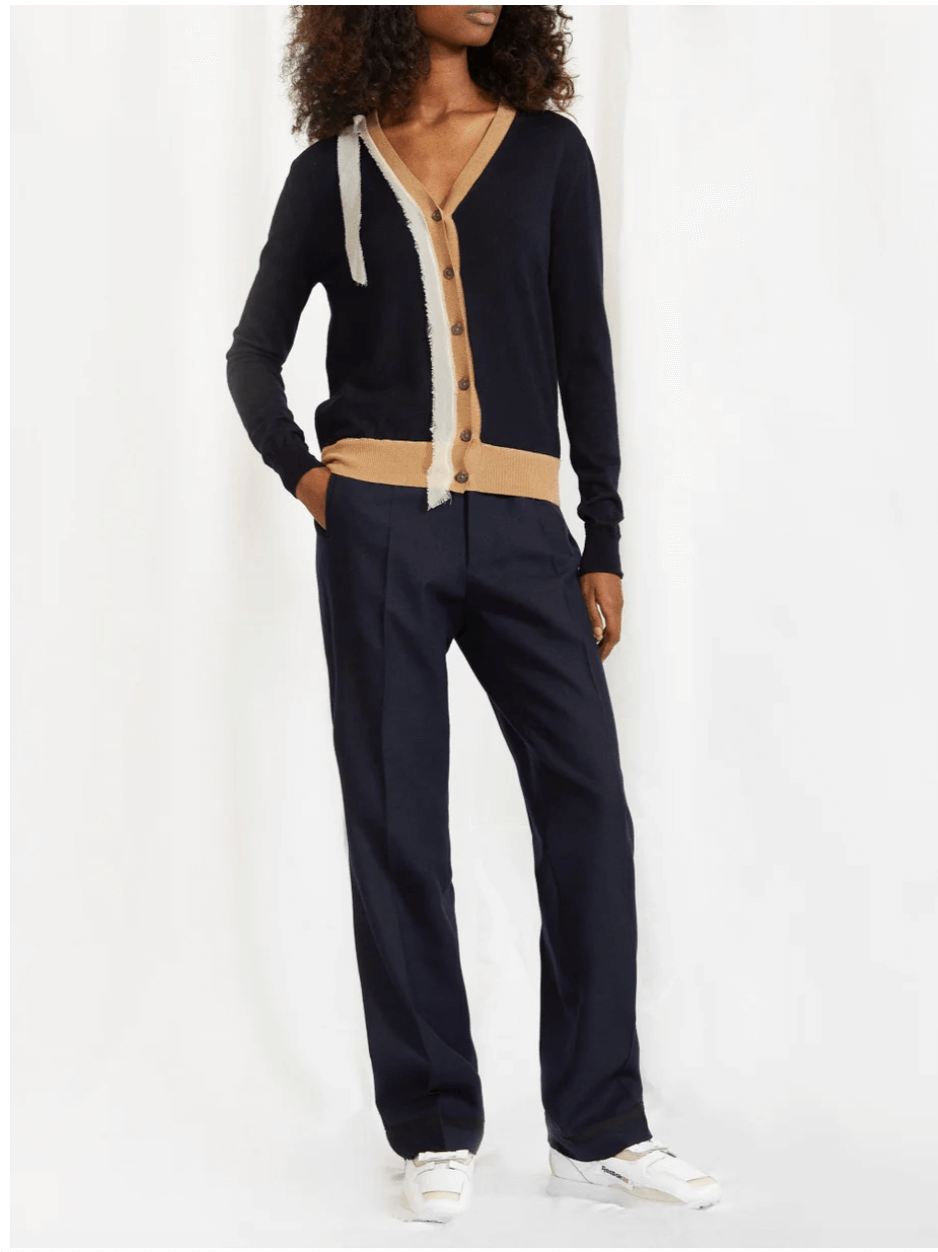 Balenciaga Distressed Houndstooth Coat via Matches Fashion
Maison Margiela via Matches Fashion
3. Or Just Keep the Colours Dark…
But sure you can go just for academia clothes in dark colours. Indie fashion is great in that you can do absolutely whatever you feel expresses the mood that you go for.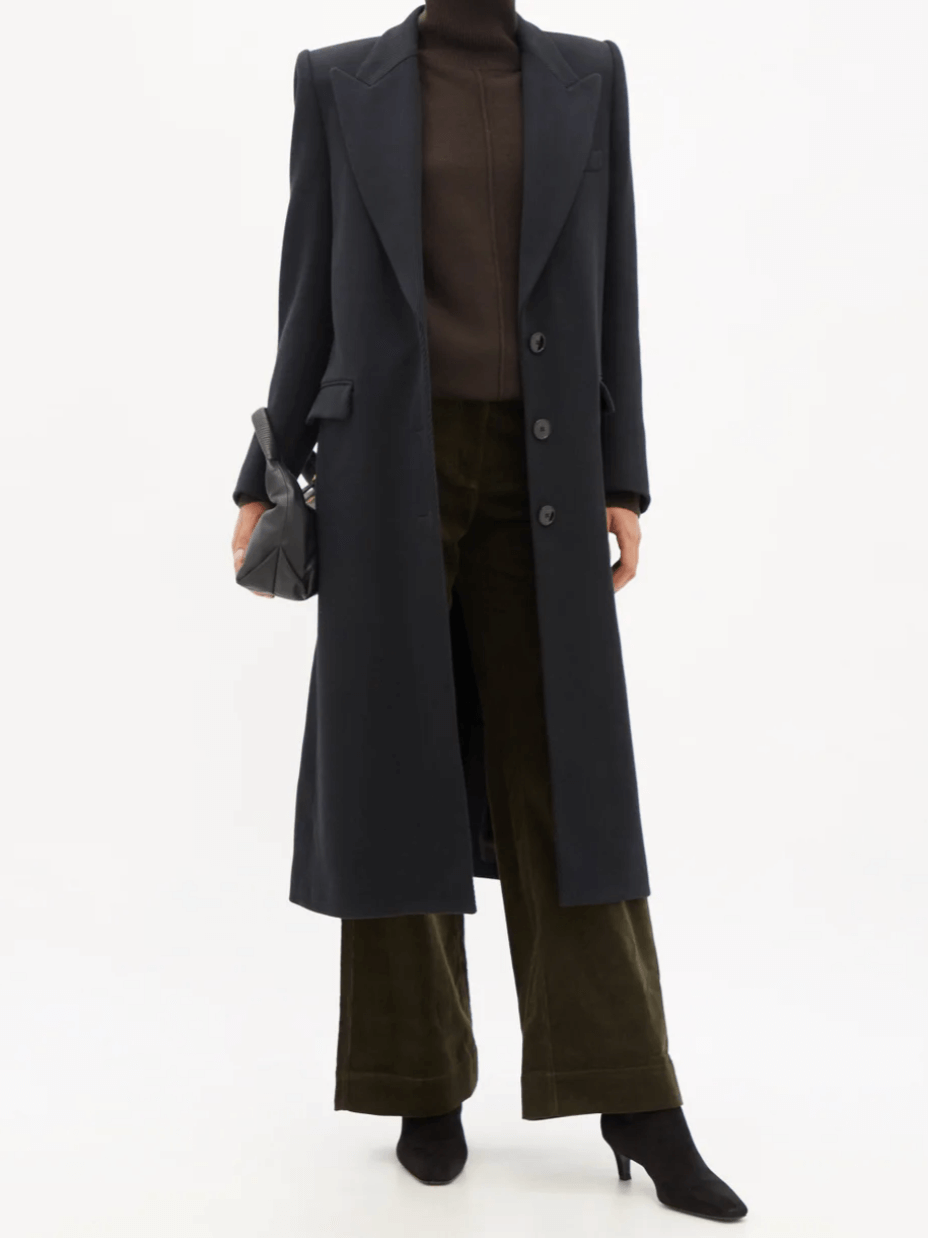 Cefinn, Tennyson trousers, and Isabel Marant coat, both via Matches Fashion
Chloe trousers and Petar Petrov coat, both via Matches Fashion
Where to get the basics
Where do you get the basic pieces to build up your dark academia outfit base?
Dark academia is one of the indie aesthetics that is quite easy to wear, which made it fairly popular. That means you will find plenty of clothes in boutiques, on Etsy and from indie designers.
You will definitely find garments fit for dark academia outfits in mainstream retailers and fast fashion brands, too. ThredUp has a lot of good stuff, but you need to dig around.
The High Street
If you don't mind mass high-street retailers, COS (cosstores.com) is always the go-to for tailored trousers. They will have some tailored trousers year round.
They're expensive, I know - you'll get designer pants for around that price at Matches Fashion when they run sales - but COS really sells good quality basics.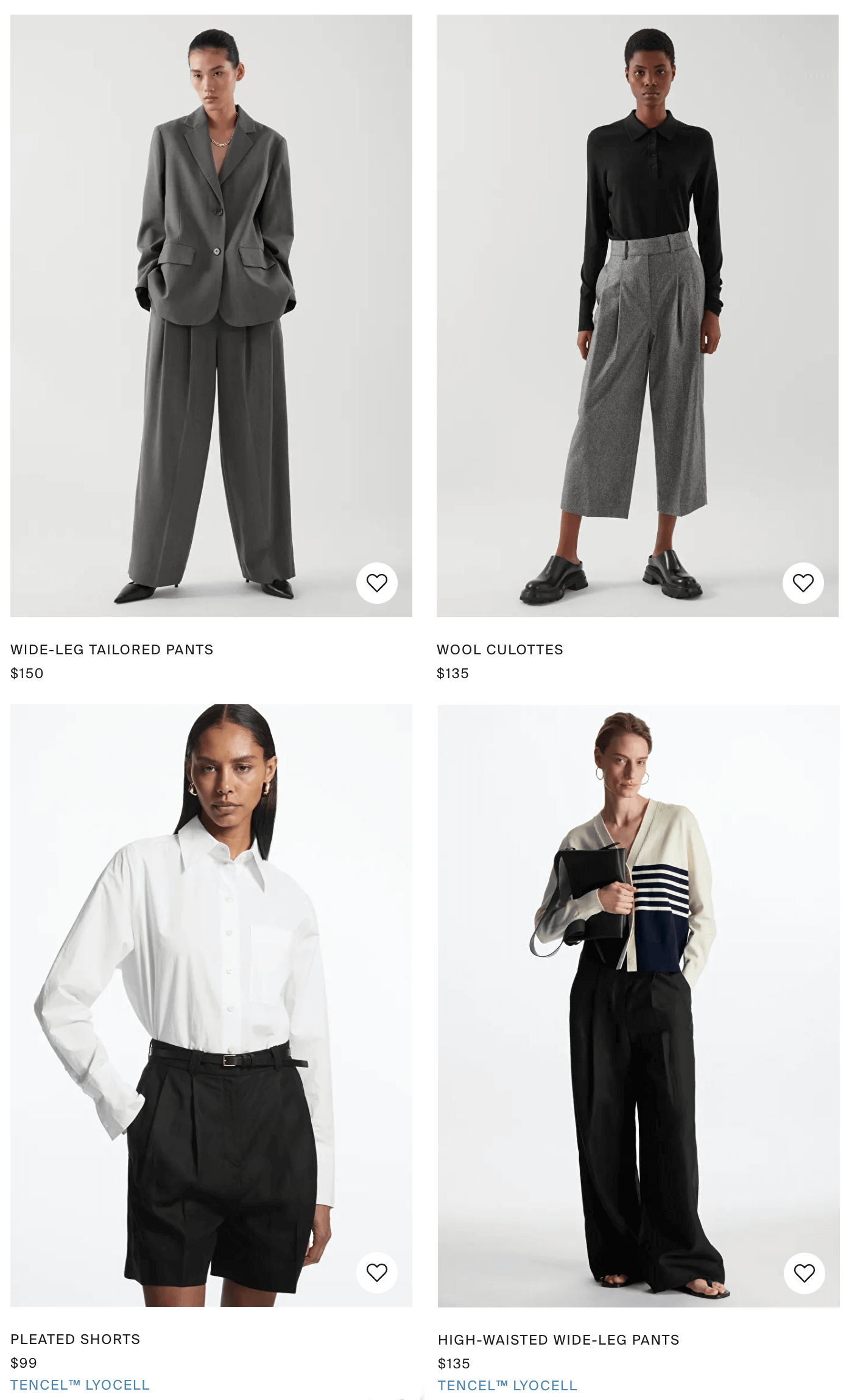 Etsy
Dark Academia is one of the most sold aesthetics on Etsy. I found that there is a lot of resellers though. Here below I picked two Etsy vendors who seem to be genuinely focused around academia aesthetics and have the widest choice of clothes.
That is, not just the generic corduroy pants which may be seen as the bare minimum to make your outfit pass as dark academia.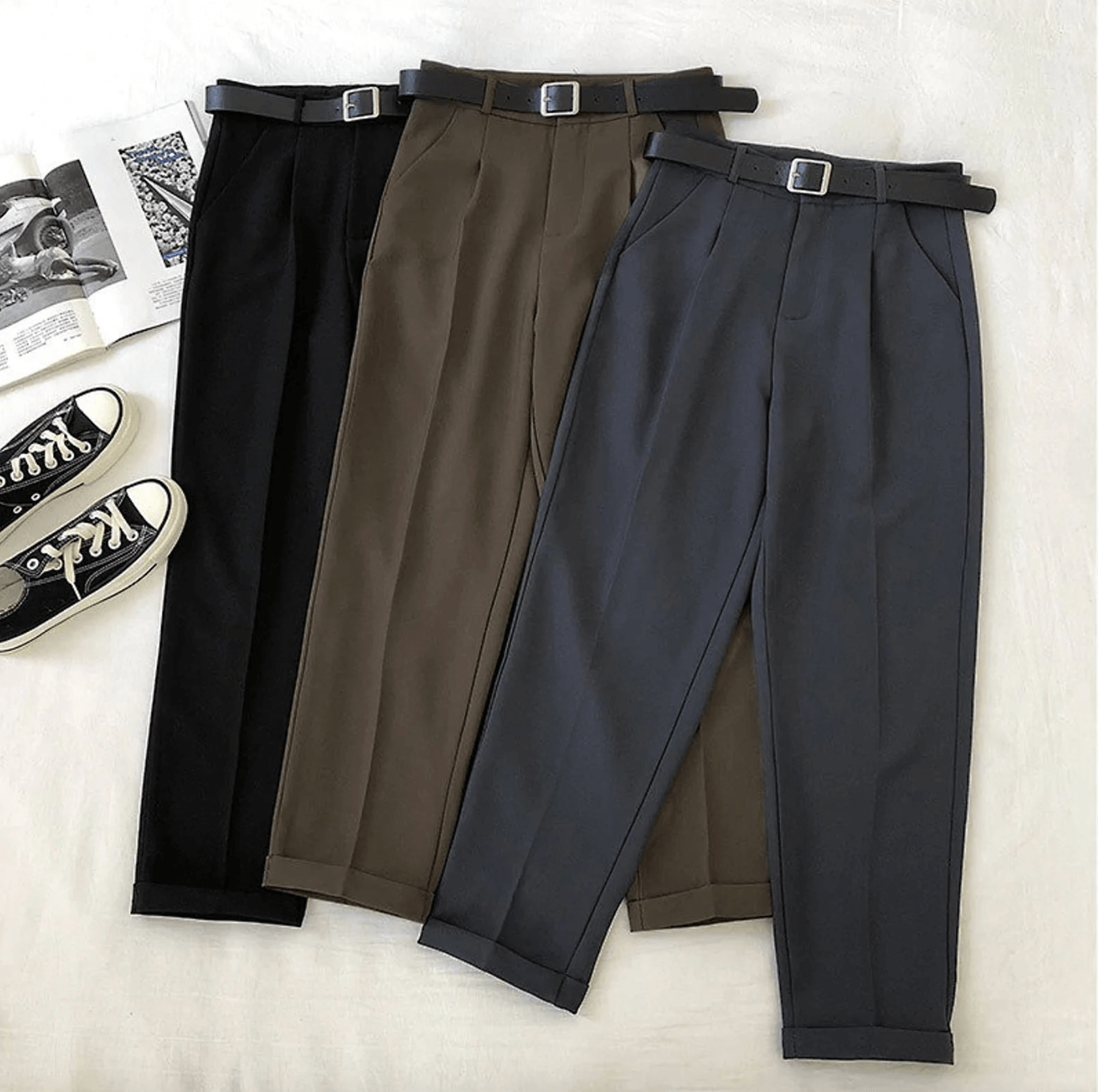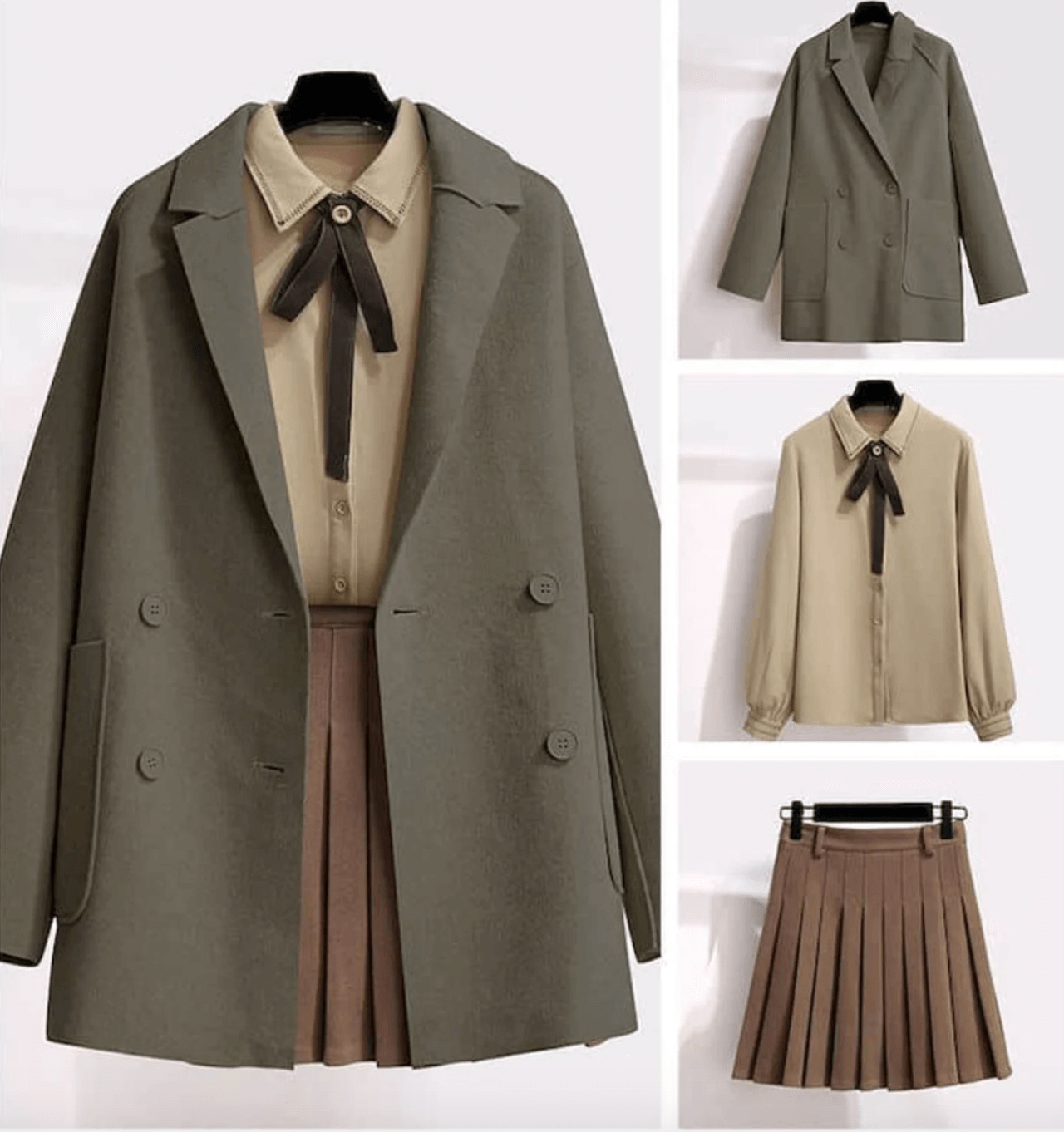 Etsy, BerciniFashion
Etsy, LlAcademia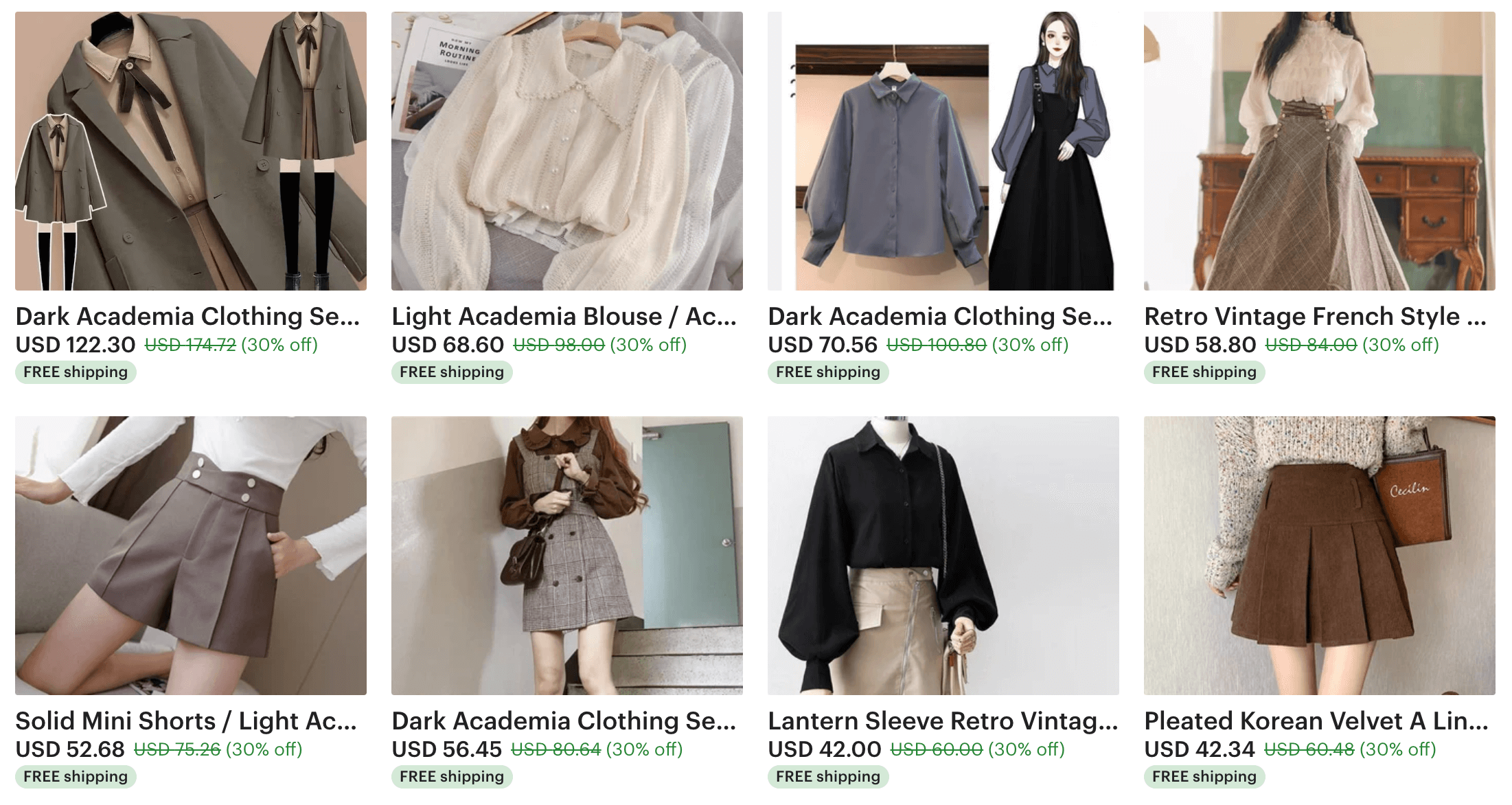 Etsy, LlAcademia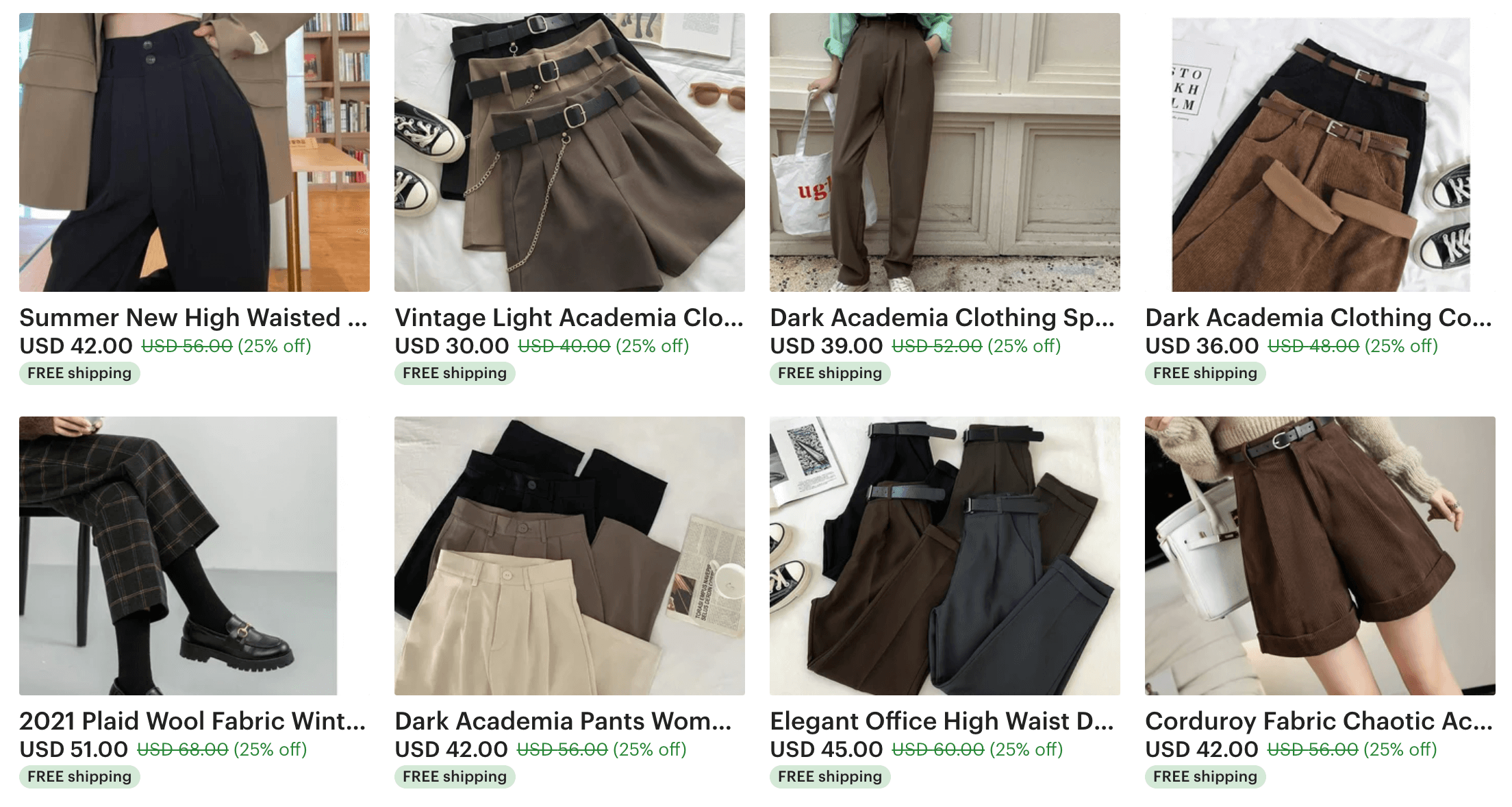 Etsy, BerciniFashion
Shop for the aesthetic overlaps
The Dark Academia colour palette is all about muted tones, geometric patterns and materials like twill. If it looks like something a student or professor might have worn in the 1930s then you're on your right track.
But as with all niche aesthetics, there is a lot of overlap with other styles. Consider that when you choose what to buy and what to pass on:
Dark academia uses a lot of muted, brownish tones so it has overlap with most brown aesthetic clothes
There is some overlap with the traditionally men's variations of romantic vintage styles like masculine cottagecore
A lot of the knitwear used in dark academia could be used for grandmacore outfits as well
Preppy is another aesthetic that is rooted in academia scenery, although preppy is far more light-hearted
Darkcore and grunge use similar colour palettes and an eerie vibe, but without the underlying academia styling
Scroll for a few more aesthetic academia outfit ideas that did not fit into the post, but are too good to be left out.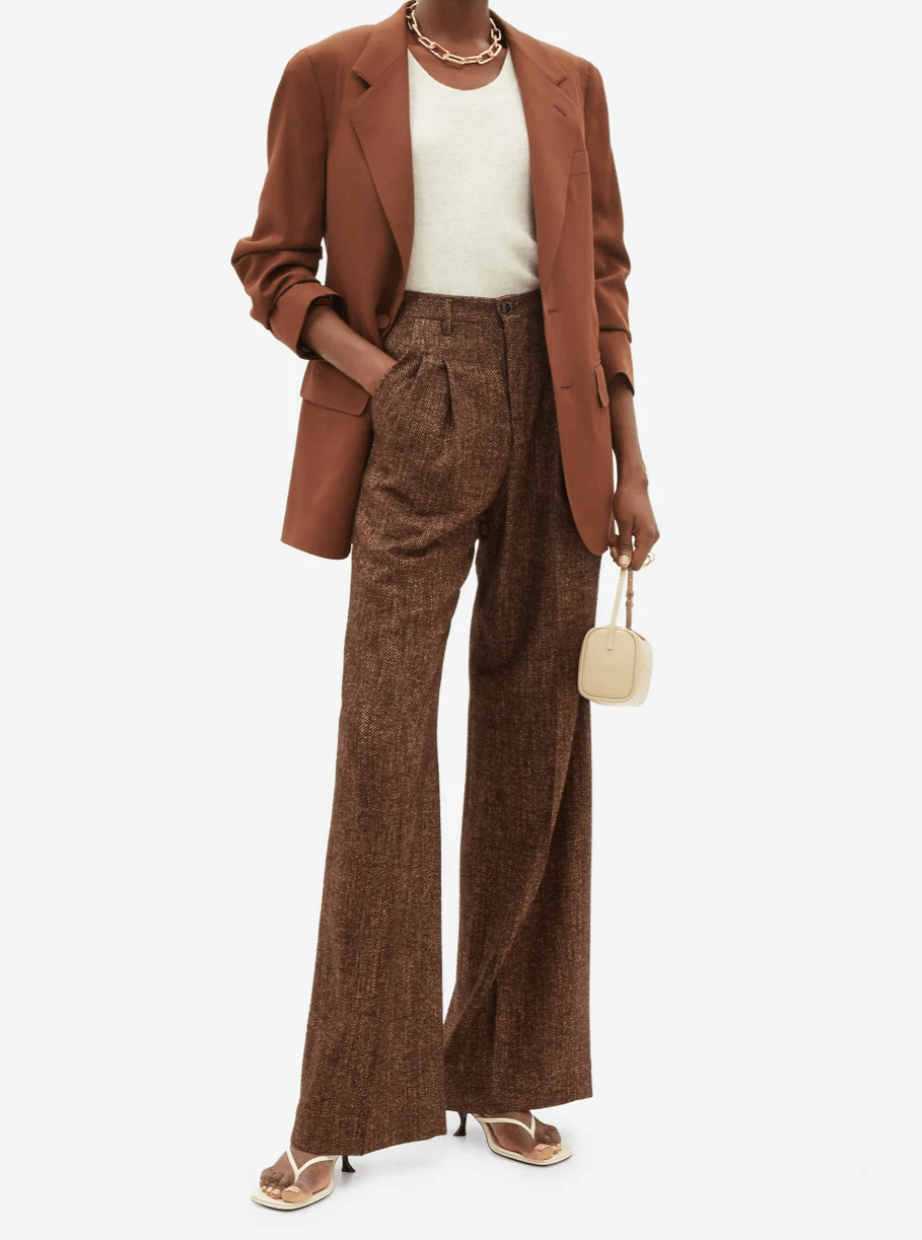 Umit Benan B+ via Matches Fashion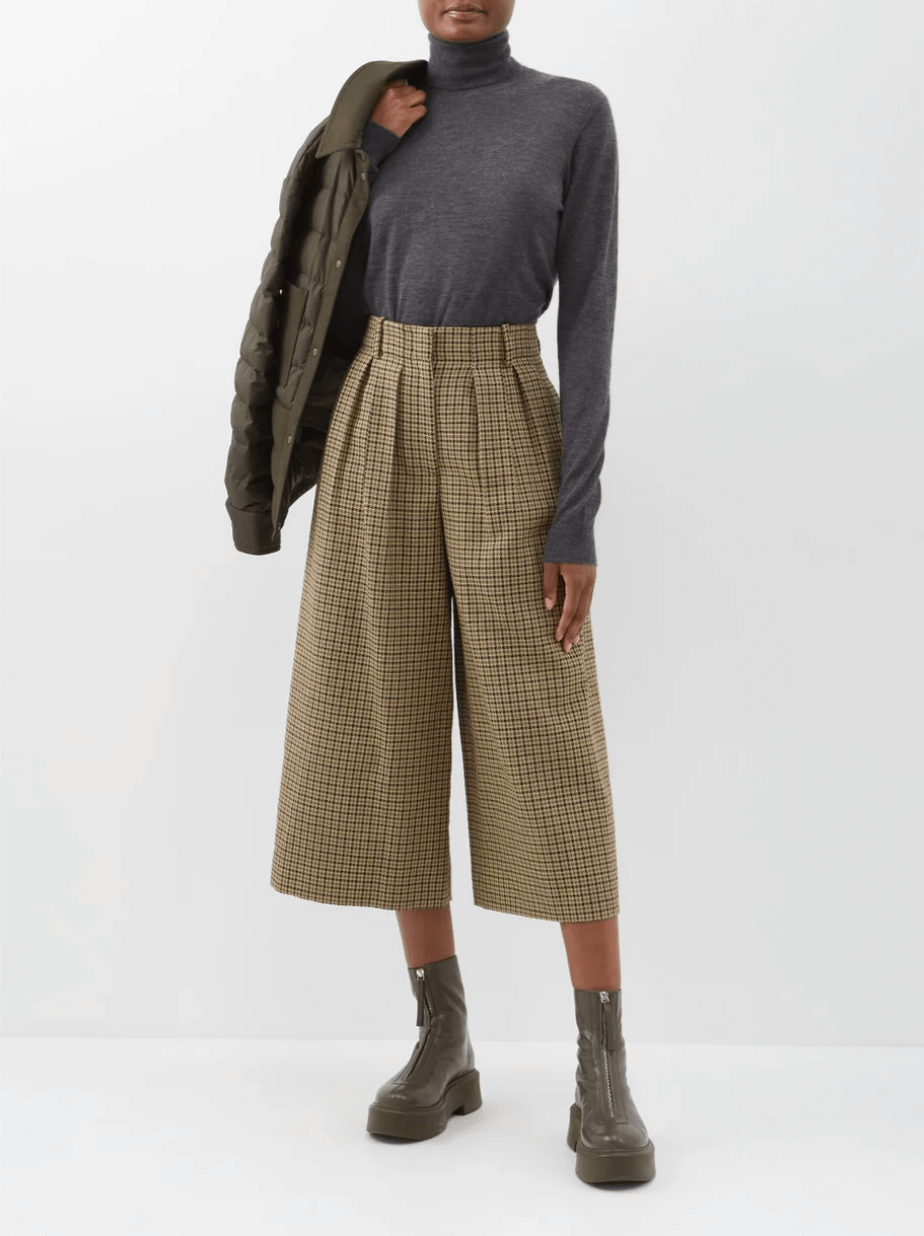 Moncler, Cropped houndstooth trousers via Matches Fashion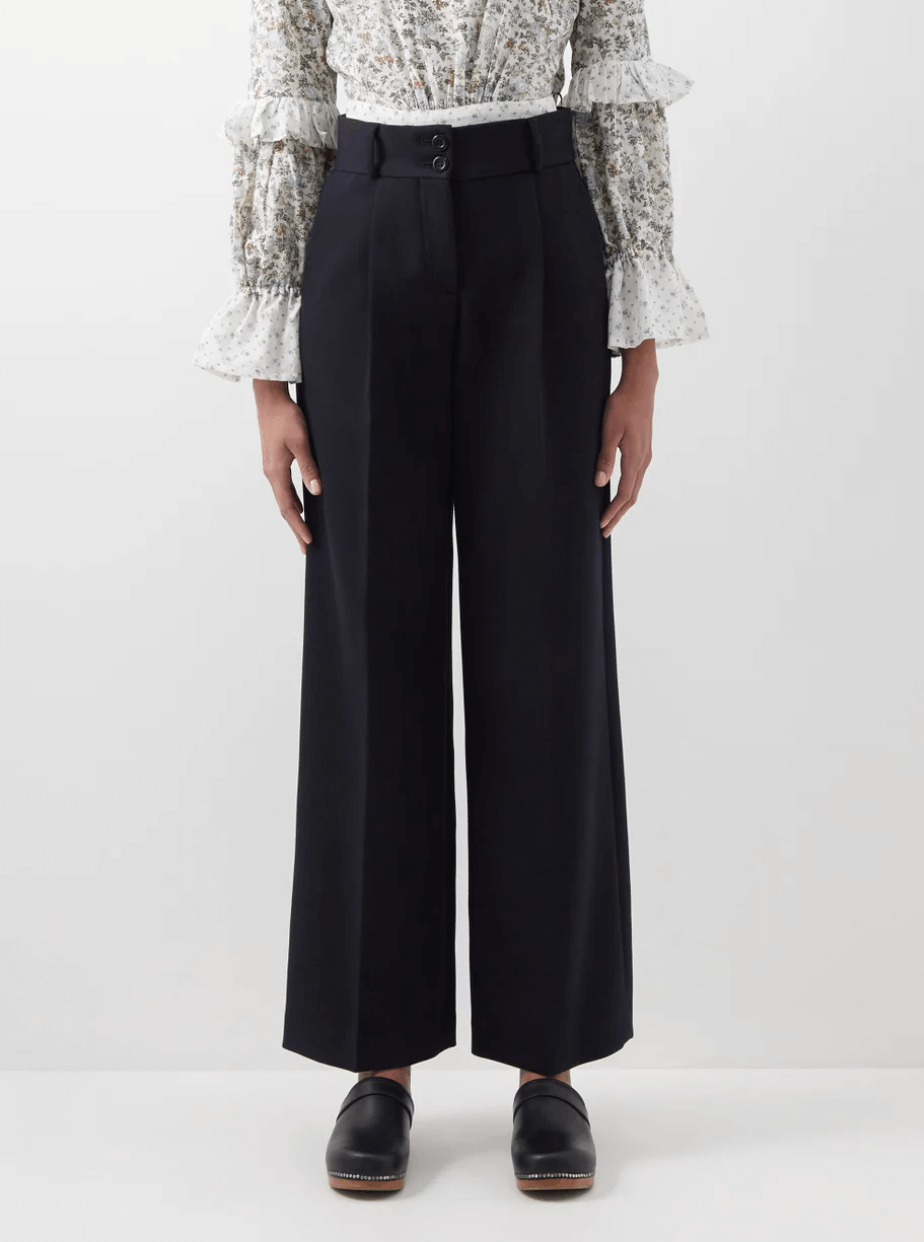 See by Chloe, Twill trousers via Matches Fashion