How to Wear Curtain Bangs on Curly Hair for the 70s Vintage Throwback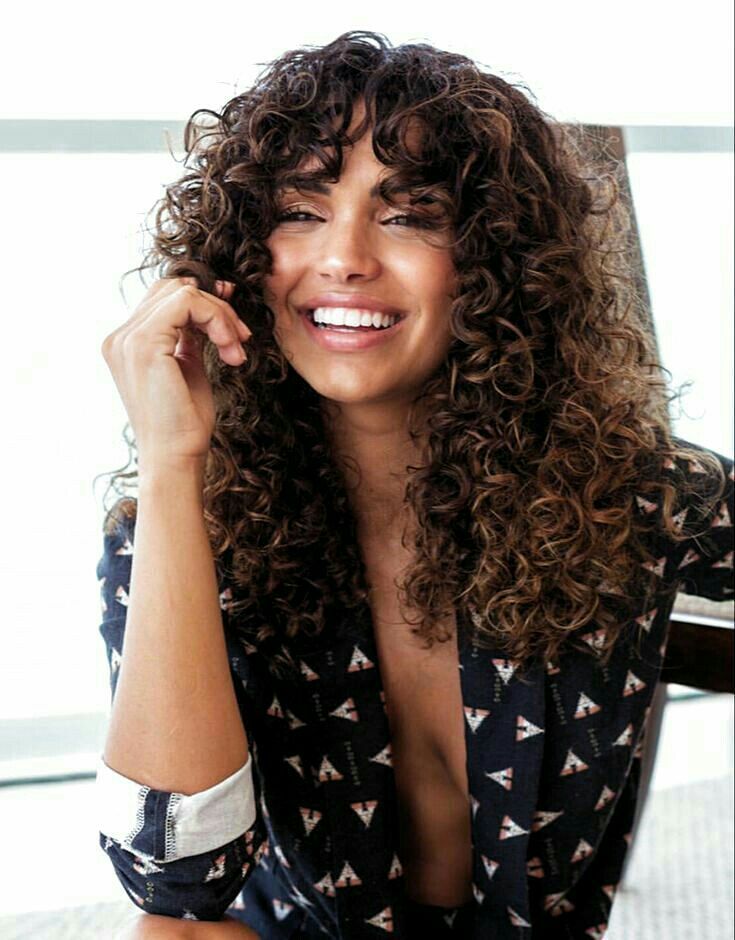 If you're looking to add a touch of 70s glamour to your look, curtain bangs are the perfect way to do it. This style of bangs is making a comeback, and for good reason - they look fresh and youthful and can be styled in a variety of ways to suit any face shape.
Sadly, cutting any kind of bangs on curly hair is still seen as controversial in a lot of places. (But there are plenty of YouTube tutorials on how to do it at home!)
I don't know what kind of social contract is there that forbids people to wear bangs with hair that waves or coils but apparently there is one. So, if you live in a conservative area, maybe keep that in mind (or don't).
Either way, the conventional wisdom says that curtain bangs look best on hair that has only a slight wave to it. Kind of like the images below. If your hair coils, you can either relax your hair into looser curls or still wear curtain bangs although the vibe will be different.
Curtain bangs on slightly wavy hair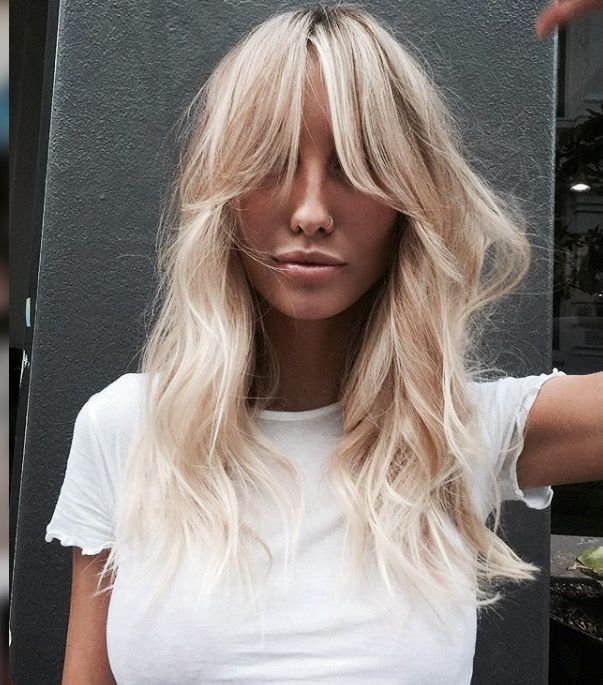 Curtain bangs on curly hair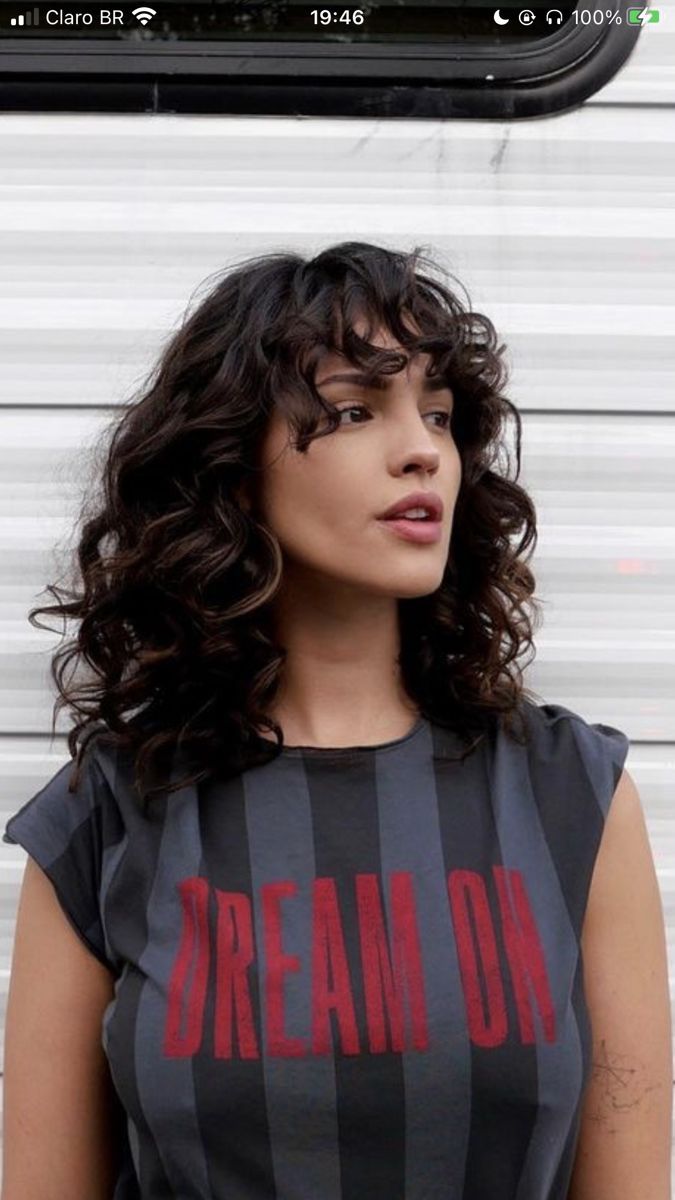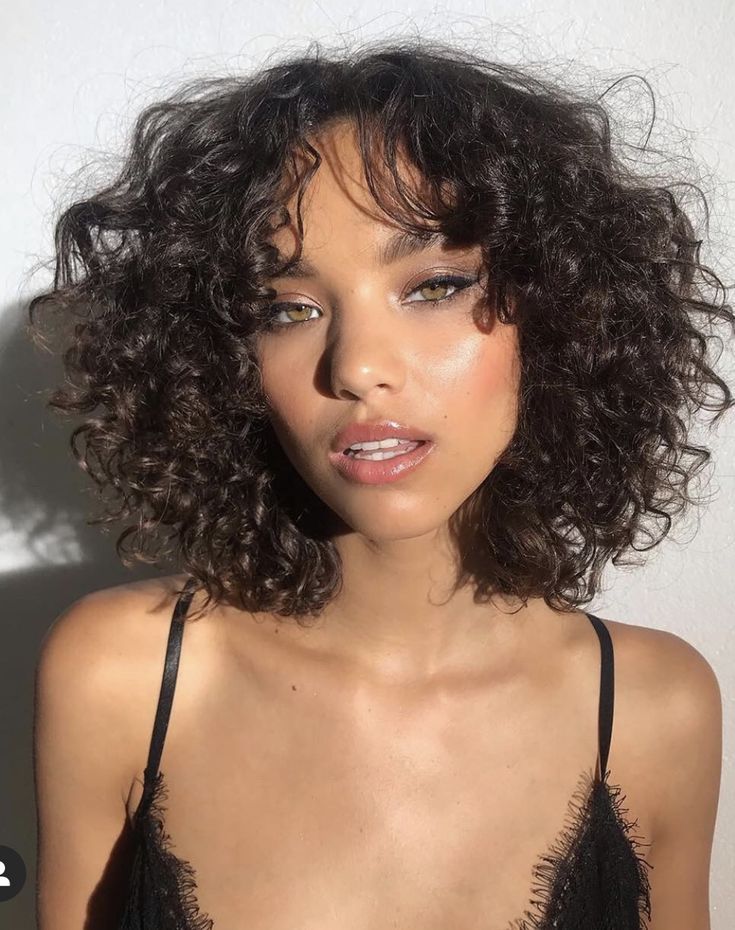 Cut them longer!
Other than the vibe change there is no issue, really.
If you have curly hair, you can still rock curtain bangs! Just make sure your hair is cut in a way that will work with your natural curl pattern.
Obviously your hair gets a lot shorter when it coils so one of the key hair-cutting tips is that you will need to cut your bangs longer if you want to wear them coiled than you would if you chose to relax your curls.
And yes, you will still be able to wear your curtain bangs when you choose to straighten your hair some days. Longer curtain bangs can look quite elegant, which also comes handy for when you choose to grow them out: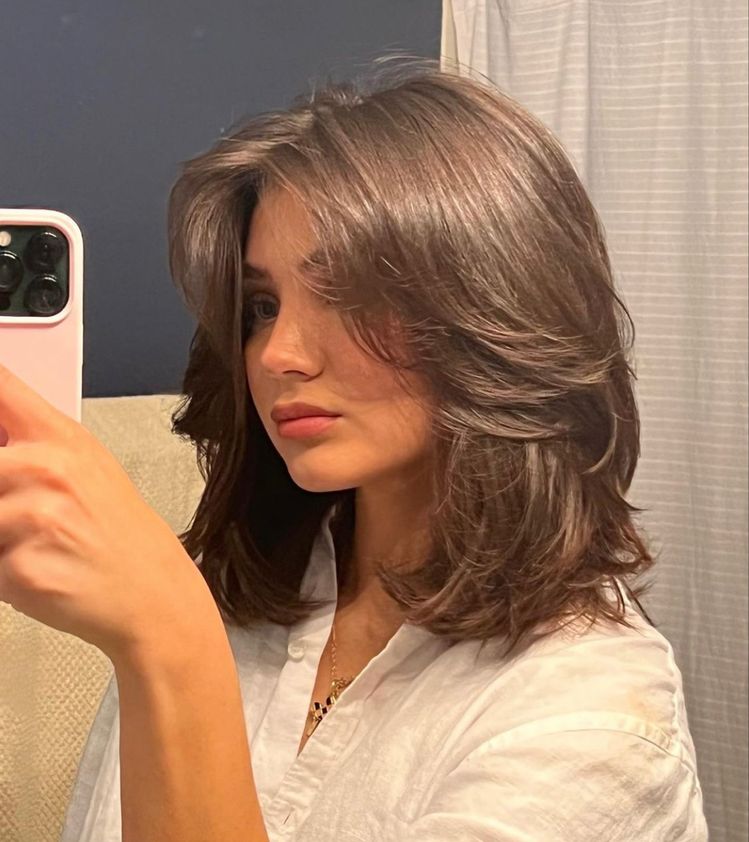 Are you convinced that curtain bangs are a good idea? Well then, let's now look at how to style them on curly hair.
Styling Curtain Bangs on Curly Hair to Keep Your Look Fresh
There is not a lot of ways you can mess up styling curtain bangs - even if they get a bit messy, it can still look as part of the aesthetic as this hairstyle is associated with boho and similar laid-back indie moods.
Just about the only thing that doesn't look good on curtain bangs is frizz. If you have porous wavy or curly hair, you know what I am talking about. Sometimes the hair just won't coil, no matter what.
Step 1. - Creamy hydration on wet hair
So, don't forget about leave-in products! Use a curl-defining cream or a hydrating milky spray on your wet hair to help keep your curls hydrated and defined. Some even use a plain body lotion - if it works, it works!
But on the whole, styling curly curtain bangs is a lot easier than you might think.
If your hair coils well and is used to being parted in the middle, you can just part it wet, use your leave-in product, let it air dry and go to Step 3.
Step 2. - Curling iron (or hair dryer), if needed
If your hair coils naturally, you can skip this step, but if not, you'll need to curl your hair if it's straight.
If you hair is wavy, it might still be best to curl your hair with an iron. Wavy hair curls unevenly, so using an iron will help give your curls more definition and make them last all day long. Curling is useful especially if your hair is thinner and gets flat during the day.
The trick to curling your bangs well is to not part your hair in the middle.
Section off the whole front of your hair, just above your eyebrows, and arrange it like it were the classic fringe. Clip the rest of your hair out of the way and curl your fringe from back to front, again, as if it were classic bangs and not curtain bangs that are worn to the sides.
The same trick works for straightening your curtain bangs with a round brush and a hair dryer: Blow dry the bangs from back to front, as if it was not curtain bangs. Only ever part it sideways when your hair is blow dried into shape and has completely cooled off.
Credits ipsy.com
Styling your fringe in a different direction than you'll wear it is a little trick that will make your hair sit differently. It will end up looking healthier and full of volume - no special volume product needed!
In the video from Angelica Blick below you will see how to curls your bangs into full 70s curls step by step. She starts at about 7:23 and shows some important tips.
Step 3. - Spray it for shine
Once your hair dried or cooled off, finally part it in the middle. This might generate a little bit of frizz if your hair is not used to being parted in that place. That's ok and easy to fix!
Depends on how your hair leans - oily or dry - use a small amount of product to smoothen out the wayward frizzy bits. If your hair gets oily fast, use something like a fruit vinegar hydrating spray for curly hair. That will also give your curls a nice shine. Spray it on your hair and press it in.
If your hair is leaning dry, or porous and dehydrates easily, you can use a tiny bit of hair oil. Rosehip seed oil is one of the drier oils that will smoothen your hair with a natural shine but won't leave an oily film. Use really just a tiny, tiny droplet of it, though.
Step 4. - Hairspray to keep it in place
Finally, use a hairspray to keep everything in place.
Try using a product that has a bit of hold to it, but isn't too stiff or sticky. If you wear your hair curly you want to have some movement in it. Medium hold hairspray is usually best for that.
And that's it!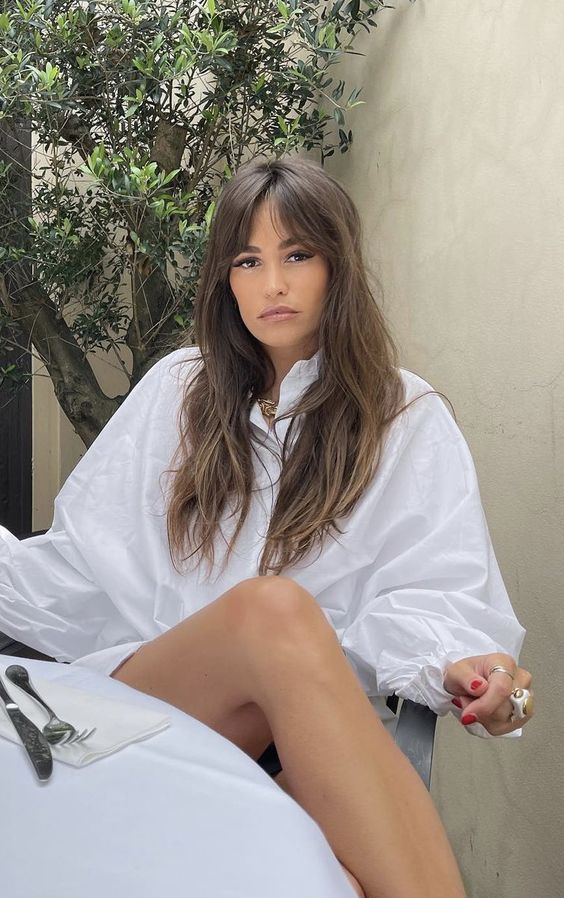 There are a few reasons why curly-haired women may want to try curtain bangs. First of all, they are a great way to show off your natural curls. Curtain bangs can help define and showcase your curls, which can be a bit tricky to do with other styles of bangs.
Secondly, curtain bangs are a very youthful style. They add a touch of glamour to any look and make you look younger and fresher.
Finally, they are a very versatile style that can be styled in a variety of ways to suit any face shape. You can wear them blunt or textured, straight or wavy - the possibilities are endless!