5 Ways To Inspire People With Your Party Outfits
Sequin suit from Etsy: PerfectHolidayAllen
Let's face it, an attractive face and a charming personality aren't enough to make your look at a party.
It's a party, so a good sense of style is often the missing piece to make everything work for you.
Like it or not, when you are supposed to attend a get-together with friends or even with family, it can really make a lot of things easier if you stand out with your outfit.
It can be a scary thought when you realize you have to put in some creativity every time, because what if you get short of ideas?
Now you don't have to worry though. You have come to the right place to know what steps you can take to make yourself look great.
Scroll down to know!
1. Dress Big If The Occasion Is Important
Matching the occasion is one of the most significant things while you try to style yourself the best. Don't look so much at the brand names, just style yourself with respect to the event you are supposed to attend.
Some people emphasize buying expensive outfits, thinking they will look great whenever and wherever they wear them, regardless of the occasion.
If you also do that, just relax. It's the creativity and fit for the occasion that really count. If you show up in a plain white t-shirt it will still be a plain t-shirt to most people, no matter if it's in fact Burberry.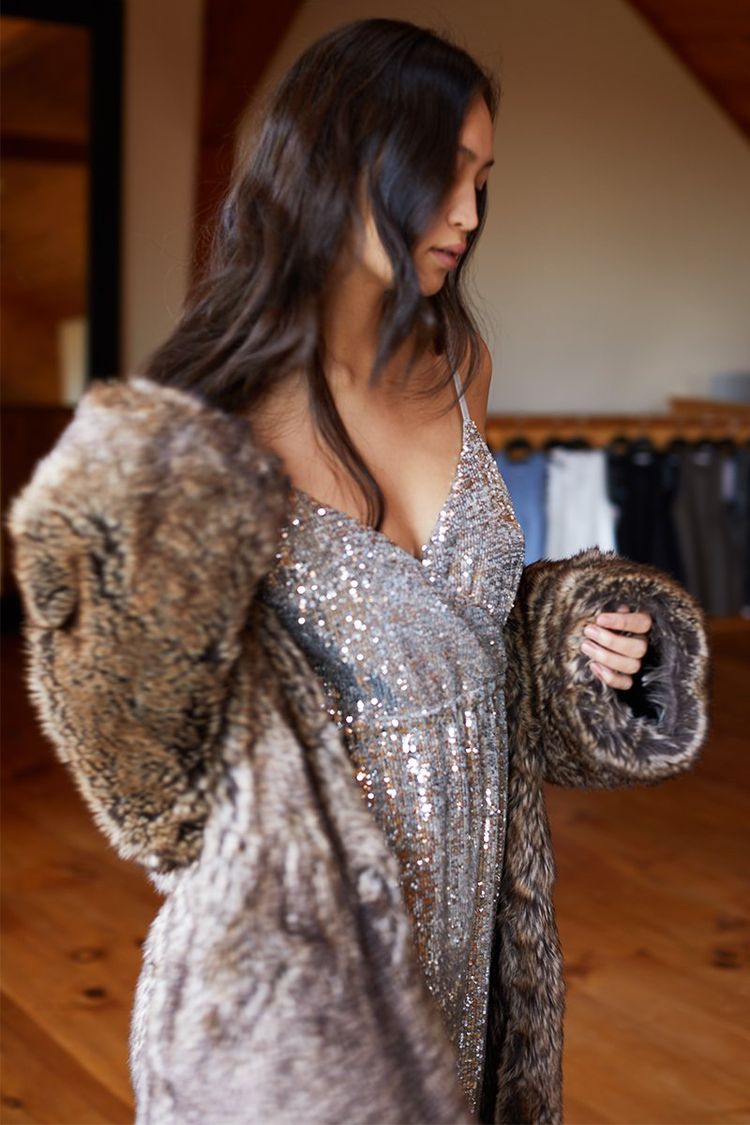 For instance, if you are going to an artsy event, a retro aesthetic dress is a good option. It's creative, it's aesthetic, but it's also retro so you won't need to worry that you will look overdressed or not on trend. Retro is always a good idea. As a toned down alternative, go for a black dress with a chunky chain.
Any minimalist single color outfit with chunky jewelry is sure to get the good kind of attention at a party.
Try a black off-the-shoulder little dress, a forest green pantsuit, a dark red cropped sweater with a matching midi skirt, or a festive sequined slip dress.
Try something new
Stand out with your choices! They don't have to be shocking but they should be fresh.
So what about wearing a suit instead of a dress?
We know that this suggestion can raise your eyebrows, but suits are not only for your workplace. When you wear just the suit with nothing underneath, that's a good party outfit. Some great fabric options that have bright colors can also work well.
Then you should add a little shine to your outfit to make it more festive, whether it's a sequined camisole under your blazer or a set of chunky, sparkling earrings.
Sequin suit from Etsy: PerfectHolidayAllen
If your suit is in a more formal, traditional color like black, brown, or navy, add some color to make it more party-appropriate. Get a colorful bralette to wear with your suit pants, but you can also find lavish pantsuits made of satin or velvet, which can be a terrific alternative.
Add a pair of gorgeous heels to your suit for the simplest way to alter it for a party.
3. Get creative with mixing and matching
A common thought that haunts everyone is that whenever there is a party, suddenly you find yourself staring into your decently full wardrobe but thinking you have nothing to wear.
But if that party is not strictly formal, you can in fact go quite wild with your styling combos. So, go to your closet and look; there can be many outfits you can wear with creative combinations.
Basic silk dress can get elevated even with just the right lipstick. Etsy: SilkSpiritStore
One thing to be aware of is that to be able to mix and match clothes you already own, you should keep all your clothes carefully in great shape. It's never a good look when a part of your outfit looks worn - your creativity won't salvage that. To ensure your clothes are in good condition, you should store them in hangers properly and remove lint from outfits so that they possess a fresh look.
Having clothes in the perfect shape will allow you to choose from many more different options. You will be able to make unique and refreshing outfits, but at the same time taking care of your clothes is far more sustainable than buying new clothes for every occasion.
4. Learn About The Party Venue
The place where the party is going to happen is also essential.
For example, if the venue of the party is a cruise or a beach, you probably won't wear a traditional dress.
It's always better to choose a dress that makes your appearance refined and classy, but venues come with a set of rules for what's appropriate.
If a one-piece dress would be too formal, try wearing denim pants with a going-out top, or a jumpsuit with stripes, or a maxi dress with a side slit. Or if you are invited to a dance party, your outfit should match the setting and look attractive.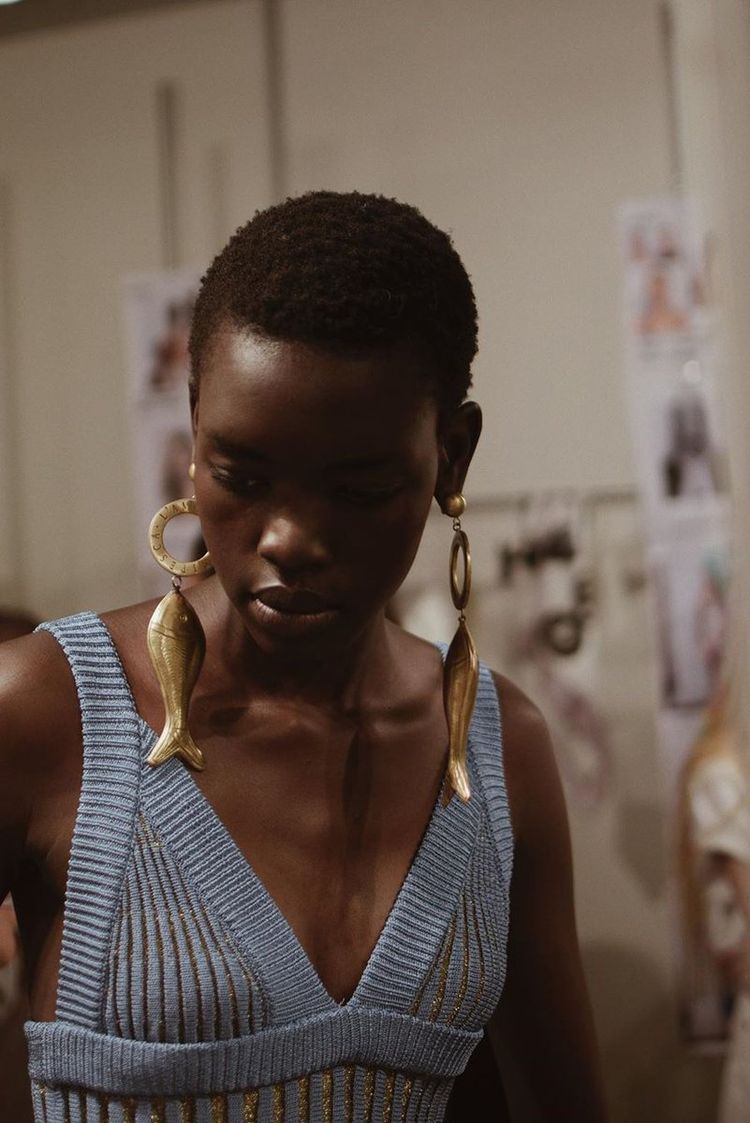 Fish earrings via clothia.com
On the other hand, your employer could want to throw a celebration for collaborating with a significant client. If you've been invited to any of these events, dress professionally.
Even though they are parties, they are still considered work events, so that leaves much less room for your self-expression and creativity. Just dress professionally. The conservative options would be a knee-length skirt, pantsuit, jacket, and formal pants.
5. Accessories Can Shift Your Aesthetic
Bare neck, wrists, or ears are a big layoff when you try to make it a cohesive look. Your look can't really be complete without accessories.
There might be thought that wearing a skirt and heels is enough to stay trendy, but this approach is not going to cut it in most places.
Luckily, even pearl necklaces or antique looking jewelry are not really that expensive now.
So, go for some statement jewelry, wear a watch or a stack of bracelets. It will make you edgier, and you can surely stand out with your complete attire. Hairstyles and makeup matter a whole lot too, but on that in a different post.
To sum it up, party looks are important, even though they are just for fun. Or maybe it's because of that? Either way, on such occasions, people tend to notice you more.
So, have fun but just make sure that you work on your complete appearance rather than looking at a certain aspect.