5 Aesthetics & Guide for Black Tip French Nails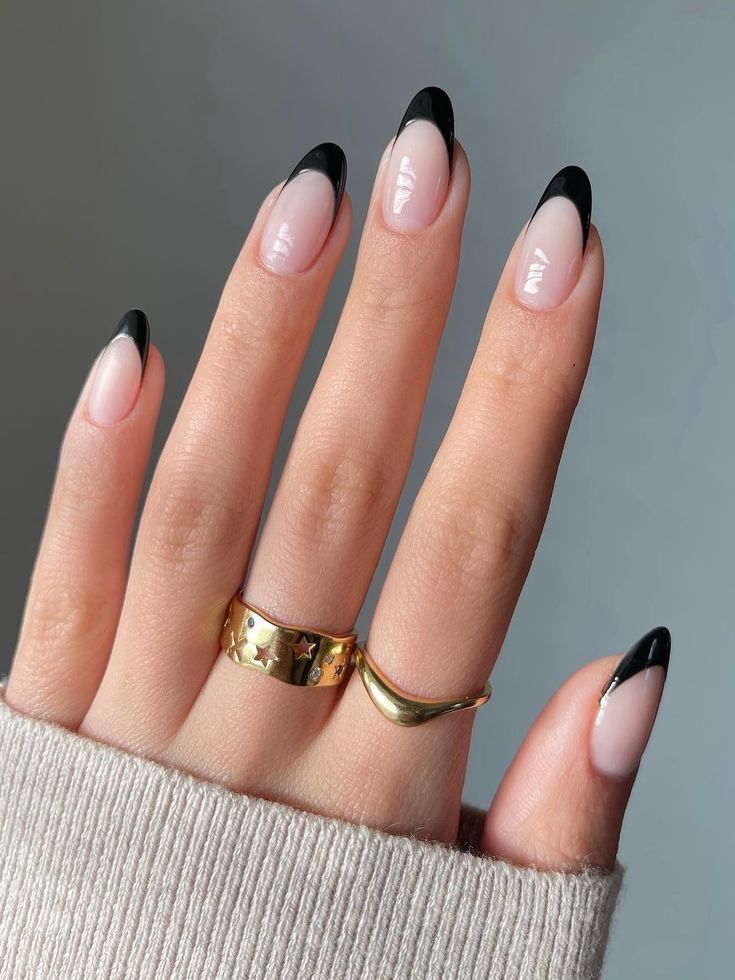 Black french manicure is a trend that originated in K-beauty, there's a lot of ways to do the black tip mani though.
The classic K-beauty vibe is the combo of black and pink and you can be sure there are plenty Korean press-on nails for that on the internet.
Black tip can also look very traditional Eastern if you use it together with the right nail stickers.
But you can also make it look witchy or vampy by keeping it more minimalist.
Keep reading for guides and inspo for all these looks!
Easiest ways to DIY the black french manicure trend
Before I get to the inspo, I want to get it out there that the black French mani is really easy to do.
There are press-on nails with the black tip completely done for you. They look cute but they might not fit you well - it all depends on your nail size and shape.
Etsy: NailFreakBoutique, Anastasia K-beauty black tip press-ons
But even if you do the black tip mani at home with a black nail polish, all you really need is a bent tape sticker to stencil the nail tip. There are plenty of vendors on Etsy, just search for a 'nail tip guides'. This is what the sticker stencil looks like. It makes french mani really easy, no matter the color: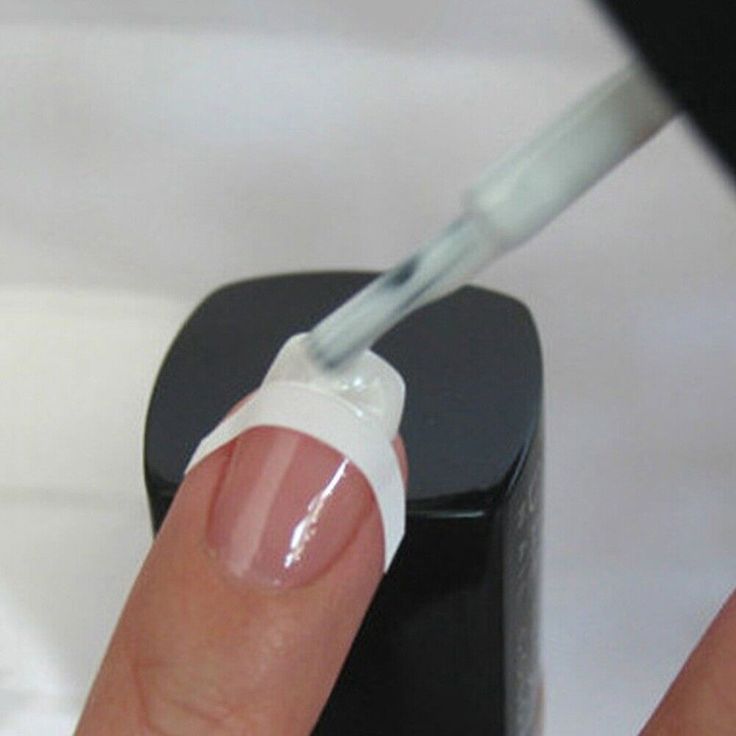 Some Etsy vendors who specialize in tip stencils and nail stickers: SparkleStickerSupply, StickerRay, MakyNails
How to paint your own black tip mani at home
First, paint your nails with a pinky or a nude color as your base.

Painting the base first is a change from the classic French mani. With white tips, you do the tips first and then apply a semi-transparent pink or nude polish over it to soften the white a little.

With black tips, you want to see the real blackest black on the finished nail. That's why the base color comes first.

You probably don't want anything too dark or it will be hard to see the black tips, but can look great to combine a matte and a shiny polish of the same color too.

Let your nails dry completely.

Choose your nail tip stencils and stick them on.

If you want to do the classic natural curved tip, it's best to buy the stick-on tape. Like I said there's a lot of them on Etsy but you should find these in any beauty supply store and some drug stores.

Stencils also work the best for the deeply curved French tip, sometimes called the 'stiletto tip'.

A small stiletto nail tip art.

If you don't have a stencil on you, you can still DIY a triangular tip. All you need for that one is a regular stationary tape. Take a piece of it and fold it in half so that it's sticky on both outer sides. Cut off a small triangle at the folded end - this will be your template for the black tips.

Here's a quick video guide that uses the short round French mani stickers with a regular nail polish:

Take a black nail polish and paint the tips of your nails using a curved or a triangle template as your guide.
Use a tweezer to remove the stencils, then wait until your tips dry completely.

Finally, apply a clear top coat to seal in the look.

Use a classic top coat to give your nails some shine or a matte one for a subtler look.
Now that you know how easy this aesthetic nail art is to do at home, let's finally go on with the inspo.
I will start from the minimalist designs and move on to the more aesthetic one's.
1. K-beauty black & pink French mani
This is the OG vibe for this nail art, but it's also the easiest to get done. There is so much of beauty supplies for this nail style out there.
The Korean black tip nail mani is supposed to be elegant and minimalist, but at the same time should come off cute and girly rather than gothic or witchy.
If you like aesthetics like pastel goth or even kawaii, then this nail art will probably resonate with you.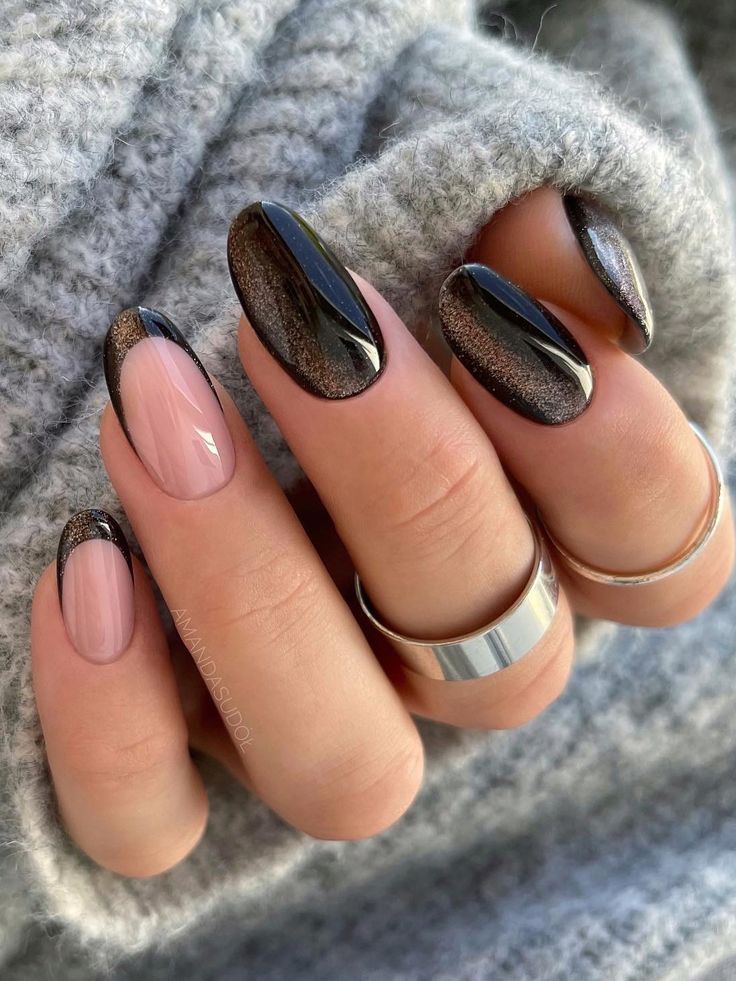 You can do the K-beauty black tips at home by using a blush pink nail polish on the whole area of the nail and then, with the help of a stick-on nail tip guide, paint on the black tips. Some K-beauty designs add a little heart here and there, you will need a tiny brush to paint that on though. After that it's just to add a layer of top coat to seal that all in.
Etsy: TwinkleNailsShop, Press-on full nail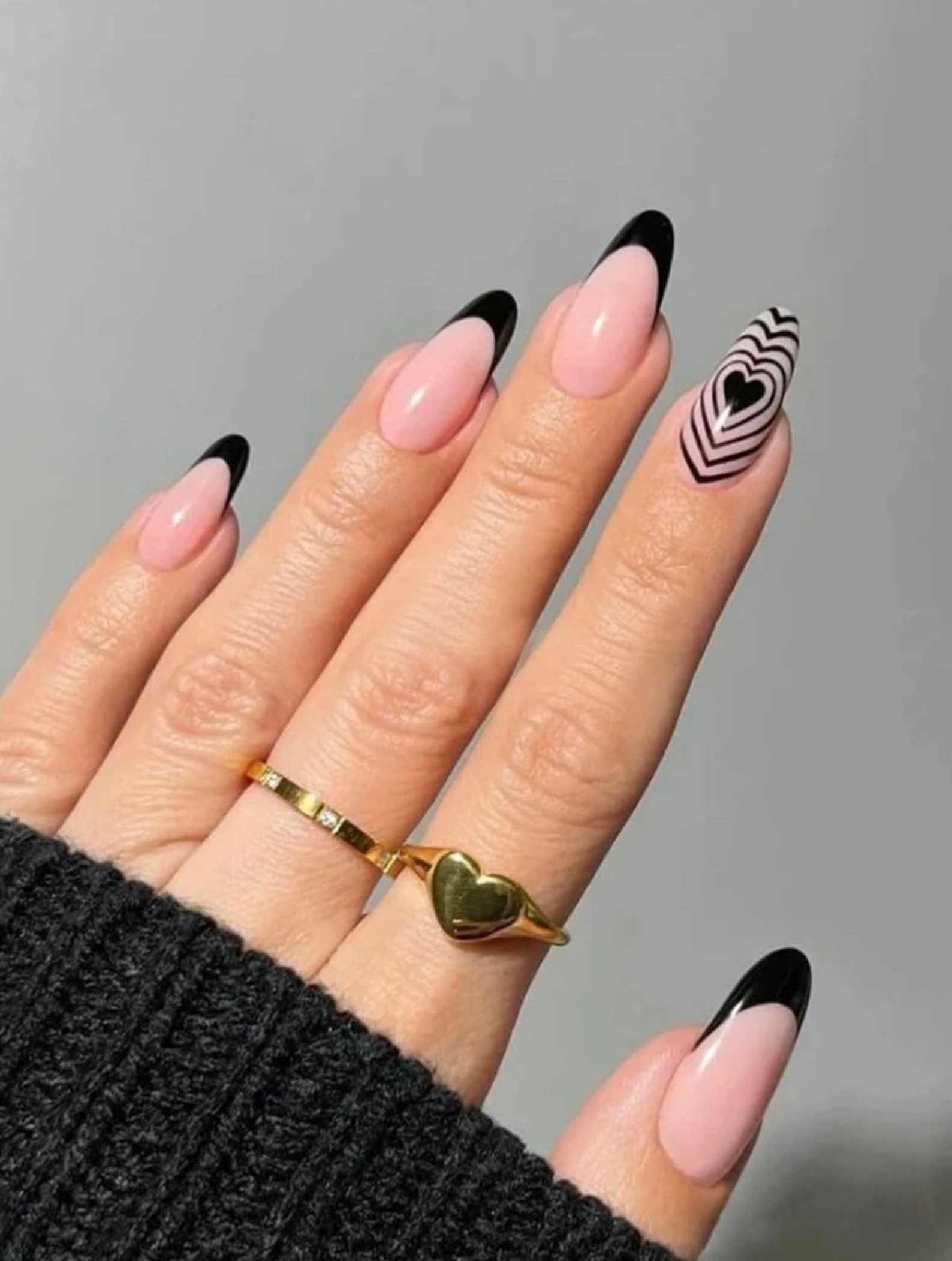 Etsy: ThenailroombySK, Black pink press-ons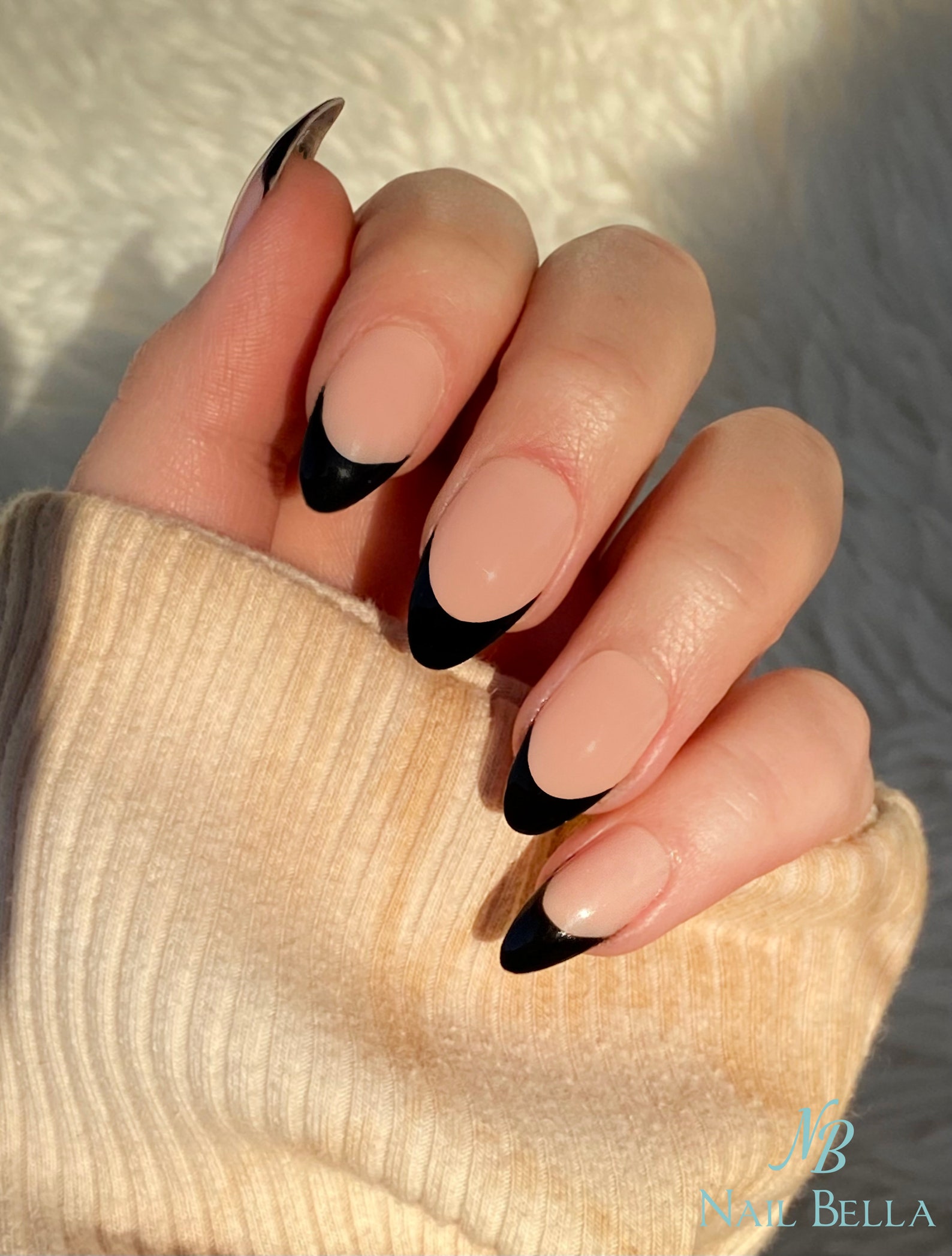 Etsy: NailBella, Nude base black tip press-ons
2. Witchy black-on-black French mani
Next, there is one beautiful and quite elegant way to do the witchy black nail which is by using a matte black polish for the whole nail and a shiny one for the tips.
This will work amazing even for the days when you have to dress up into the middle-class minimalism costume and head to work.
It will look as elegant, as punk or as witchy as your outfit.
And yes, there are press-ons for it.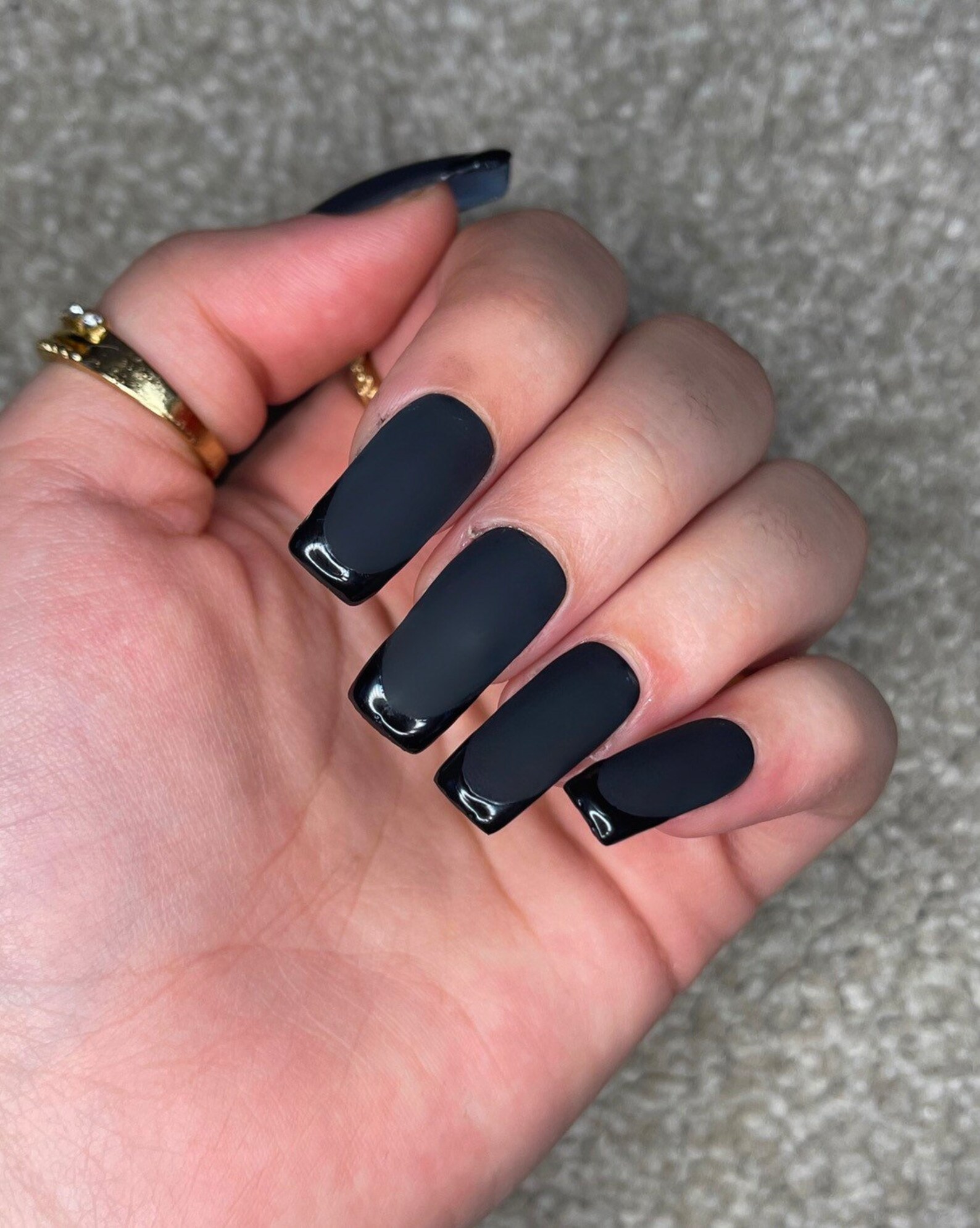 Etsy: PressedbyACX, Matte french tip press-ons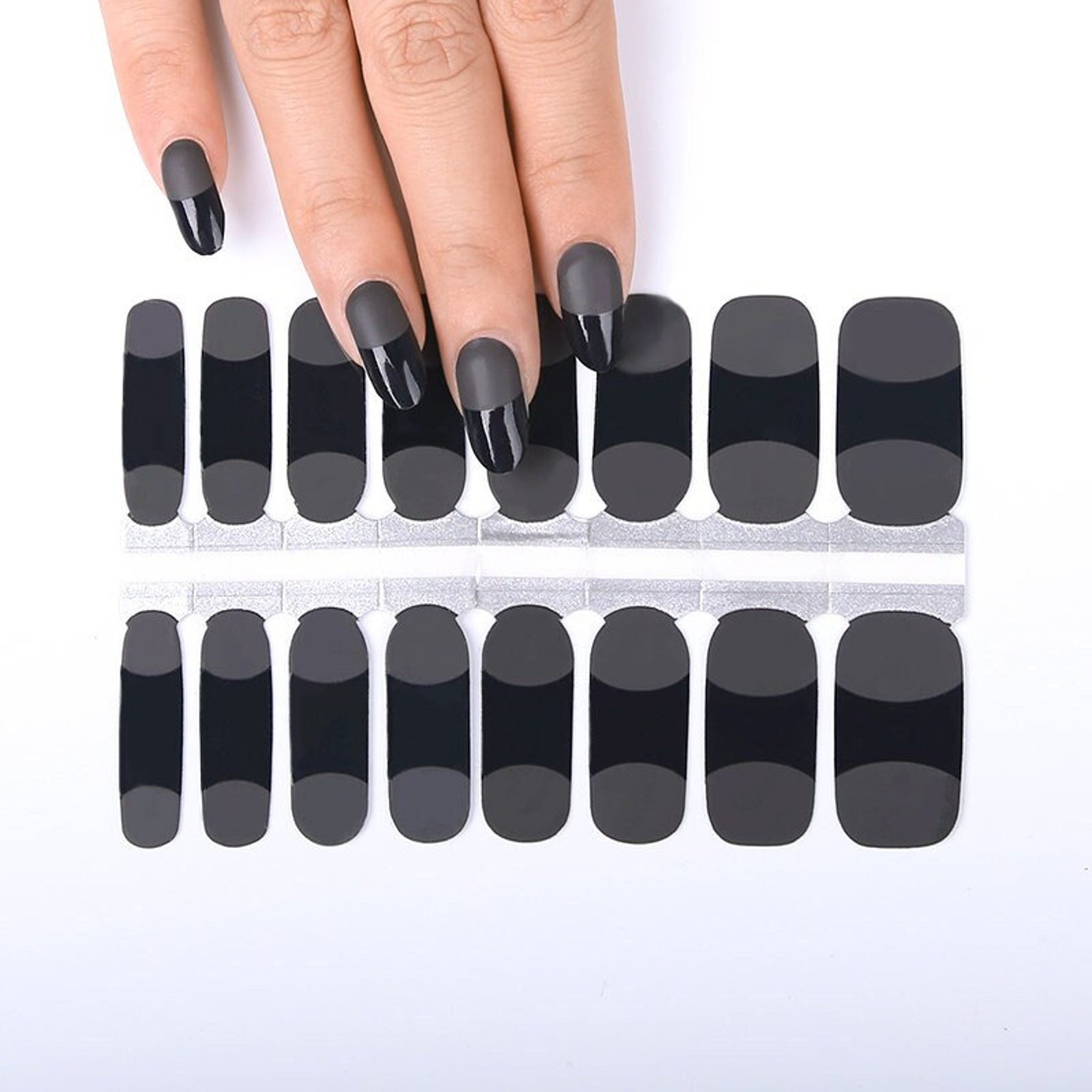 Etsy: EZNailsStore, Black glossy tips matte top French mani press-ons
4. Black tip French nails for a witchier witchy look
The witchy aesthetic is all about female empowerment, but also about black magic and the occult.
So, witchy nail art doesn't have to be too busy.
You do you, but the witchy aesthetic is not necessarity about drawing the attention to how well you can paint your nails. The nails are there just to vibe with the rest of your persona.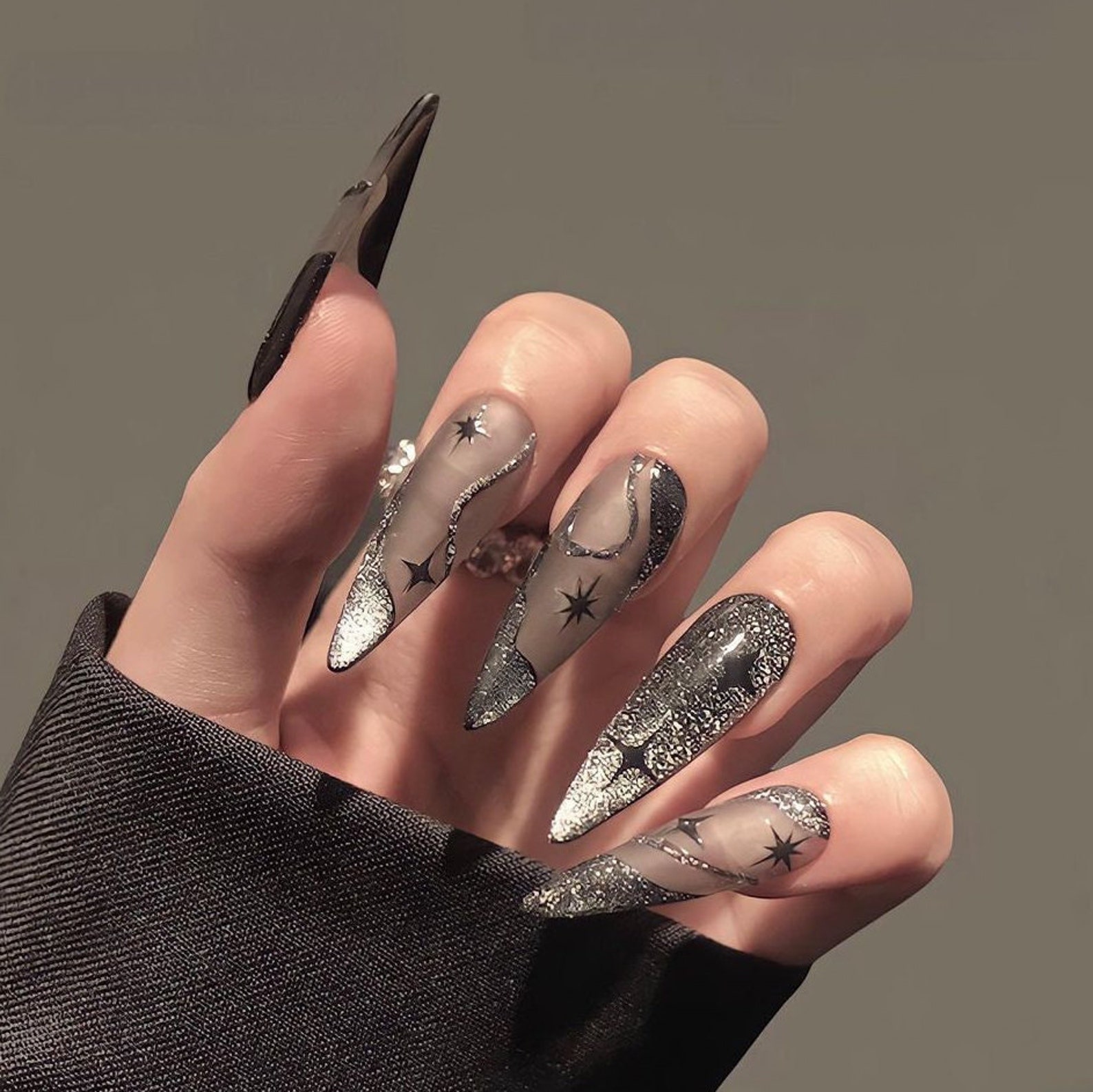 Etsy: LilyNailsArt, Black stars press-on nails
The press-on set above is probably the most beautiful one I have seen, but feel free to make your witchy black tips as minimalist or as magical as you like.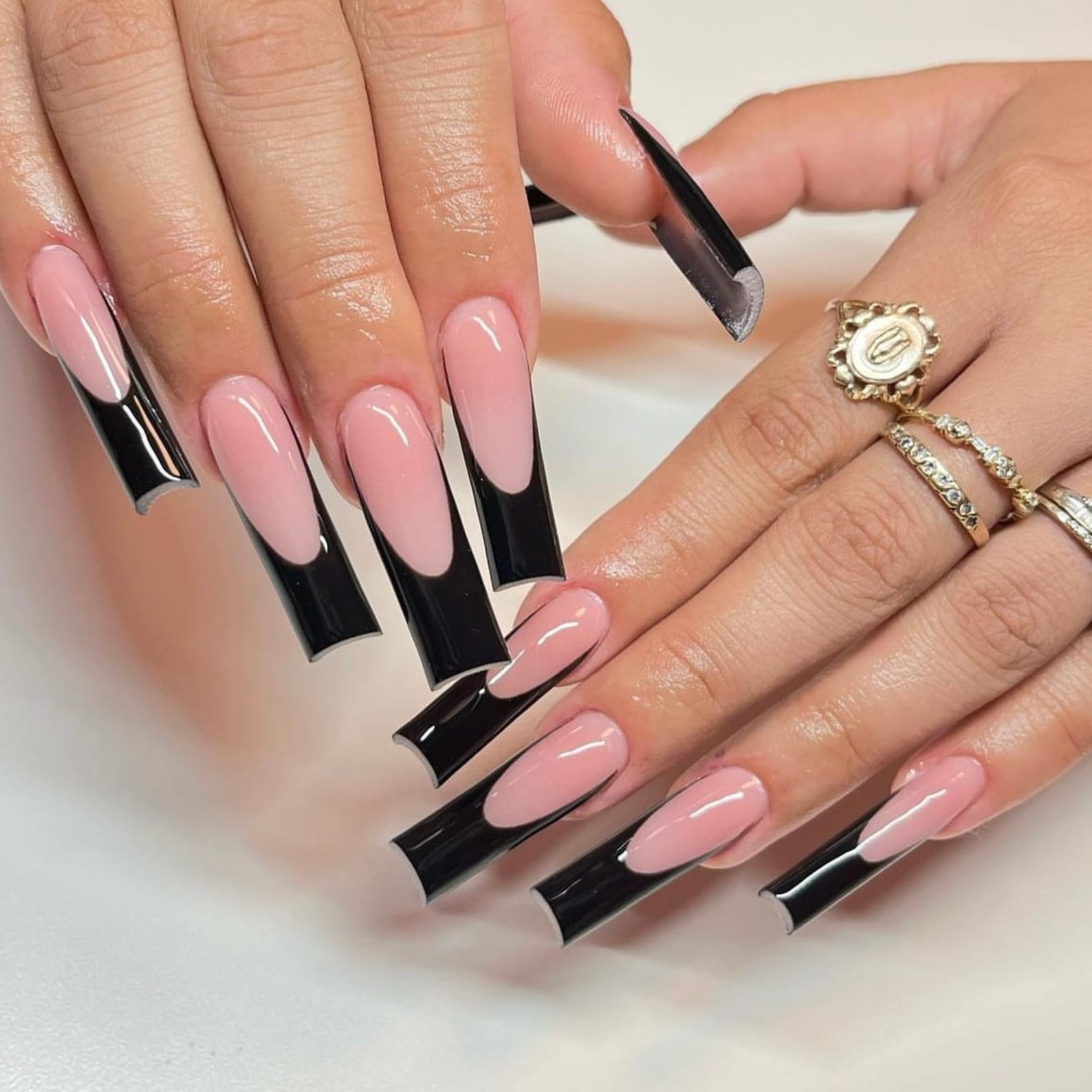 Etsy: LuxuryNailBar, Pink base witchy black French tips press-ons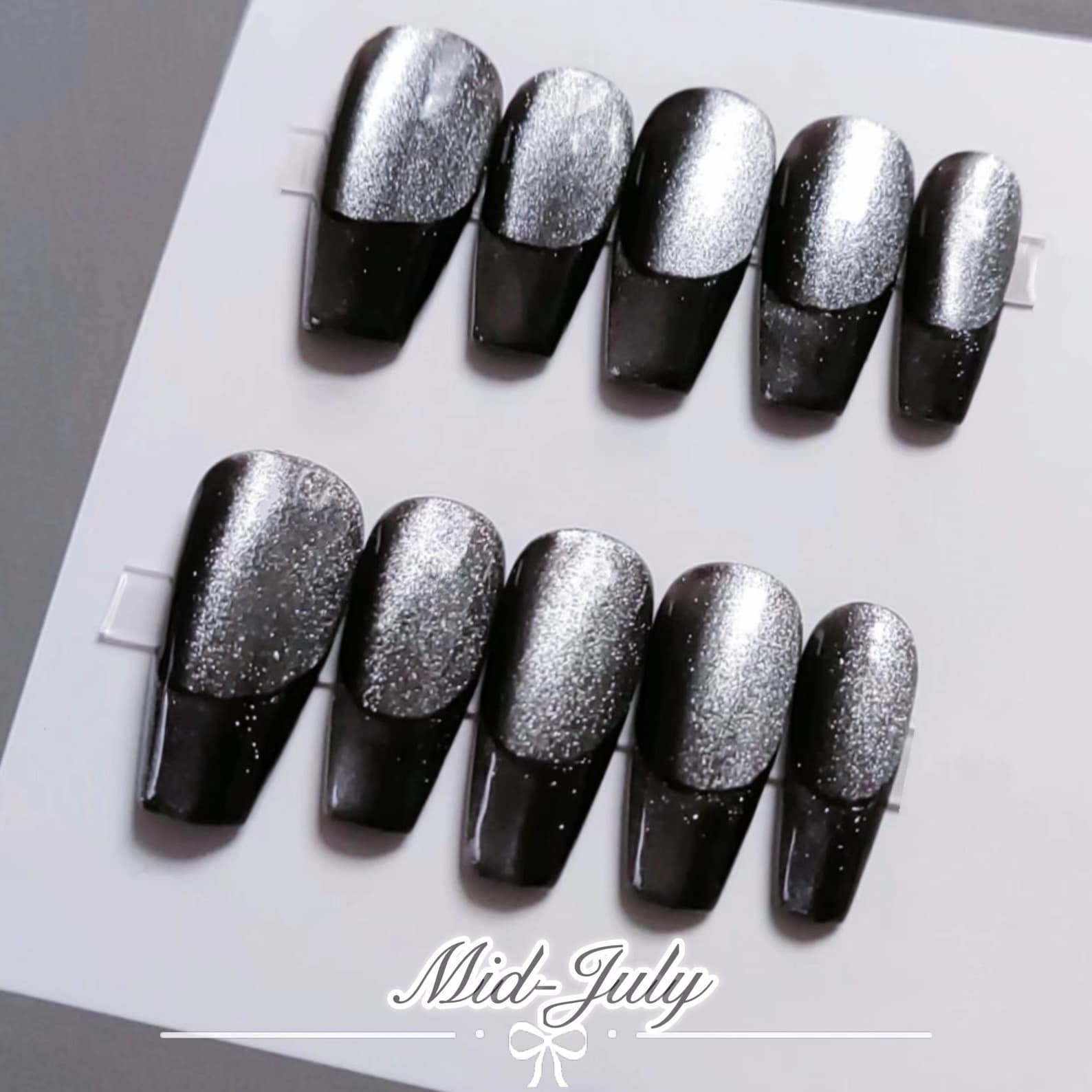 Etsy: MidJulyNail, Black tip glitter press-ons
Using some black glitter looks great too, especially if you keep it on the tips.
If you're working with a stick-on template, the easiest way to add black glitter to the tips is to wait until your black tip is half dry and then use a small makeup brush to apply loose black glitter onto the drying tip while you still have the template on. That way your nails won't get messy.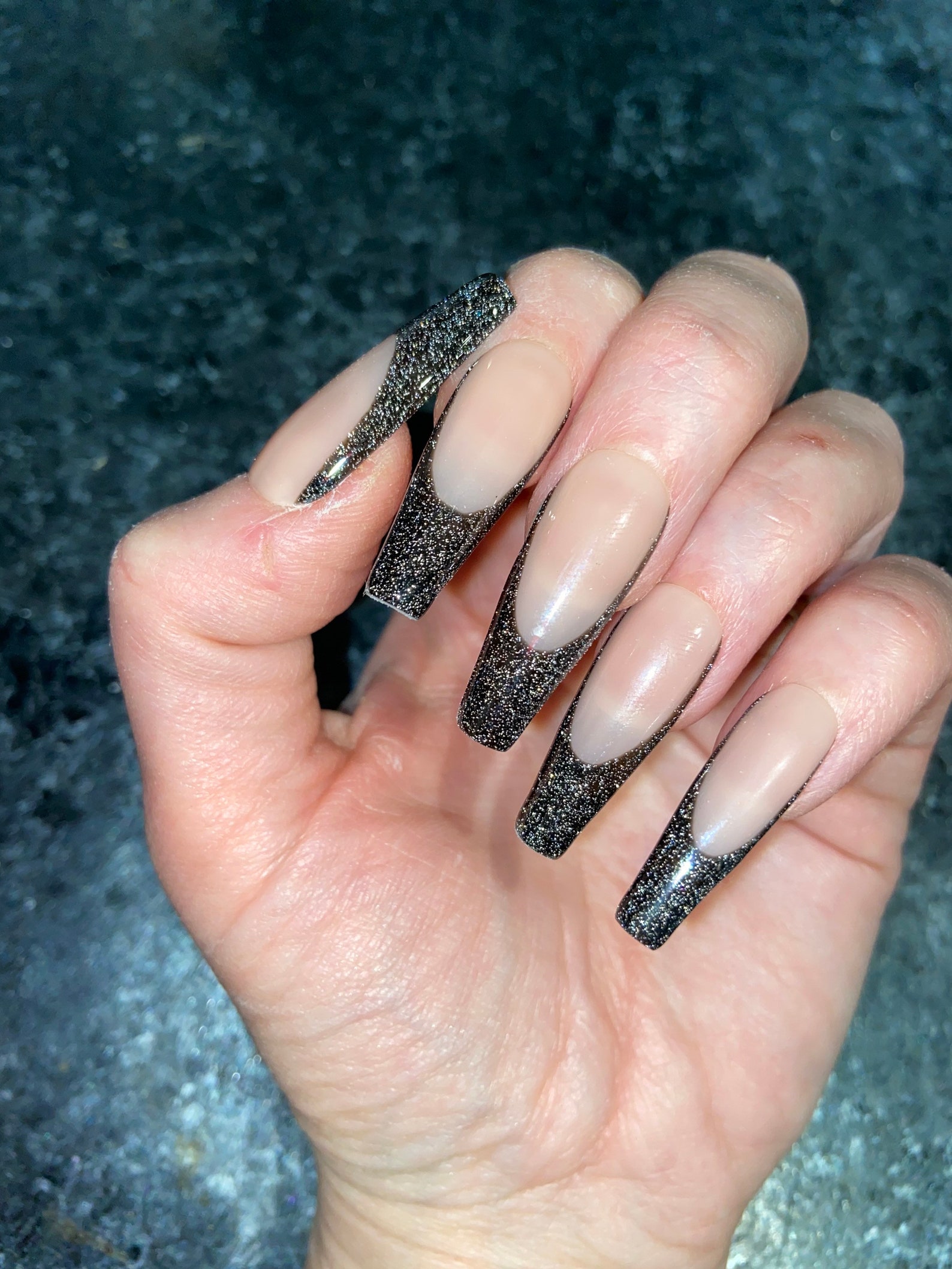 Etsy: Fairydustnailcompany, Glitter black tips press-ons
5. Black tip French nails for goth vampire look
I didn't want to mix up the goth aesthetics with the witchy, but all dark aesthetics are a little related. If you are drawn to gothic aesthetics, there is a ton of great goth nail art out there, simpler or more intricate.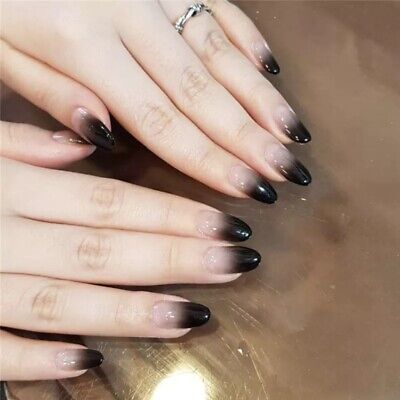 One common basic theme is the combo of blood red with black, and that is pretty easy to do with black tip French mani or ombre as well.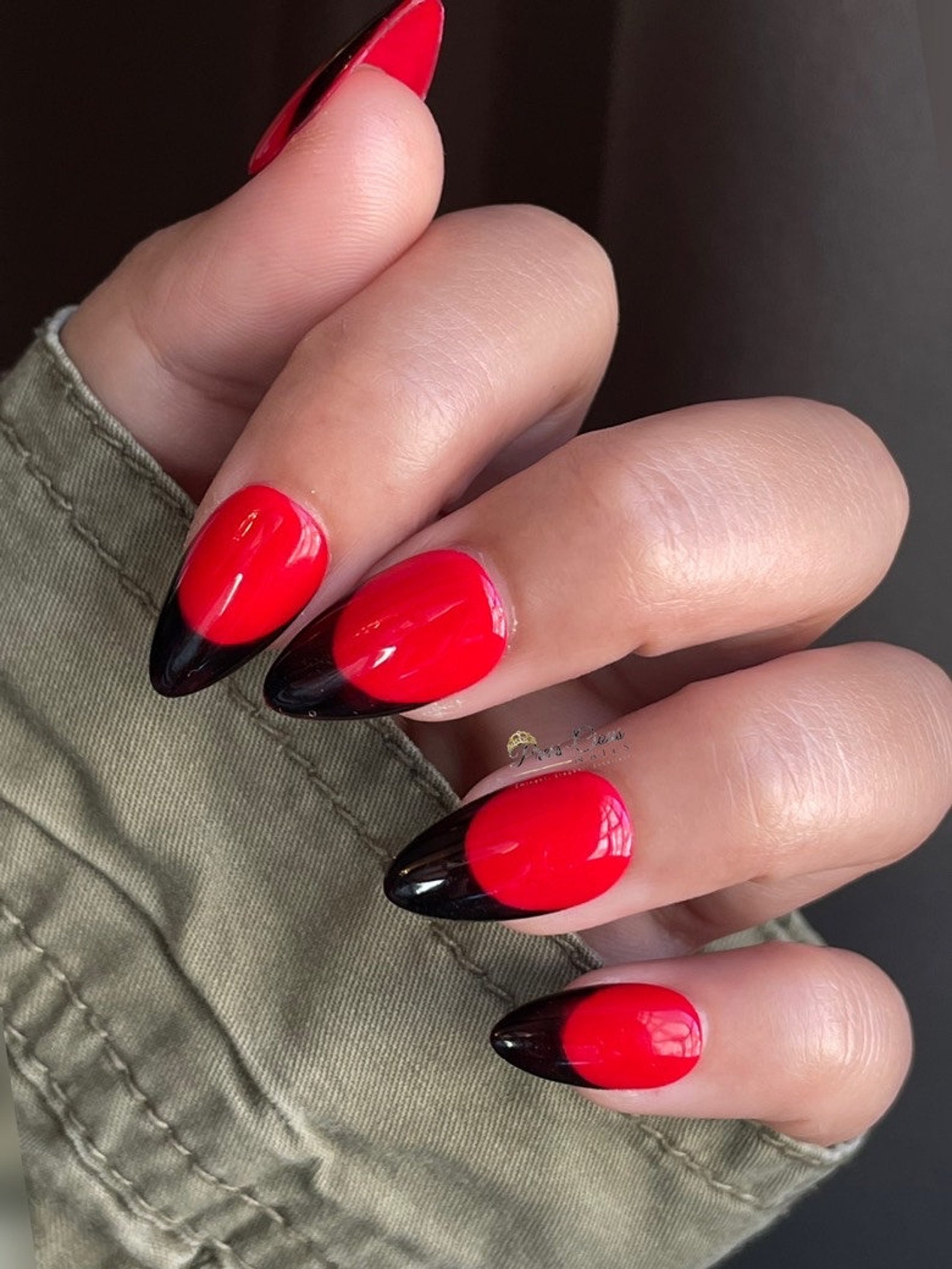 Etsy: pressciousnails, Hand-made press-ons
And then there are all the applications.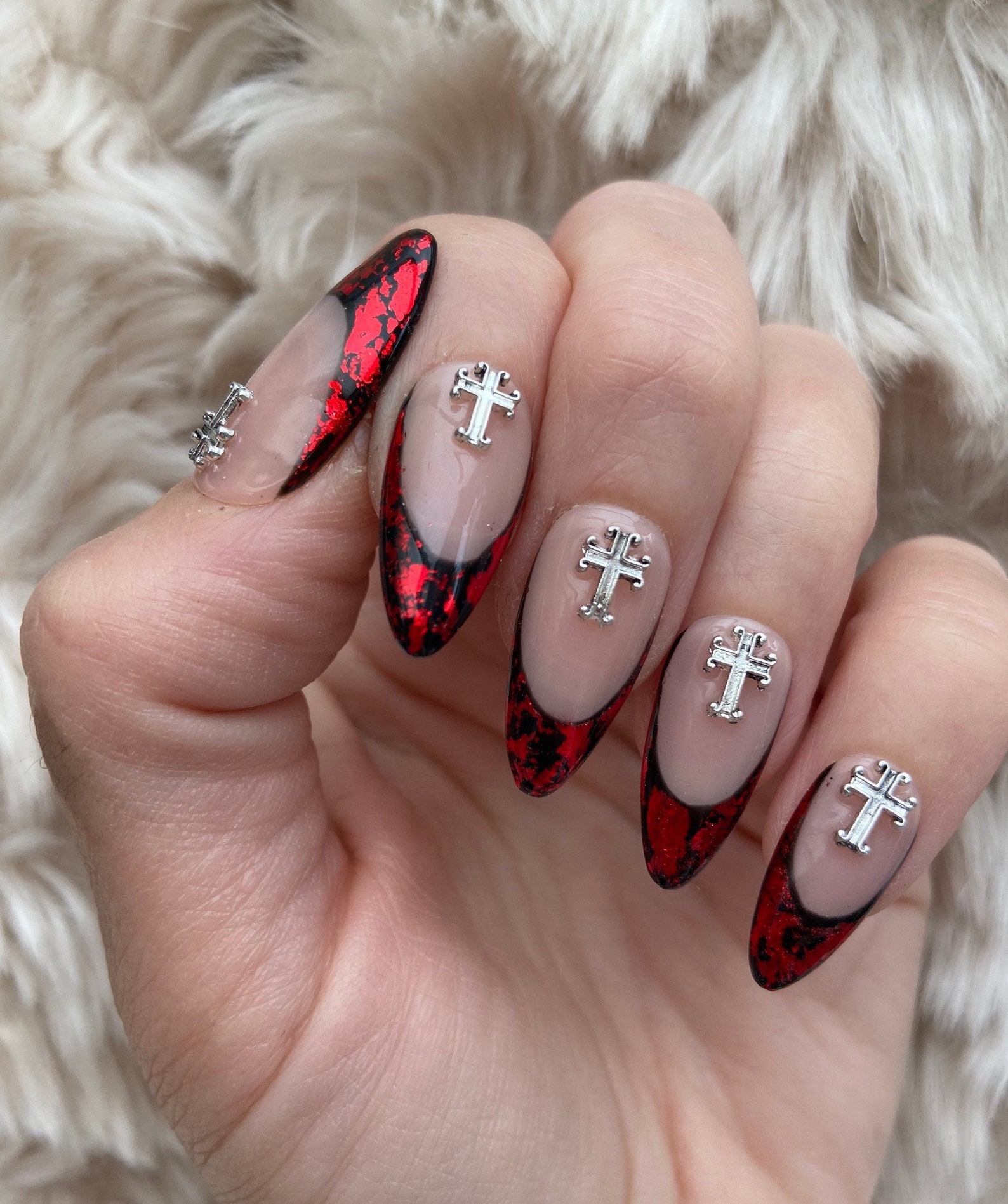 Etsy: Fairydustnailcompany, Goth black-red tip press-ons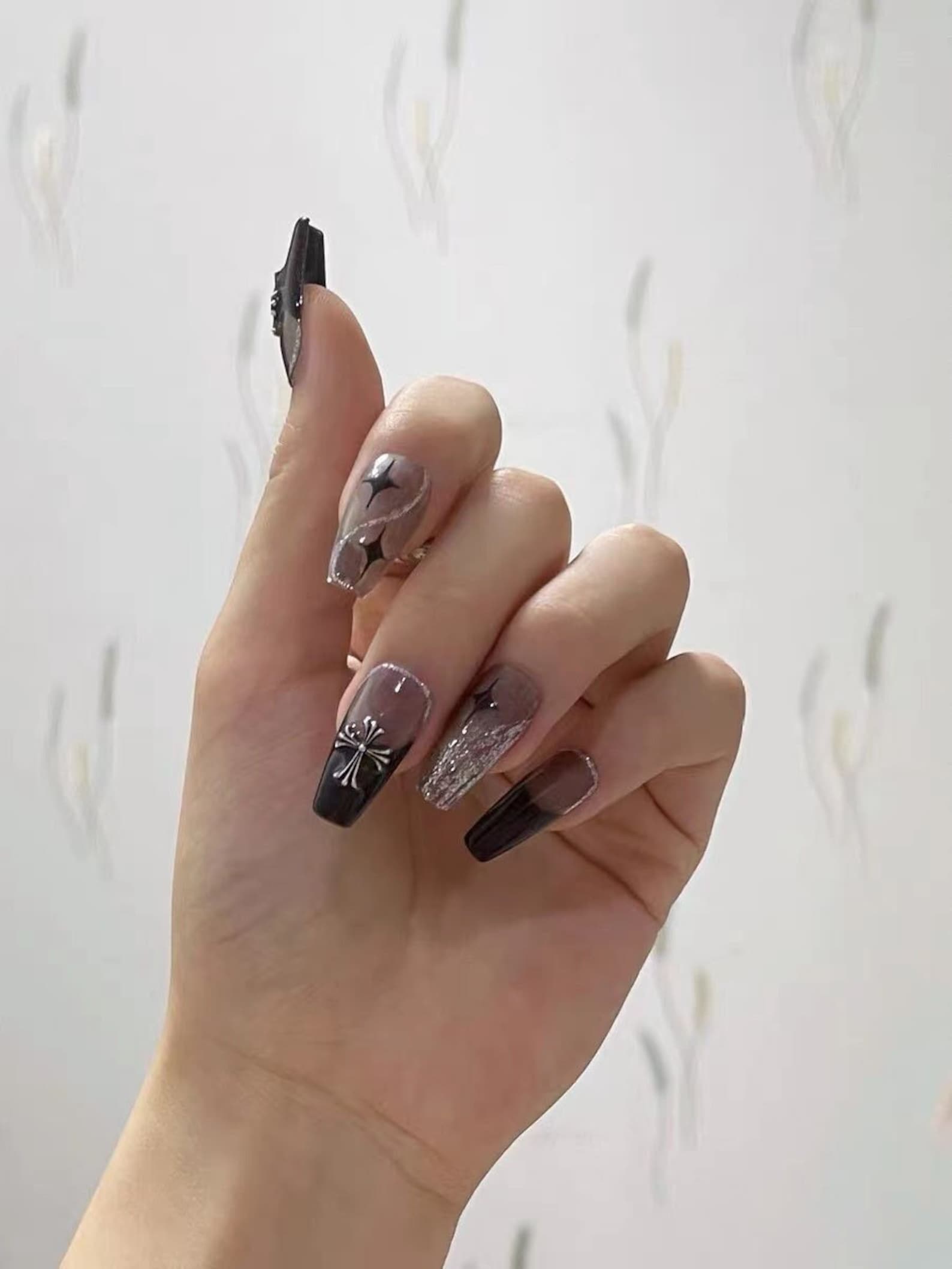 Etsy: NailsDancer, Goth black tip press-ons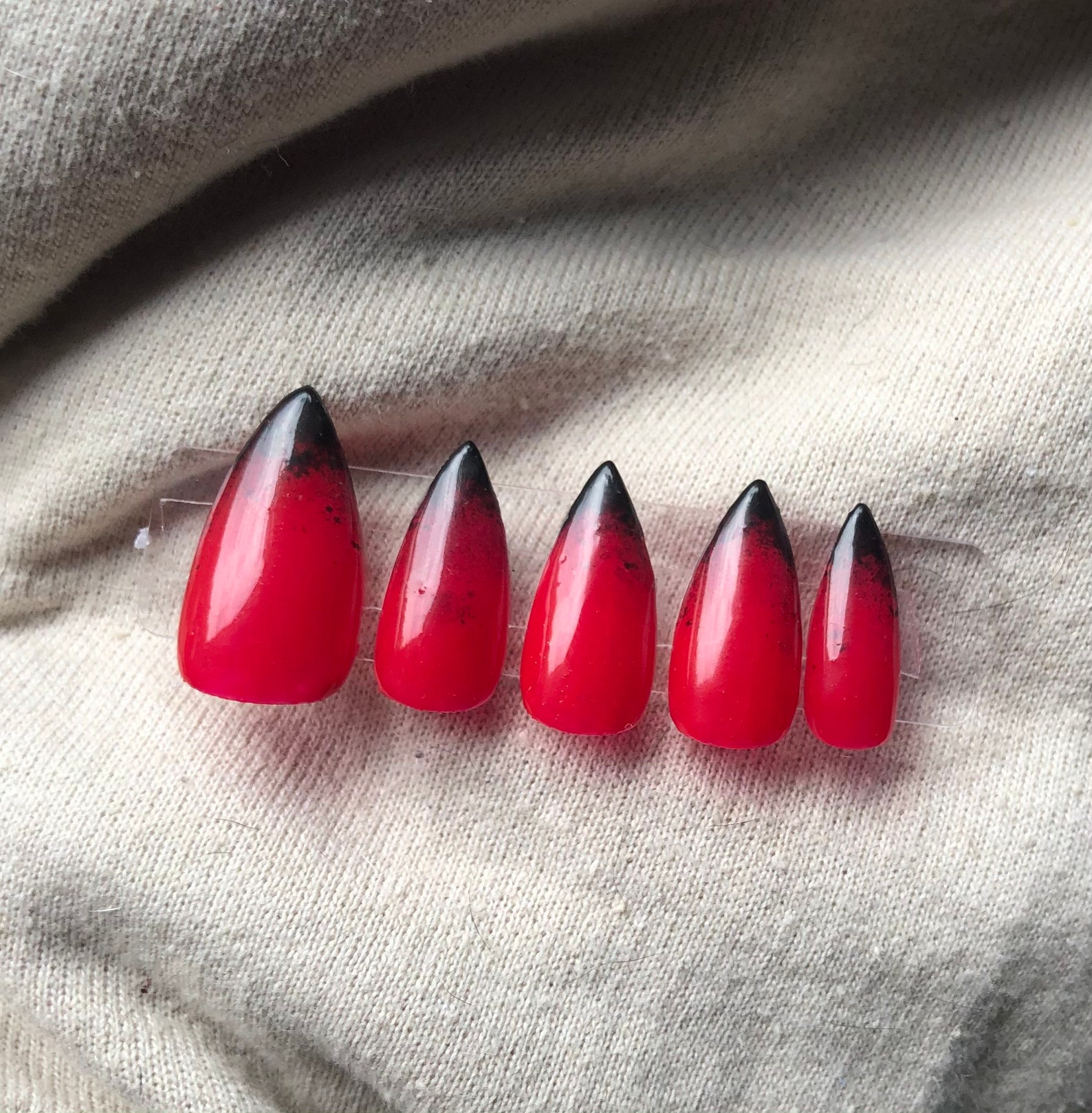 Etsy: LeslieDNails, Red-black ombre nails
To wrap it up, there are a few reasons why black French tip nails are such a popular trend.
To start with, black is a perfect color for any occasion. It is not too flashy, but when used on the nail tips it still draws some attention. On nice, well taken care of nails it will look just as elegant as tradition French mani, except it will not be as boring of course.
Secondly, the black French mani is really easy to do, even if you're not a professional nail artist. All you need is a black nail polish and some stickers or tape to template the tips.
Finally, this type of nail art is really versatile. You can go glam with some black glitter, or make it vampy with a dark red polish. So whether you're going for a witchy, vampire or Eastern look, black French tips are the perfect way to achieve it.
Indie aesthetics, in terms of nail art, can be summed up with a few key words: fun, quirky, and unique.