Edgy Black Clothing To Take the Show (Yes, In The Summer)
Are you ready to go totally black for the perfect edgy look? If so, you've found the right article.
Black clothes form the basis of several edgy aesthetic trends and can be paired with small contrast pieces to create a truly standout look. In this article, we'll explore the intricacies of the statement-making when you want to go all black. From the classics to the out-there, we'll go through how to find the perfect look that reflects your own distinct attitude.
So, if you're passionate about making a dark statement even with your summer wardrobe, let's get to it.
The edgy black aesthetics in fashion
Black outfits for a fashion statement have been around for about a century now - since the days of Coco Chanel.
Then through the 80s and 90s, edgy black aesthetic clothes have been around for quite some time and the mood doesn't seem to be going away any time soon. In fact, dark edgy aesthetics got quite a bit darker since the 90s. Today we have split the vibe between the eerie vibes like dark cottagecore and the dark and very in-your-face styles like goth or darkcore.
Mini dress from Etsy: CruelCandy
Etsy: FloAtelier
Etsy: FloAtelier
But if all you want is just an edgy look that will be mostly black, then there's a couple of styles defined by dark, minimalistic clothing that often has a bad-gal vibe but isn't too much of statement.
Think of it as a slight anti-establishment attitude that's expressed through fashion, except in a way that won't cost you your job.
Cape dress from Etsy: FloAtelier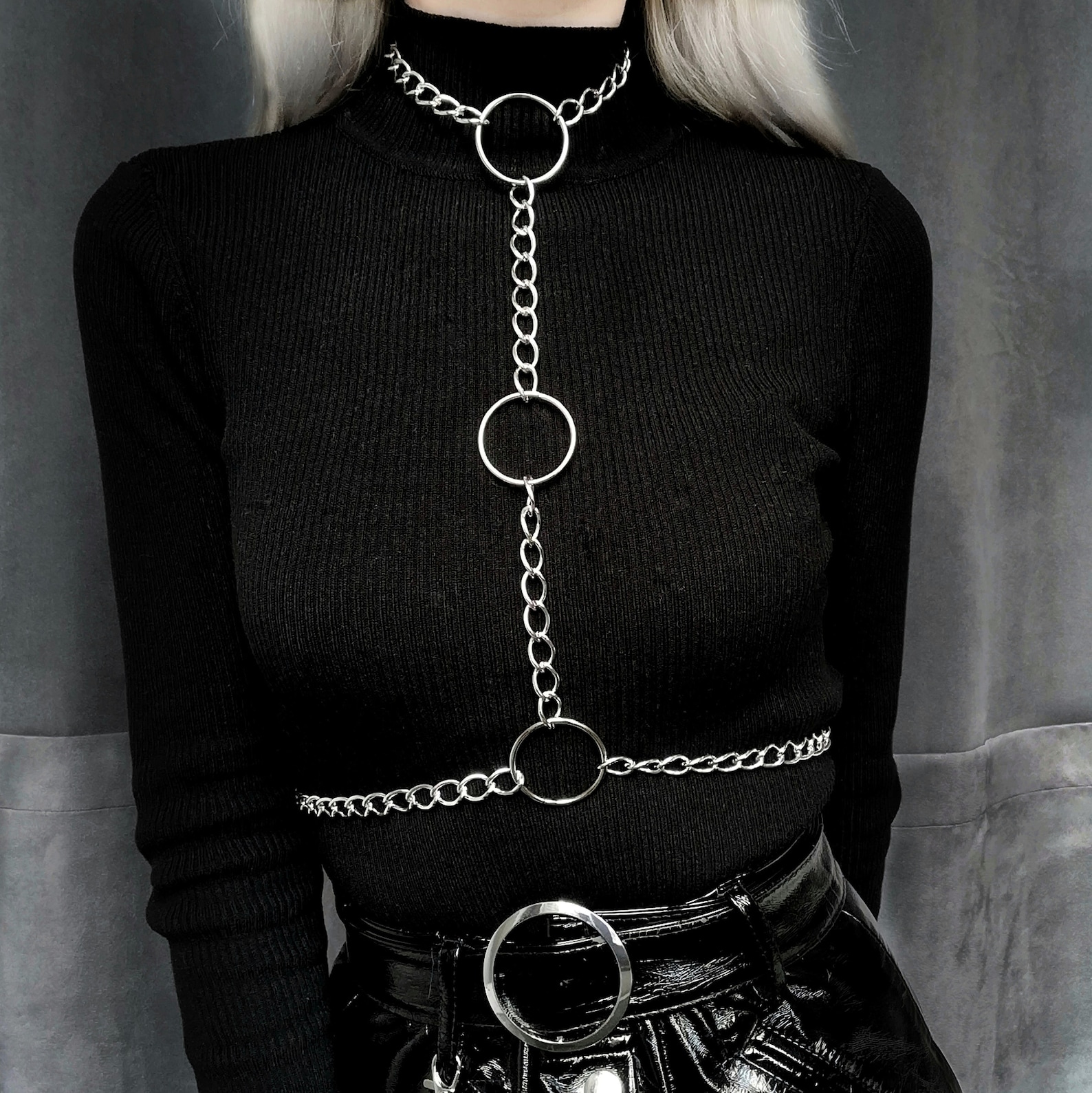 Harness by Etsy: ForvitniFr
Bolero by MDNT45 (also on ASOS)
Etsy: FloAtelier
Cyberpunk top from Etsy: NavunoStore
Denim and heavy boots from Princess Polly
Sweatpants and top from Etsy: FloAtelier
Shorts by MDNT45 (also on ASOS)
Why it's good to sometimes dress in plain black
The edgy black style has always had a lot of momentum through the past several decades, especially among the underground music and art scenes. It's a look that's both stylish and low-key, leaving the wearer free to express their own personal brand of rebelliousness first and foremost through their art.
Etsy: FloAtelier
But the edgy black aesthetic isn't just about looking cool; it's also about making a statement. By wearing darkly-colored clothes, you are essentially rebelling against the mainstream social trends. Regardless of what the current mainstream fashion is, the gist is always to present according to some vague role imposed on you. Women are supposed to be happy and fragile, men are supposed to be stoic and aggressive.
Just plain dressing in a way that disregards this pressure is already making a statement that roles are not everything to you, and that you're living life on your own terms. Now that's its own kind of statement, don't you think?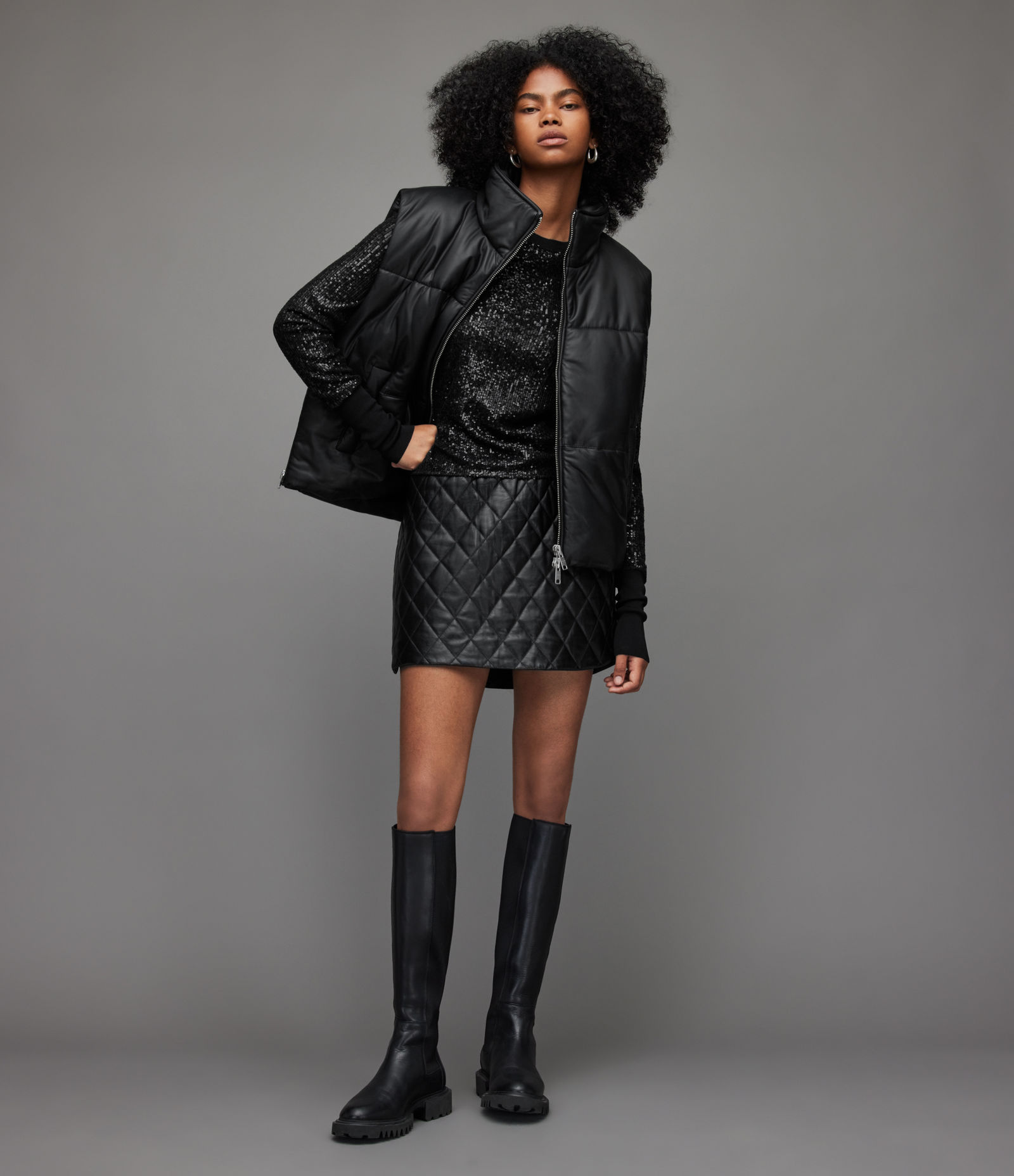 All Saints: Bradburry puffer gilet over a sequin top
Etsy: FloAtelier
Techwear elements are an easy way to add edge to an all-black outfit
The edgy black aesthetic is also closely associated with tech-inspired fashion, the techwear aesthetics, making it a great way to show off your love for tech-driven designs and aesthetics. Many pieces are designed to look like the most cutting-edge tech gadgets, pushing the boundaries of fashion and technology.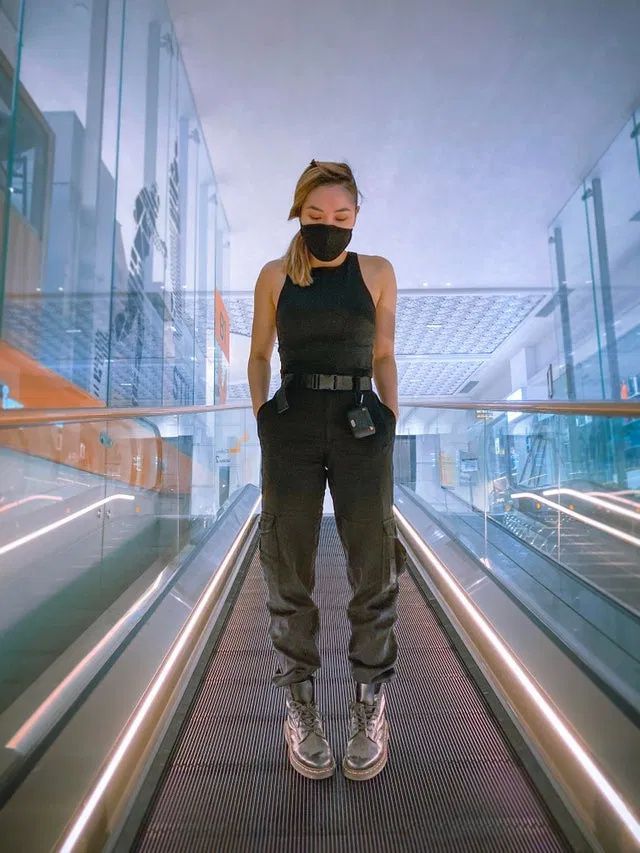 You can always add subtle elements to your look to give it a techy edge, as a lot of techwear items are just military style accessories that you can use to make a plain black outfit aesthetic when you're tired of the plain monochrome vibe. But you can also add statement pieces like a bulky black utility jacket, or pair a lightweight tee with techy joggers.
Layering is the key here, but so are materials because you're wearing just a single color. It breaks the outfit in the good, aesthetically appealing way to add a material with a bit of a sheen to it if the rest of your look is matte black.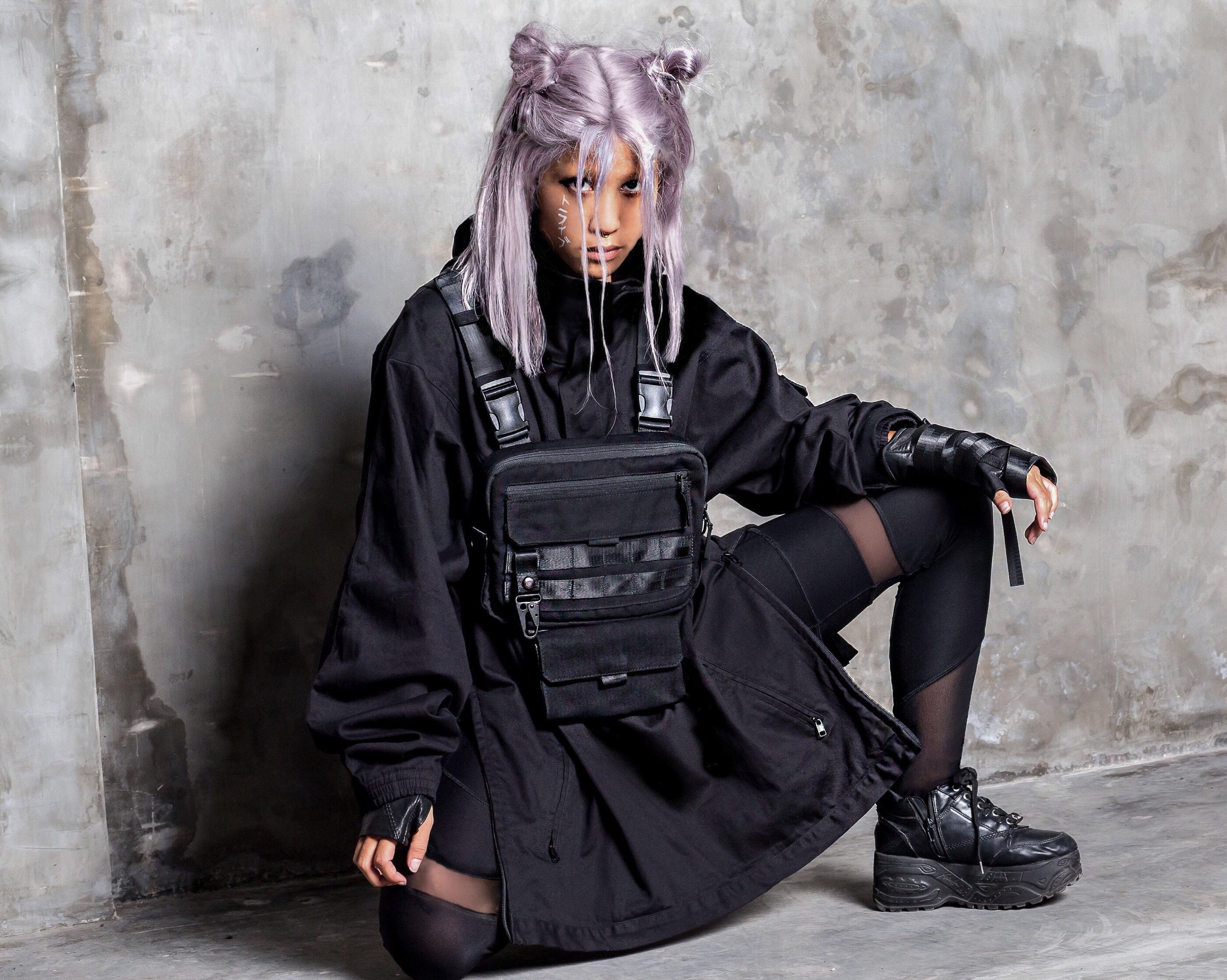 Styling and techwear accessories via JungleTribe (Etsy or jungkletribe.shop)
When it comes to the 2023 sense of style popular on Tumblr and other social media, it's been proven to explore a wide range of subcultural aesthetics, from the gothic to the trendy streetwear. But for those looking for an aesthetic that's caught somewhere between the two, there's an emerging subculture working to fill the gap.
The edgy black clothes aesthetic combines fashion-forward elements of goth with the athletic silhouettes of techwear to create a unique, all-black look that stands out without looking overly jarring. With designers blending high-end streetwear and luxe goth pieces together, this trend is allowing Gen Zers to express their individuality and break boundaries when it comes to style.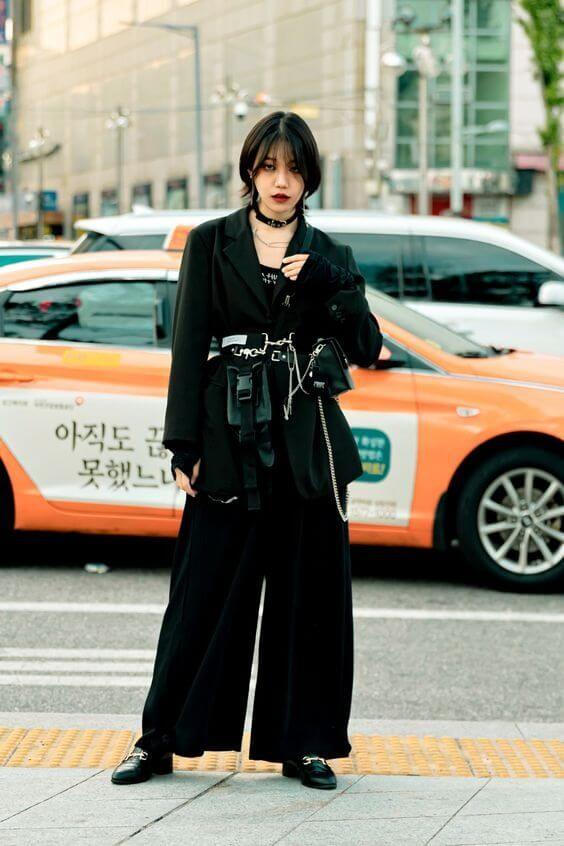 At the heart of the movement is a focus on sleek and stylish design details, such as hidden zippers, asymmetrical hems, oversized hoods, and extra-long sleeves. As a result, the overall effect of the look is one that is sophisticated and daring, while still leaving room for individual expression.
But the edgy black clothes aesthetic isn't without its signature staples. Items like cropped cargo pants, net workout tank tops, and open-toe slides in all-black everything can be seen dominating the trend. Other accessories like chunky jewelry, streetwear hats, bandanas, and even petite skirts are also making an appearance on the runways.
The movement towards an edgy black clothes aesthetic speaks to the new willingness to push the bounds of fashion and be comfortable expressing themselves in new and unexpected ways. Deconstructing traditional categories of "goth" and "techwear" has allowed this new look to truly come to life, and it's been embraced by many, from celebrities to everyday streetwear fans.
Etsy: FloAtelier
Who out of the celebrities wears this style?
Black outfits have long been seen on celebrities and off-duty models as well as influencers. And no wonder - even meh black outfits always look at least vaguely okay on photos.
Adding a little bit of spice to it is a different story though. The look is not quite goth and not quite tech wear - it is edgy without being extreme, it can be sophisticated or slouchy, but there's always some attitude to it.
Kendall Jenner is one of the tastemakers for this look. The fashion takes her classic glam wardrobe and gives it an alternative edge. She has been spotted wearing black velvet blazers and mini dresses for a night out, as well as leather accents and moto jackets for to pop of texture.
Zendaya has also taken up the look, pairing black skirts and bodysuits with oversized jackets. This look pays homage to the punk scene of the '90s and also speaks to a darker and trendier vibe.
Ariana Grande has been a big fan of the edgy black clothing look. She has worn tight-fitted silhouettes on the red carpet, including body-hugging velvet dresses and chunky leather jackets. Even her stage clothes have been taking on this trend - leather accents and all-black ensembles are her go-to look on tour.
The alluring edgy black clothing aesthetic is one of the major trends among celebrities today. It takes a page from the goth and punk scenes of past, yet has become much more refined. From leather moto jackets to velvet dresses and blazers, this look is all about sleekness and sophistication. Celebrities continue to adopt this trend for their red carpet appearances, and it looks like it's here to stay.
At the end of the day, the edgy black aesthetic is all about expressing yourself through your clothing. It's a look that has caught on quickly, and one that will undoubtedly be around for quite a while. So, go ahead and make a fashion statement that speaks to your rebellious nature!