10 plant-heavy room decor ideas for a fairycore room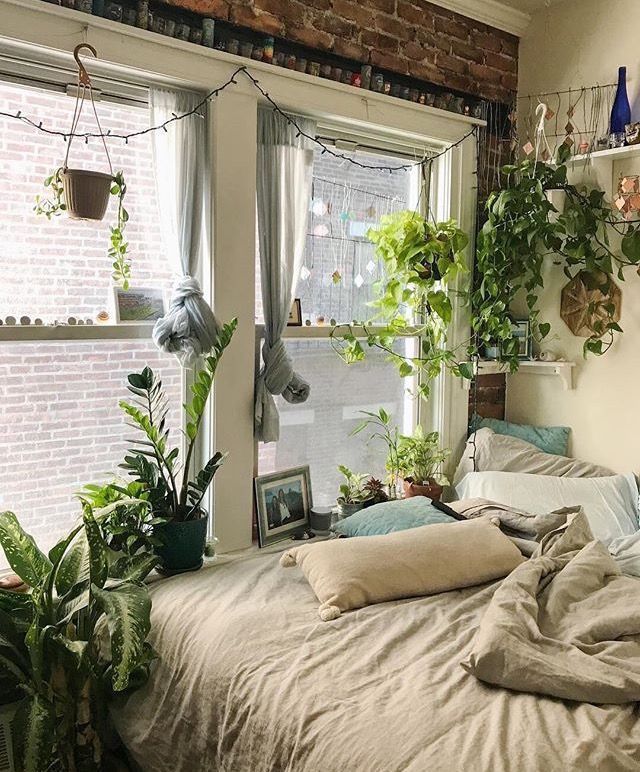 There are several indie as well as mainstream room decor aesthetics that rely on live plants for decoration.
One of them is of course fairycore, but then there are others - for instance the zen-like Japanese aesthetics, the organic modern minimalism, or even cottagecore interi8or decor.
So, before I get on with the inspo, let's first look at how to achieve the fairycore vibe rather than a minimalist one.
Fairycore is a term used to describe a room aesthetic that has a mildly witchy charm. There is nothing gothic or horror to fairycore, it is a rather cute aesthetic. So, the benevolent witch vibe in fairycore rooms is usually achieved through a lot of plants, plant and mushroom posters and pictures of spices.
Here's the thing with the plants though: They have to take over the room. In the organic minimalist aesthetics, you still get to see your nice streamlined furniture, it just happens to have a lot of (carefully arranged) plant pots on it. Not so in the fairycore or goblincore aesthetics! In these, the plants crawl everywhere and look wild.
Plants taking over a writing table in a fairycore room.
The plant and spice references in fairycore room decor are there to make the room feel like the residence of a benevolent forest creature who knows all the plant medicines but never uses them maliciously.
So, fairycore rooms are usually flooded with nature which gives a very friendly and cozy feeling to them.
How to arrange your plants in fairycore room aesthetic
Once again, in fairycore rooms, the more plants the better.
If you want to achieve a fairycore aesthetic in your room, start by filling up as much space as possible with plants. Place them on shelves, windowsills, desks - anywhere you can fit a plant, put one there.
Let them grow far and wide. Clusters of plants are nice but they still look kinda polished and minimalist. You want a wilderness.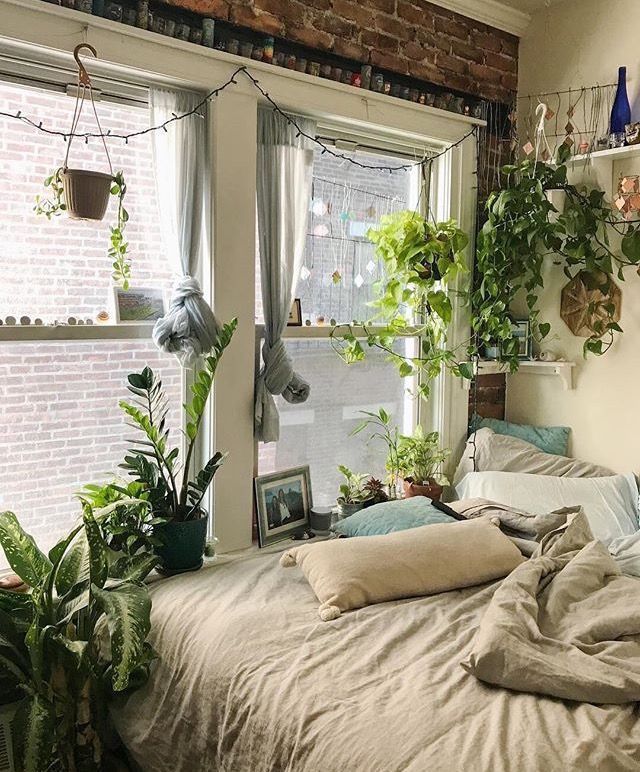 And by the way: Plants not only make fairycore rooms look great, but they also purify the air and help you relax. So if you're looking to create a fairycore room, make sure to fill it with as many plants as possible!
10 plant-heavy room decor ideas that will help you create a fairycore room
Rustic but functional decor items from raw wood. One of the classic DIY projects for a fairycore or goblincore home is the clothes rack made of a raw tree branch.

Now, a note to get this project done safely. The tree branch should be well dried out and slightly processed - a quick YouTube tutorial below.

Collect leaves and flowers to press them into frames. This way you'll create your own personal fairycore wall art, but there's plenty finished art in this aesthetic to buy as well.

Etsy: ManoMonai, Fern pressed art

Get creative with your plant arrangement and display them in unexpected ways, like suspending them from the ceiling or placing them in hanging baskets. Don't be afraid to mix and match different kinds of plants, that's what creates the ecclectic look.

Hang plant posters or pictures of plants around your room to get that fairy-witch vibe.

Etsy: DavesOffice

Etsy: Utopianmyricae

Place potted herbs and plants on your kitchen window, like a forest witch would.

Get a wooden spice rack for your kitchen. A spice rack with mismatched caskets and bottles is peak fairy-witch. Fill mason jars with different kinds of dried herbs and place them around your room for a cute, fairycore touch.

Etsy: EugenieWoodcraft

Place interesting, idol-like candles around your room to create a magical atmosphere.

Etsy: INTERLUDECANDLES, Goddess mushroom candles

Make a fairy garden in an aquarium or terrarium and place it in your room. No animals needed - use the aquarium for water plants or just dry plants and stones.

Get gimmicky! Buy stick-on mushrooms for your walls and moss cover for the edges of your mirrors. Cover your ceiling with thin tree branches. Use plant-themed fabric to make curtains, pillow covers, or bedding for your fairycore room.

Etsy: MooodyArts

Use patterned boho rugs, the more mismatched the better. Rugs can be hanged on walls, too!
These are just some ideas to get you started - there are endless possibilities when it comes to fairycore room decor, so get creative and have fun with it!
People love fairycore aesthetic because it is an inviting and cozy escape from the stresses of the outside world. The plants in fairycore rooms help to improve air quality and create a connection to nature, while the muted colors and soft textures provide a relaxed atmosphere.
People who enjoy fairycore rooms usually appreciate the natural world and like being surrounded by plants. Fairycore rooms provide many benefits, including helping you relax and de-stress, improving air quality, and increasing your connection to nature.