16 Creative Ways to Bring Nature Indoors, The Cottagecore Way
Do you want to bring the beauty of nature indoors, but still have an interior that fits at least the minimalist version of cottagecore aesthetic? The cottagecore trend has been all the rage for years now, and as it becomes more and more popular, the styling choices only get better as the market for them is growing.
We have written about minimalist cottagecore in fashion a few times - you are now allowed to wear denim in cottagecore, for one.
But let's stick to interiors this time. Cottagecore interiors can be so full of subtly clashing floral patterns and pompous furniture that they come off almost obnoxious. But what about a minimalist, modern interior with just a few cottagecore items to add some spice and accent?
Plants, antique porcelain and natural materials are all good choices if you objective is to inject a little bit of cottagecore into your minimalist place.
So, if you want to bring the magic of nature inside to create a peaceful oasis, here are 10 tips for simple yet stylish cottagecore home decor. From organic textures and furniture to repurposed items and wall art, transforming a minimalist space with these 10 tips will be super easy.
Little changes to add cottagecore flair to a minimalist interior
Cottagecore and the good old country lifestyle that in reality was probably not nearly as romantic as we want to think these days.
To some, the cottagecore aesthetic is the stuff of idealistic dreams. To others, it's a lifestyle inspired by the pastoral scenes of yesteryear.
But, no matter what camp you're in, you have to admit that bringing nature into your home can make it feel more connected to the outdoors. Here are ten ways to bring nature indoors for a simple yet stylish cottagecore home decor.
1. Houseplants:
Nothing screams cottagecore life quite like a pot of ivy or a philodendron perched on the windowsill.
Houseplants are not just to show off your gardening skills to your neighbors. It might not come off that way at first, but you will notice the difference looking out of the window from inside, too.
They are a great way to add a splash of color, an old-timey feel and a little bit of nature, while also providing some air-purifying benefits.
2. Natural Fibers:
Natural fibers have a rustic charm that's ideal for cottagecore.
There's quite a bit of overlap with other interiors styles, such as boho or the organic modern. So, if you get bored of aesthetics quickly, this is good news for you: It will not be that hard to redecorate later.
Either way, whether it's a jute rug on the floor or a linen duvet cover on the bed, these materials bring a little bit of nature into your home.
3. Natural Wood:
Wood is of course a staple in cottagecore. I am slightly sad to report that timber, especially rustic one, is really recognizable. That means aesthetically, you will not get the same result from plywood and more affordable wood veneers. Good veneers, especially the intriguingly patterned designer veneers, might work though.
Whether it's a wooden bed frame, a wood veneer vanity or a hardwood floor, wood adds a warm, earthy feel to any room.
4. Floral Wallpaper:
Wallpaper is really making a comeback, and there are plenty of floral designs that would look perfect in a cottagecore-inspired home.
If you're feeling adventurous, try clashing your wallpaper pattern with the motifs on your upholstery.
5. Faux Taxidermy:
If you want a less permanent way to bring nature indoors, faux taxidermy is a great option. It adds a touch of whimsy and will never disturb any animal-lovers.
6. Pressed Flowers:
Pressed flowers are a great way to enjoy nature's beauty without having to brave the outdoors. Place them in a shadowbox for a wall decoration or use them in your craft projects.
Etsy: MARIAELA
7. Indoor Herb Garden:
A window herb garden is the perfect way to bring nature indoors while also sprucing up your meals. Plus, it's practically foolproof.
8. Vases of Fresh-Cut Flowers:
Nothing says "Welcome to my cottage" like a vase of freshly cut flowers. Change them out often for a constantly changing and vibrant display. A vase of fresh flowers, a mini herb garden, or a row of potted succulents can add a cheerful feel and a touch of natural life to any room.
9. Pine Cones, Acorns and Rustic Wood:
Pinecones and acorns are a simple and natural decoration, and they can be easily gathered in the fall for a truly seasonal feel.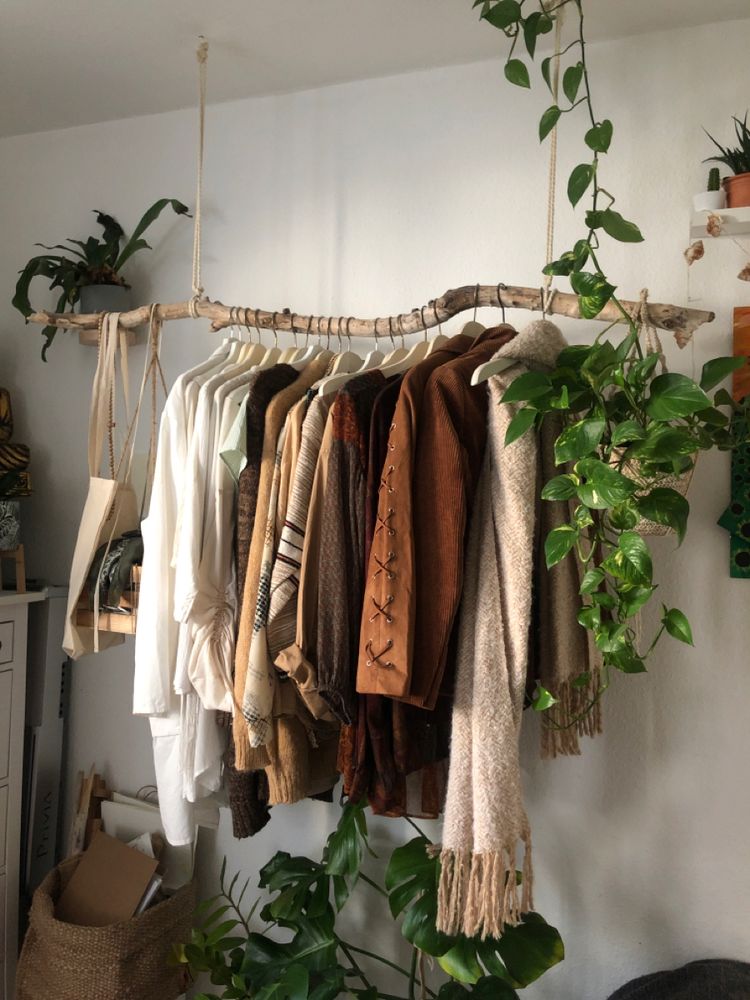 10. Landscape Murals:
Create a mural on your wall with a pastoral landscape scene. It can be a bit too much for some people, but it does add plenty of the countrylife vibe.
11. Wall Art:
Hang a few pieces of wall art featuring scenes of nature to add a subtle touch of the outdoors to a room. There's so many to choose from on Etsy right now.
12. Pillows and Throws:
Incorporate rustic throw pillows and blankets made with natural materials such as cotton, wool, or linen for a rustic, natural vibe.
notonthehighstreet.com, Earthy hand-printed cushions
13. Candles:
Candles made with beeswax or scented with essential oils add a gentle scent and warm glow to any space.
14. Outdoor Elements:
Bring bits of the outdoors in with pieces like driftwood, antlers, or seashells.
15. Natural Lighting:
Let natural lighting in with open window treatments or sheer curtains to filter in the lush and soft natural light. It's good for your health, anyway!
16. Rugs:
Add a textured or patterned rug with a natural material like wool for a cozy touch.
Cottagecore style, no matter if the original or the minimalist version, is deep down really all about creating a cozy atmosphere and incorporating natural elements into your home decor. With its soft, muted tones and gentle energy, integrating elements from nature can create a calming, peaceful atmosphere in your space. Whether it's adding a few houseplants, a vase of freshly picked flowers, or including natural materials such as wood, stone, and wicker, these cottagecore aesthetic elements add a natural beauty to your home decor. Here are 10 creative ways to bring nature indoors for a simple yet stylish cottagecore home decor.
These cottagecore aesthetic touches of nature are simple yet stylish ways to bring the outdoors in. Incorporate a few of these elements into your home decor to create an atmosphere that is both inviting and calming.
Bringing nature indoors is a great way to add some rustic charm to your home in a simple yet stylish way. With a few creative touches, you can transform your space with natural elements and really capture the cottagecore aesthetic.
Many celebrities have embraced the cottagecore home decor look by incorporating natural elements into their spaces. Actress Mandy Moore, for example, used stones to fill the stairway in her California home. Designers such as Joanna Gaines and Nate Berkus are huge fans of this look, too, and have both incorporated natural stone elements into their projects.
Countless celebrities are also taking part in minimalist trends with their home decor. From Gigi Hadid to Blake Lively, many are opting for simple designs and embracing the less-is-more approach. Models Emily Ratajkowski and Lais Ribeiro's have also been using natural stones and plants to give their houses a unique look.
Wood is a popular element in many celebrity homes, with many opting to use wood for rustic touches. Brooklyn Decker and Andy Roddick have decorated their homes with reclaimed wood furniture, while actress Olivia Wilde used a wooden accent wall in her family home. Kim Kardashian has also incorporated wooden elements in her interior design projects, using furniture pieces and decorative accents to give her spaces a natural look.