Inspo: Rock a Neon Green Eyeshadow Look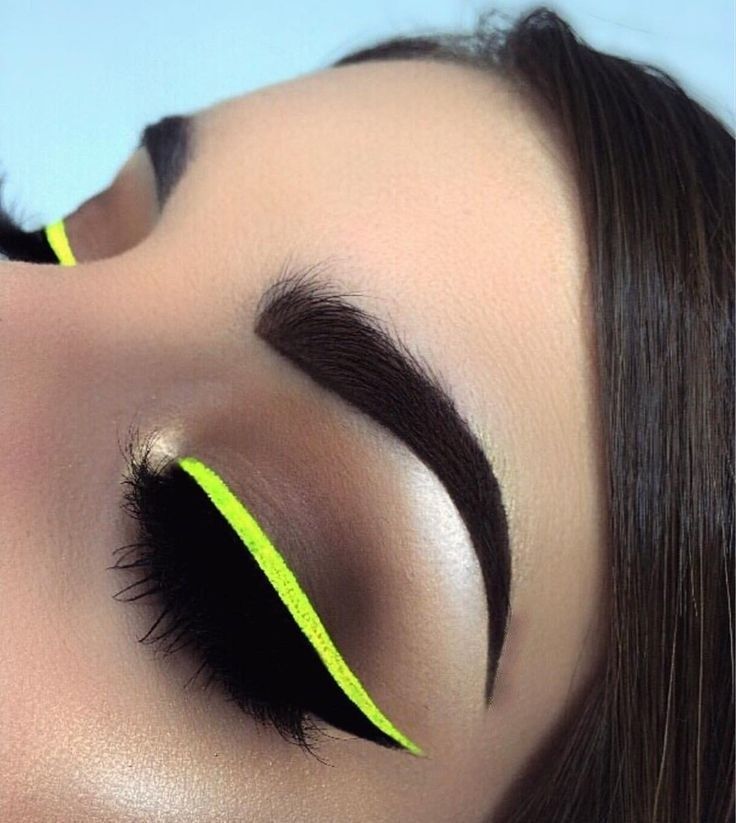 Neon green eyeshadow may sound like a makeup look that you would not be able to wear anywhere except the wildest rave.
Turns out it doesn't have to come off so avant garde, if you manage to wear it with the right clothes.
Neon eye makeup can be an interesting accent to an outfit that shares the same base color. As long as the outfit itself is conservative enough, the neon eye will just look aesthetic but not too off the wall.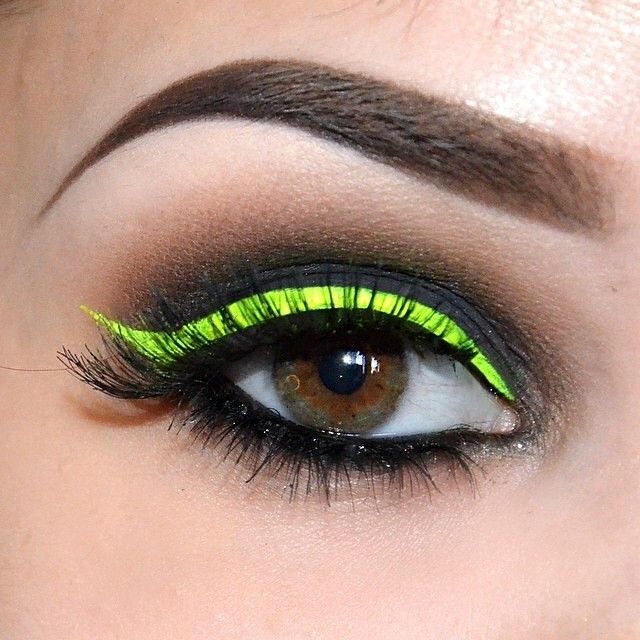 From our article on simple neon eye makeup looks
In the case of a green neon eyeshadow for the day, you would want to go for an outfit with a dark green or charcoal base. That could be a dress in bottle green color, or even a green-brown combo that you want to take further away from the "nature vibe" boho aesthetic.
The TLDR is that with neon green, you can have fun experimenting with different styles and looks, from subtle and natural to outrageous and daring. Learn how to rock this neon trend and get ready for all the compliments coming your way!
The Secret to Creating an Eye-Catching neon green Makeup Look
Neon green color is not a frequently used color in makeup art. However, neon green eyeshadow can make a major statement when done right.
The trick to pulling off neon green eye makeup is creating a look that stands out either in a very avant garde and aesthetic way, or to use neon as an accent if you have to keep it conservative.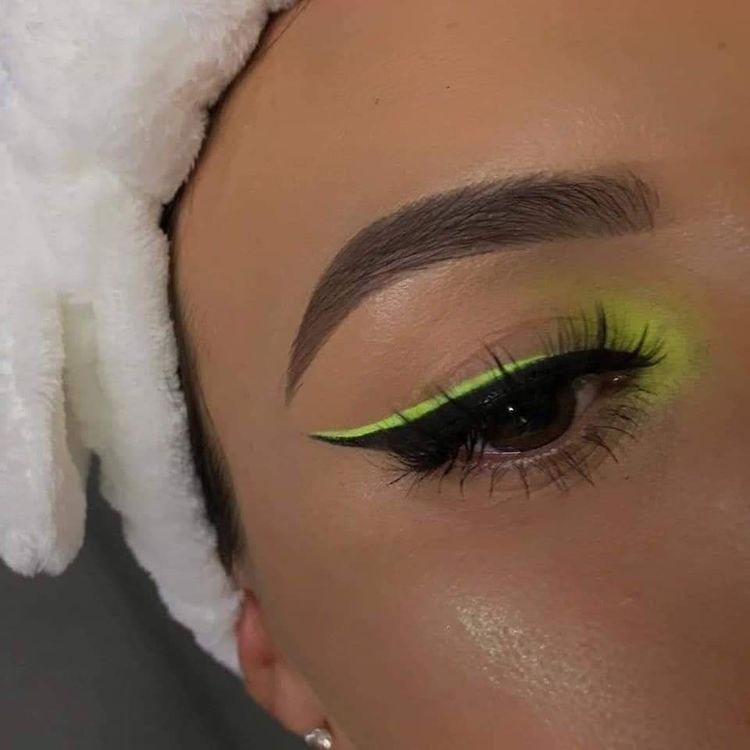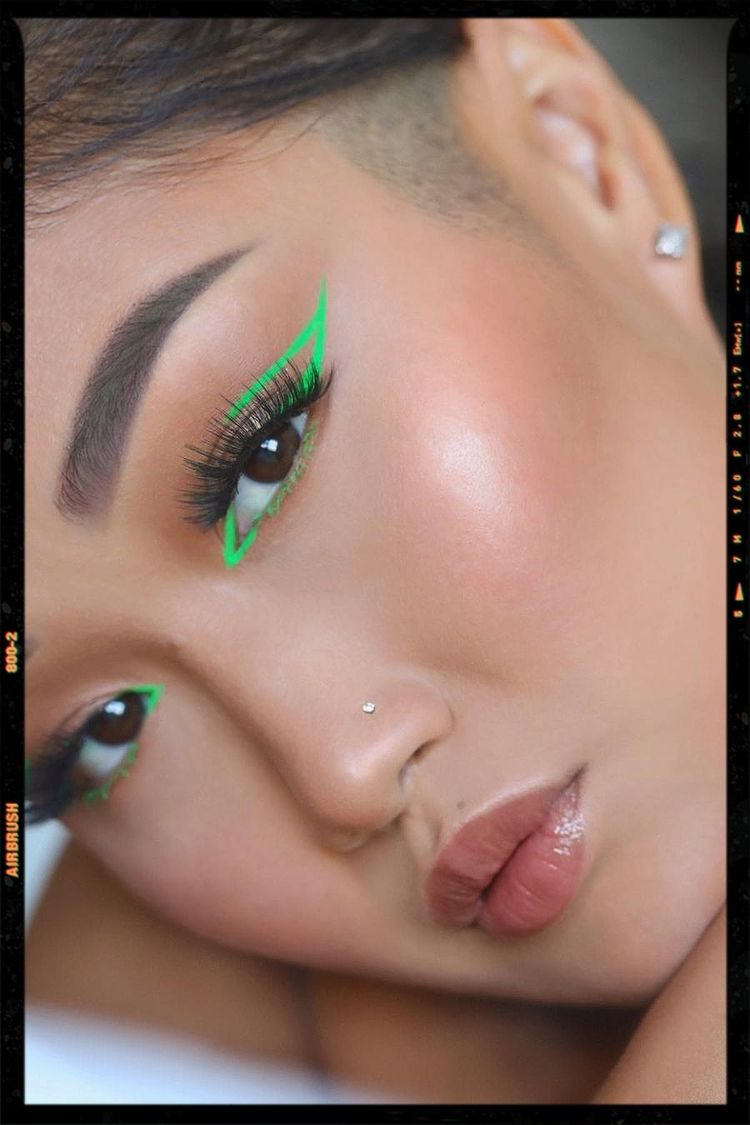 Classic smokey eye with neon green accent
Avant garde neon green look with graphic eyeliner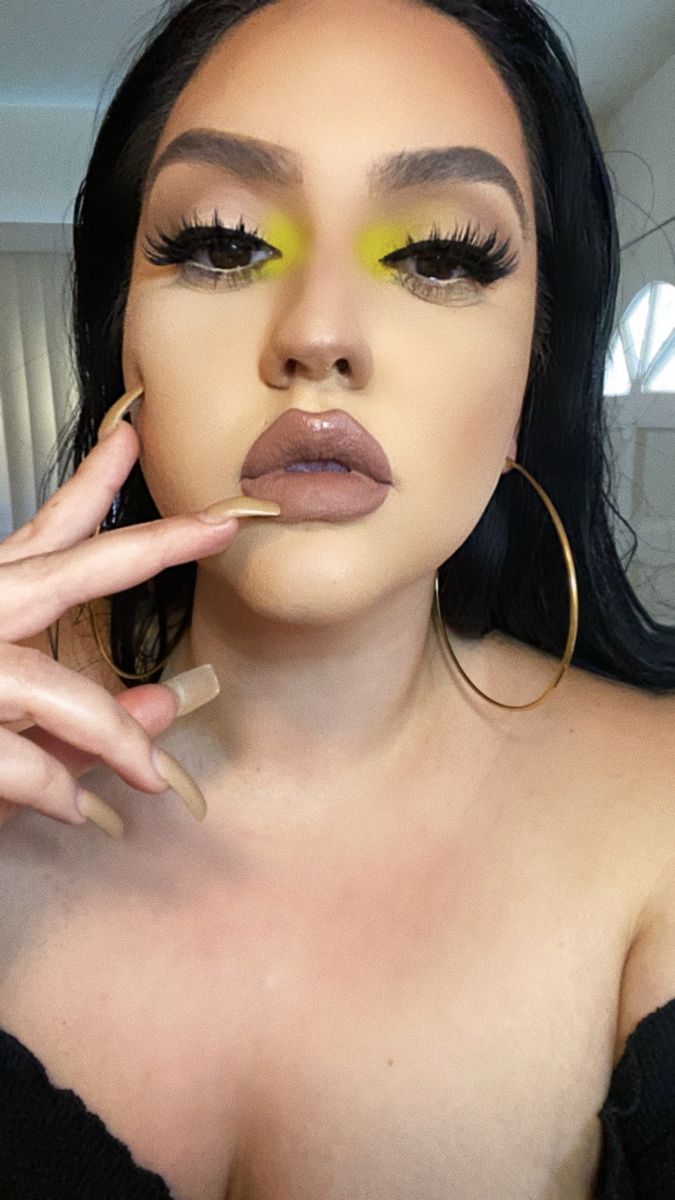 The easiest way to rock neon aesthetic eyeshadow is by pairing it with darker and muted hues and shades. The classic neon eye makeup look is the pop of neon in the inner corners of the eye.
You can opt for solid colors that are complementary to neon green, like olive or bottle green. Or you can go for a mix of different greens, playing with neon and pastel shades in order to create the perfect color palette.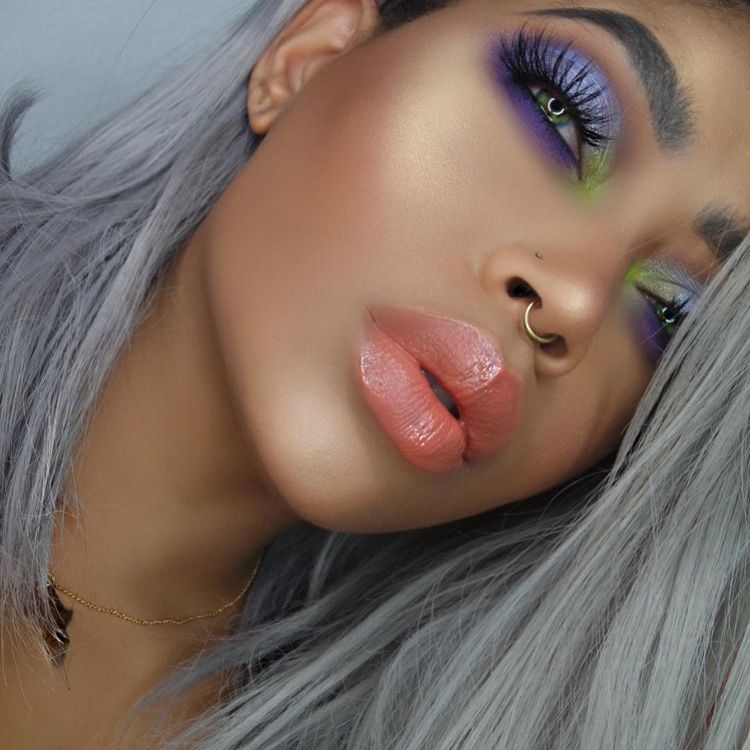 Neon eye for dark or goth looks
As said before, looking at the bigger picture, neon green eye makeup looks great as an accent to a darker greenish or charcoal outfit. In the same vein, going for a dark or nude brown lip can complete the look well. With the right outfit, it will be easy to take that all the way into a darkcore aesthetic.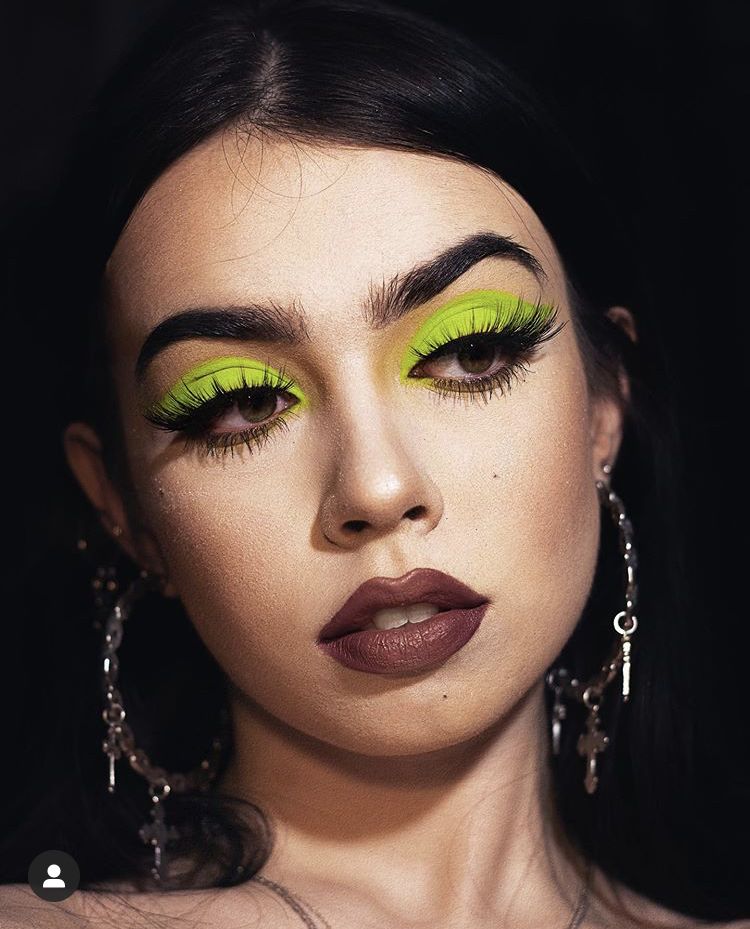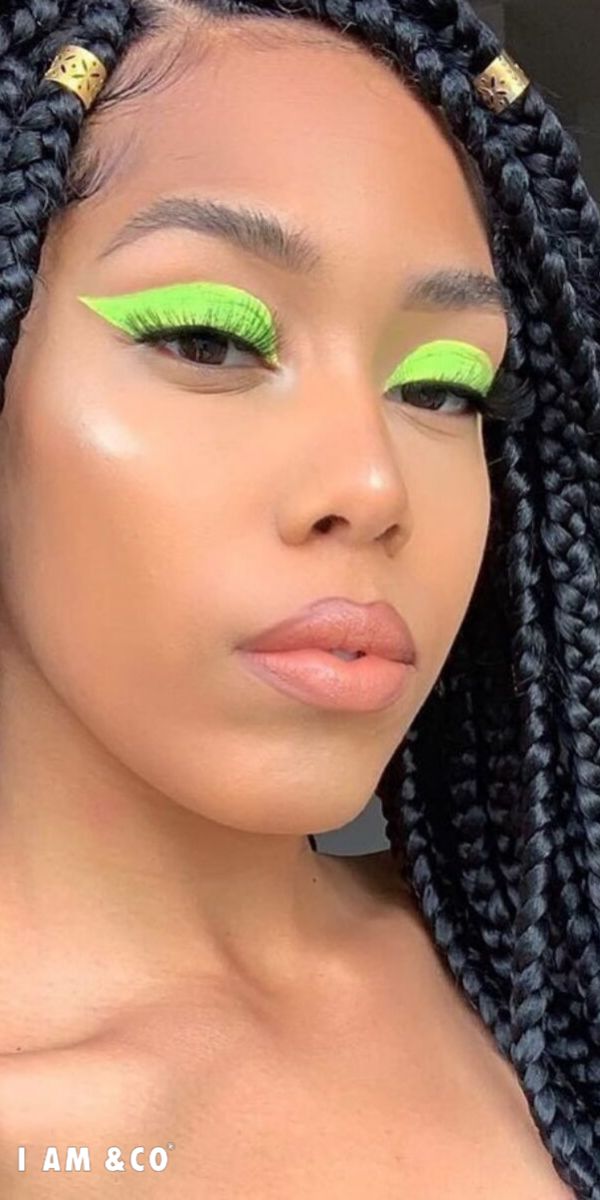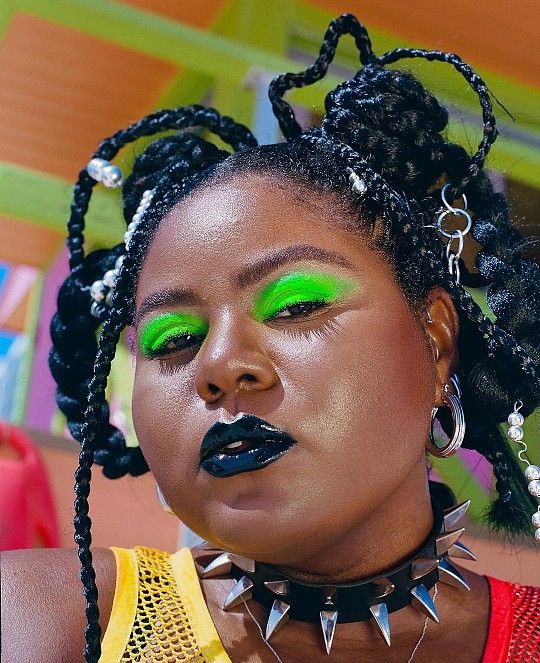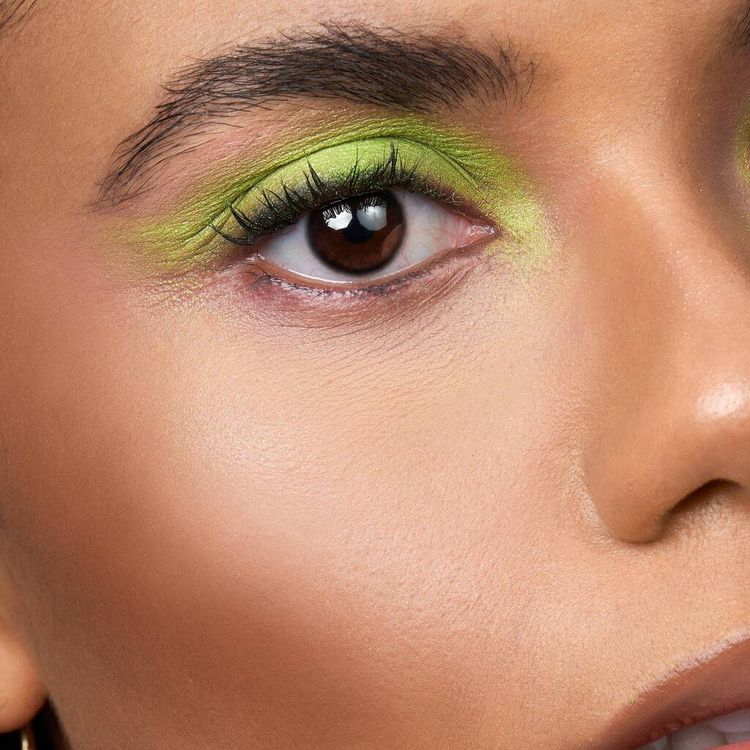 To make sure your neon green look is complete, finish it off with cat eye eyeliner and lots of mascara - this will ensure your eyes pop!
And don't forget to accessorize; neon green can look lush and very 70s with gold jewelry and accessories.
Now you know how to get the most out of neon green eyeshadow and make it work for any occasion - just remember to keep your outfit simple and subtle, so that all eyes will be on your makeup masterpiece!
---
Are you looking to make a statement with your makeup, but in a way that will not look too cheeky? Then neon green eyeshadow can be the perfect look for you! This vibrant shade of makeup can be used to create an eye-catching accent that will turn heads wherever you go, but will not look over the top.
Fashion enthusiasts love neon accents in accessories or makeup because they add a neon pop of color to any look. Neon colors are vibrant and eye-catching, allowing you to stand out in a crowd and make a bold fashion statement. Beyond the aesthetic appeal, neon colors provide an unexpected twist to any outfit for those who want to experiment with their style.
So if you're looking to try neon makeup, neon green eyeshadow is a great place to start! With the right clothing choices, neon green eyeshadow can be subtle and chic or outrageously bold. Just remember: keep the rest of your look simple and let neon be the star of your makeup show. With the tips above, neon green eyeshadow is an easy way to take your makeup look from basic to bold in no time. So go ahead and give neon a try!