Interior Trends: Fashionable Design Flavors in 2023
Hero: Designed by @marshallwatsoninteriors for @jillklasersohn - Styling by @carolynenglefield, photo @maxkimbee
If you are revamping your house or apartment, then this article is for you. Today in this article we will analyze the most popular trends in furniture in 2023, and give you plenty of inspo along the way.
Well selected furniture always pleases the eye and creates coziness and comfort at home. But choosing the right design trend can feel difficult and tedious. If you are kinda tired of the eternal renovation of the house, you can always relax and play roulette.
Either way, now let's discuss the main trends in 2023!
The Color Scheme
The colors of natural shades are gaining relevance – beige, cream, pale pink, white, and sage green.
Soothing pattern photography gallery as a digital downloadable from Etsy: ARTxMODERN
Why? Recently, our house has become the place where we spend the most time. Therefore, the trend for "home comfort and warmth" is gaining momentum. Some experts call it "warm minimalism".
IG @southerntastemakermag
Combine the main color of the furniture with its shades, you will get an interior in warm monochrome aesthetic. It will look very old-money stylish.
If you want to have your furniture in bright colors, the 2023 trends would have you use the bright colors mostly as accent or in patterns.
Wallpaper by AnnetWeelinkDesign on Etsy
Radius Sofas
Such furniture has no sharp corners and is characterized by a smooth, streamlined shape. She is inspired by the style of the 70s. The radius sofa will perfectly fit into a neoclassical or minimalistic interior.
IG @simonepolk
Materials
The "boucle" material is gaining momentum in the upholstery of sofas and armchairs.
That's part of the trendy fusion of minimalism and maximalism. But the simple fact is that such products give a feeling of comfort and relaxation after a hard day, no matter the aesthetic.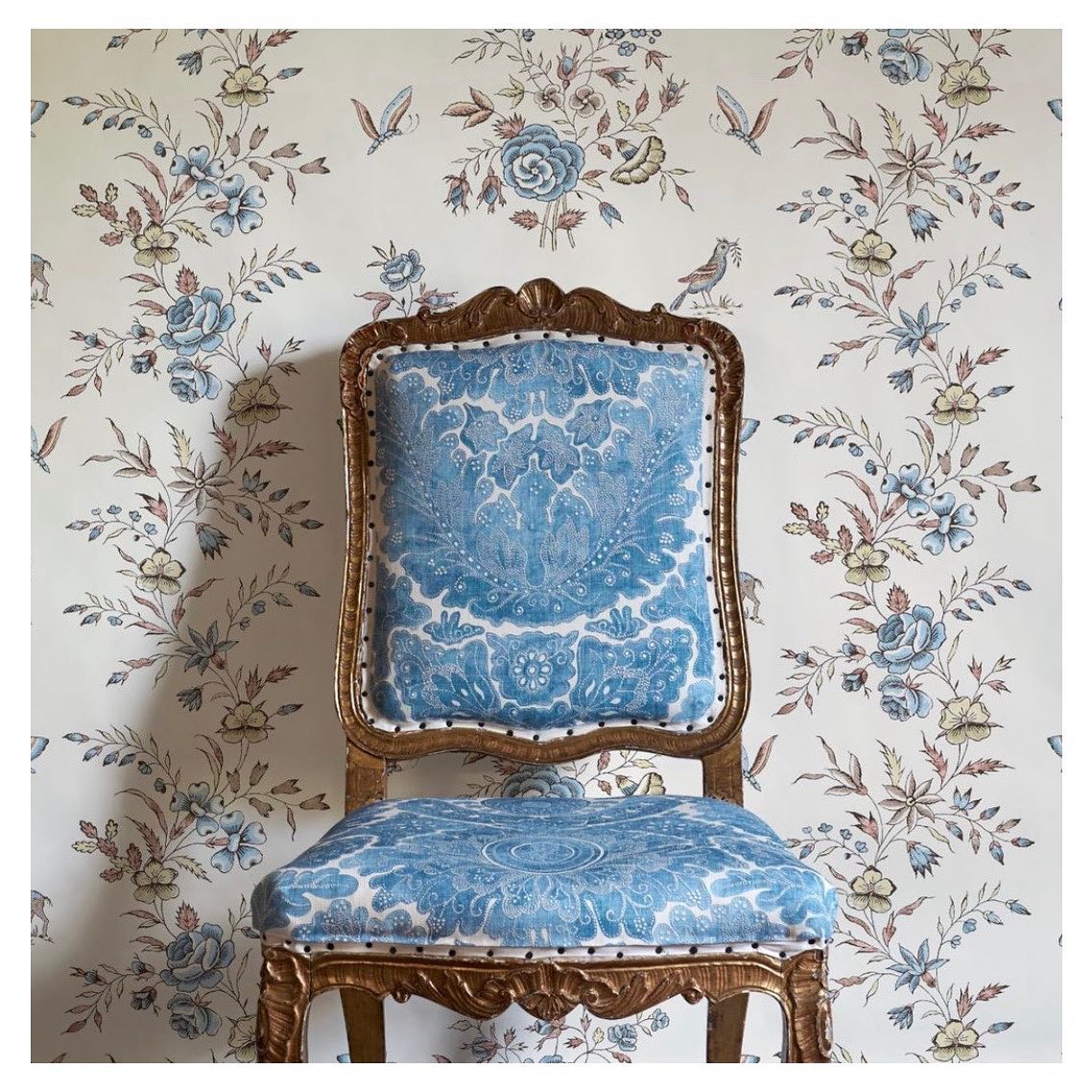 IG @wearandwithin
But rattan furniture again occupies a leading position as well, thanks to the boho trend, especially in outdoor spaces. It reminds me of a vacation and creates comfort and naturalness in the interior. Rattan is a good material for mixing with other materials.
Then of course there is the practical side of it all. Beds with soft headboards made of hypoallergenic fabrics that repel dust, natural frame materials, for example, made of larch. Such furniture will last you a long time.
Weightless metal structures of different shapes and shades are in trend. They look great with beautiful books, candles, and small pots with homemade plants.
The Trend of Tailor-Made Interiors
In 2023, things made with their own hands are becoming more and more appreciated. It can be either your idea or custom-made furniture. The trend for custom designs can be explained by the fact that people increasingly want to be the owners of pretty things, especially if that beauty is unique.
Tailor-made interior items can be made just for you or found at city fairs or on marketplaces like Etsy where indie vendors sell products made in small batches.
Nostalgia
You can also make a new thing from scratch or use old furniture. That's the most environmentally friendly way, too.
Wall art from Etsy: Prindig
Now is the time to get old furniture and rethink it in a new way. The style of the 70s is especially popular, so you can be trendy with a retro chest of drawers, a Soviet-looking armchair, and a round coffee table.
To refresh old furniture, you can order new upholstery for chairs, remove a thick layer of varnish from the wood, and preserve its natural color or paint. The trend is rounded silhouettes, vintage, and things with history.
You can find such things in the country, by ads on the Internet, and in vintage stores. You can restore them yourself or entrust this matter to the masters.
Personalization As A New Trend
Last but not least, let's mention that there's a new trend that sometimes gets called "emotional design". It's an eclectic style of decor where you turn your interior into a design that follows your own personal life story more than any aesthetic trends.
It has a sense of the presence of your personality, interests, hobbies, and preferences.
Fill the rooms with furniture and things that are dear to you, memorable for you – dad's records, grandma's yarn machine, grandpa's coffee table and armchair, a lamp from your childhood, and a vintage sideboard.
A thrill of the soul, a smile, and pleasant memories – these are the emotions that you will receive.
Who knows, you might even get close to the grandmillennial interior aesthetic that way as well.